Festive healthy gingerbread crumble because crumbles are amazing!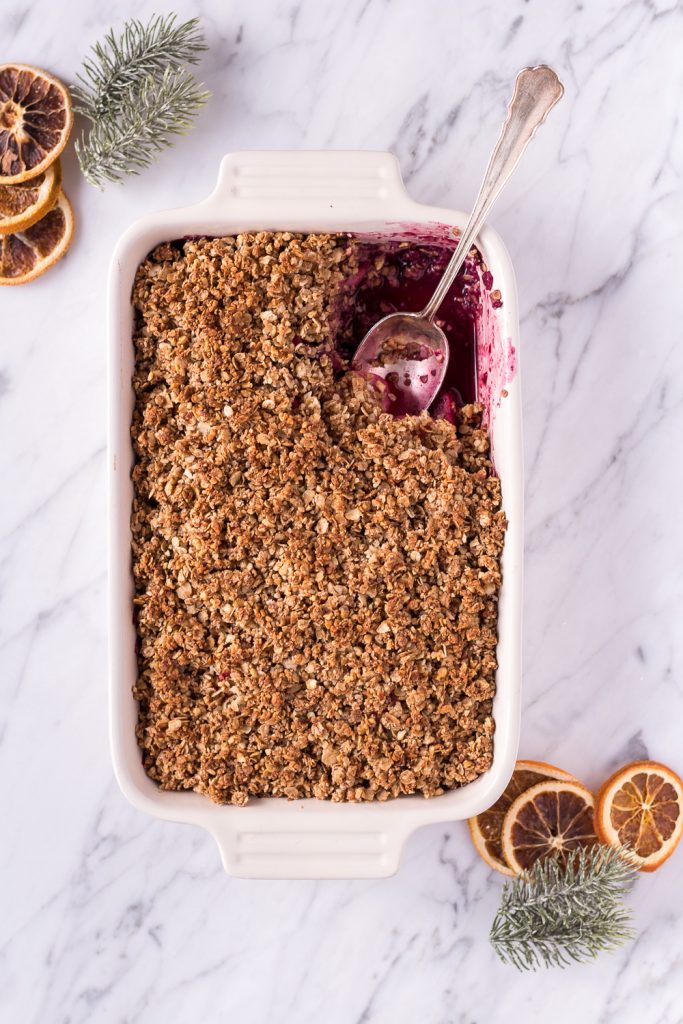 It's mid-December, which means it's time for my new monthly column on the lifestyle blog OhhhMhhh. Today it's all about this gingerbread crumble, which I am so excited to share with you. There is something about crumbles that makes them the perfect desserts for any festivities, don't you agree? This one will make your whole house smell like Christmas, I promise!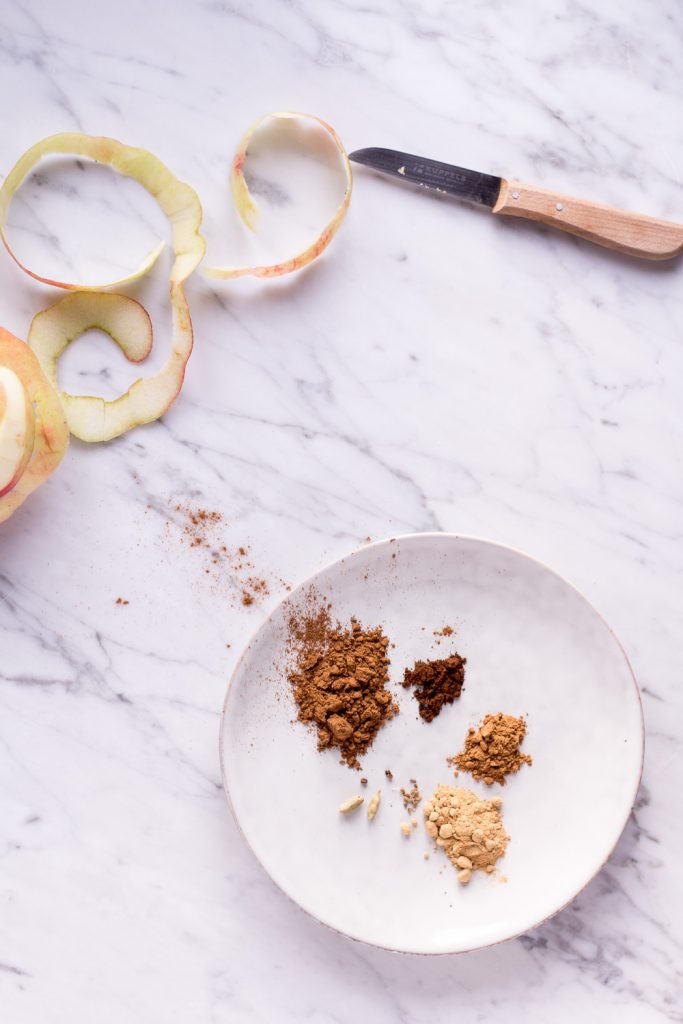 I think crumbles are awesome, and that's why I wanted to share my top three reasons, why I think that crumbles rock:
#1: Crumbles can easily be prepared in advance
I know this sounds kind of lame, but crumbles are definitely a time-saver in the kitchen. I love time, especially free time, where I can enjoy a cup of hot superfood chocolate combined with Netflix on the couch. So any dish that is easily prepped in advance is a winner in my opinion.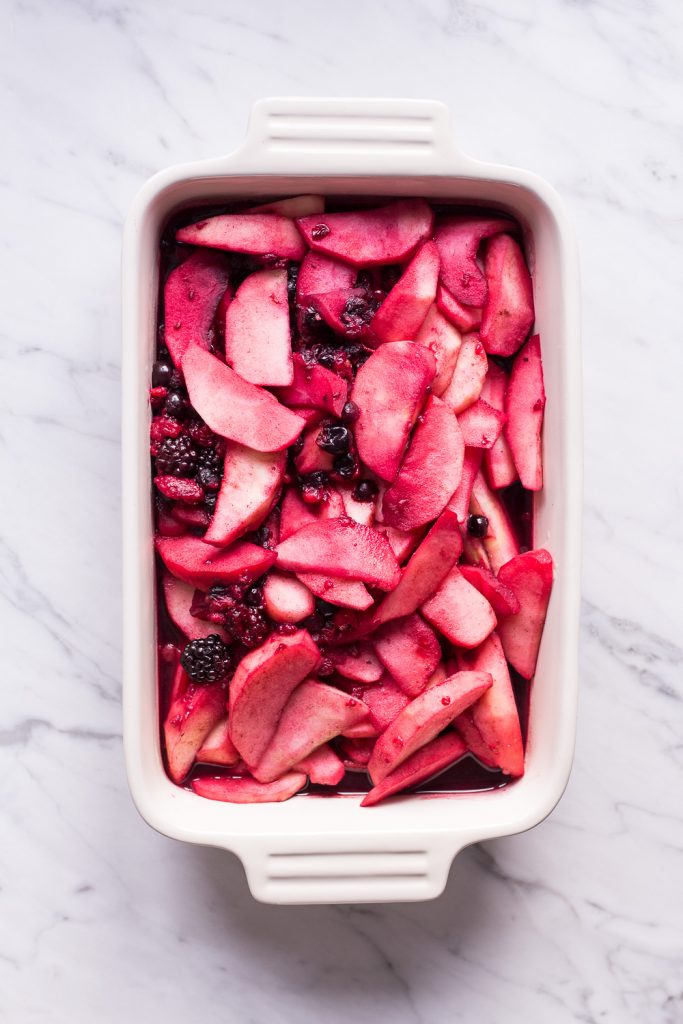 #2: Crumbles are totally seasonal:
Crumbles can be made with literally any fruit you have, so it's the best dessert for seasonal produce. In the winter I love me a good apple or pear crumble, in spring I am all about those first strawberries, and in the summer I cannot get enough of juicy peach crumbles. Don't forget fall with all ist delicious plums. Crumbles taste amazing every season.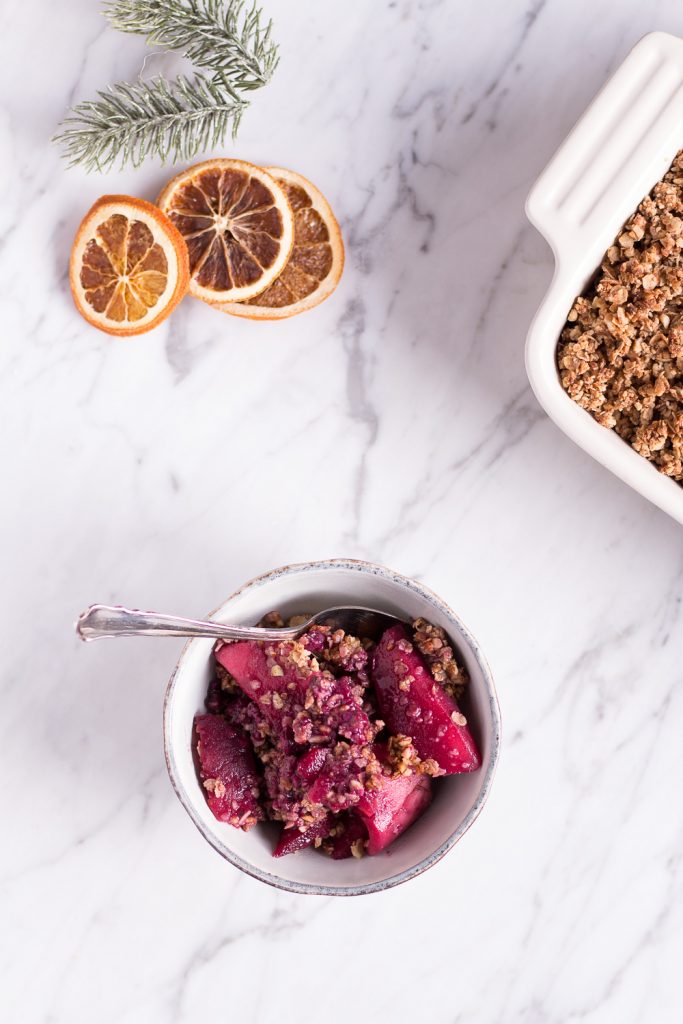 #3: Crumbles can easily be healthified.
The real heroes of crumbles are definitely the fruits, and these are already pretty healthy. If you skip the buttery-sugar loaded crumble-topping, and use a healthier oat and ground nuts mix instead, you got yourself a delicious-tasting wholesome dessert. Absolutely guilt-free and allergy friendly. Just switch the nuts for seeds if you cannot have nuts, and you're good to go.
So there you have my three most important reasons why I love crumbles. Do you love crumbles? And if so, why? Let me know in the commons below.

Healthy Gingerbread Crumble
Ingredients
For the apple-berry filling:
500g of apples (I like Braeburn or Rubinette)
300g of frozen berries (blackberries, raspberries, blueberries...)
1 tablespoon of maple syrup
1 teaspoon of cinnamon
1 teaspoon of coconut oil
For the oat-almond crumble-topping:
200g of almonds or ground almonds
200g of oats (use gluten-free if necessary)
3 tablespoons of extra-virgin coconut oil (or rapeseed oil)
90ml maple syrup
3 teaspoons of gingerbread-spice or use the spices below:
a pinch of sea salt
For the homemade gingerbread spice-mix:
2 teaspoons of cinnamon
½ teaspoon of nutmeg
½ teaspoon of ground ginger
¼ teaspoon of ground cloves
½ teaspoon of cardamom
a pinch of ground vanilla
Instructions
Place the almonds into a food processor and blend until a nice flour forms. Pour the flour into a bowl and add the oats and a pinch of salt.
In a small pot, heat the coconut oil. Once it's completely melted, add the maple syrup and all the spices and stir well. Pour the sweet coconut oil mix over the oats and almonds and mix well with a spoon so you get a sticky and crumbly oat topping.
Peel the apples, remove their stones and slice them. Place the apples and frozen berries into a large skillet and add the maple syrup and cinnamon. Heat everything over medium heat until it starts to bubble slightly. Reduce the heat to low and let it simmer for about 8 - 10 minutes.
Pre-heat the oven to 180°C (356°F) and grease a baking dish with coconut oil.
Pour the fruit into the baking dish and cover it with the oat-almond mix, using your hands to spread it evenly.
Bake the crumble for about 20 - 25 minutes until the oats are starting to get a bit brown on top.
Remove from the oven and serve immediately while still hot.
Enjoy!
---
DID YOU MAKE THIS RECIPE OR HAVE ANY SUGGESTIONS, QUESTIONS OR COMMENTS?
Feel free to leave a comment below, and don't forget to tag your creations on social media using #heavenlynnhealthy.
I'd love for this blog to be a dialogue.
---