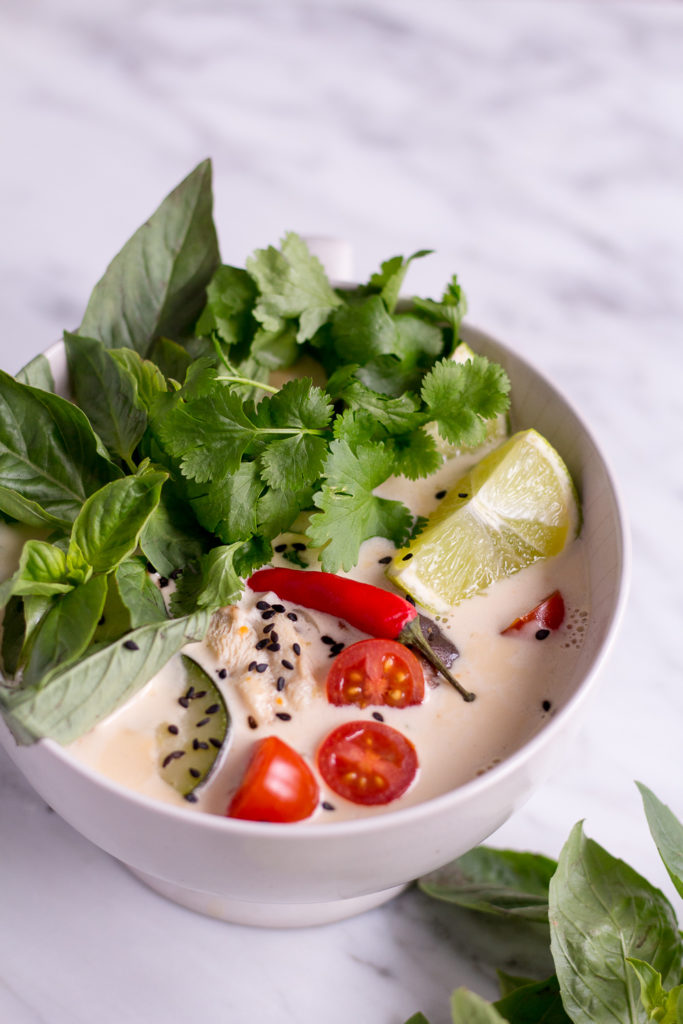 This thai coconut soup, tom kha veggie as I like to call it, adapted from the original tom kha gai, has been my favorite coconut soup this fall. It's the perfect mix of a warming coconut broth, fresh spices such as lemon grass and lime leaves, as well as veggies and fresh herbs. It's easy to prep, and I've tried to reduce the foreign ingredients to a minimum that you will get at every Asian store around the world, and even in most well-stocked supermarkets. 
So, before I get into this soup, I need to apologize for the down time of my blog on Monday. Suddenly everything stopped working and I could not seem to get it back up again. I'm telling you, this is every blogger's worst nightmare. Of course I could not fix it myself, but had to ask my host and more so my uncle for help, but after 20 hours of constant sweat and some tears, we finally managed to get this baby running again.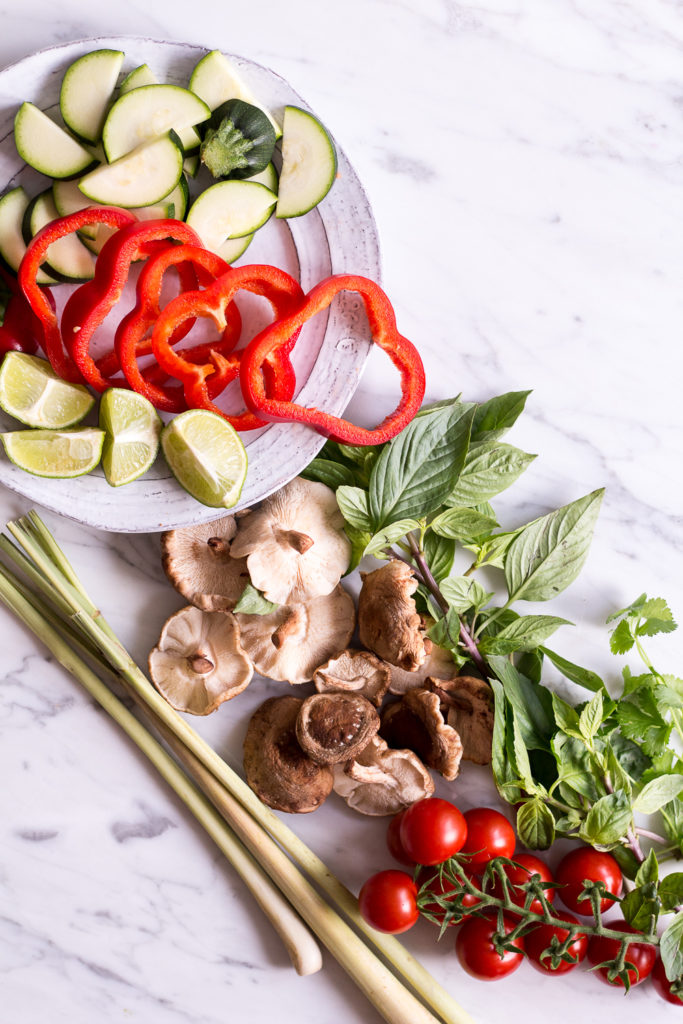 Did I already tell you how much I love fall and all its amazing warming soups, like this thai coconut soup? Since last winter  my 20-minute thai curry soup, was my constant companion, I needed to change it up a bit.  As I order tom kha veggie every time I'm going out for Thai food, I thought I'd give it a try as well. I was always intimitated by the long ingredient list in tom kha soups, but then I saw this Thai Style Coconut Soup by my dear friend Marie from 8thandlake. She made it seem so easy, so I really wanted to make my own version without having to add many more ingredients.
I found that adding the lime leaves really makes the biggest difference, so I could not recommend buying this ingredient enough. I got it from a small asian store in my home town. They sell it in bulk for just over a Euro, so it's not like you're gonna have to break the bank when making this soup. They last for quite a while, too, so one bag should get you through this winter at least. Lemongrass is also very important for the taste, so you should definitely not skip on the lemongrass as well.
Besides from lime leaves, lemon grass and coconut milk, you can pretty much add anything you like into your soup. Making your own tom kha is definitely cheaper than constantly buying it from your trusted Thai restaurant, obviously. You will also know exactly what's inside, so no funny additives that could harm your body.
The flavors in this soup actually become stronger when you make it the day before you want to eat it, but I can never wait that long and finish it right away.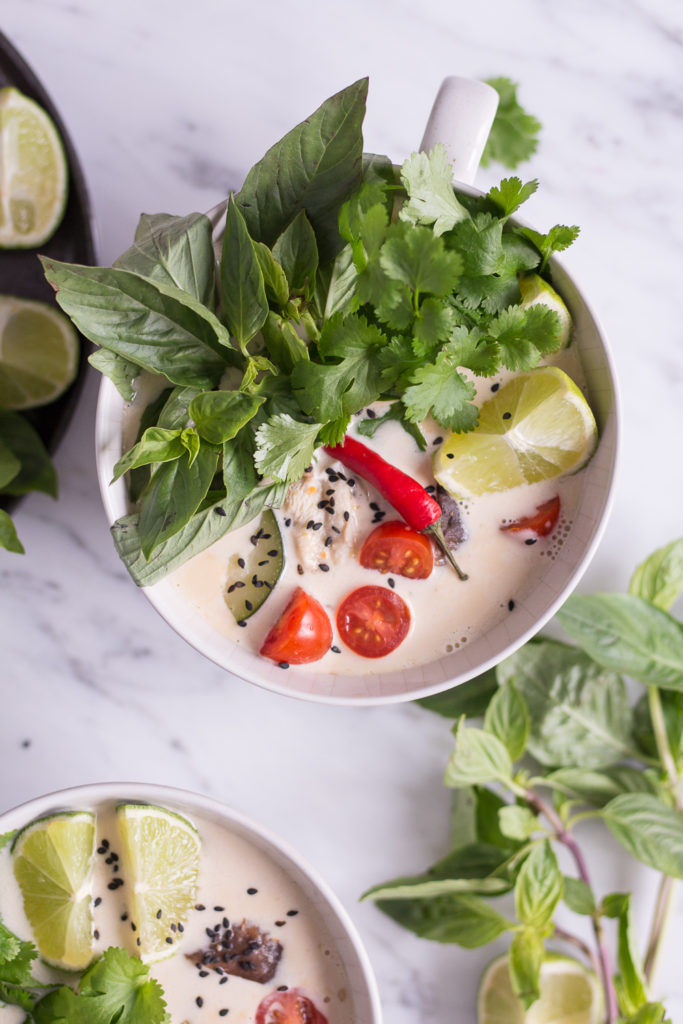 Today's post is pretty short in the description, because I am still trying to fix some minor bugs, and sort all the blog related things out. I nevertheless wanted to post my usual Wednesday recipe, so here it is: the best thai coconut soup you'll ever try.

Thai Coconut Soup (Tom Kha Veggie)
Ingredients
4cm (1.5 inches) fresh ginger
4 stalks of lemongrass
4 dried lime leaves
3 cups (750ml) of coconut milk
1 cup (250ml) of water or vegetable broth
1 - 2 tablespoons of homemade vegetable stock paste if using water above
200g (2 cups) of shiitake mushrooms
150g (about 10) cherry tomatoes
1 red bell pepper
1 zucchini
1 chili
1 tablespoon of coconut sugar or honey
2 limes
sea salt to taste
fresh thai basil and cilantro to serve
Instructions
Wash the red bell pepper and zucchini and cut cut them into bite-sized pieces. Wash the mushrooms and cut them into slices. Using household gloves, slice the chili, remove the seeds and finely chop it. Slice the cherry tomatoes.
Crush the lemongrass with a large knife, and cut into 1 inch (2-3cm) long pieces. Finely chop the ginger. Add both to a pot or dutch oven together with the coconut milk, water and veggie stock paste or vegetable broth and bring to a boil.
Lower the heat and add the red bell pepper and zucchini, mushrooms, cherry tomatoes and lime leaves and let simmer for about 10 minutes on low heat. Add the lime juice and coconut sugar or honey and let simmer for another 5 minutes.
Try to remove the lemongrass and lime leaves to your best abilities, so you won't bite on them.
Serve in medium sized bowls and garnish with fresh thai basil leaves, coriander and black sesame seeds.
Enjoy!
---
DID YOU MAKE THIS RECIPE OR HAVE ANY SUGGESTIONS, QUESTIONS OR COMMENTS?
Feel free to leave a comment below, and don't forget to tag your creations on social media using #heavenlynnhealthy.
I'd love for this blog to be a dialogue.
---