This turmeric veggie paella is heavenly. I almost could not believe how well it turned out the first time I made it. My kitchen smelt heavenly, and the paella looked and tasted amazing. Paella is a traditional Spanish rice dish with sea fruit and vegetables, but it tastes just as amazing without the fish. While I do eat fish from time to time, I am careful with the fish I buy because most of it is completely contaminated with antibiotics. That's why I wanted to try a vegetarian Paella, and I am so glad I did because the result is an incredible mixture of spices, rice and healthy vegetables. The good thing about this paella is that it really has a restaurant-like flavor and I promise that you won't even miss the sea fruit or meat in this delicious meal.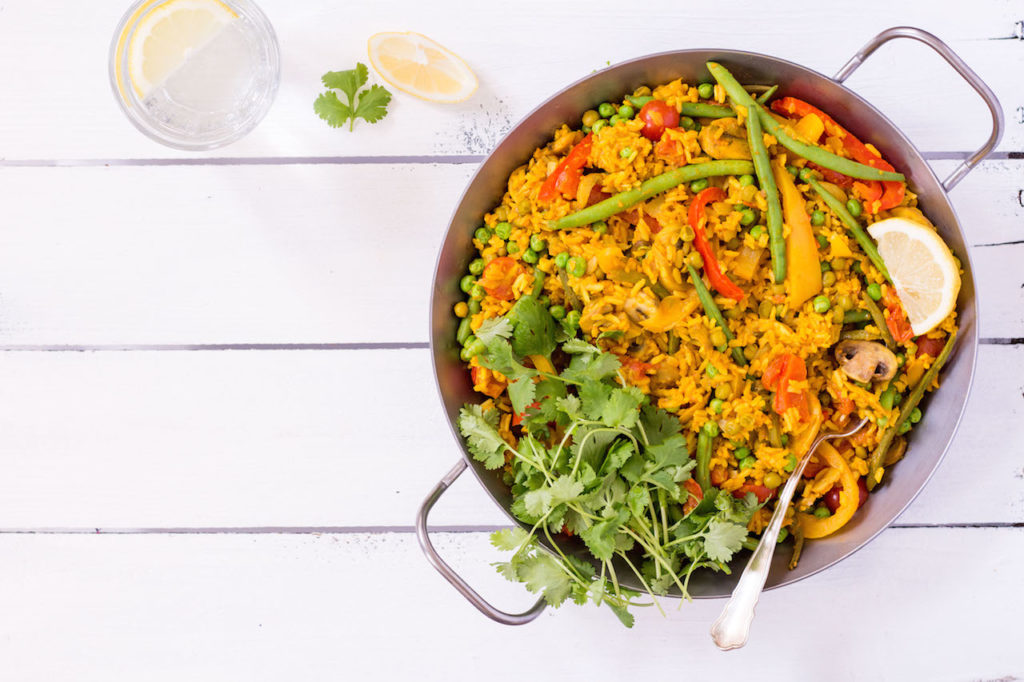 Another great feature of this turmeric veggie paella is that it's actually a low-budget meal. All you need is some whole grain rice, vegetables of your choice (you can even use frozen veggies), vegetable broth, and turmeric powder. If you want to be a bit more fancy you can of course add the paella signature spice saffron, but since this spice is quite pricy, you can easily substitute it with the less expensive turmeric powder. Turmeric is an amazing root, and I love how healthy it is. It comes from the curcuma root which looks a little bit like ginger from the outside, but with a bright orange flesh. Turmeric's anti-inflammatory benefits have long been known in the Chinese and Indian medicine where turmeric is used to treat various conditions like menstrual difficulties, toothaches or chest pains.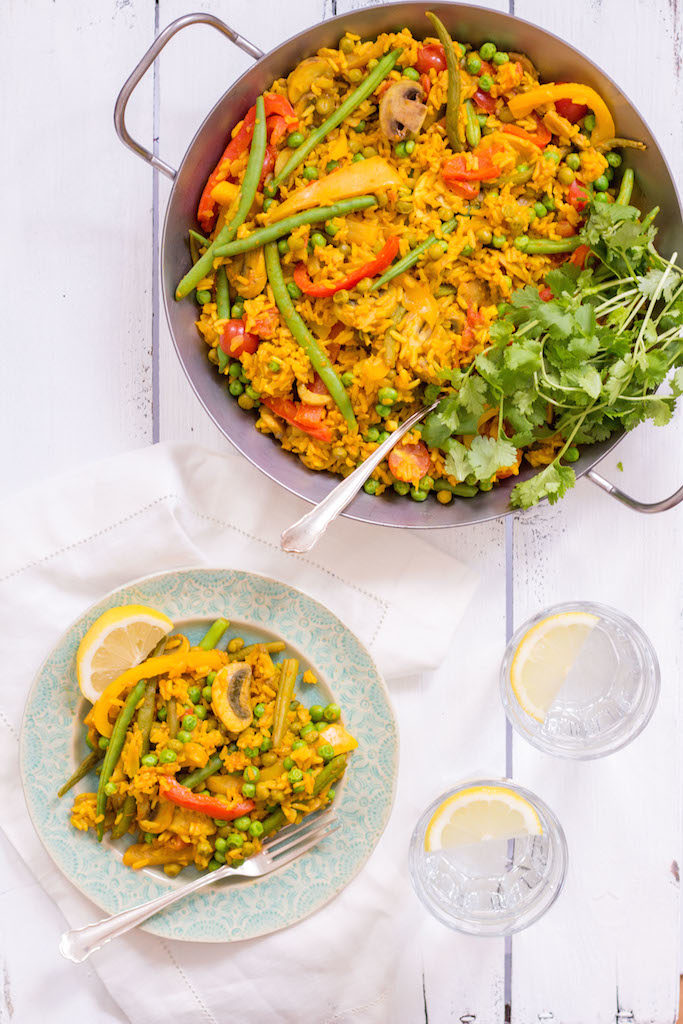 I love turmeric in this veggie paella because it gives the whole dish a spicy but warm flavor, and it also adds the signature yellow color to the rice. It is really the best meal on a warm summer day when you want something filling but light at the same time. It's great to share with many people, and makes for the perfect summer meal with friends.

Turmeric Veggie Paella
Ingredients
2 tbsp extra-virgin olive oil
2 cloves garlic
1 onion
1 red pepper
1 yellow pepper
1 ½ cups (200g) (cherry) tomatoes
½ cup of frozen green peas
½ zucchini squash (200g)
200g of fresh green beans
150g of mushrooms
1 ¼ cup (200g) of brown rice
4 cups (1 liter) of vegetable broth
2 teaspoons of turmeric powder
1 teaspoon of sweet paprika powder
½ teaspoon of cayenne pepper
the juice of 1 lemon
0,1g of saffron (optional)
salt and pepper to taste
Instructions
Start by chopping the onions, garlic, red and yellow pepper, zucchini squash, mushrooms and tomatoes. Heat the olive oil over medium heat in a large saucepan and sauté the garlic and onion for about two minutes until golden brown. Add the red and yellow pepper, tomatoes, zucchini and mushrooms and cook for another 5 to 10 minutes.
Add the frozen veggies and green beens and cook for 5 more minutes. Now add the brown rice and cook until it turns translucent. Pour in the vegetable broth (make sure it is hot), then add all the spices.
Cook the veggie paella on medium or high heat for 40 - 50 minutes while frequently stirring. Don't worry if your paella looks like paella soup – it takes a while for the rice to absorb the vegetable broth. You might even need to add more broth when the rice gets too hard or dry.
Cover the paella with a kitchen towel, pour the lemon juice over it and let stand for at least 10 minutes before serving.
Enjoy!