Spring bowl to celebrate the best season with tahini lemon dressing.
Spring Bowl with Tahini Lemon Dressing
Ingredients
For the oven roasted vegetables
300g of small potatoes
1 red bell pepper
2 carrots
1 fennel
1 tablespoon of extra-virgin olive oil
2 tablespoons of sesame seeds
1 tablespoon of rosemary
sea salt and pepper
For the bowl:
½ cup (80g) of quinoa
two handful of leafy greens such as mache, baby spinach or rocket
1 pink beet
some micro greens for decoration
For the lemon-tahini-dressing:
4 tablespoons of tahini
the juice of ½ lime
1 tablespoon of tamari
1 tablespoon of maple syrup or raw honey
2 tablespoons of water
1 garlic clove
2 cm (a little less than 1 inch) of ginger
Instructions
Wash and cut the vegetables in bite-sized pieces. Half the potaoes with the skin on.
Marinate the vegetables and potatoes with olive oil, rosemary, sesame seeds, sea salt and pepper. Place the vegetables and the potatoes face down on a baking sheet with baking paper and bake for 35 - 40 minutes at 180°C.
For the bowl, rinse the quinoa under running water, then cook it together with 1½ cups of water and a teaspoon of apple cider vinegar for 15 minutes. Wash the salad, cut the beetroot in thin circles, and place both in two seperate bowls. Once the quinoa is done, split it between the two bowls. Store leftovers for the next day.
For the dressing, finely chop the garlic and ginger and mix it with the other ingredients.
Add the roasted vegetables to the bowls, garnish with the micro greens and serve with the dressing.
It's finally spring yay!
I cannot wait to put all those coats and warm clothes away and start wearing spring jackets, sneakers and sunglasses. I am writing this on the first of May (took you long enough, Spring), and just finished this awesome spring bowl that my boyfriend kindly prepared for me after I dropped a large wooden board on the top of my right foot. After lying on the kitchen floor crying for five minutes, all I could do was get up on the couch, put ice on the foot and watch Mean Girls.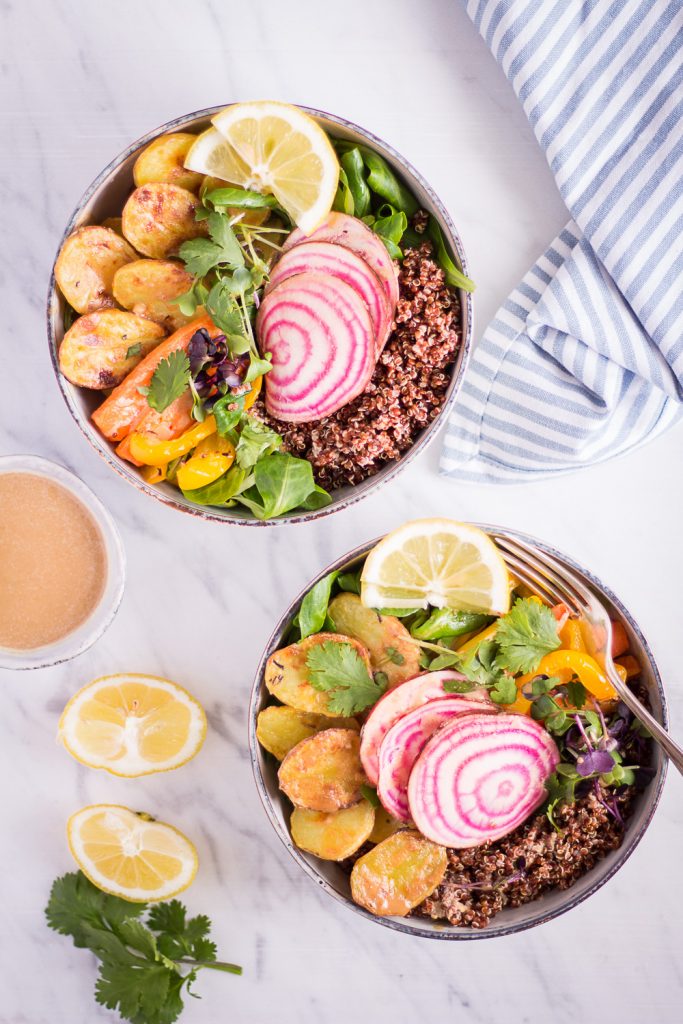 Thirty minutes later, I was served this amazing bowl of goodness, and it really made my foot hurt less. I hope all the healthy ingredients will help me fight this inflammtion that is going on in my foot right now. My favorite is the tahini lemon dressing, which is actually inspired by the peanut lime sauce from my summer roll bowl.
Did you know that tahini is one of the healthiest foods out there? Not only does it cover almost our entire daily requirement of copper, it also contains many other minerals such as mangenese, magnesium, phosphorus and calcium. But let's talk a little bit more about copper, because it gets less attention than other minerals.
Having a copper deficiency is as bad as having iron deficiency – and we know how many women are iron deficient.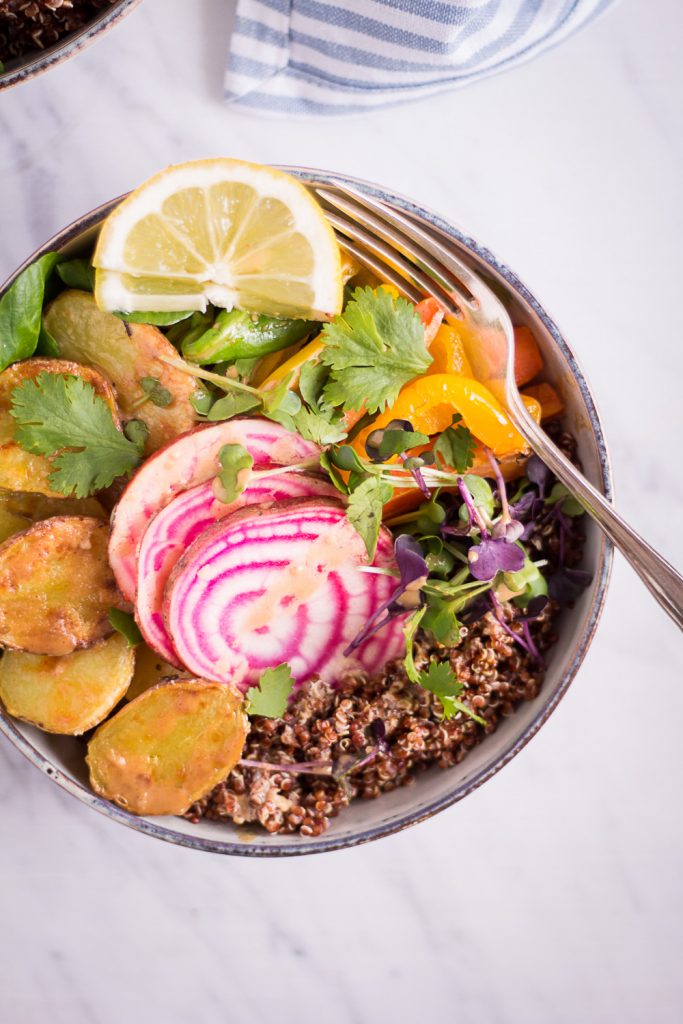 Our body needs cooper daily to produce red blood cells and to support the use of iron. So, if you have an iron deficiency, you might also have a copper deficiency as copper is needed for the absorption and use of iron. You can find copper mainly in leafy greens, raw cacao (yay, chocolate) as well as in fish and seafood. Copper is also very important for the transportation of oxygen and the production of antigens. It therefore strenghtens the immune system, which is extremely cool in my opinion.
Fun fact: without copper, we would all have grey hair as it supports pigmentation.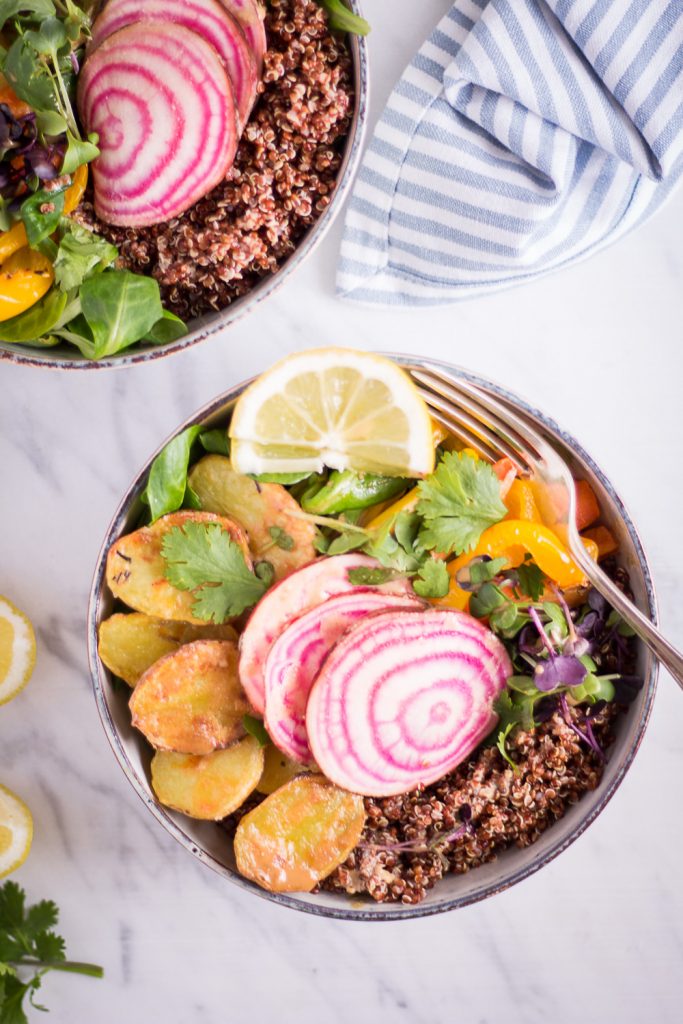 Since my foot is starting to hurt veeeery much right now, I am going to leave it at that today. Lesson from today: copper is great!
If you love bowls (and you speak German) please have a look at my friend Annelina's new cookbook "Buddha Bowls", which just came out and which is absolutely amazing. Not only is it very informative, it also contains so many different recipes of bowls, that it makes me want to never eat anything else ever again.
Enjoy!
---
DID YOU MAKE THIS RECIPE OR HAVE ANY SUGGESTIONS, QUESTIONS OR COMMENTS?
Feel free to leave a comment below, and don't forget to tag your creations on social media using #heavenlynnhealthy.
I'd love for this blog to be a dialogue.
---
Merken
Merken