*This post is sponsored by REWE. Thank you for supporting Heavenlynn Healthy's sponsors.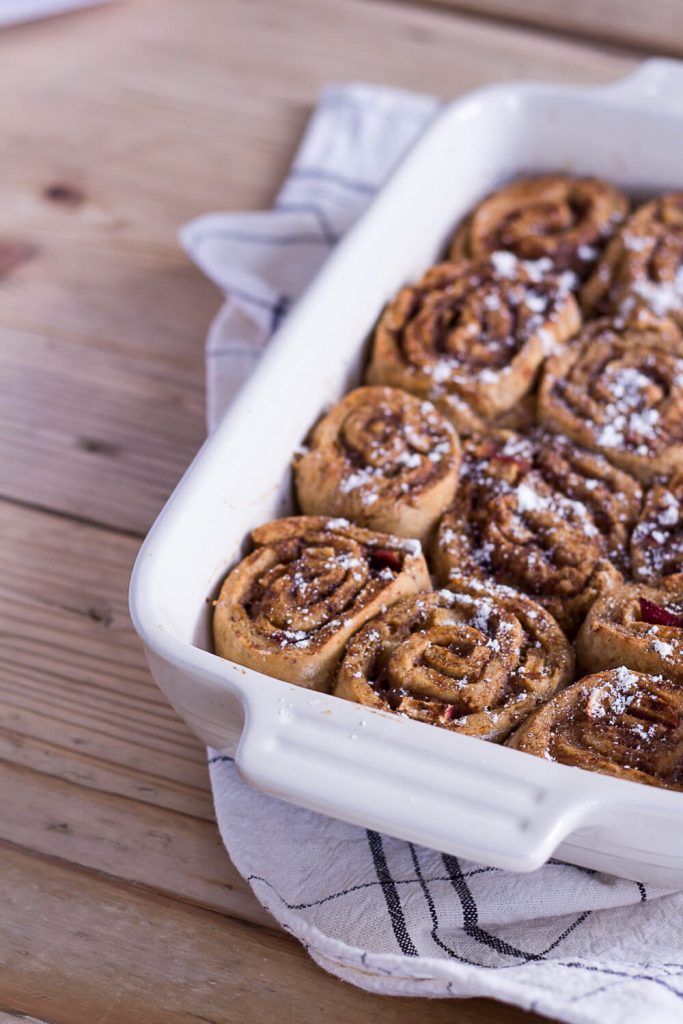 There are moments in life, when I wished, I lived in a big city. When I look at our small fitness program for example. Or when I want to try a new restaurant. And then there are moments in life, when I'm super happy to live in the countryside. Well, that might be a bit of an exaggeration since my town is not that small. But I'm only 5 minutes away from a real forest, which is pretty much the countryside for me. During my visit at a local apple farm a few weeks ago, I once again realized that my heart beats for nature, and not for the big cities.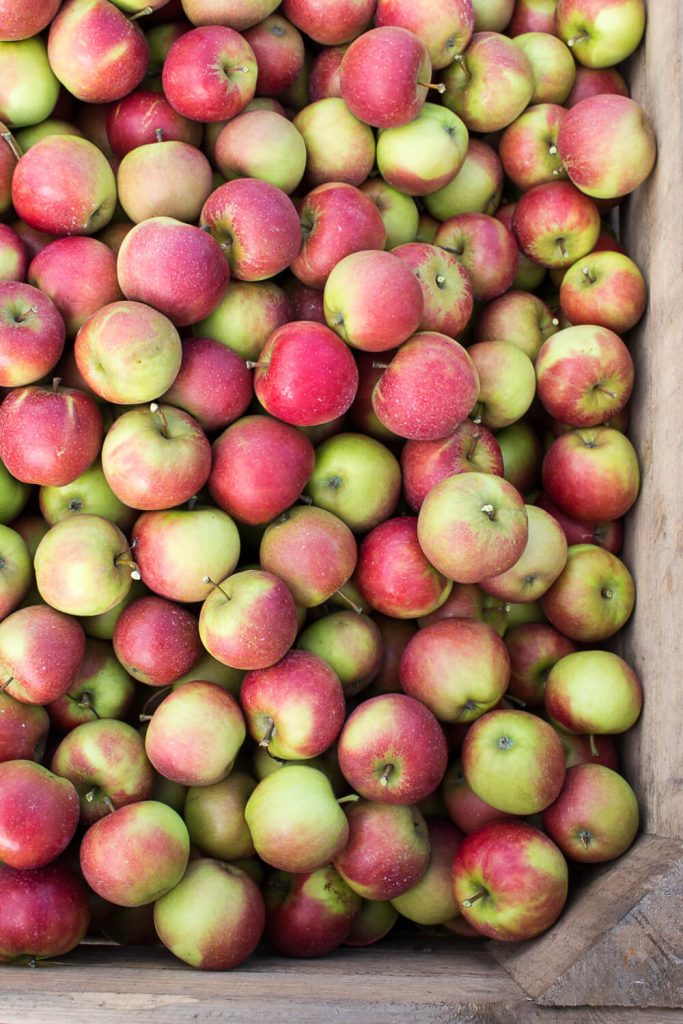 My countryside-heart got so excited during my visit at Ralf zum Felde's apple farm near Jork. That morning I saw deer, fawns, birds of prey, and marten dikes. Oh and of course I saw one or the other apple.
As REWE Regional ambassador, I got to visit a handful of local producers this year. You can say that I'm a bit of a fan girl when it comes to farmers, because, hello, they produce our food! Something that we all consume every single day. Without them, we would pretty much starve, so I am thankful that there are people that work day and night to keep us satisfied.
If you grocery shop at REWE occasionally (or daily like me), then you might have noticed the regional banners hanging above the produce section with photos of the local producers. Or you've noticed the little yellow truck on the local products, the logo of REWE Regional. Many of the producers have been in a cooperation with REWE for many years.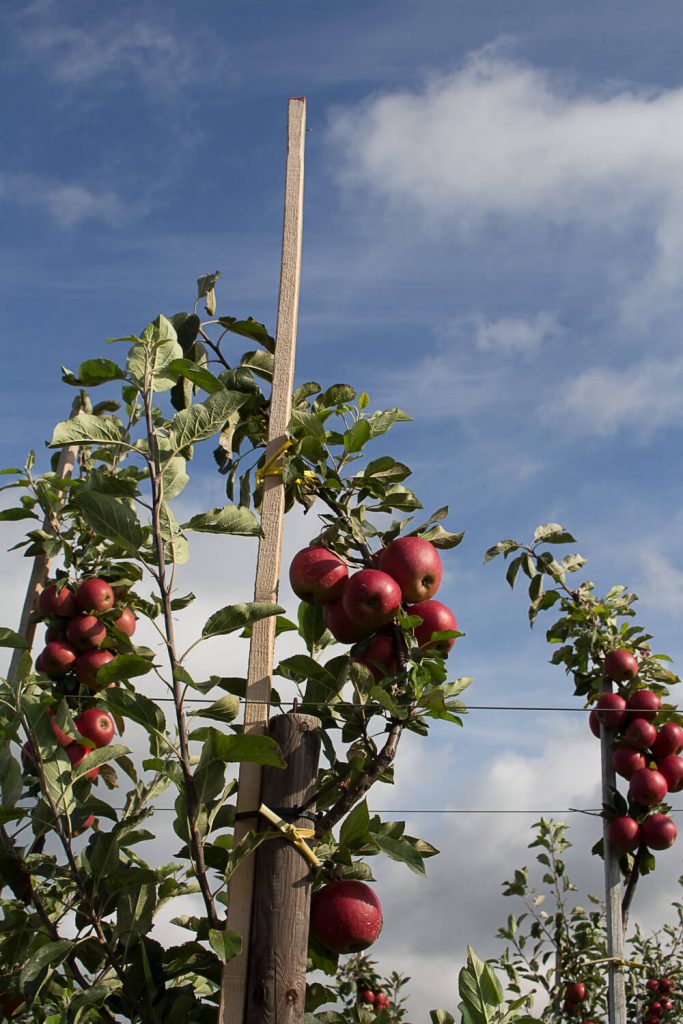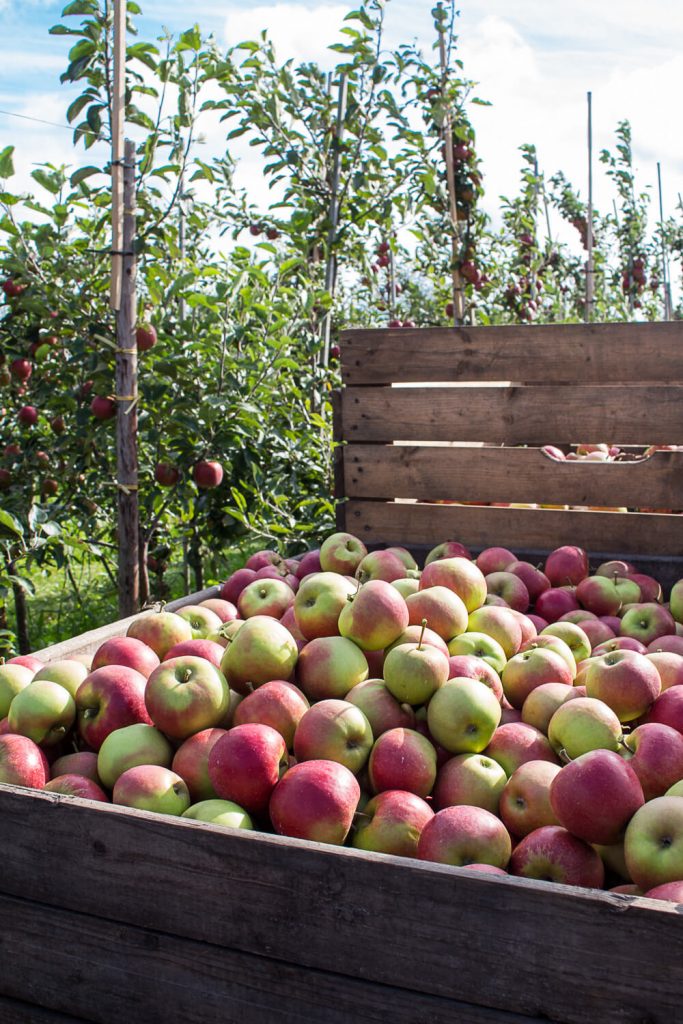 Just like Mr. zum Felde who has taken over the business from his father who has stepped into the shoes of his father and so on. Ralf zum Felde grows all the well-known apple brands such as Elstar, Braeburn, Jonagold, as well as boskoop or Holsteiner Cox. (I really do not know what they are called in English, sorry).
If you did not happen to grow up next to a large area of apple farms (like I did), then you might think of apple trees as large, majestic tress. These days, conventional apple trees are small and tiny, and easy to harvest without needing a ladder to climb. That's the truth, people. Everything is standardized in modern agriculture.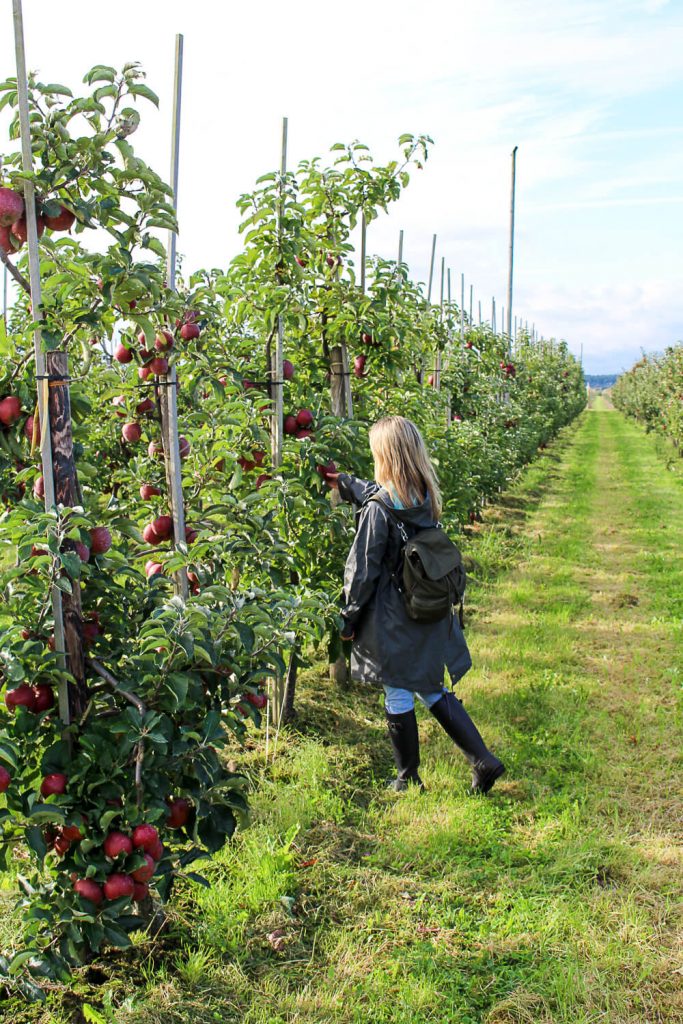 When you think of locality and seasonality, I instantly think of sustainability and environmental protection. Of course these topics are also predominant in the area "Altes Land", Northern Germany's largest contiguous fruit-growing region. During our walk through the apple rows, Mr. Zum Felde explained to me that they have implemented various measures over the years to protect the environment and to make apple agriculture more sustainable. Such measures include poles for the birds of prey, natural lakes, marten dikes, bee hotels,, falcon houses and blossoming stripes along the apple rows. I don't really know the English word for it, but blossoming stripes are clearly pictured in the photo below. It's purpose is to attract wild insects. For me as a fan of birds of prey, the morning on the apple farm was especially fascinating, because I've never seen so many wild birds of prey in nature before. Why birds of prey, you might ask yourself now? Because they keep the mice away, who like to nibble on the roots of the trees, which makes them ill.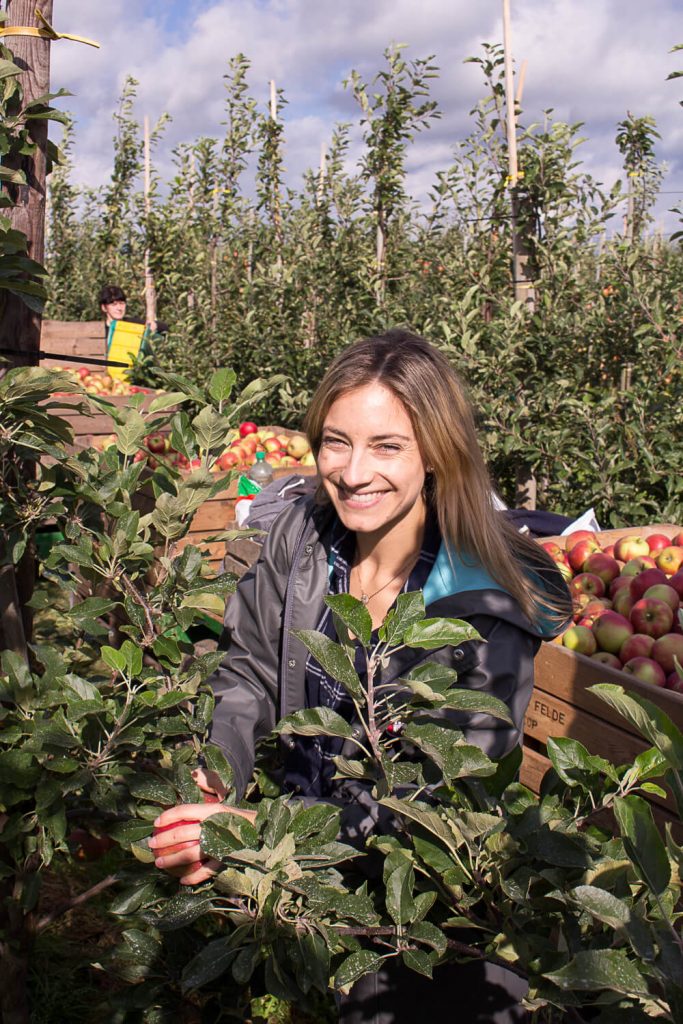 The highlight of the day? Definitely seeing multiple deer, does and fawns! We were able to get really close so I could take this magical photo. I think that my excitement definitely broke the ice between the farmer and the little blonde food blogger ;-).
If you've come this far in my article, then I would like to thank you big time. With a delicious recipe for homemade cinnamon apple rolls. They are the perfect treat for a rainy Sunday afternoon.

Healthier Apple Cinnamon Rolls
Ingredients
For the dough:
1 pack of fresh or instant yeast, make sure it is labeled gluten-free if you are a celiac
250ml of (gluten-free) oat milk
50g of extra-virgin coconut oil + 1 tablespoon to grease the pan
2 tablespoons of ground flax seeds + 3 tablespoons of water
35g of coconut blossom sugar + more to top
400g of Alnavit basic baking mixture or 300g of brown rice flour, 50g of corn stach and 50g of millet flour)
1 teaspoon of psyllium husks
For the filling:
100g of homemade apple sauce (or store-bought without added sugar)
1 teaspoons of cinnamon
1 apple
Instructions
Combine the yeast, 2 tablespoons of oat milk and one tablespoon of coconut blossom sugar. Set aside to activate.
Combine the flax seeds with the water and set aside to thicken.
Melt the coconut oil and then add the remaining oat milk. Let sit to cool for a few minutes. Then add the coconut blossom sugar and flax seed mix and mix well with a wooden spoon.
In a mixing bowl, combine the flour mix with the psyllium husk. Add all the wet ingredients and knead with a hand mixer dough hooks for five minutes or use your hands to knead the dough. I let my Thermomix kneading it for five minutes,
Place the dough into a clean mixing bowl with a little bit of flour on the bottom. Let it rise on a warm place for 90 minutes until the dough as doubled in size.
In the meantime, mix the apple sauce with cinnamon and set aside. Remove the core from the apple, and cut it into tiny pieces. Grease a round baking pan or baking dish with coconut oil.
Pre-heat the oven to 180°C. Roll out the dough on a floured surface into a rectangle either in one or in two parts. Don't forget to flour the rolling pin, too.
Using a brush, spread the apple sauce filling on the dough. Add the apple pieces. Start to roll the dough as tight as possible and sprinkle a bit of oat milk on the ends so it does not open. Cut the rolls into 3cm thick rolls, and place them in the baking dish. They should touch each other.
Repeat this procedure with the second part of the dough. Brush the rolls with two tablespoons of oat milk, sprinkle them with a bit of coconut blossom sugar and cinnamon before baking them for 25 – 30 minutes.
The apple cinnamon rolls taste best when they are fresh, especially since they are gluten-free and become dry after a day in the fridge.
Notes
Psyllium husks make the dough a little less crumbly. However, it does work without them.
I've tried making the dough without the corn starch, but it was simply too crumbly to roll. I found that the recipe works best with Alnavit Basic Mixture.
Since the rolls are gluten-free they should be eaten within a day or they become too dry.
Enjoy!
*This post is sponsored by REWE. Thank you for supporting Heavenlynn Healthy's sponsors. They keep me recipe testin' all day long. 🙂 
Merken