*This post was created in partnership with the Kooperationsgemeinschaft Mammografie.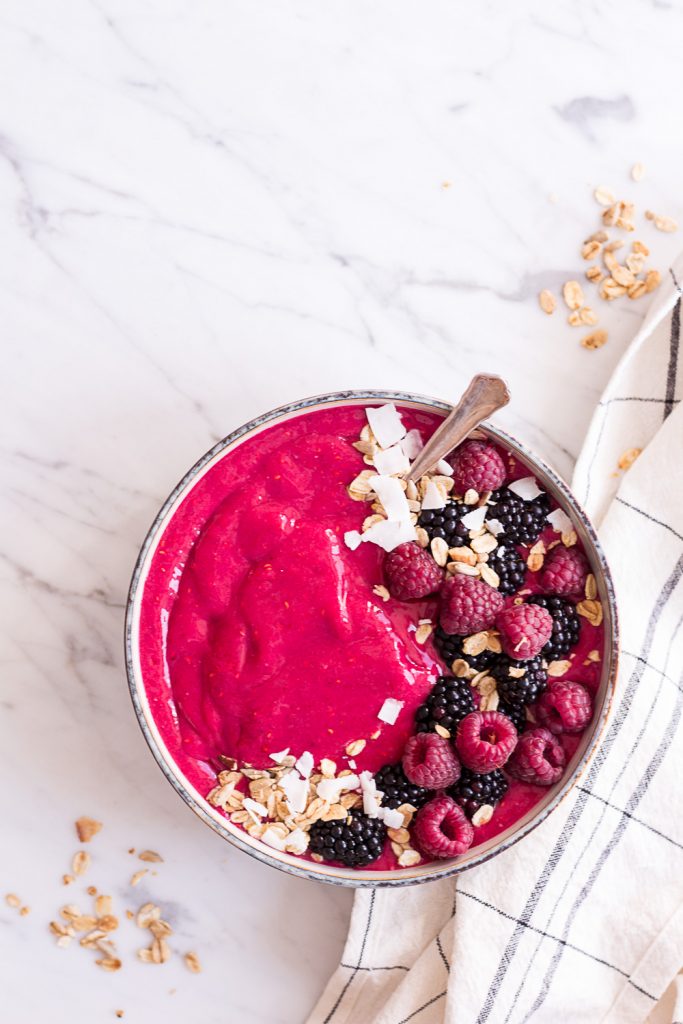 Recently, I realized that my blog was missing a couple of smoothie recipes. I love smoothies and I make them all the time, but for some reason, I forgot to actually add my favorite smoothie-creations to the blog. That's why today, I am going to change that. Here's your new smoothie recipe: it's a pink antioxidant-smoothie for breast cancer awareness month October. When I received an email a couple of weeks ago, asking if I wanted to support this month with a blog post, of course I said yes! I believe that bloggers have such a wide reach and with that comes the responsibility to talk about what matters. And breast cancer awareness matters to me.
However, since this blog is supposed to be a happy place, this post won't include one of those breast cancer stories. We probably all know someone who was diagnosed; hence, we know how such a diagnosis changes lives.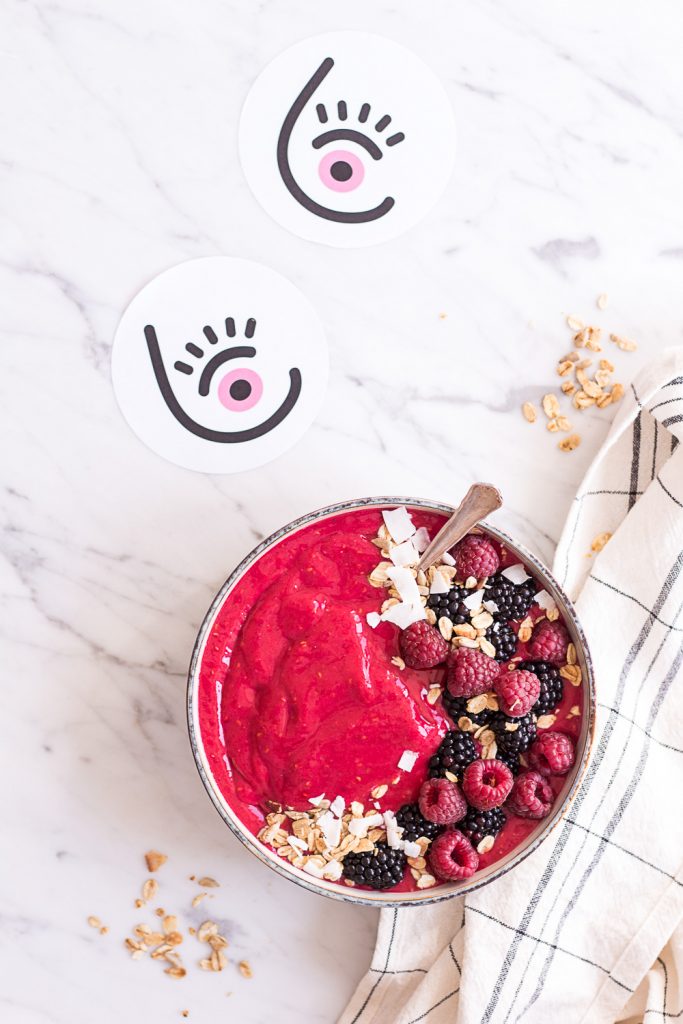 Today I would like to talk about mammography. When I talked to my mother about the topic a few weeks ago, she told me that she hasn't been to a mammography screening in two years. In Germany, every woman over the age of 50 can go to mammography once a year, paid by the health insurances. So of course I got really angry at her. How can she miss such an important appointment? But then I quickly realized that I had absolutely no right to be angry with her.
I am not yet old enough to go to mammography appointments. I do not have children. I do not have such big responsibilities in my life that I simply forget doctor's appointments. Nor am I particularly afraid of breast cancer (yet). After all, I'm still young.
Going to a mammography appointment sounds anything but fun. I completely understand why some women chose not to go. After all, it's not like you get the test results right away. No, you have to go home and wait for a couple of days or even weeks until you receive your results. Hence, you'll remain in the dark even after you've taken the courage to go to your appointment.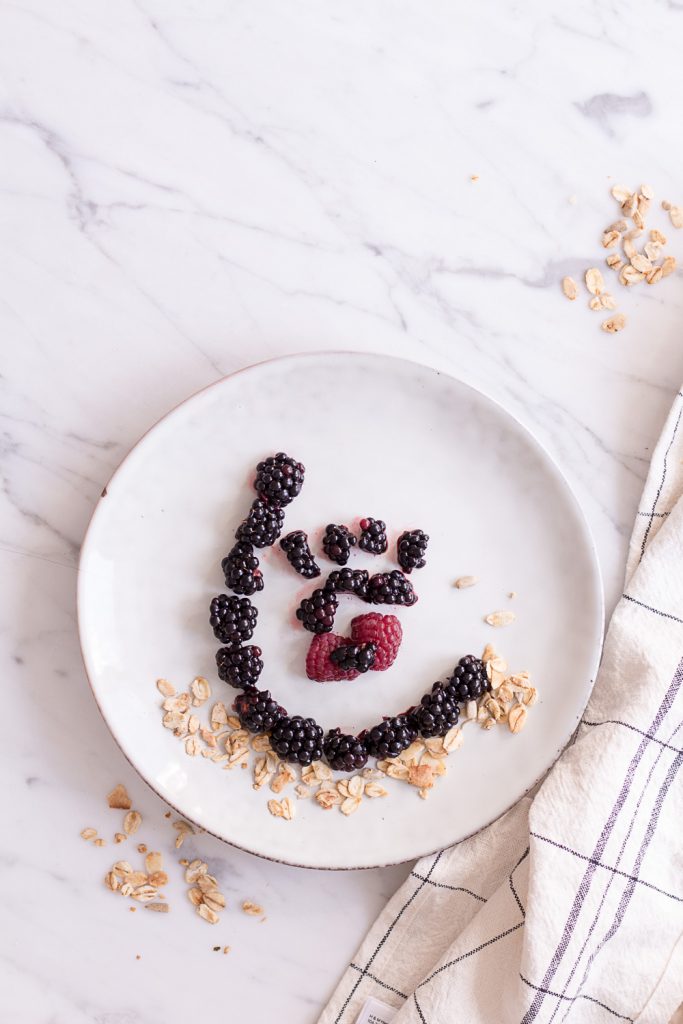 In addition, I recently read an article in the Sueddeutsche Zeitung about women who have their breasts removed after benign tumor cells had been discovered in their lacteal glands. According to the article, such cells increase the risk of breast cancer, but changes of them developing into harmful tumor cells are very slim. And then women with a genetic predisposition have their breast removed prophylactically. If this is the right decision, I don't know. I guess everyone has to make such decisions themselves.
Still, I would want my mother and my friends to go their mammography appointment every year or at least to have their gynecologist check their breasts periodically. 95 % of screenings are negative and the earlier breast cancer is diagnosed, the higher the changes of a complete recovery.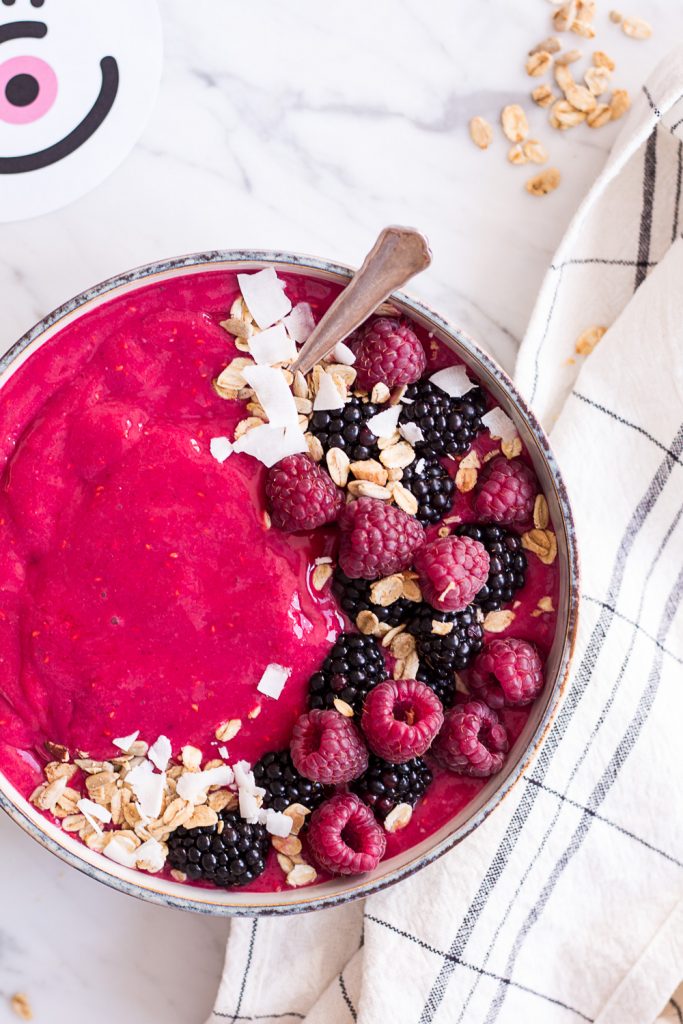 Just as I would love to see people taking care of their bodies before signs of illnesses appear. That's why I'm sharing this pink antioxidant smoothie today. Of course healthy eating cannot cure or be the only preventative measure against cancer. But healthy eating can help protect our body from free radicals, which have been shown to cause cell damage and in some cases perhaps even cancer. Free radicals are molecules that lack an electron. That's why they preferably "steal" electrons from our cells, which become damaged as a result. But worry not, because there are nutritional knights called antioxidants, which have a spare electron that they happily give to free radicals. This way, they protect our cells from free radical-caused damage. Berries such as raspberries are amongst the riches foods in antioxidants that's why I called this smoothie antioxidant-smoothie.
Again, healthy eating is not the cure for everything, but it helps strengthen our body from the inside. And pink smoothie bowls can brighten up any day. So if you'll receive the breast-screening letter when you turn 50, then get informed so you can make this decision for yourself. And if you're younger than 50, then try to be supportive of your mother, your sister, aunt or your friends. No matter what they decide to do.

Pink Antioxidants-Smoothie
Ingredients
1 banana
200g (1 cup) of fresh or frozen raspberries
250ml (1 cup) of almond milk
a handful of oats, use gluten-free if needed
2 teaspoon of ground flax seeds
1 teaspoon of chia seeds (optional, if you can't find flax seeds)
one tablespoon of coconut yoghurt
2 tablespoons of almond butter or peanut butter, I prefer almond
fresh berries and granola to top, if you're making a smoothie-bowl
Instructions
Peel the banana and place it in a blender with all of the other ingredients. Blend until combined. If you're making a smoothie bowl, top your smoothie with your favorite ingredients such as berries or granola.
Enjoy!
*This post was created in cooperation with Kooperationsgemeinschaft Mammografie. All opinions are my own. Always.
Merken
Merken
Merken