This is the final part of my healthy bali guides. Find Part 1 and Part 2 here.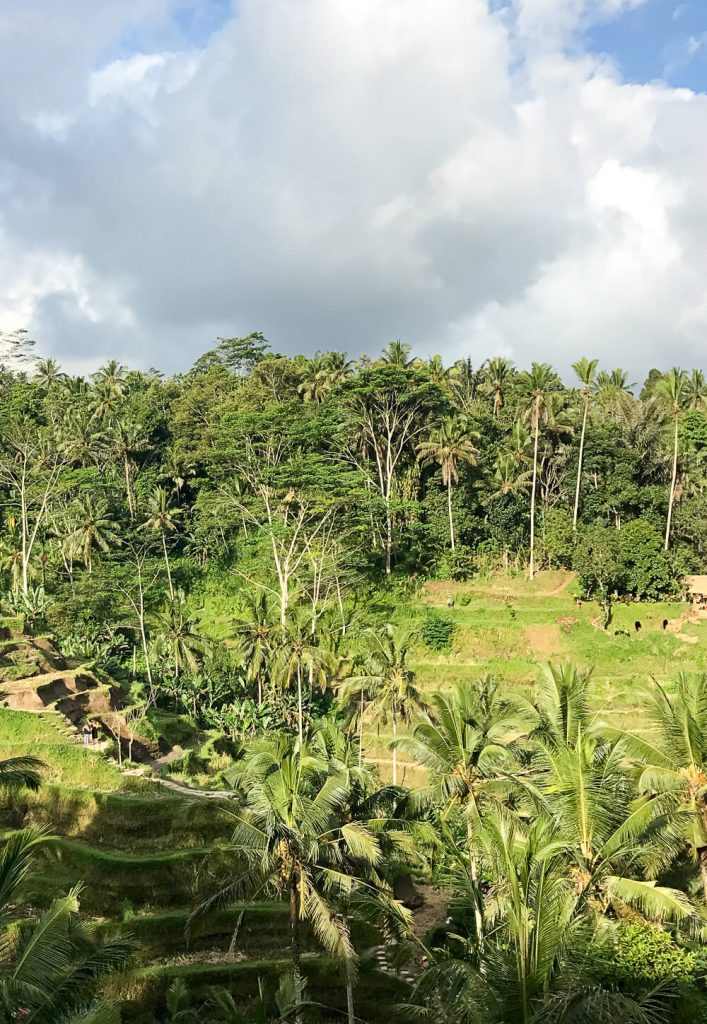 Our final stop in Bali was the magical Ubud. You could neither compare Ubud to Uluwatu nor to Canggu – it's the health capital of Bali, it's a Yogi's paradise and the spiritual center for all those going to Bali on a mission to find themselves. It was definitely not our intention to find ourselves in Bali, so we saved Ubud for last, but I wish we would have had more time to explore Ubud's hidden gems and treasures. If you skip the busy tourist attractions such as Ubud market and Ubud palace, then you will find many quiet and beautiful places in and around the village. Ubud is not big, but pretty populated, so it can be confusing at first. But it does not take long until you can find your way around the city. For healthy eaters, Yogis and nature lovers, Ubud is definitely worth a visit.
How to get around: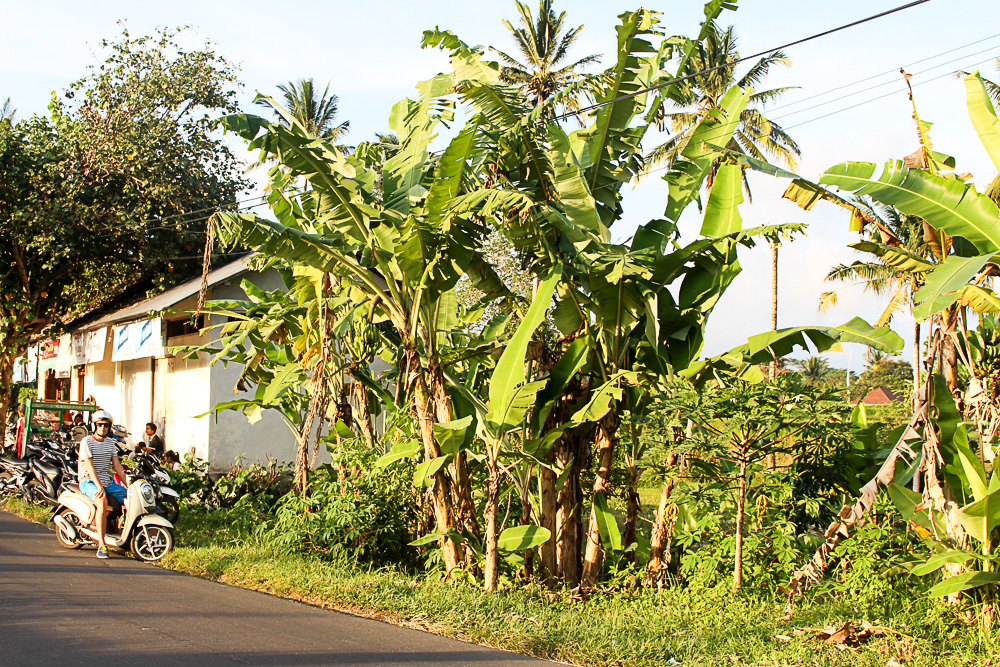 Once again, the scooter was the best way to get around. It gave us so much freedom, and enabled us to see much more of Ubud and its culture than we would have by foot or driver. Ubud traffic can be a bit more chaotic than down in Bingin, but after 12 days in Bali, we were already quite well at navigating through the Bali roads.
Where to stay in Ubud
We had two completely different accommodations in Ubud. They could have not been more different, but they were both absolutely amazing. The first two nights we got to spend at Como Shambala Resort, which we will forever treasure in our hearts, and the last two nights we slept in a tiny homestay in a village 20 minutes outside of Ubud.
Como Shambala Estate
We spent two nights at the most amazing health hotel ever. It was too amazing to write it all down in a few lines, so there will be a complete blogpost about it coming very soon.
Villa Omah Lembu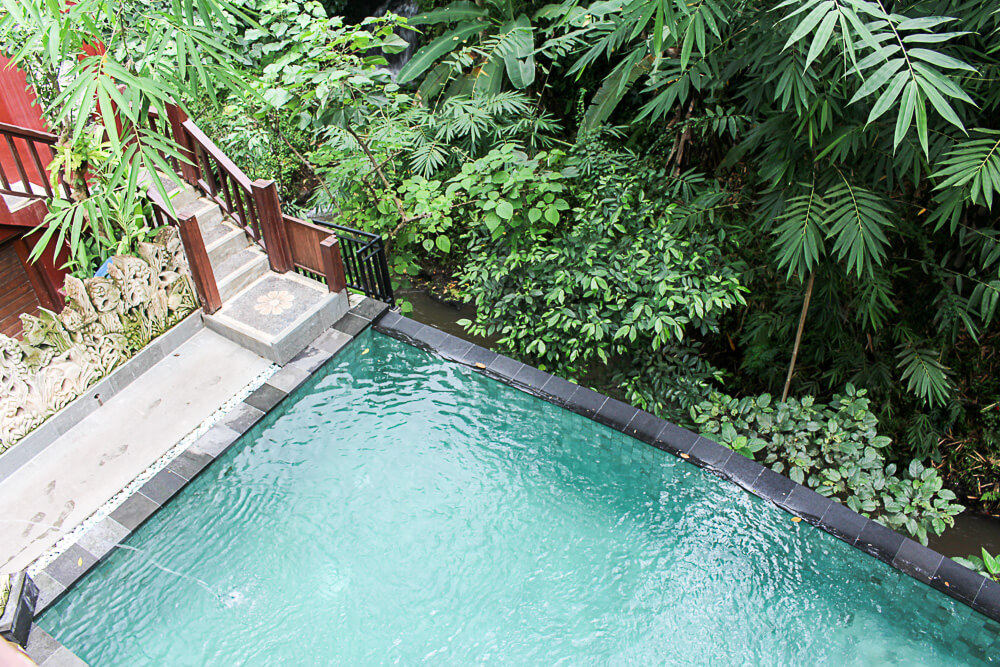 Villa Omah Lembu
was just perfect for our last two nights in Bali, since we needed something affordable, clean and basic. We were so busy during the day that we barely spent any time in the homestay, so a 20 Euro homestay per room was all we needed. Made, the owner, and his staff were incredibly friendly, and very forthcoming. The best part about our stay there was the personal village and rice field bike tour that Made have us. It was both Jannis and my favorite and most memorable afternoon as Made took us through this village, where the local kids greeted us with the biggest smiles and  "helloooooos" ever. He explained the rice fields and the water system to us, and showed us where dragonfruit, chilies and soy beans were planted. The tour alone is a reason to stay at Made's homestay, because it showed us the real Bali life. Just note that his homestay is not super luxury, it is clean, has a shared infinity pool and is located right by the river and a dreamy waterfall. It's also 20 – 25 minutes out of Ubud center, so be sure to remember that when you book it.
Bukit Sari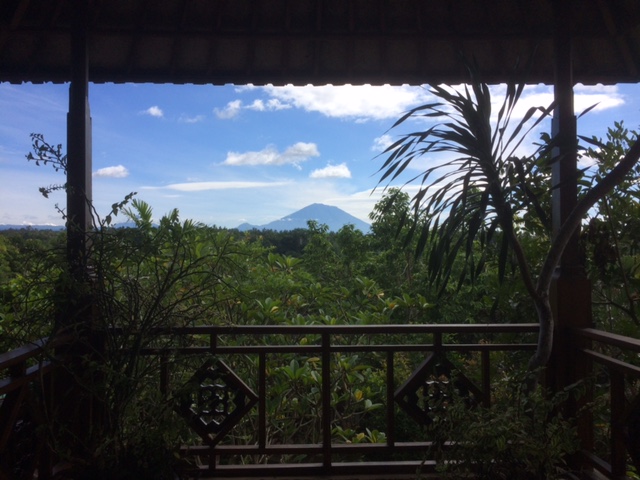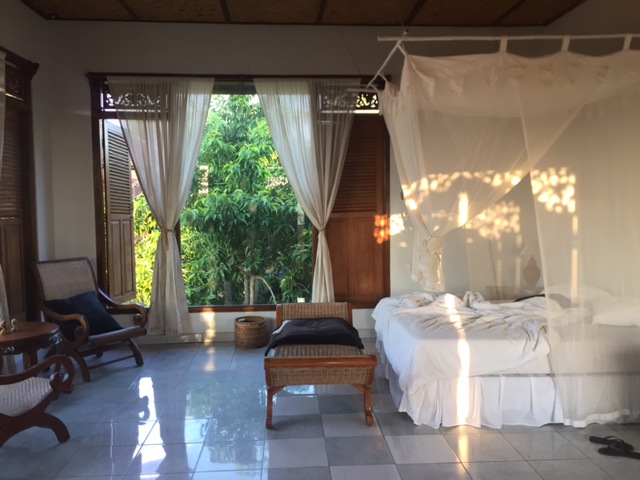 Bukit Sari is the home of a friend of mine, Agi,  and best suited for open-minded younger people or families who want to live right in the center of Ubud, but who do not want to break the bank by doing so. It's about 20 meters from the Alchemy and Intuitive Yoga, so it's located in the best part of Ubud. If you're interested in booking the room, then do not hesitate to contact my friend
Agi
who rents it out to visitors.
Healthy Eating in Ubud:
Just like in Canggu, there is a healthy restaurant or café on every corner. Some of them are too hippie for my taste, but most of them serve high quality food, always with a special touch. I especially loved the Yellow Flower Café and the Alchemy.
Yellow flower cafe
We went to the Yellow Flower Café through a recommendation of my friend Mia, and I'm so glad we did, as it was the perfect little hidden gem to visit on our first day in Ubud. The view from here is spectacular, and it's so wonderfully quiet up here. The way to Yellow Flower Café is so cute, too. You will have to leave your scooter at the main road and then walk up some cute stairs to find it. The best part of this café was their expertise. We had a bit up a stomach ache when we visited it, so we asked the waiter for a recommendation. She brought us activated charcoal drinks, and after about 30 minutes, we already felt much better. How amazing it that? Absolutely my favorite little café in Ubud!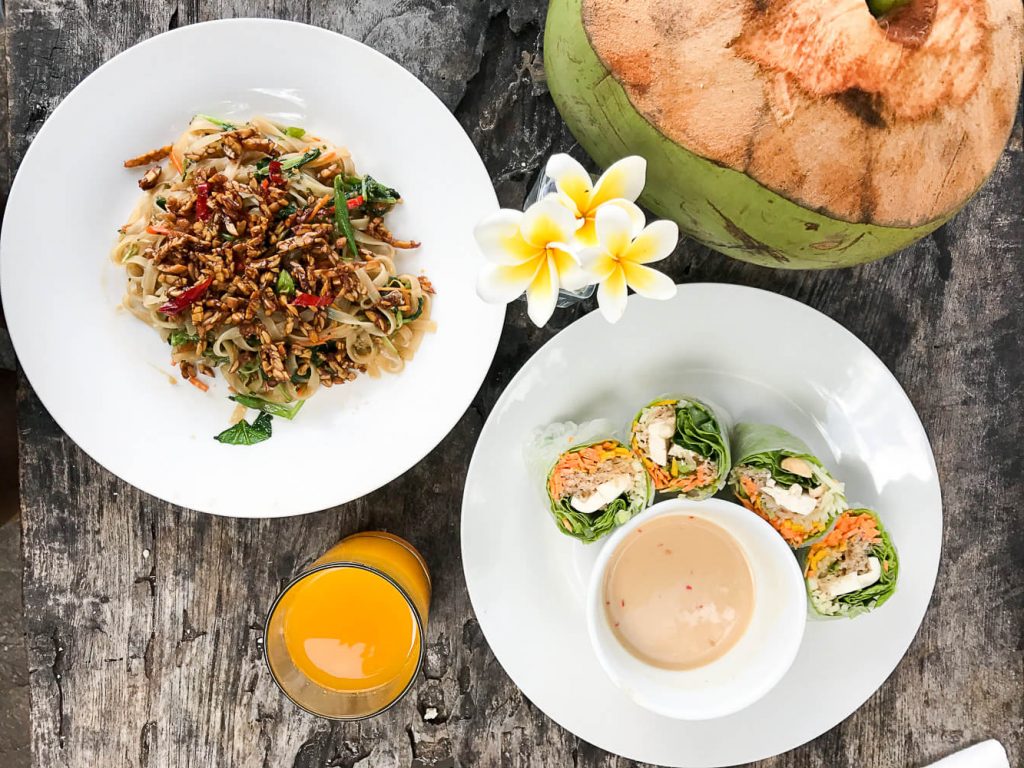 Lazy Cats Cafe
We found Lazy Cats through a recommendation of a friend who actually lives in Ubud (frankly, she owns parts of the cafe), and she helped design the interior, which was one of the reasons you have to check this place out. According to Jannis, the coffee was amazing, the avocado toast wasn't super exciting, so coffee and lunch would be best to visit the lazy cats cafe. The interior is absolutely stunning, so also a must-visit for me.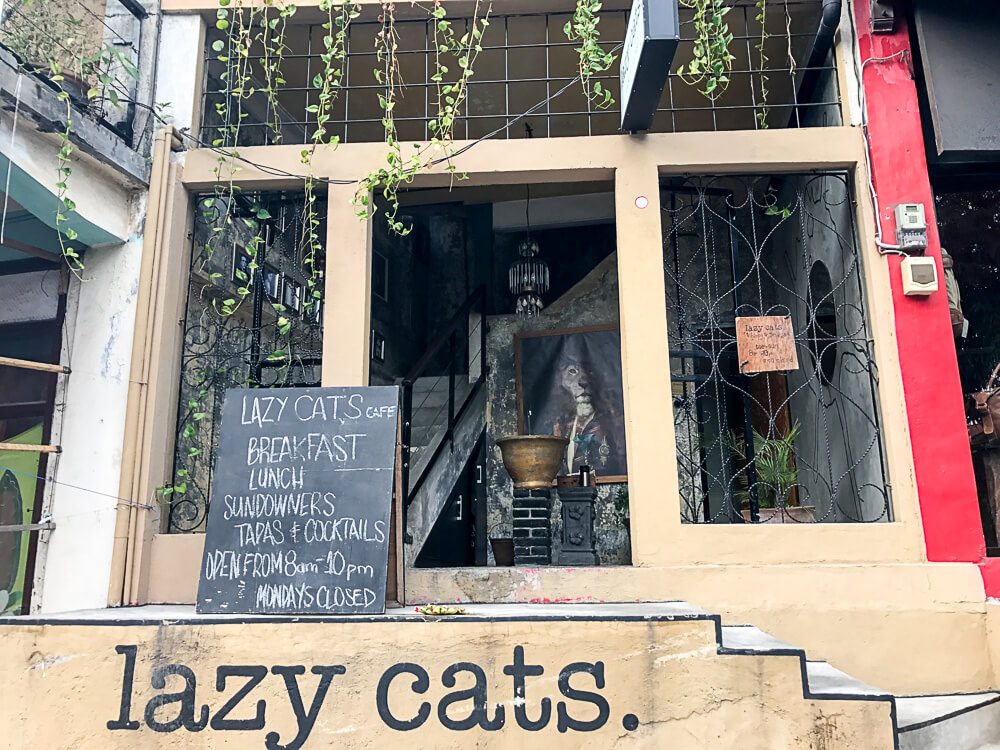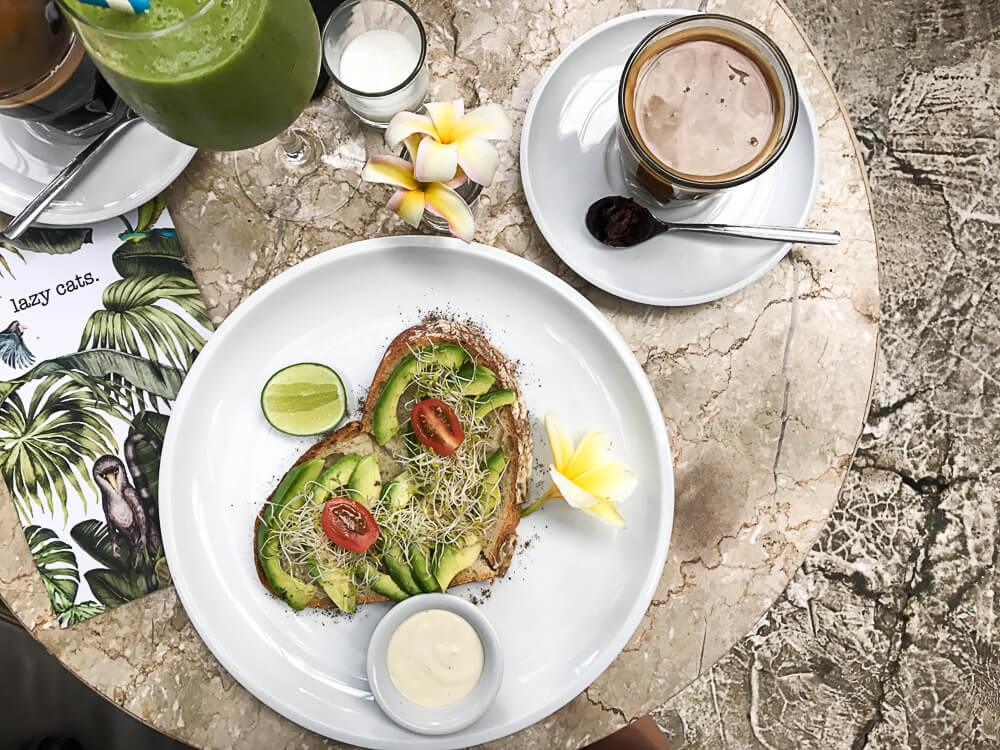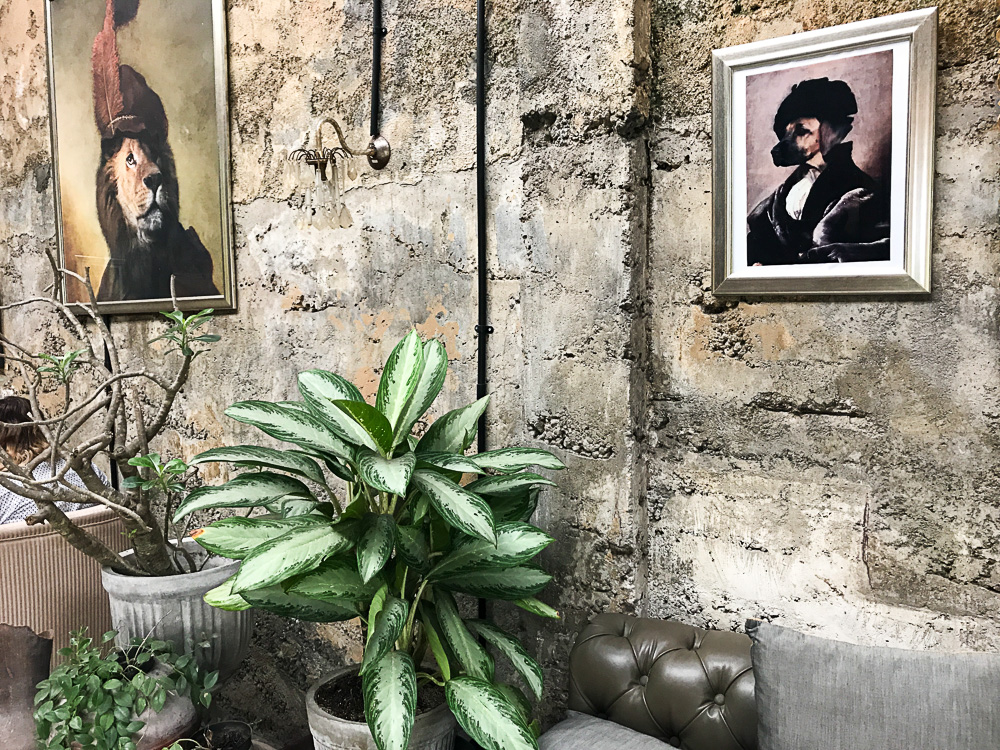 The Elephant
We went to the Elephant on our first night in Ubud, and we were not disappointed. Elephant is trying very hard to be a sustainable and organic restaurant, the food is delicious and offers lots of plant-based, gluten-free choices. We ate the Pad Thai, and the coconut noodle soup and started with the spring rolls, which was all delicious. However, I would have liked a broader selection of Indonesian dishes, because the Thai focus of the elephant confused me a little. But it was still one of the best dinners we have had in Ubud.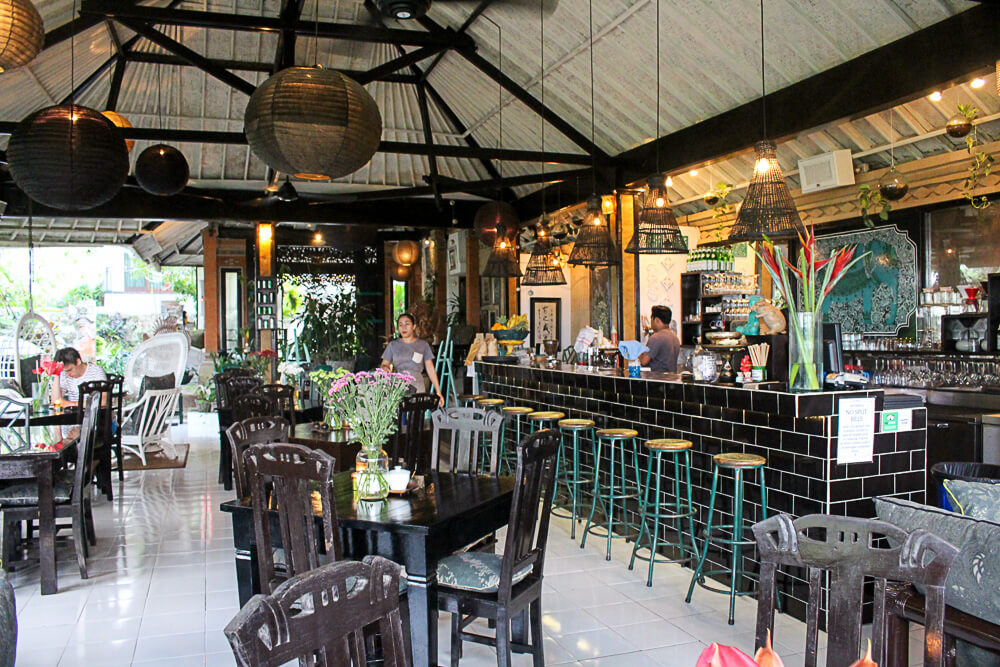 Alchemy
We went to Alchemy on our very last lunch at Ubud, where we met with a couple that we had met in Canggu a few days before. Alchemy is an all raw and vegan holistic restaurant, with an attached little health shop. The food here really was delicious, my friend Keira and I had a salad from the salad bar with pink sauerkraut, raw pad thai, basil coconut chips (which tasted like Parmesan) and cauliflower tabbouleh, and Jannis and our friend Jared both had the raw Mexican burger, which was surprisingly delicious (according to the guys).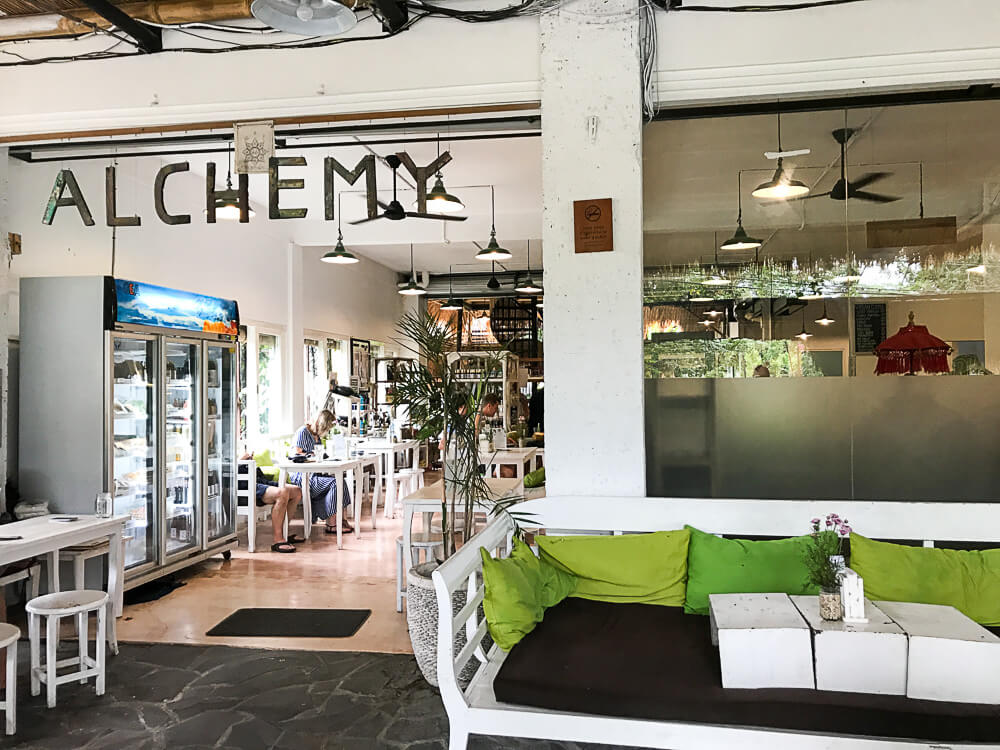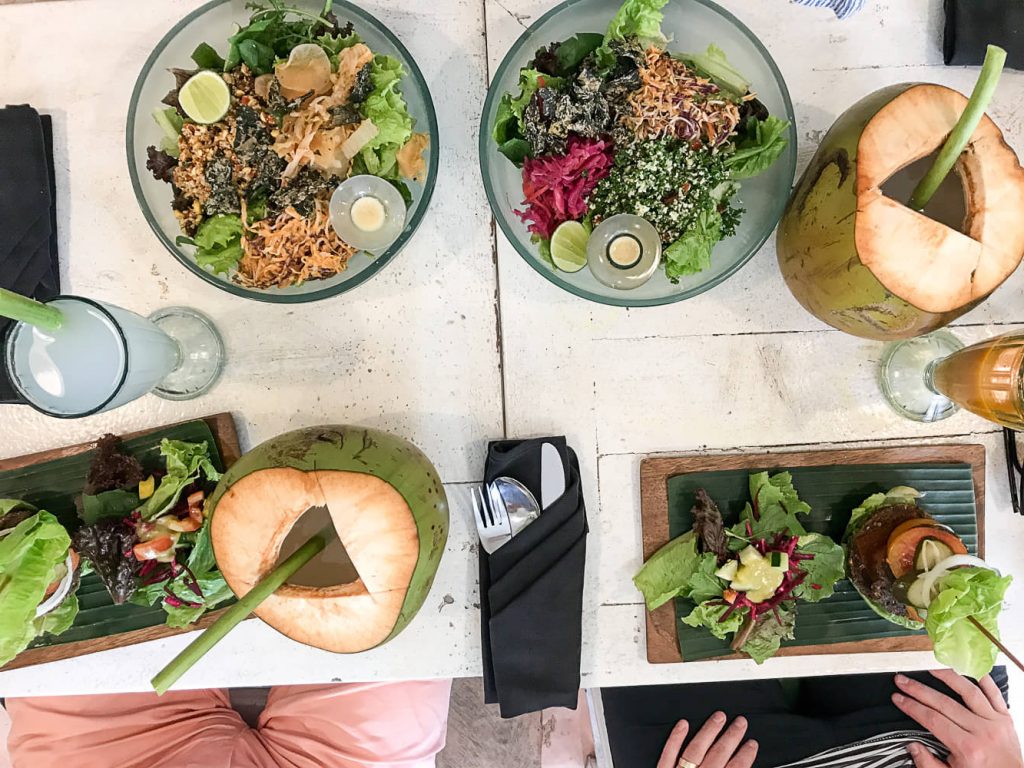 Yoga Barn
I loved Yoga Barn! Though I did not have time for yoga in Ubud (we only had 2 days), I loved the yogi feeling of this town. Yoga barn is the best known yoga place in Ubud, so naturally this place has a certain yogi-vibe to it. It might be too much for some people, and I was there very early in the morning, when it was still quite empty, but the whole sourroundings if this place are so beautiful. The breakfast was delicious, the juices and coffee as well. It's a place to check-out if you love yoga and healthy food, and everything that comes with those two things.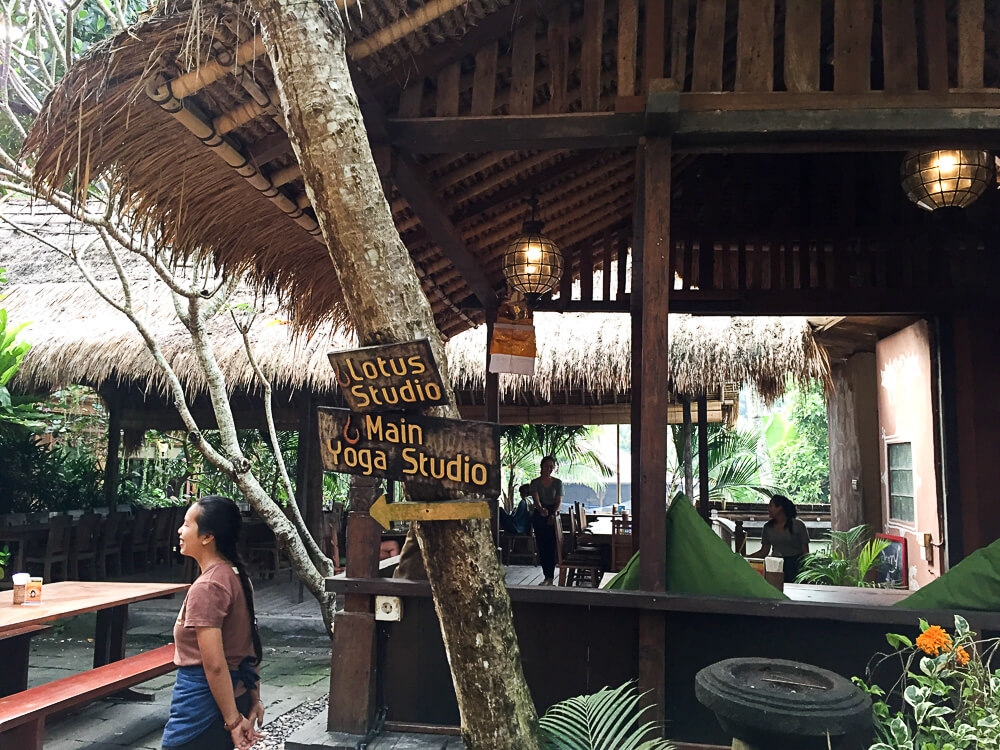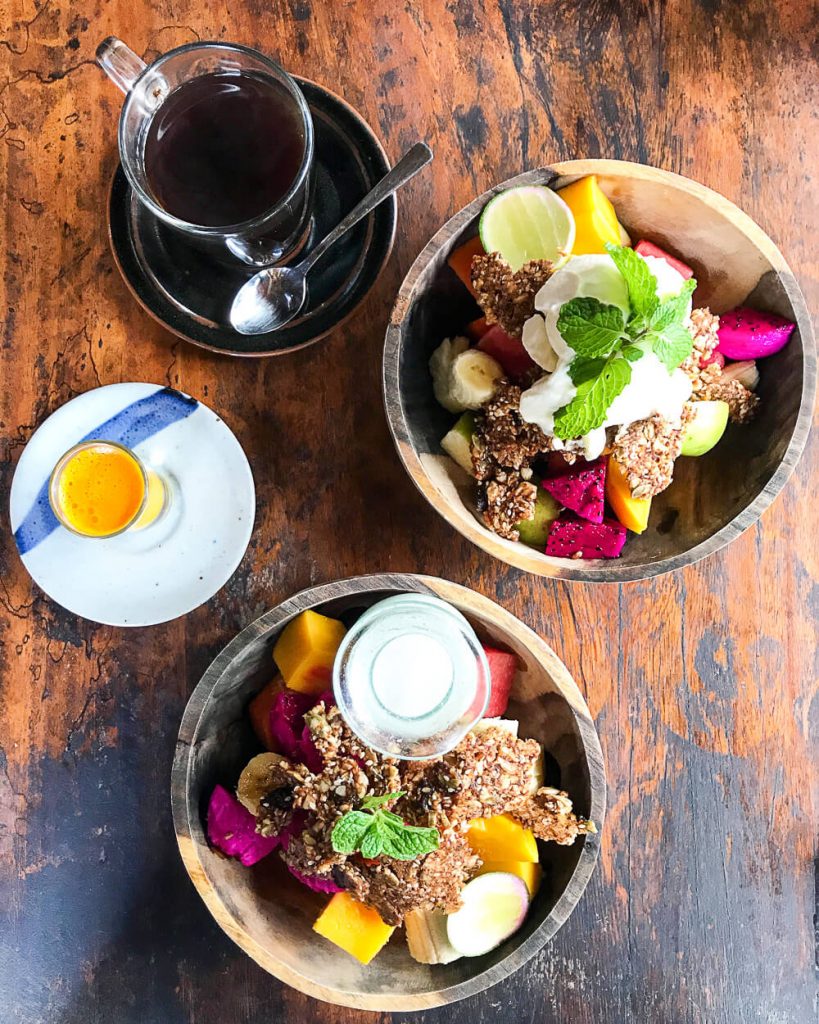 Biji Bali
A friend of mine just recently started her own chia pudding start-up called Biji Bali. They are just starting out, so you will need to check out their Instagram account for pop-up locations and events. Their turmeric soursop chia pudding is too die for! Healhy and delicious at the same time. If you love chia pudding, then you will love Biji Bali.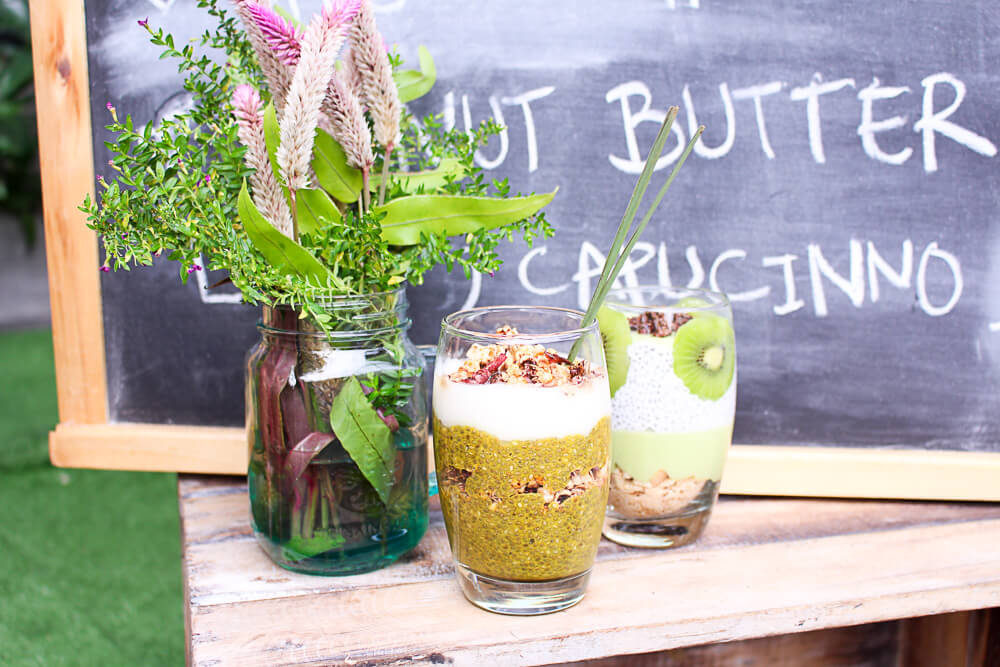 Bali Buda
We only spent 30 minutes at Bali Buda, and only has a smoothie, so I cannot speak for the food at Bali Buda. It did sound delicious, and the prices were reasonable as well. It's not an "Instagrammable" location such as Lazy Cats Cafe or Alchemy, but definitely a quiet place to escape the busy Ubud center.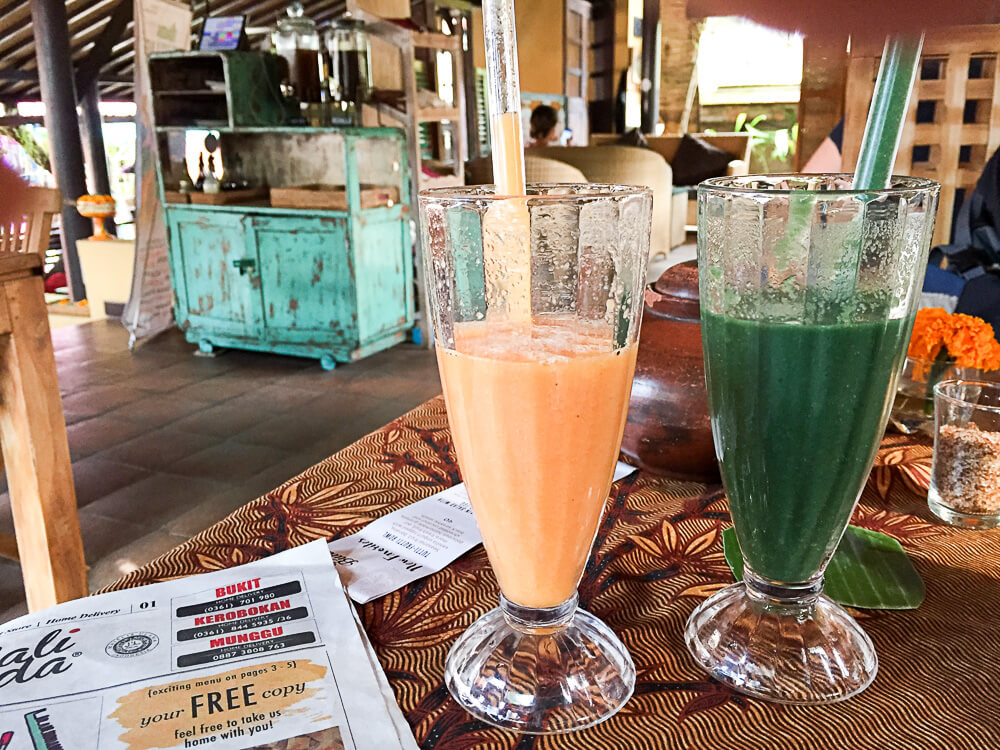 Things to do in Ubud:
Visit a yoga class (I did not go to any classes in Ubud, but I heard only good things about Intuitive Yoga and Yoga Barn.
Book a cooking class. We went on one that included a tour through a market and the cooking took place on an all organic farm about 25 minutes away from Ubud. Our class was not that great, so I will not name it here, but I'm sure there are many good and healthy ones out there. Alchemy also offers lots of exiting classes, which you can find on their website. They even have classes, where you can learn how to make your own natural body products.
Visit a local market – so interesting!
Go on a hike. There are beautiful waterfalls and vulcanoes around Ubud, so next time I'm there, I will definitely participate in more outdoor-activities.
Drive around on a scooter. What we loved most about Ubud was the drive in and out of town. We stayed about 20 minutes south of Ubud in a small village, so the bike ride into town provided lots of real-Bali life impressions, which was exactly what we wanted to see.
Visit the green school: unfortunately we switched this plan with the Cooking class, which was such a bummer, because the cooking class wasn't all that great. Next time I'm in Bali, I will make sure to visit this unique and sustainable school.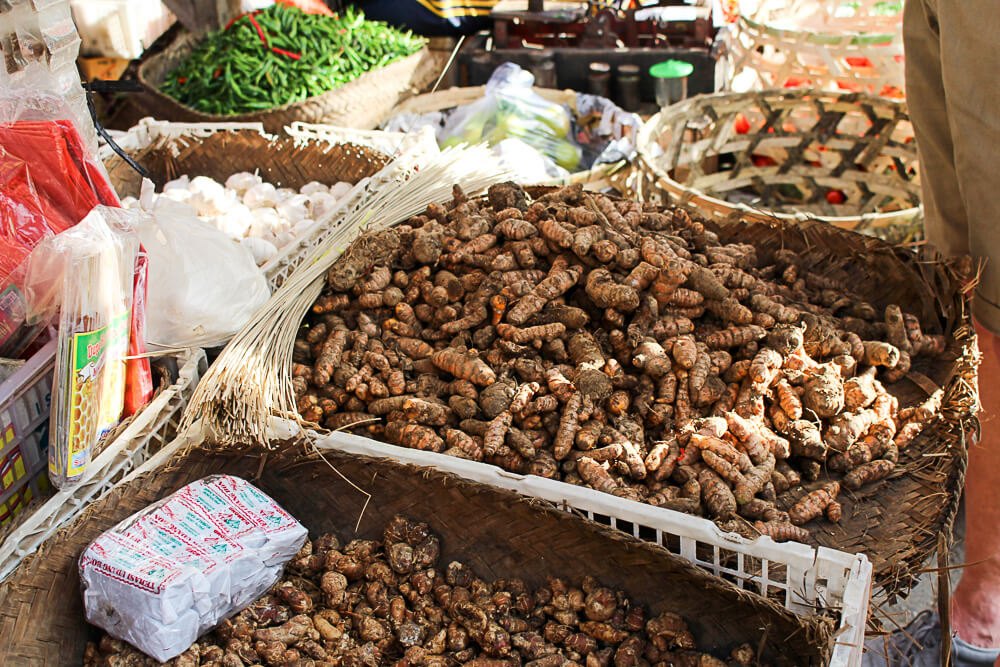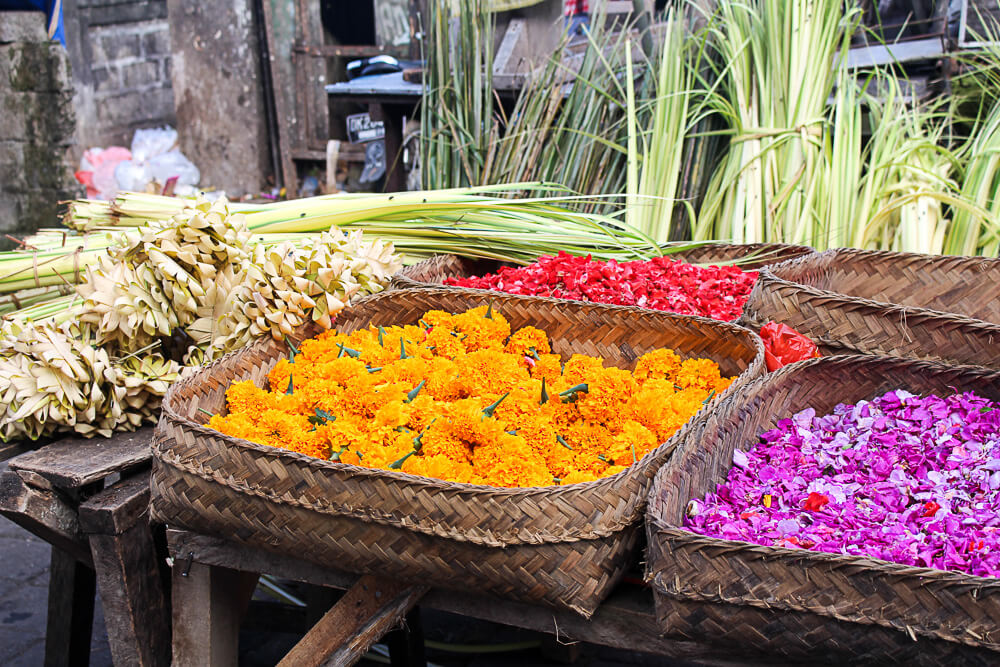 Things to leave out:
Monkey forest
Tegalalang rice terraces. They are beautiful, no doubt about that! But the only fun part about our trip to Tegalalang was the scooter ride through a back-road, which took us through way more beautiful landscapes than the touristy and garbage-covered popular Tegalalang fields. We were obviously impressed by the view of Tegalalang, but the masses of Chinese and other tourists were simply too much, so we left after a few minutes.
Ubud market. Just lots of bad quality mass ware and all the tourists it attracts. I have to admit that we did buy some souvenirs there, but just because we only had little time left in Bali. I would not go back.
The big temple near Ubud market.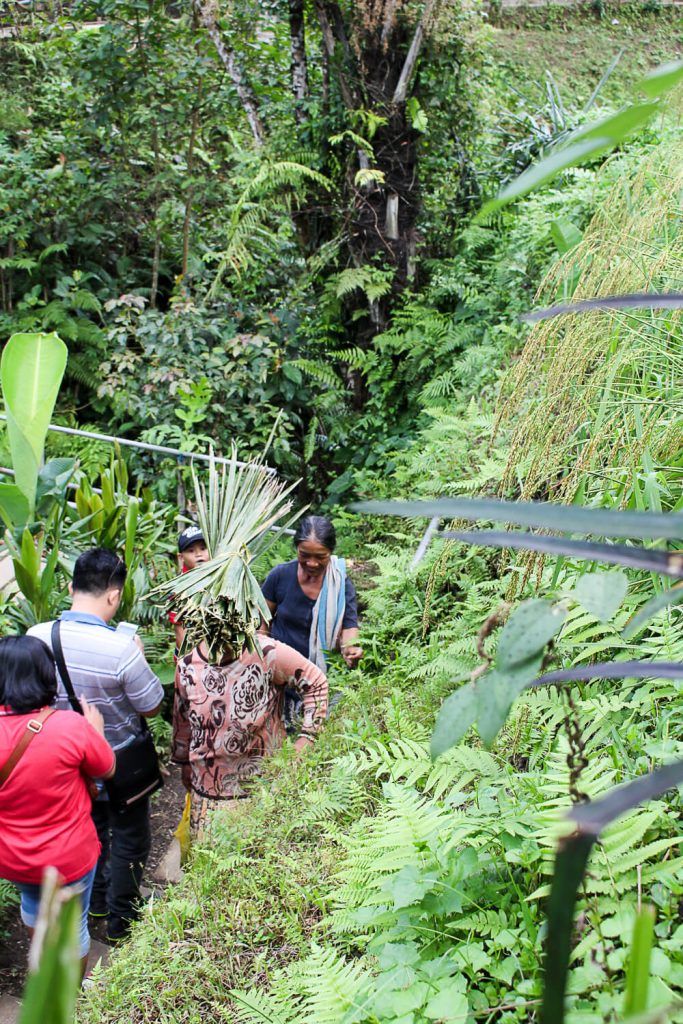 This was the last part of my Bali Guides. I hope that my three guides (including Uluwatu and Canggu) were helpful to some of you, and interesting even if you're not planning on visiting Bali any time soon). If you have anything to add (be it accomodations, restaurants or things to do), please let me know in the comments below. There will be a last Bali-inspired blogpost about our stay at the number one holistic hotel Como Shambala Estate on the blog next week (including an exciting giveaway) so stay tuned!
Merken
Merken
Merken
Merken