Have you ever heard of the term Poké-Bowl? I first came across this "thing" in Bali, when I was actually searching for Nalu Bowls in Uluwatu. We never found Nalu Bowls, but we did find this cute place that sold Poké-Bowls, called Coco & Poké. Poké-Bowls is basically the new Buddha-Bowl meets Sushi Bowl, and it was supposedly invented in Hawaii. The original Poké-Bowl includes raw fish with a delicious marinade, but if raw fish isn't your thing, you can easily swap this with plant-based options such as roasted beetroot (which I used in this recipe), tempeh, or even watermelon.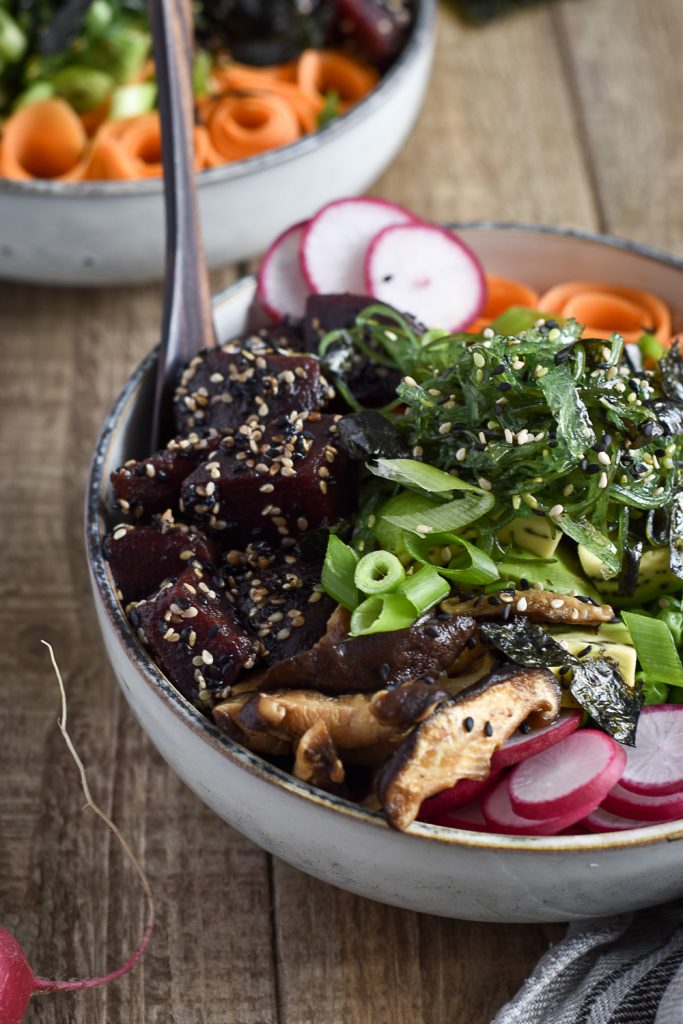 I was looking through our Bali photos the other day, and I found a photo of Coco & Poké, and so I thought: why not create your own plant-based poké bowl? I did not want to include raw tuna, not because I do not eat it, but because a) I do not think fish would be appreciated on this blog and b) I had been suffering from a major 2-day migraine and I just did not feel like eating raw fish. So I came up with the idea of roasted beetroot, because a) it tastes delicious and b) it kinda resembles raw tuna, don't you think?
Poké-Bowls are not really your typical leftover take-to-work dishes, which I know you all love, but they can be prepared in about an hour. All you need to do is cook the rice while you prepare all the veggies, the sauce and the garnishes. Ok, maybe you'll need a bit more than an hour, but the result is definitely worth it.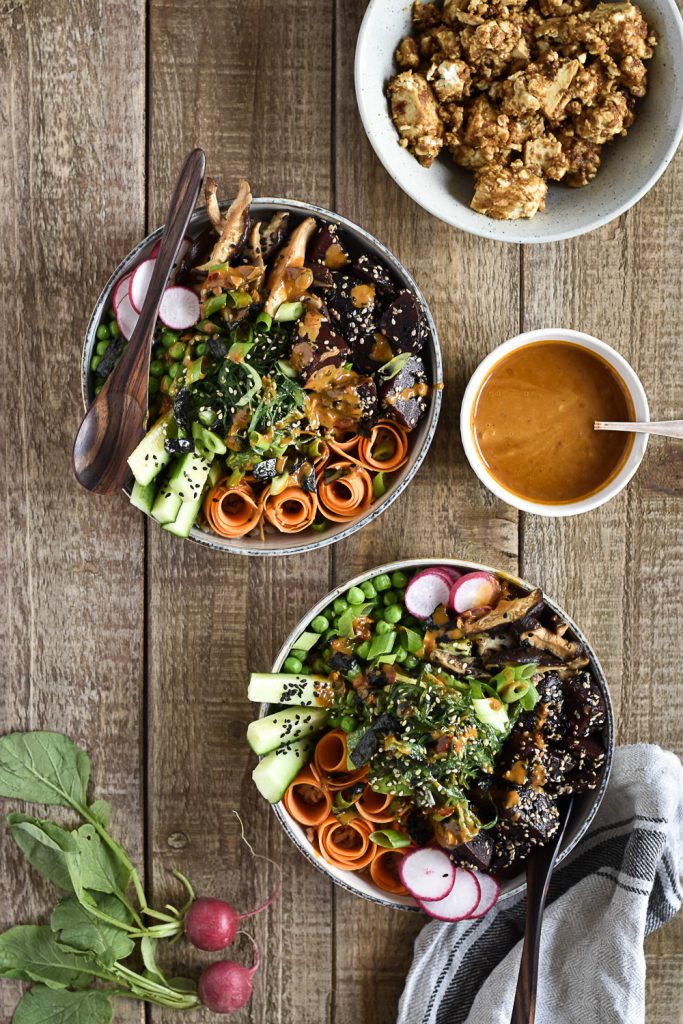 So what's so unique about this bowl? I guess I'd have to say the dressing. It was one of those "I have no idea what to make" kinda sauce attempts and I don't want to brag, but it was quite a success. It's actually kind of like a chili tahini mayo, but I do not like the word mayo that much, so chili tahini sauce it is. Jannis LOVED it so much, he licked out the dressing bowl (not kidding).
Oh, also, we have to talk about wakame. I know that making wakame should be a post by itself, but I just really wanted to put it into this post, because it goes so well with the poké bowl. You could of course buy your wakame salad, but since it almost always includes refined sugar, I prefer to make it at home. It's really just a marinade of sesame oil, rice vinegar, coconut sugar and sesame, but it tastes so delicious. Algae in general are so healhty, too, as they are full of vital nutrients such as vitamin B12, magnesium or calcium.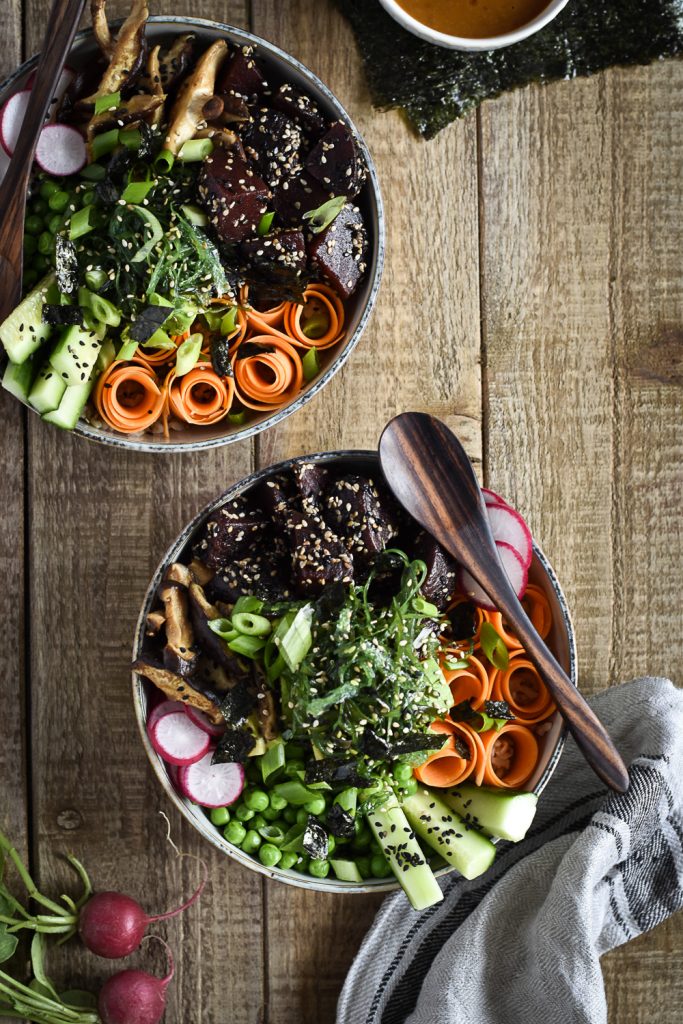 Just keep in mind that wakame and most algae contain a high dosis of iodine, so if you're suffering from a thyroid malfunction, please contact your doctor before indulging in any kind of algae (this includes sushi wrappers, too) as too much iodine can put a burden on the thyroid.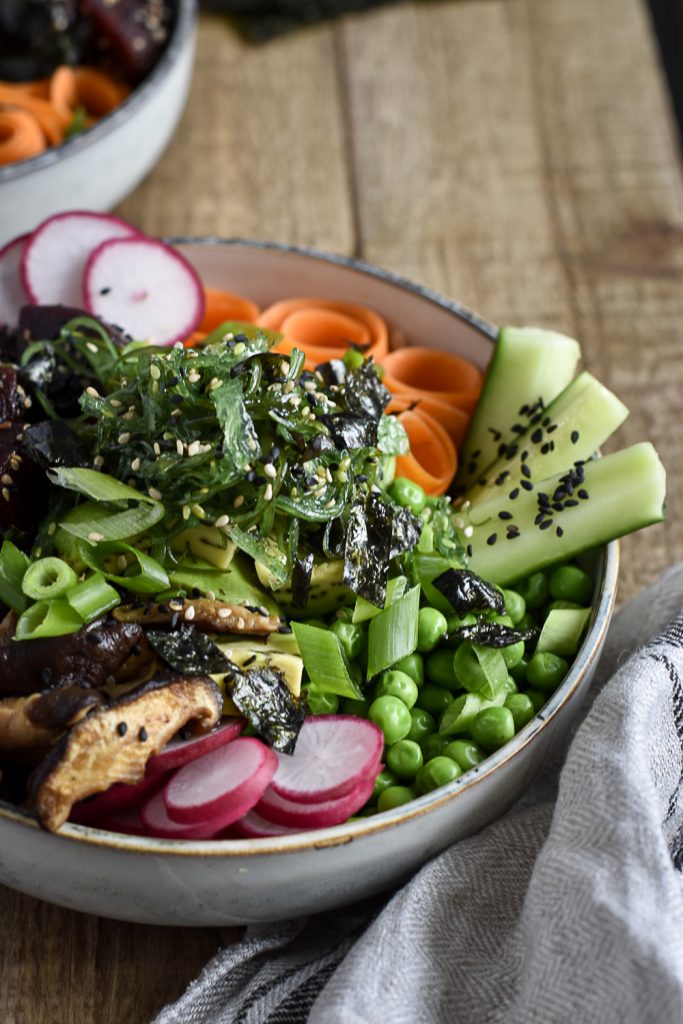 If you just took a quick peak into the ingredients list – please do not panic. The long list of ingredients is merely a suggestion. Have a look at my notes in the recipe box, where I explained a little bit about suggestions in detail. You do not need to use the exact vegetables that I used, and the wakame salad is also not a "need-have" ingredient though it does give this bowl something to remember.
If you made this bowl, then be sure to tag me on Instagram using #heavenlynnhealthy. I look forward to seeing all of your amazing posts!
Healthy Poké-Bowl with Chili-Tahini-Sauce
Ingredients
For the poké bowl:
4 beetroots, raw
2 tablespoons of sesame oil
3 tablespoons of sesame (black or white, or mixed)
200g whole-grain rice, uncooked
4 carrots
1 cucumber
50g of radishes (about 8)
1 cup (140g) of frozen peas or edamame
200g of shiitake mushrooms
2 tablespoons of tamari
For the wakame salad:
50g of wakame, dried
2 tablespoons of sesame oil
2 tablespoons of mirin (rice vinegar)
the juice of half a lemon
2 tablespoons of coconut sugar
1 tablespoon of sesame
a bit of cilantro to garnish
For the chili-tahini sauce:
2 tablespoons of sesame oil
2 tablespoons of mirin (rice vinegar)
2 teaspoons of sambal oelek
2 tablespoons of coconut sugar (or maple syrup)
1 cm of fresh ginger (about one tablespoon)
2 tablespoons of tahini
2 tablespoons of tamari
Instructions
For the poké bowl:
Cook the rice according to the packaging.
Peel the beetroots and cut them into bite-sized pieces. Marinade the beetrots with sesame oil and a bit of sea salt and roast them at 180°C (356°F) for about 30 minutes. If you're using pre-cooked beetroots, then you can marinade the beetroots with two tablespoons of sesame oil and the sesame. If you roast the beetroots, then take them out of the oven and sprinkle with the sesame. Set aside.
Peel the carrots with a vegetable peeler. Cut the cucumber in half and then into bite-sized pieces. Wash and slice the radishes and shiitake mushrooms. Set the radishes aside and place the shiitake mushrooms in a pan. Heat them on medium to high heat for about 3 minutes until they start to drizzle in the fluids they release. Then add the tamari and cook for another 2 minutes or so until tender. Set aside.
Place the frozen peas into a pot of boiling water for about 3 minutes until defrosted. Drain the water and set aside.
For the wakame salad:
Soak the wakame in hot water for about 10 mintutes. Mix all of the ingredients for the dressing. Drain the wakame and mix them with the dressing and sprinkle some sesame seeds and chopped cilantro on top. It tastes best, when you let it sit in the fridge for an hour or so.
For the sauce:
Finely chop the ginger and mix it together with all the other ingredients for the sauce.
To assemble:
Divide the rice into four bowls and garnish with the carrot slices, radishes, beetroot, cucumber, peas and shiitake-mushrooms. Drizzle with the tahini-chili sauce and garnish with a generous dollop of wakame salad and a bit of sesame seeds.
Notes
You do not need to have all ingredients for this poke bowl. They are merely suggestions. What you do need is the brown rice as a base, the roasted beetroot and the Tahini-Chili-Sauce. And if you ask me, then definitely make the shiitake-mushrooms.
The wakame salad is also rather a suggestion than an important addition. It's nice to have but not a must for this salad.
We also added some pan-fried saté-tofu, which was a nice addition.
Enjoy!
Merken
Merken
Merken
Merken