Part 2 of my Healthy Bali Guides. This one is all about Canggu.

After five days at Bingin / Ulu Watu, we drove north to Canguu. While Bingin fascinated me with its tranquility, it's empty beaches (except for Padang-Padang), we also fell in love with Canguu for a very different reason: its beach, its people and its countless hipster cafes. If you're looking for a little more things to do, entry-level surfing classes, beautiful accommodation and amazing food, then Canguu will not disappoint. However, the beach is "crowded" even in the low season (I say "crowded" because it's only true in some parts where the best wave breaks are, the beach itself is several kilometers long and you will certainly find a quieter place somewhere.
The most beautiful ethno-style bungalows: Jungle Room Bali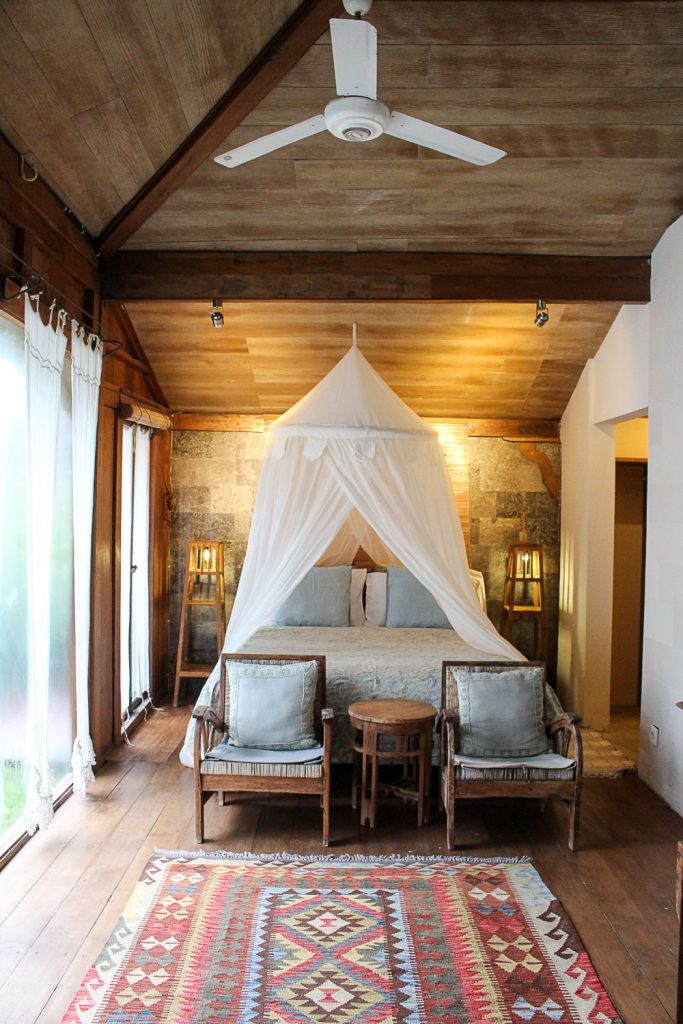 We stayed at Jungle Room Bali* and we could not have loved it more. *Disclaimer: the jungle room invited us to stay for two nights, but we loved it so much that we paid for the additional two nights of our stay. The jungle room is perfect if you are looking for a mid-budget accommodation in the rice fields overlooking the river, if you're a young couple, if you love a healthy and sustainable lifestyle, if you LOVE unique interior design, if you value the kindness and of amazingly accommodating staff, if you're simply looking for a unique hideaway a little further away from the buzz of Canguu's main street.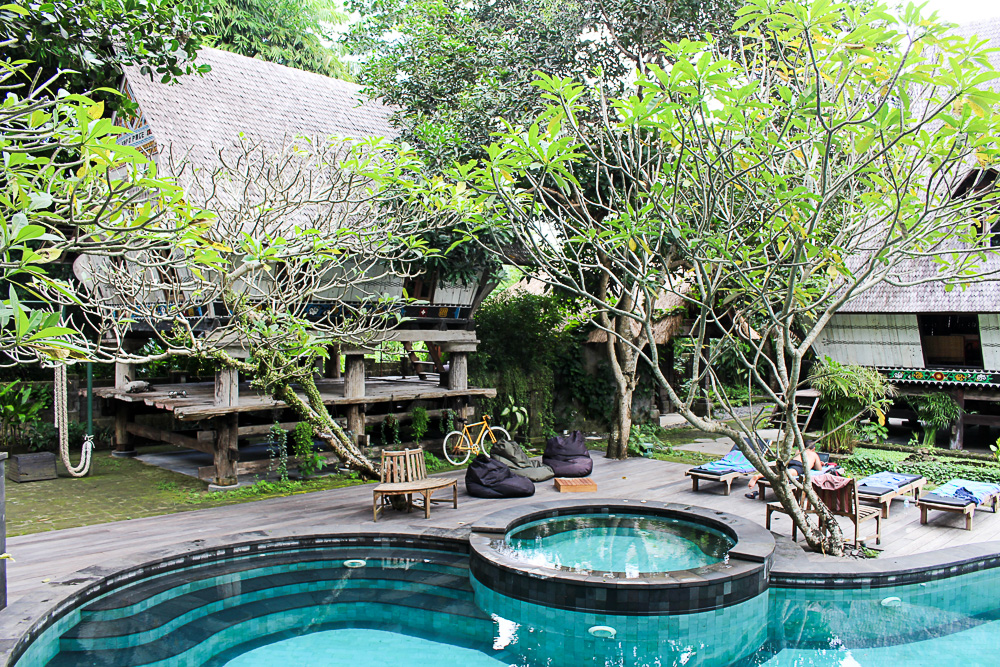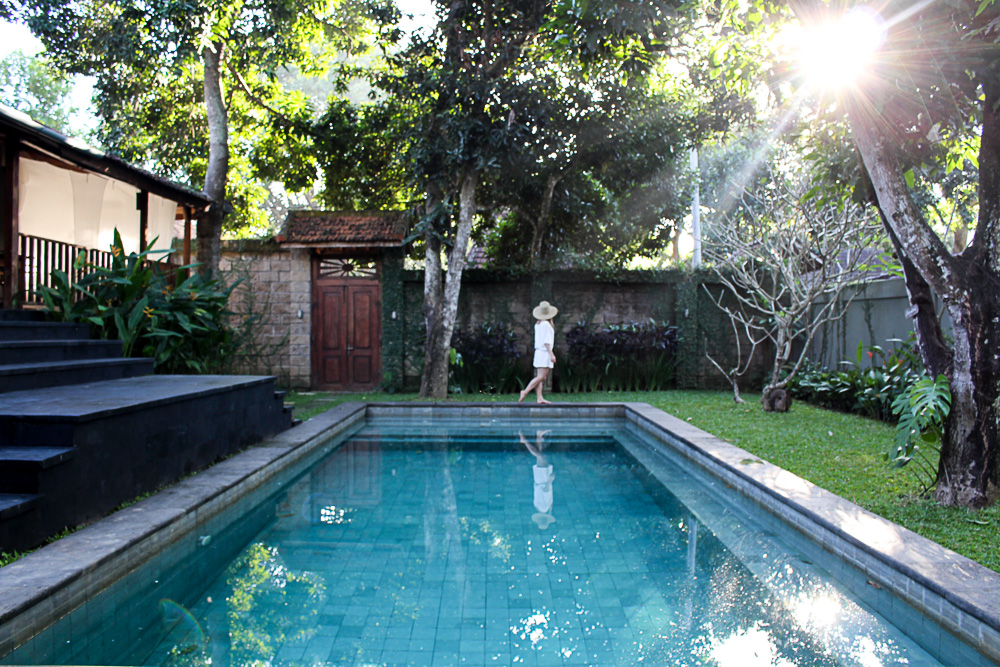 Originally, we had booked the River View Bungalow through AirBnB, that's how I found the Jungle Room in the first place. A little before our arrival, they told us that we had been upgraded to the villa if we wanted to (how could we not?!). The villa mango was an absolute dream! It consists of a private pool and three double rooms, each with their respective bathroom, a wooden/ concrete – style kitchen and a seating area. If you're in Bali with three or even two couples, the villa is even totally affordable as it's 130 Euros per night including healthy breakfast and yoga. The rooms in the villa are all uniquely designed, with a close eye for detail, including vases, rocking chairs, straw hats and many many more. Two of the three bathrooms had an outside shower, but the room with the interior shower was the one I loved the most and that we stayed in.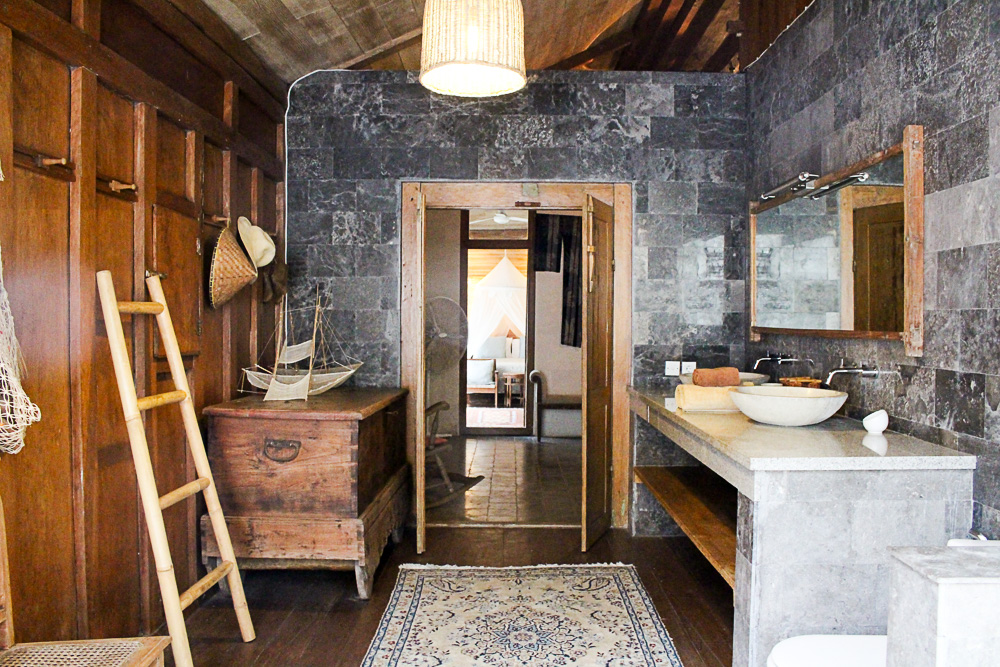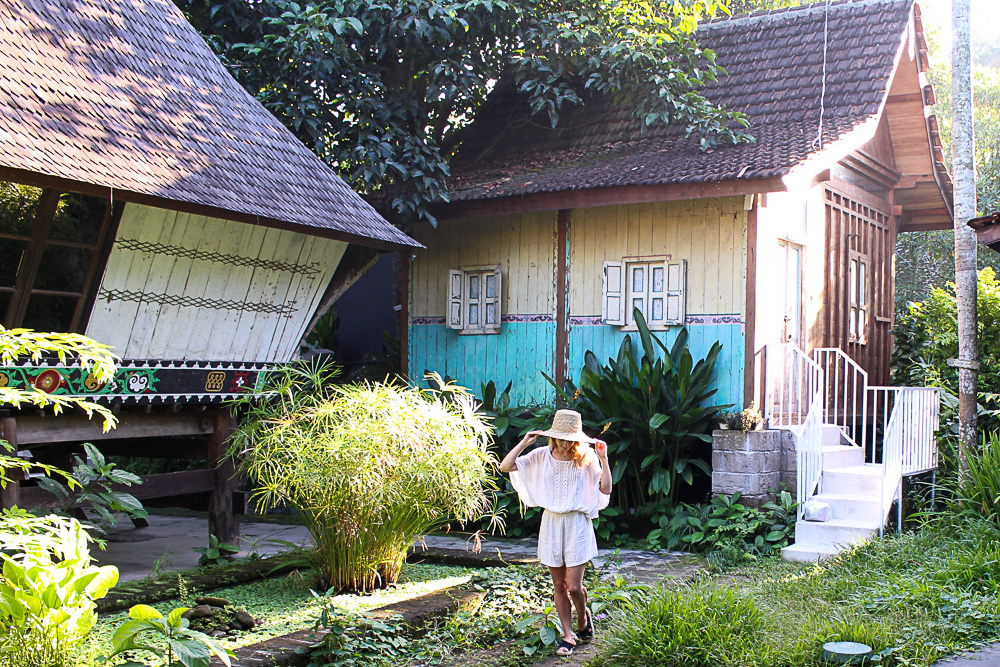 Of course we fell in love with our villa, but there was one thing in particular that made me even happier than all the luxury in the world: our very own mango trees!!!
The first day, we kept hearing something fall from the trees and since we had been in Bingin before, we figured it'd be monkeys. But it were Mangos! OMG! I was in mango heaven! If you've never been to Asia before (like us), then the mangos will taste so much different than what you are used to. I totally loved it!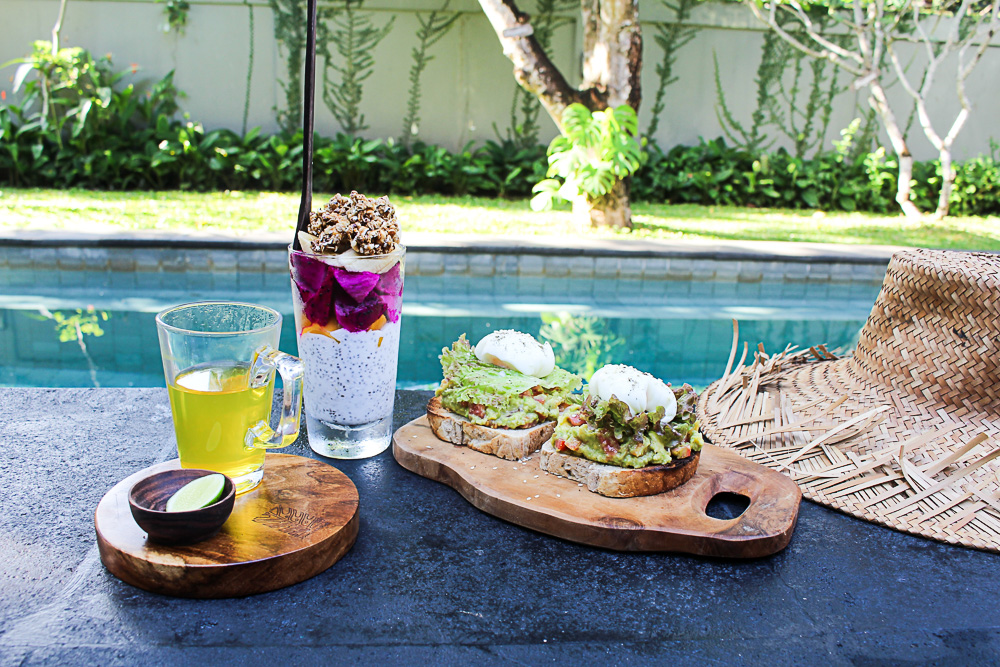 Speaking of which: the breakfast at the Jungle Room was all I hoped it would be. You can choose between coconut chia pudding, coconut pancakes, avocado toast with poached eggs, fruit, granola and scrambled tofu together with coffee. If you wanted to criticize anything at the jungle lodge, then I guess that there is no juice included in the breakfast price. For around 40,000 IDR (around 2,50 Euros) you can of course add them to your menu.
Where to eat in Canggu
Canguu is the place to be if you love healthy food. Even Jannis started laughing at one point, because it was as if all our favorite European eateries were combined on one street. Healthy eating after healthy eating after healthy eating. We were in food heaven. However, when I told my sister about it, who had recently visited the Philippines, she was shocked to learn about the prices in Bali. For us as Western travelers, spending five euros on a healthy burger with fries obviously seems cheap, but if you're used to Southeast-Asian prices, seven euros for a meal may sound outrageously expensive.
But do not worry, we have mainly tried to find more authentic Indonesian warungs with vegetarian and vegan choices, and we found them! Thanks to Mia from HeyLilahHey.
Warung Dandelion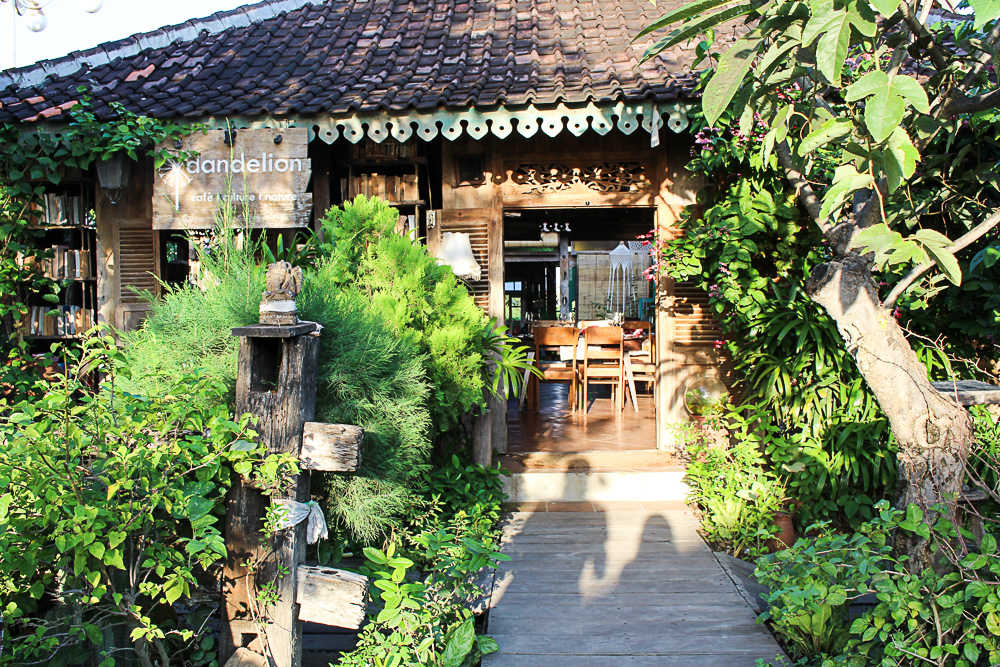 Warung Dandelion was our Canguu-favorite. This is the place where you go to when you want to have real Indonesian food, and no hipster flair. The food here is incredibly cheap even though you feel like you're eating in a high-end restaurant. Jannis tried the Mie Goreng and I absolutely adored their Tempe and tofu curry! Seriously one of the best spots to eat at in Bali. The biggest plus is the amazing view of the rice terraces next to "Canggu Avenue".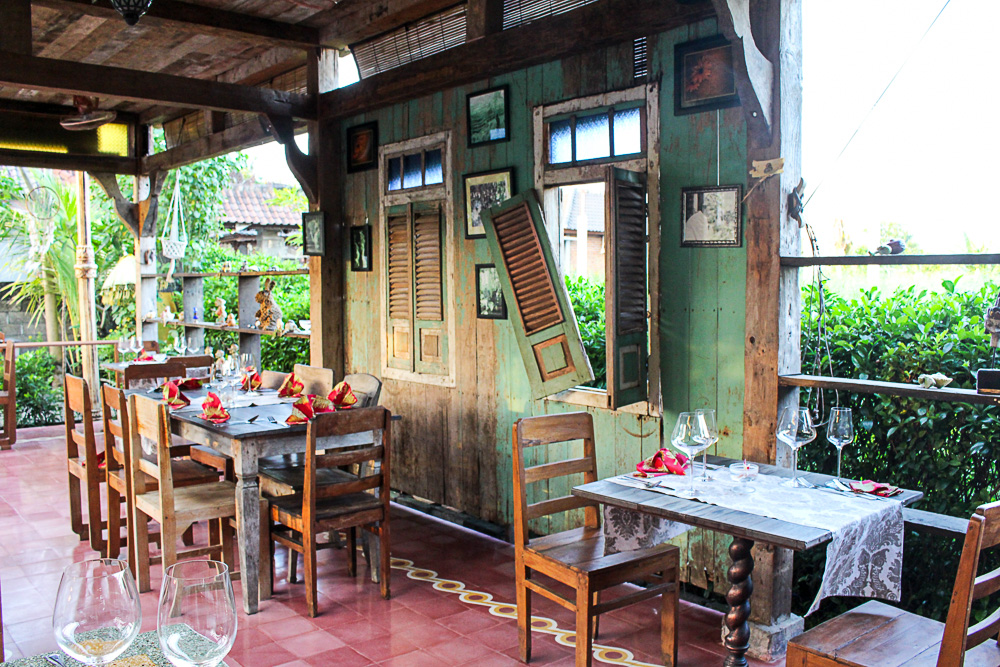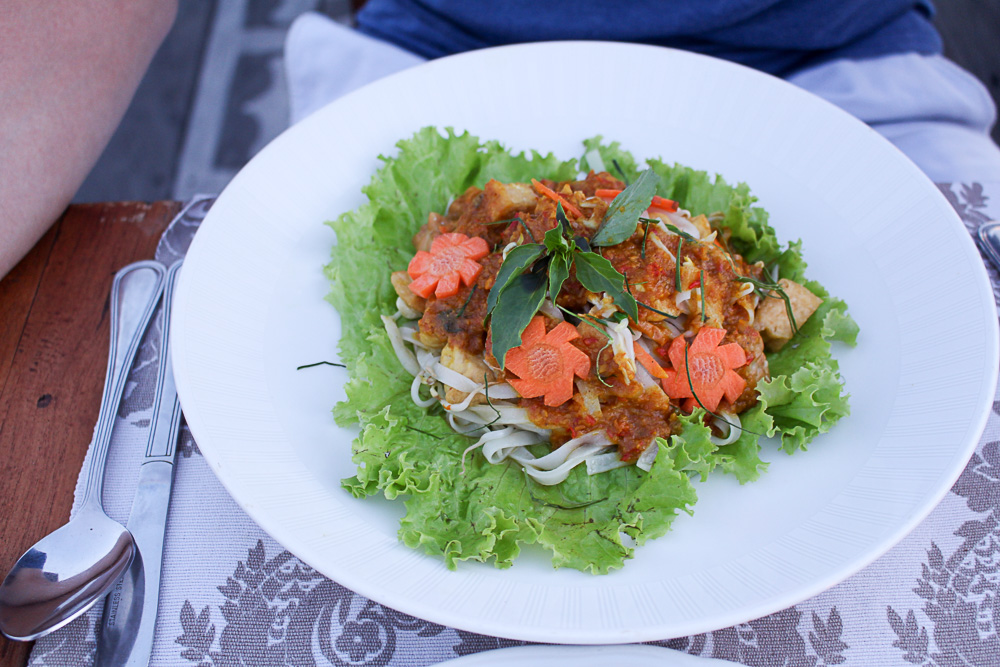 Warung Varuna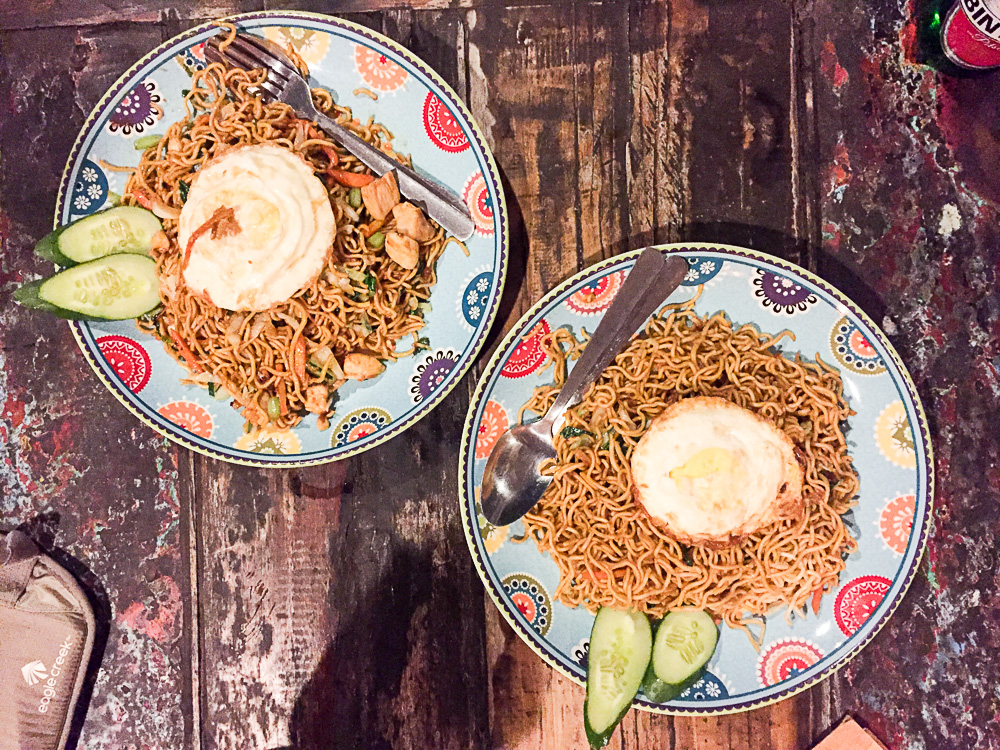 We came to Warung Varuna the second night of our stay and we loved it's laid-back feeling, the locals inside and the expats who looked like they had lived in Bali for a while. This is the best option if you want authentic Indonesian cuisine for a bargain price. My veggie Mie Goreng was 1,50 Euro! They also have great vegan options with brown rice, vegetables, Tempe and tofu, but also fish and meat for your non-veggie companion. I'm sorry for the bad photo, but it was already dark when we ate here. Definitely great if you've spent 20 Euros on a lunch at Cafe Organic.
Cafe Organic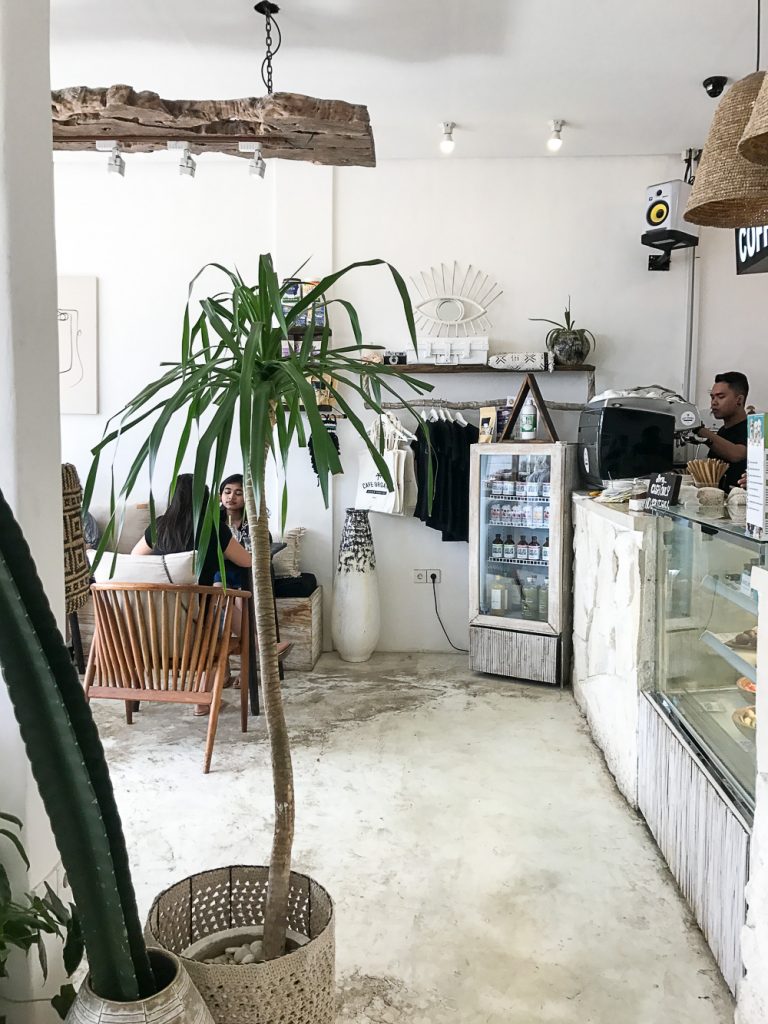 At Café Organic we had our most expensive lunch, but I absolutely loved the interior of this place. All white, with siting hammocks outside and lots of plants for shade. I had a rather expensive bowl, which was delicious, but Jannis' sweet potato burger was definitely better. Most dishes are plant-based or can be made plant-based and gluten-free.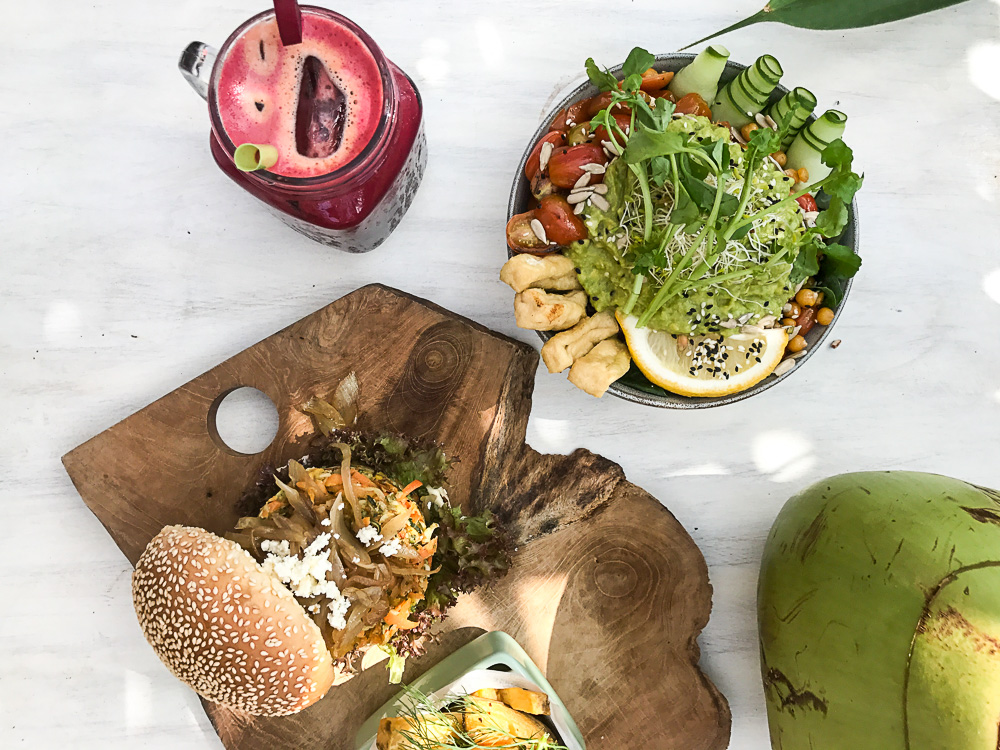 Peloton Supershop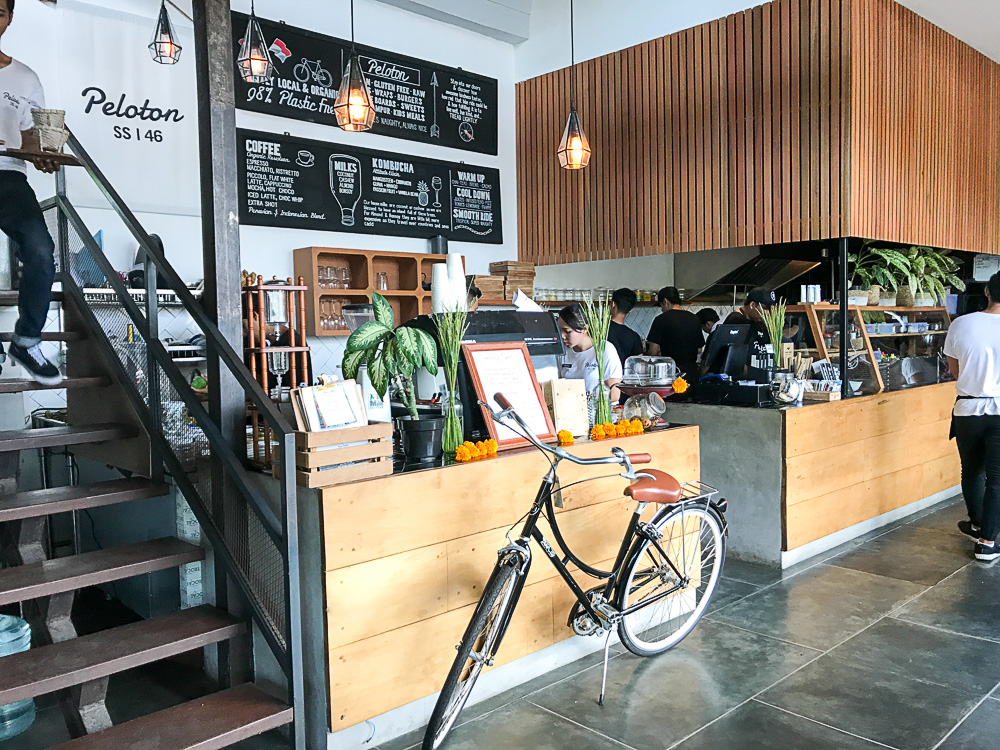 Peleton Supershop is a rather new spot in Canguu, but already pretty popular. They are known for their incredible jackfruit dishes, which taste like real meat! While I'm definitely not the meat-substitute type, their burgers and plant-based Nasi Campur have really surprised me. It's definitely a must-visit in Canguu, but price-wise a bit higher than regular.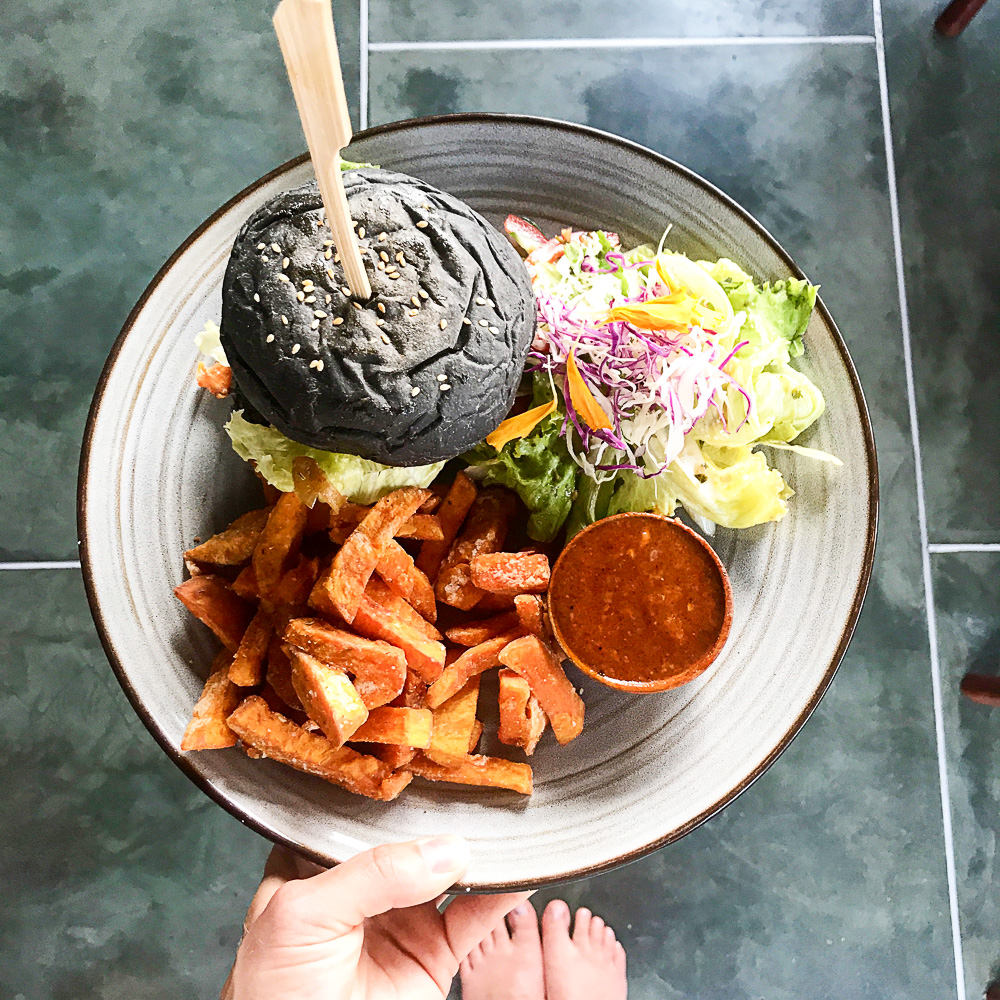 The Shady Shack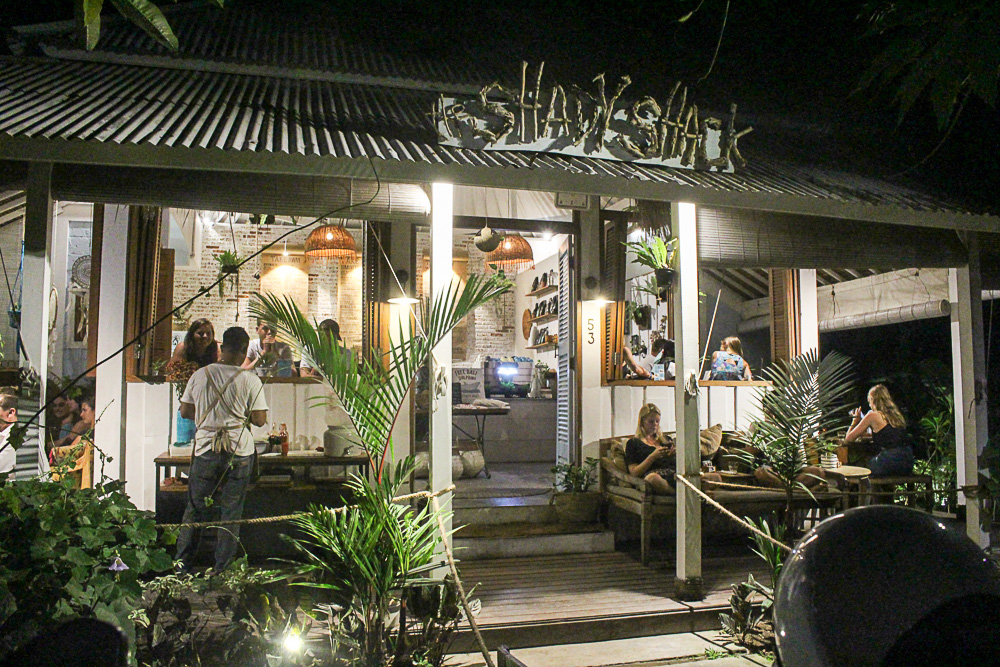 We have had by far the best vegetarian burger at the Shady Shack. It's an all vegetarian and mostly vegan hipster place, which gets pretty crowded at night. The whole vibe of this place was incredible and the food absolutely delicious, but pricier than other dinner places.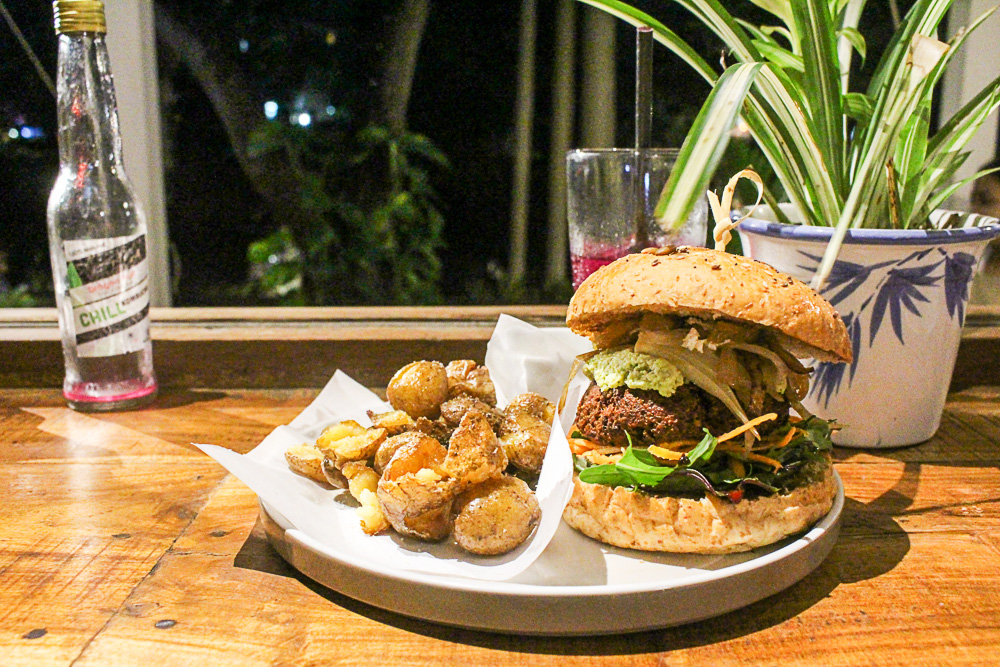 Earth Café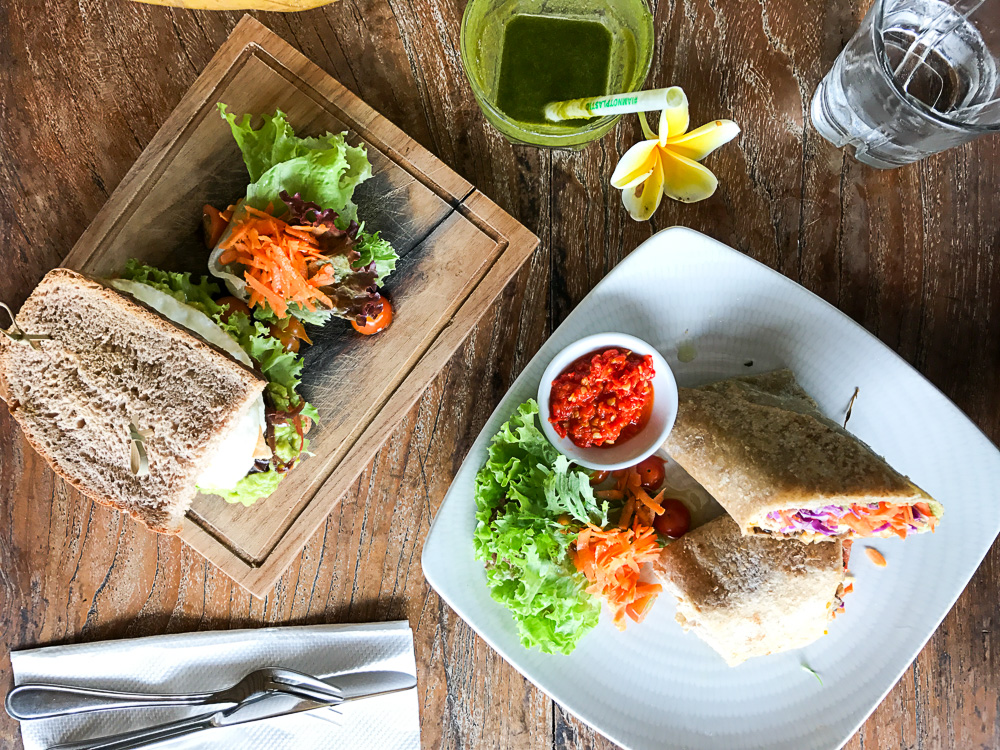 You should visit Earth Café if you fancy a quiter, less crowded and popular lunch with health ingredients and a laid-back athmosphere. Earth Café has an amazing selection of juices, smoothies, and other goodies. We tried the wrap and the sandwhich, both of which were delicious!
Shopping in Canggu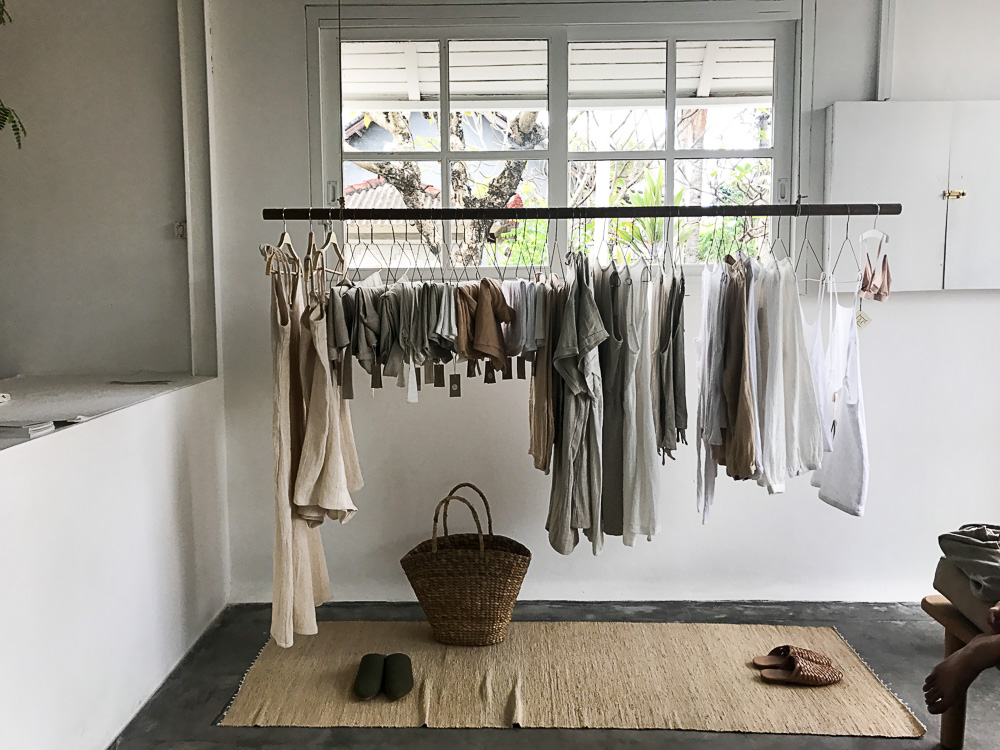 On our second to last day in Canggu, we met a completely like-minded couple from near Sydney, and we soon felt like long-time friends, because we had so many similarities. Keira introduced me to a sustainable fashion brand from Australia, which produced ethically responsible in Bali called Yöli & Otis. I instantly fell in love with their clothes and ended up spending 100 Euros in their store for a tank top and a pair of beautiful shorts. It was the best souvenir I bought in Bali, and I will treasure it forever. Canguu is also great for shopping if you like surfer clothes, concept stores and hipster stores selling pineapple (I do, haha).
Working out in Canggu
Surfing is probably the number one sport in Canggu, followed by Yoga and other mindful activities. We took a surfing lesson right by the beach with two super nice locals. In hindsight, however, I would definitely not recommend following our example. The waves are pretty rough in Canggu, so please please book a surfing class in advance – one that prioritizes safety. Our German yoga teacher Danijela at the Jungle Room recommended a surfing teacher to us after we had already booked our lesson. You can definitely ask Danijela for advice on that topic (and other Canggu topics as well), as she is a blogger as well over at Rebelheartyogi.
Healthy restaurants, that we did not have time to visit, but will definitely check out next time.
The Slow
Crate
Nalu Bowls
Bali Bowls
Beaches in Canggu
Berawa Beach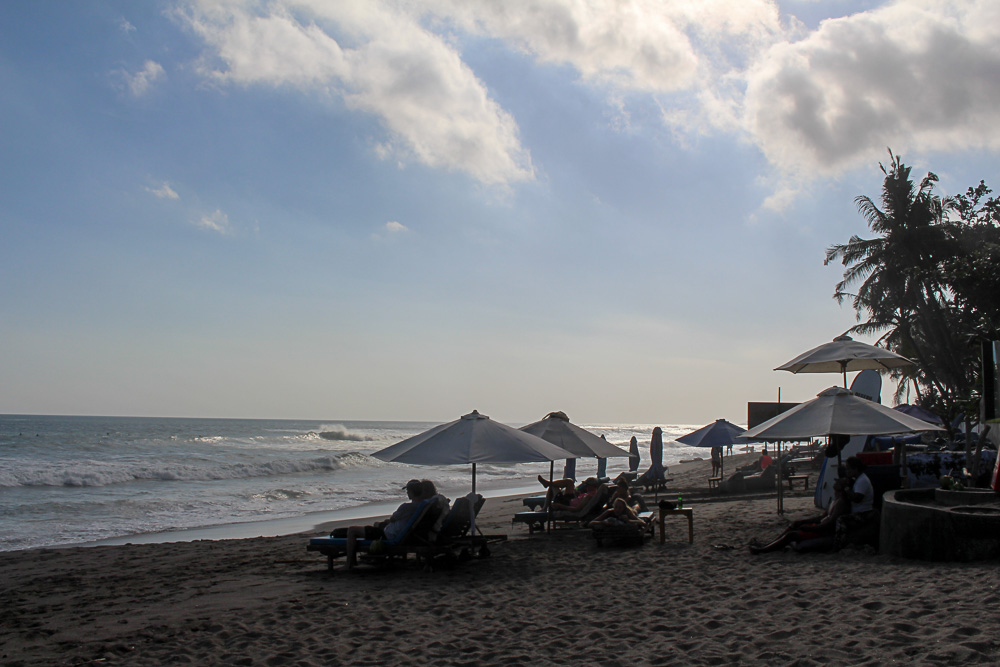 My favorite beach in Canggu was Berawa Beach. It was less crowded than Batu Bolong, the most popular beach in Canggu, and the ride to the beach is simply beautiful. You will pass rice fields, lots of local warungs and hipster cafés, and the ride alone is worth the journey to the beach. The water is pretty rough and the waves are high, so it's not ideal for kids (at least at the time that we were there).
Batu Bolong
This beach is definitely pretty crowded at the beginning, but once you pass the temple and the beach huts, you'll find quieter spots. The whole west coast of Bali seems to be endless, and so is the beach. You can walk along the beach for hours – that's why I loved Canggu so much. Just note that none of the beaches are your Instagram and Pinterest dream. However, even if they are not that pittoresque, they have a certain vibe, which I loved.
There are so many other amazing restaurants, accomodation and things to do in Canggu, and this guide is by far not complete, so please do let me know if you have anything to add. I am looking forward to going back there soon, and I would love to visit some new places next time I'm there.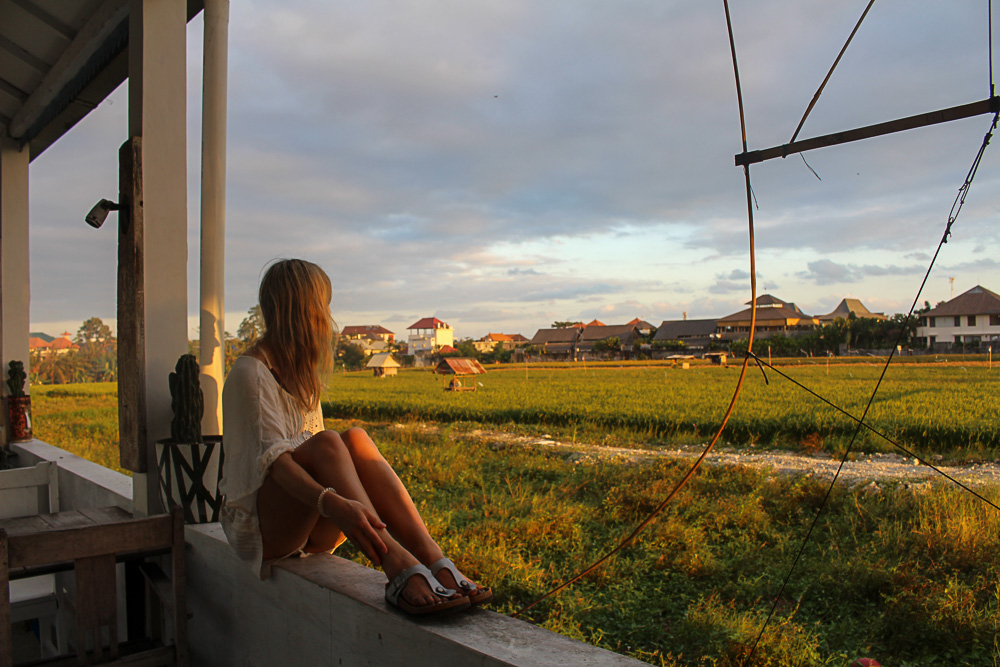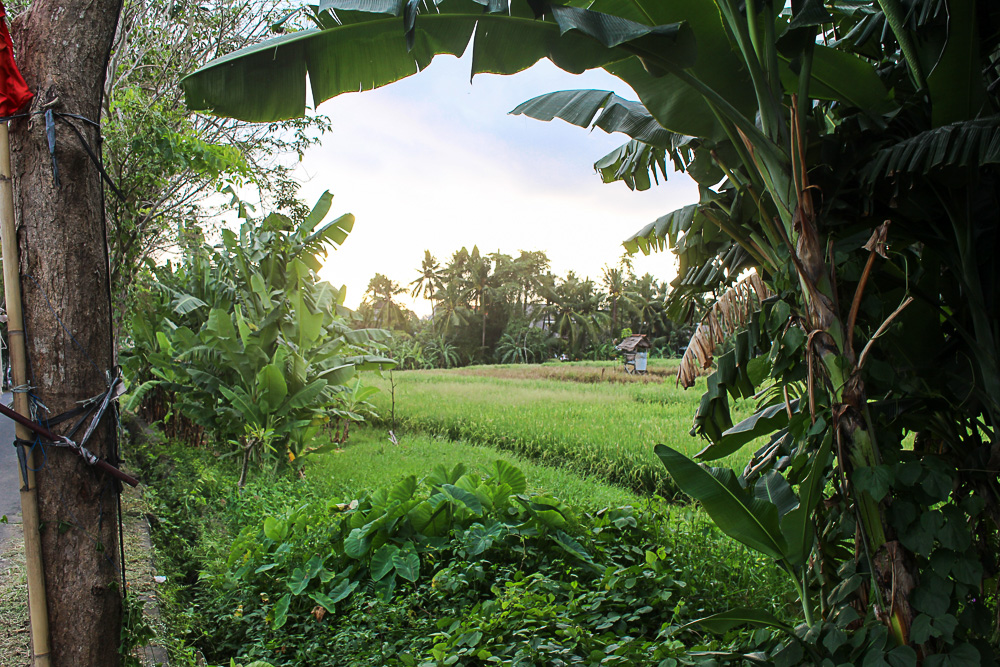 *Disclaimer: The Jungle Room Bali invited for two nights, but we paid the full price for the other two nights of our stay. All opinions are my own. Always.
Merken
Merken
Merken
Merken
Merken
Merken
Merken
Merken
Merken
Merken