Warming cannellini bean stew with hazelnuts and dill for cozy winter nights.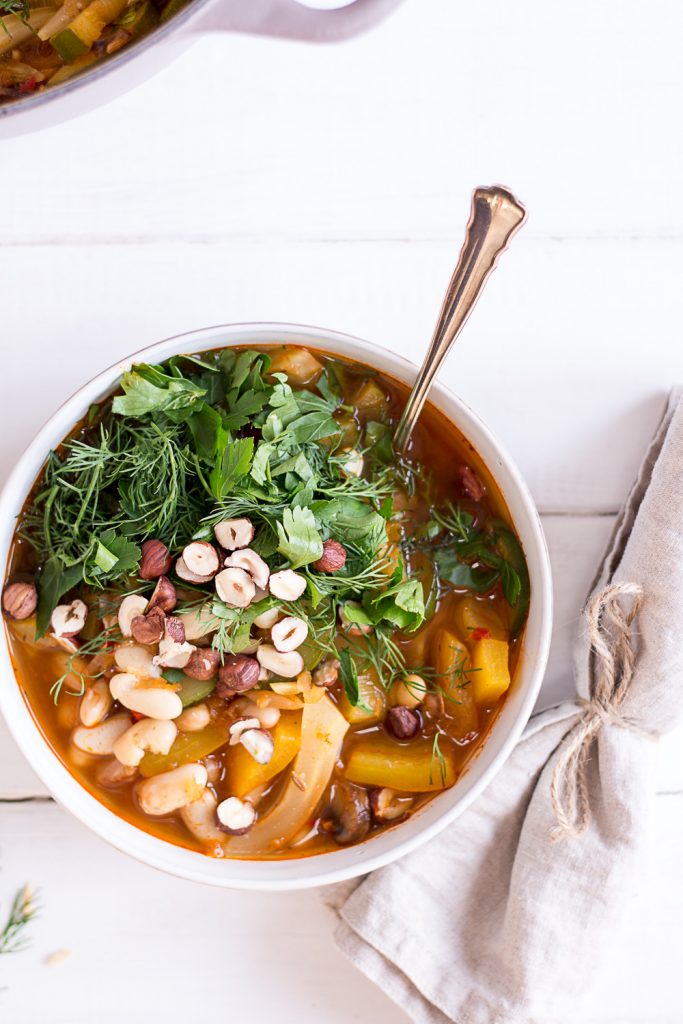 Since I will be gliding down the Austrian slopes when you read this, I thought it would only be fair to post this super duper delicious winter stew so you do not hate me too much for being on winter break. Not like you could ever hate me, right? But I just love treating you with great recipes, especially when I am on vacation.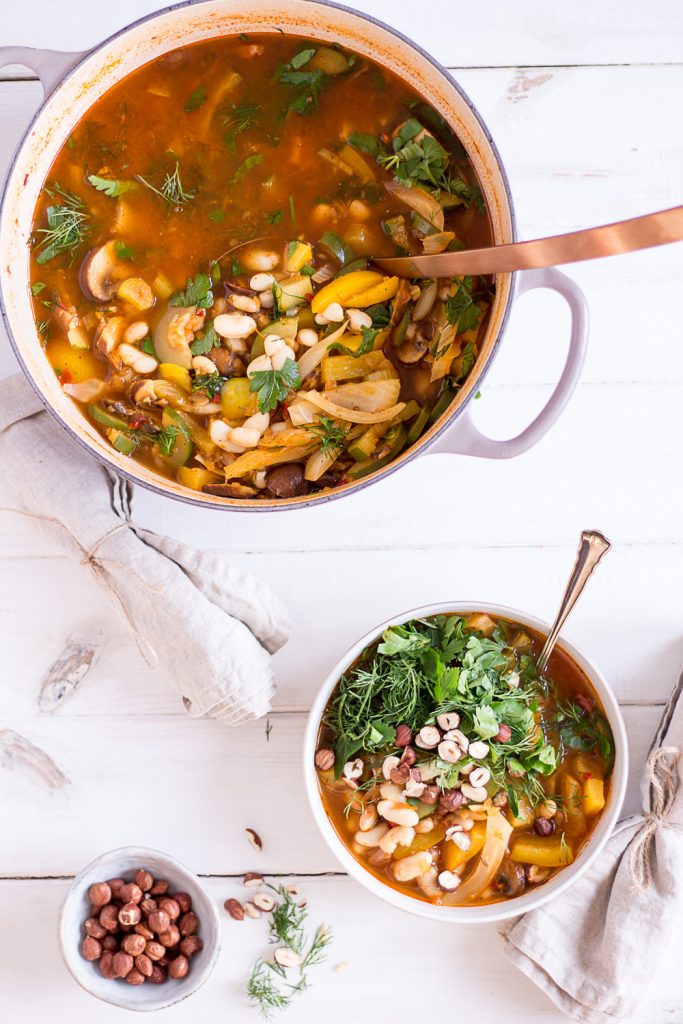 I think that this is the most German recipe that I have ever posted, and it is probably not even close to the German cuisine at all. But it uses dill and parsley, some of the most commonly used herbs in my country, so I'm just gonna go ahead and call this my first German recipe on the blog so far. Now, that does not mean that it does not taste good. While I am not the biggest fan of the German cuisine, we DO make incredible stews or one-pots, and this cannellini bean stew is definitely a winner in my opinion.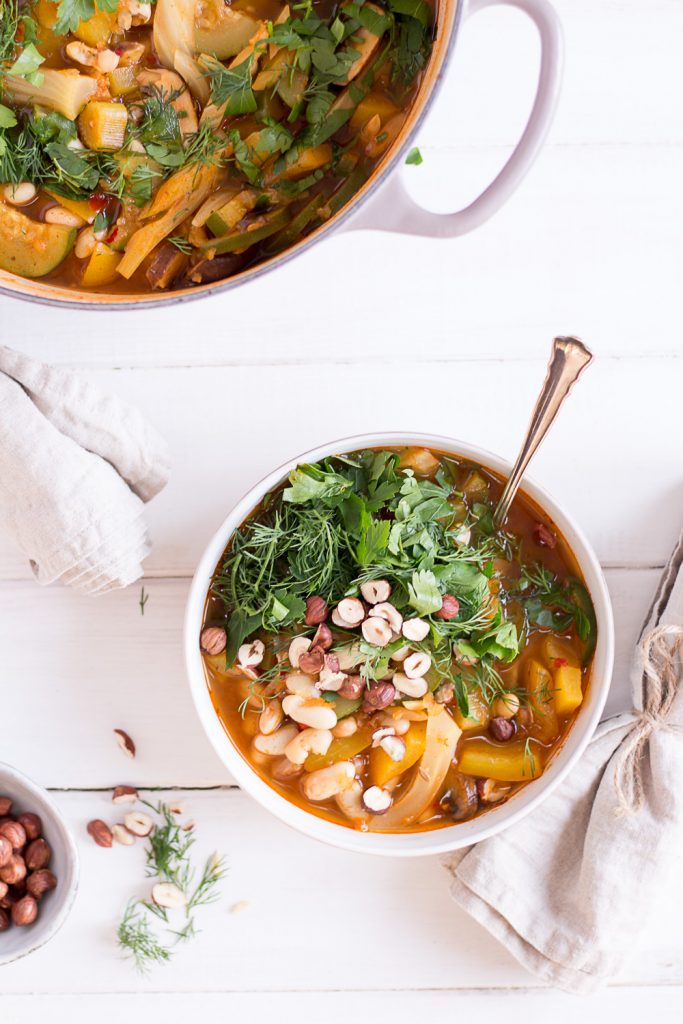 Since I added cannellini beans, I guess I cannot technically refer to it as German, but rather a German-Italian-Scandinavian fusion stew (now that would have been a fun title, why didn't I think of that before?). What does Scandinavia have to do with it, you may ask. Well, they love their dill, and dill is what really makes the taste difference in this recipe. So please do not skip the dill.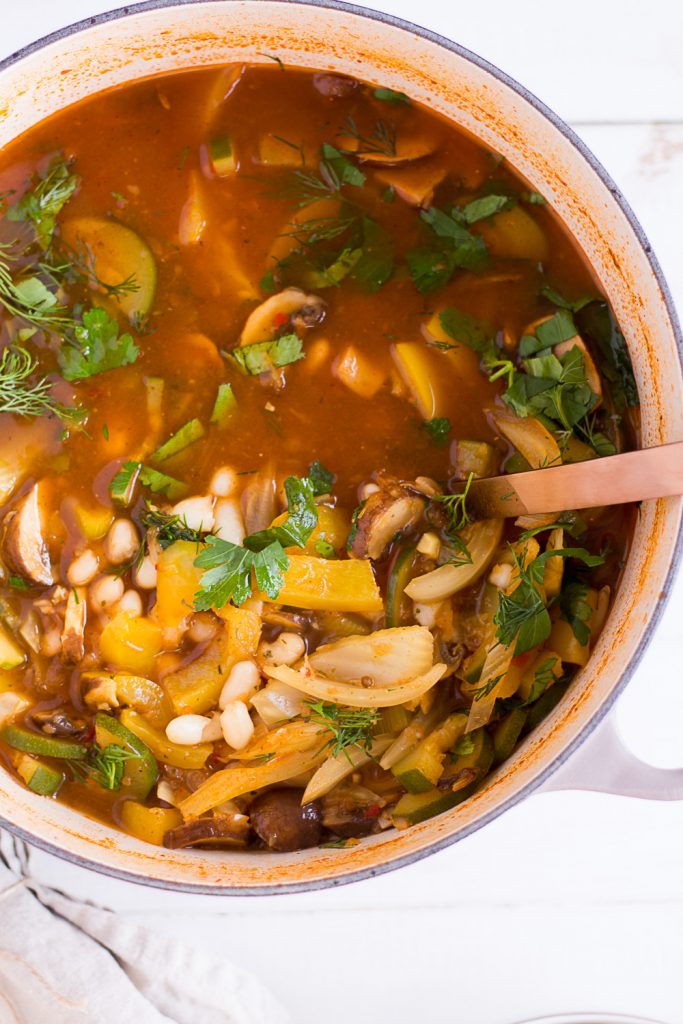 You are free to play around with the other ingredients, especially the vegetables, so just use what you have in the fridge. I especially loved the combination of fennel and fennel seeds, which is funny because I used to hate fennel. Now I really love it, and I try to add it to all of my recipes, which is probably really mean as my boyfriend is still at my previous hate-stage with fennel.
I have used cannellini beans in this roasted red bell pepper soup before, and I thought that they would make the perfect addition due to its high fiber content. Fiber is great for  blood sugar regulation as it prevents our blood sugar level from spiking or dropping too quickly, thus preventing energy lows.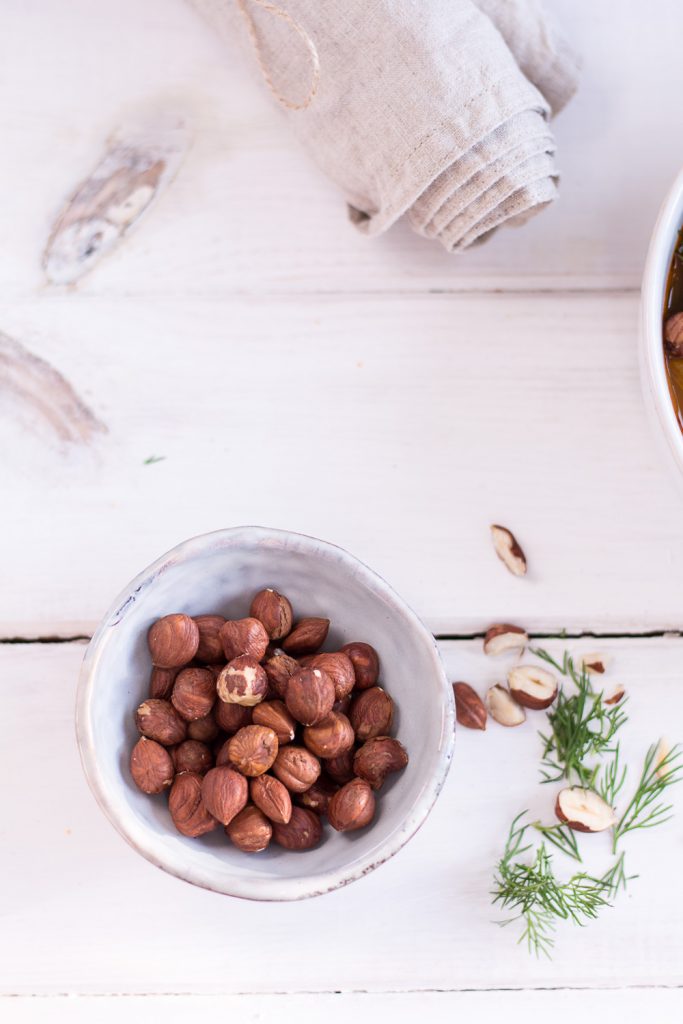 As a special ingredient I also added roasted hazelnuts, which gives this stew so much more texture and something to chew on, which is rather uncommon for stews. If you do not have hazelnuts in stock you could also try roasted cashews, pecans, almonds or pumpkin or sunflower seeds. Whatever flavor combination you chose, I look forward to hearing your thoughts on this warming winter stew.

Cannellini Bean Stew with Hazelnuts and Dill
Ingredients
2 red onions
2 garlic cloves
250g of mushrooms
1 fennel
1 yellow bell pepper
1 zucchini
1 teaspoon of fennel seeds
1 teaspoon of coriander seeds
1 teaspoon of paprika powder
½ teaspoon of cinnamon
½ teaspoon of chili flakes
2 tablespoons of tomato paste
4 tablespoons of extra virgin olive oil
1,5l (6 cups) of veggie broth or water (see below)
4 tablespoons of home made vegetable stock paste if using water
3 cans of cannellini beans (600g)
1 lemon
1 bunch of fresh parsley
3 stalks of fresh dill
2 stalks of fresh mint
1 stalk of cilantro (optional)
½ cup (75g) of hazelnuts
sea salt and pepper
Instructions
Wash the vegetables and cut them into bite-sized pieces. Chop the onion and garlic, and fresh herbs. Place all the spices on a small plate. Half the hazelnuts. Drain the cannellini beans.
Add the spices to a large pot and heat for about 4 minutes until fragrant. Add the olive oil, onions and garlic and sauté for about 3 minutes. Then add the vegetables and tomato paste and sauté for another 3 - 4 minutes.
Add the water and vegetable stock paste or vegetable broth and let simmer for 20 minutes on medium heat.
Now add the cannellini beans and heat for another 5 minutes. While the beans are heating up, place the hazelnuts into a small pan and roast them on medium to high heat for about 5 minutes until fragrant.
Season the stew with the juice of the lemon, sea salt and pepper.
Garnish the stew with a generous amount of herbs and hazelnuts.
Enjoy!
---
DID YOU MAKE THIS RECIPE OR HAVE ANY SUGGESTIONS, QUESTIONS OR COMMENTS?
Feel free to leave a comment below, and don't forget to tag your creations on social media using #heavenlynnhealthy.
I'd love for this blog to be a dialogue.
---