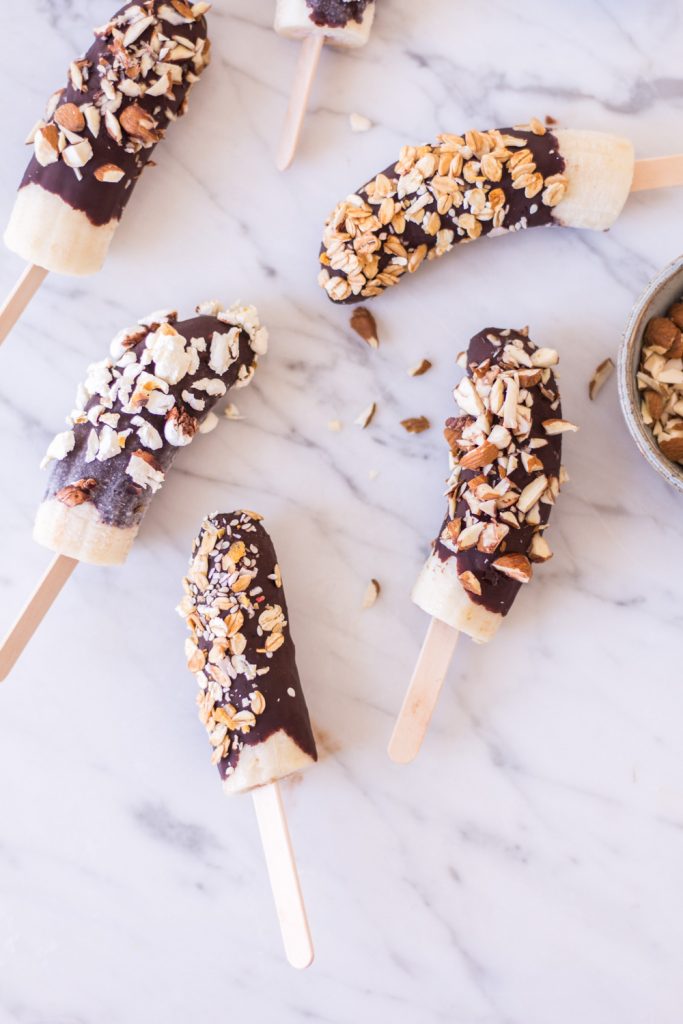 Chocolate-covered frozen bananas. Need I say more? Yes. It tastes just like frozen banana split. Is that a thing everywhere around the world? It sure is here in Germany. If you don't know what a banana split is: it's a split banana with vanilla icecream, chocolate sauce and usually lots of whipped cream. Not in this version. 'Cause this is a healthy blog.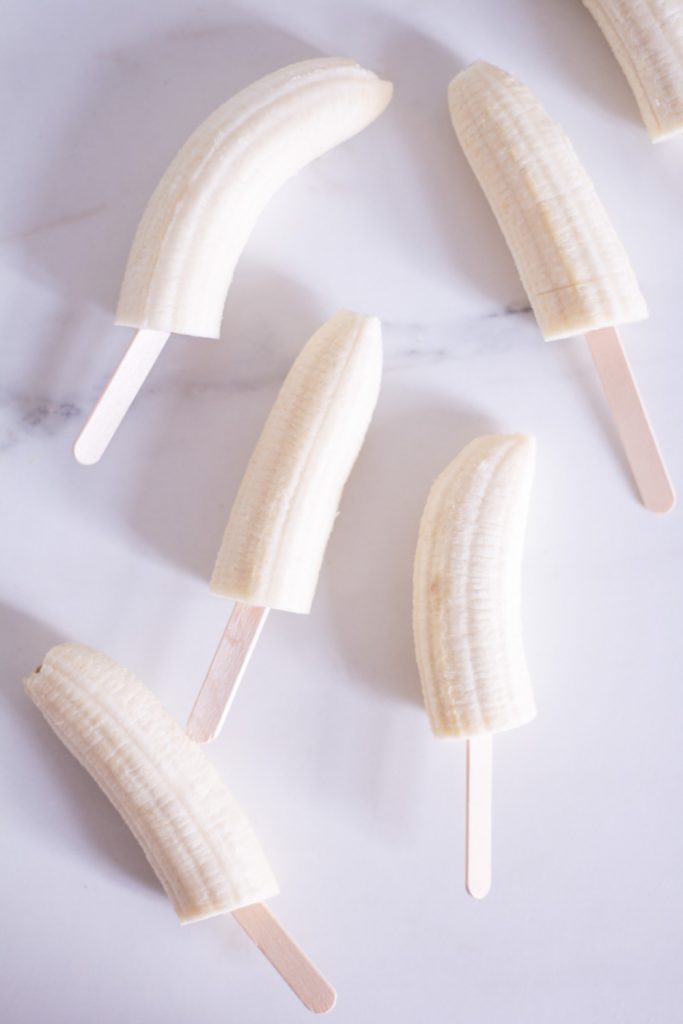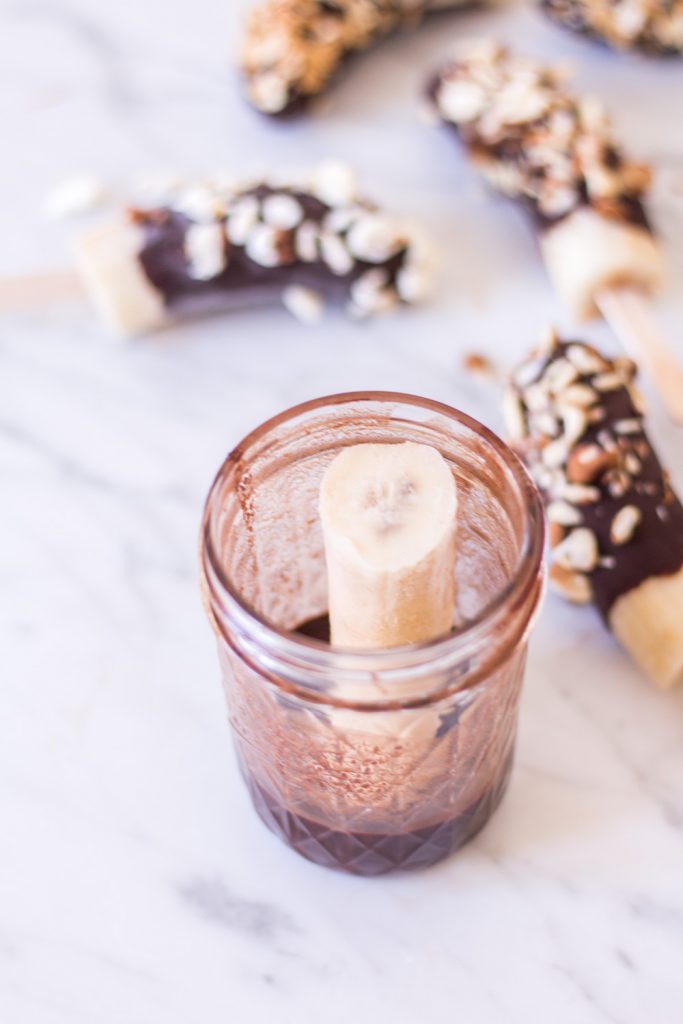 I came up with this idea just this week, because, as you might know: we have a major heat wave in Europe. Not just in the South, but there are temperatures in the 30s (celcius) registered in Scandinavia. That's insane and not something we, nature or the animals are used to. It breaks my heart to see fish dying, plants dying and the elder people in the nursing homes struggle with this weather.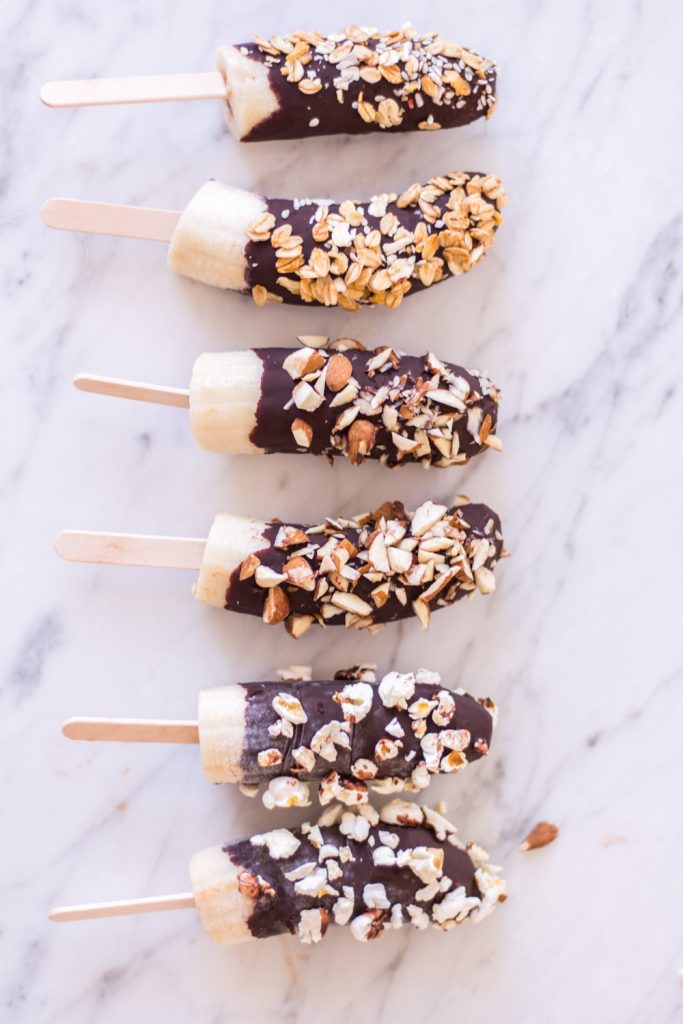 But now to these chocoalte covered frozen bananas. They are everything you'll need for a fun weekend time. If you have kids and they like bananas (many kids don't apparently), then please make them with your kids. IT IS SO MUCH FUN! Since we freeze the bananas before dipping them into the chocolate, the glaze will dry immediately, which is so cool! You got to be extra quick to sprinkle the toppings onto the glaze as it dries so quickly, even in 27 °C hot kitchens. Yeah, my kitchen is not the place to be during this heat wave.
Also, I've found a way to substitute the often hard to find cacao butter that I usually make my chocolate with. Turns out, you can just as easily use coconut oil to make divine tasting chocolate and chocolate glazes. Another benefit is that coconut oil is already liquid in the summer if you keep it out of the fridge. This saves you one step of the process – a lifesaver in temperatures like our current heat wave.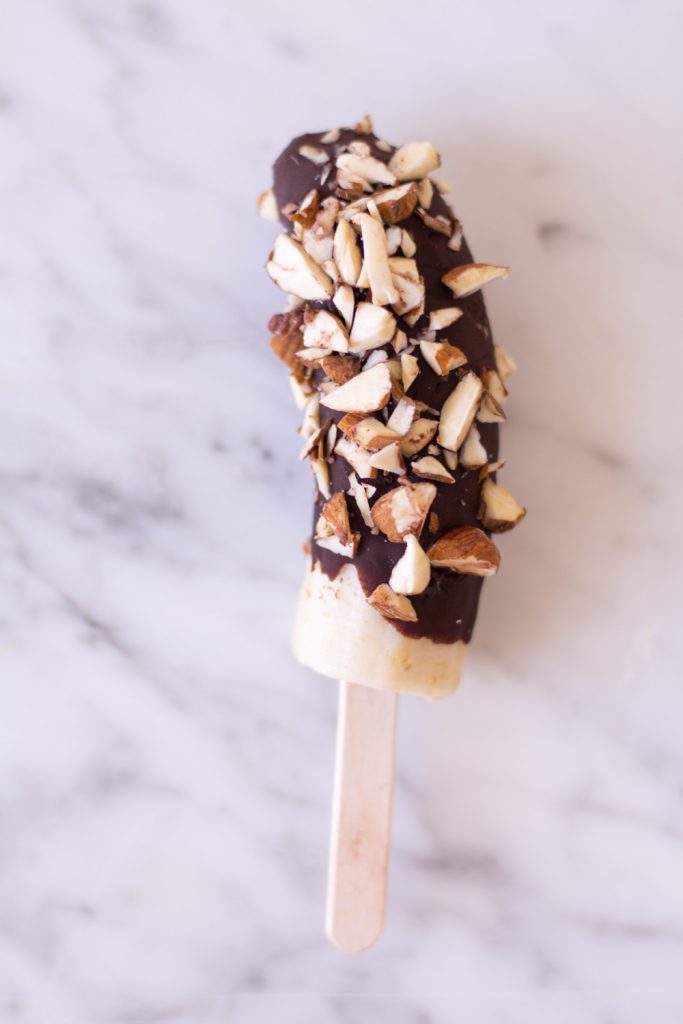 If you're not too keen on eating bananas these days, because you've heard about their high sugar content, let me tell you a little bit about bananas. Yes, they are high in fructose and high in energy, but the difference between a chocolate bar and a banana is the high fiber and mineral content in bananas. Not only does the fiber prevent the blood sugar level from spiking, it also aids digestion. There is also a reason why athletes love eating bananas: their high potassium content regulates blood pressure and supports a healthy heart. All the more reasons to eat a banana a day.
Now, have fun making these delicious summer treats!
xx
Lynn

Frozen chocolate covered banana popsicles
Ingredients
3 bananas
¼ cup (60ml) of coconut oil
3 tablespoons (60g) of raw cacao powder
3 tablespoons of coconut sugar (more to taste)
Possible toppings:
chopped almonds
chopped popcorn
homemade granola
Instructions
Peel the bananas and cut them in half. Carefully stick a wodden stick into each banana half. Freeze the banana halves for about 2 – 3 hours.
In the mean time, prepare the toppings.
Right before taking the bananas out of the freezer, prepare the chocolate glaze by melting the coconut oil or cacao butter. Add in the cacao powder and coconut sugar and stir until a homogenous glaze forms. Fill the glaze into a high glass.
Now you have two options:
You can eiterh align a baking paper with the toppings, and then roll the chocolate covered bananas in the toppings on the sheet of paper. Or you can drizzle the toppings over the chocolate using your free hands. I prefer the second option.
Dip the bananas into the chocolate (you'll have to rotate the glass a little bit to cover the entire banana) and then IMMEDIATELY cover with your toppings. Since the banas are frozen, the glaze will freeze within seconds.
You can place them on a plate or sheet of baking paper, but there won't be any chocolate drizzling. Enjoy them immediately or freeze them for up to two weeks.
Enjoy!