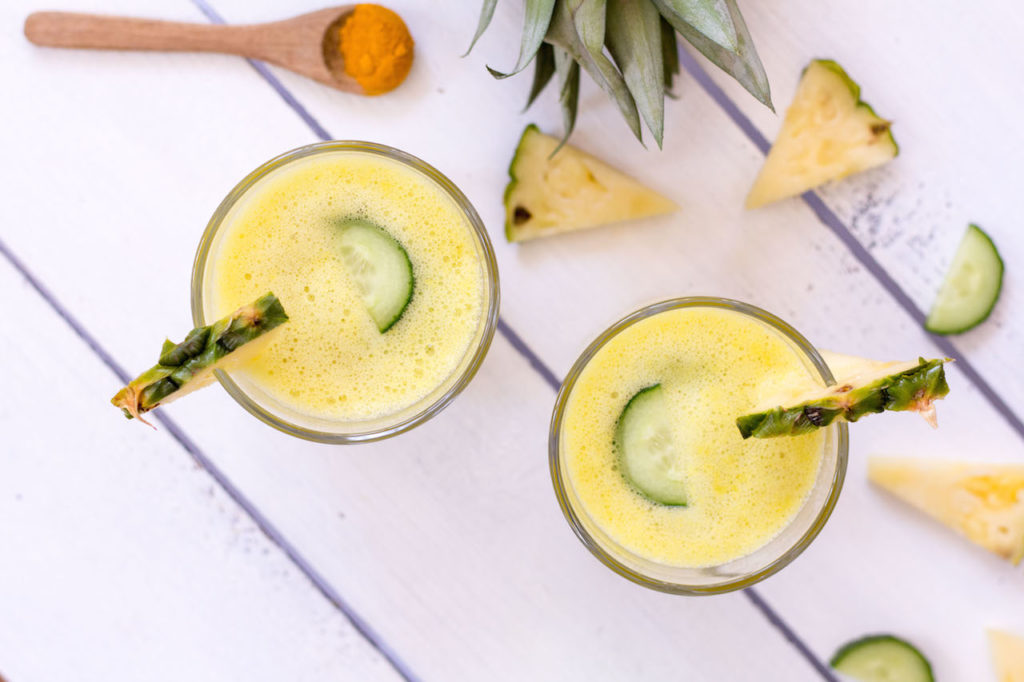 With rising summer temperatures, I could literally just drink this pineapple turmeric smoothie all day. It's just so refreshing and delicious, and obviously filled with ingredients that nourish and fuel your body. I have already declared my love for turmeric in various posts before, such as in my turmeric latte (golden milk), so it was only a matter of time until I started adding it to my smoothies too. This pineapple turmeric smoothie has been the best turmeric-based smoothie creation yet, so I am excited to share it with you today.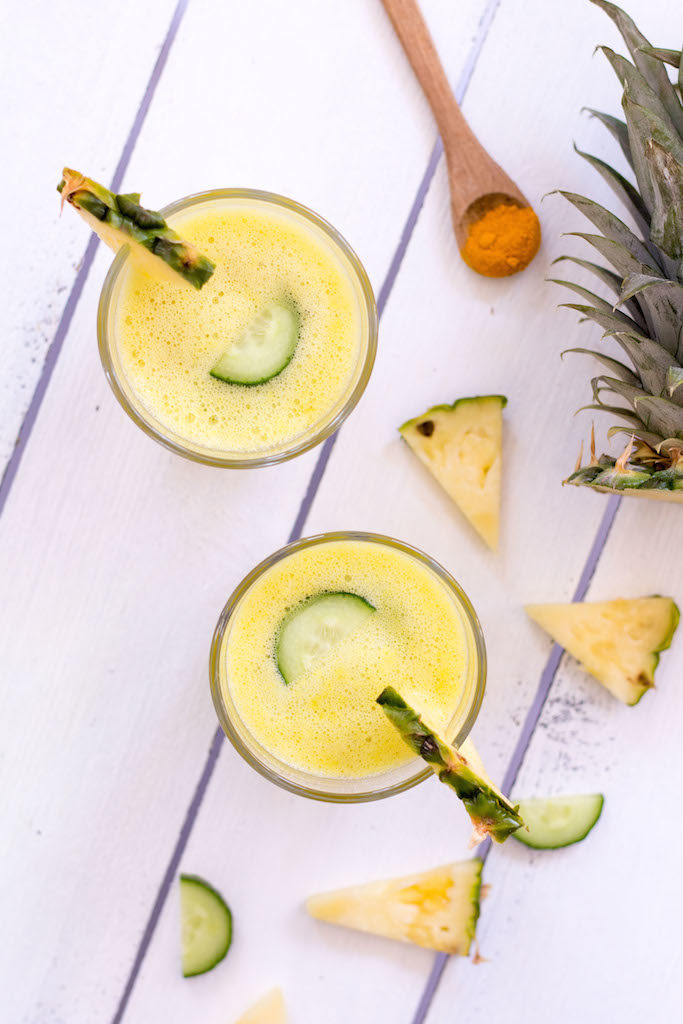 The combination of pineapple and turmeric has been a totally new taste experience for me. Even though turmeric is a warm spice, the smoothie is nevertheless very refreshing due to the mild acidity of the pineapple and the freshness of the cucumber and ginger. Pineapple is not only a juicy summer fruit, it's also bursting with goodness, too. It's an excellent source of manganese, which is important for the production of energy and antioxidant activity. It also adds a good vitamin C boost to this smoothie, making it a complete health bomb.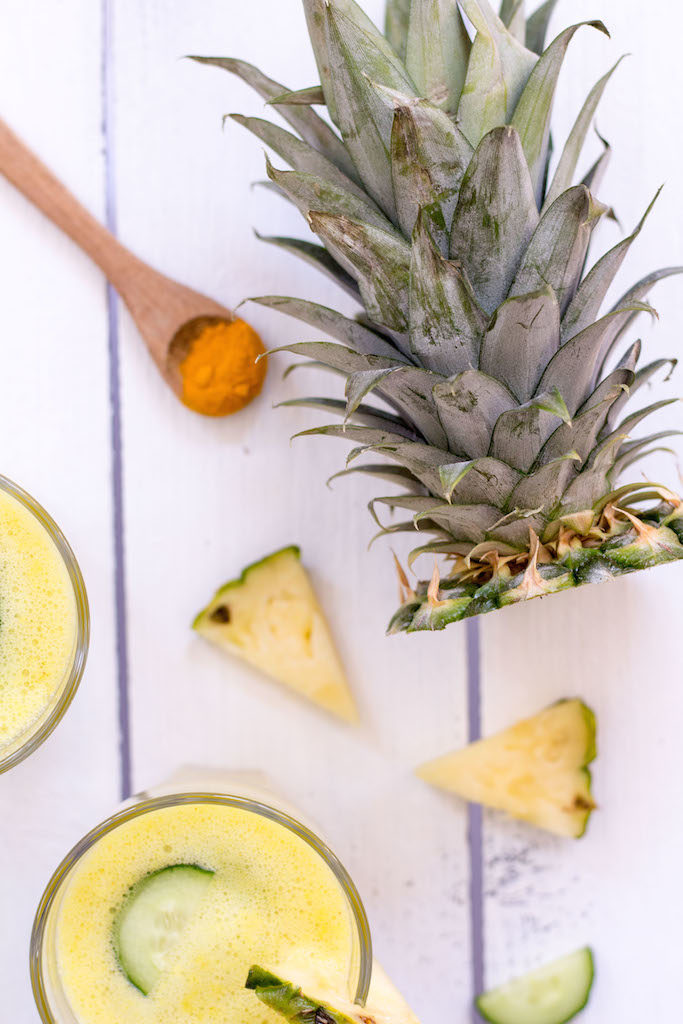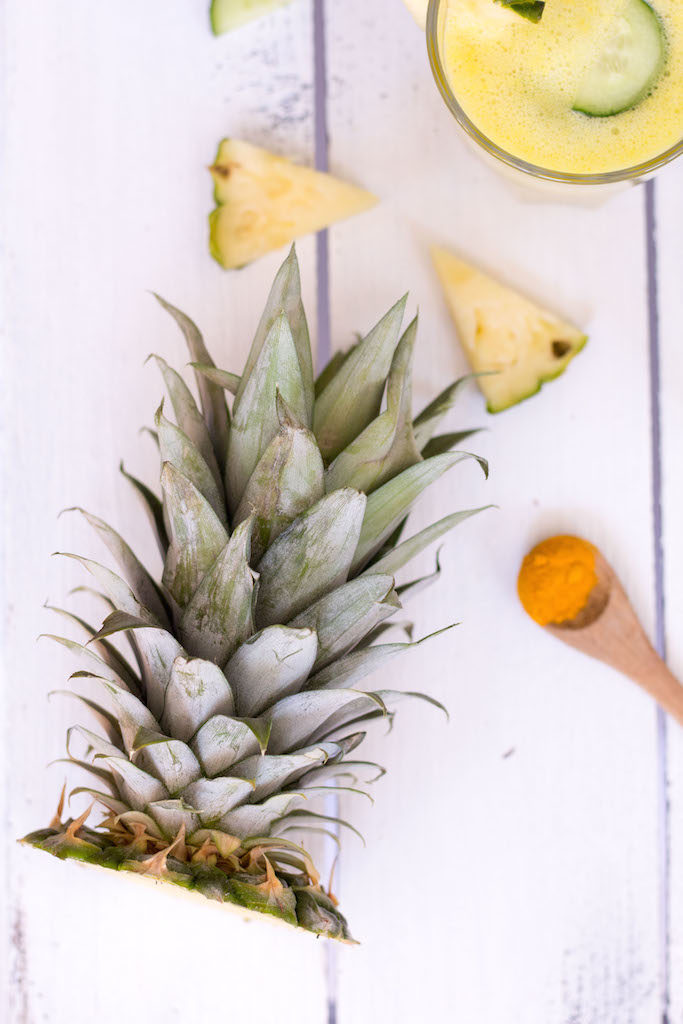 Turmeric is becoming more and more popular in the Western world, mainly because of it's anti-inflammatory and cancer-preventing properties. If you're not sure about the turmeric in this smoothie, then start slowly and increase the amount of turmeric gradually with time as you get accustomed to the taste. Try to find a fresh turmeric root, it will make a huge difference in taste. You could also swap the almond milk for coconut milk to make the smoothie taste like a good old pina colada. Since I have never been the biggest fan of cream-based cocktails, I did not feel like turning this smoothie into a healthy pina colada smoothie, but if you love the taste, go for it.

Pineapple Turmeric Smoothie
Ingredients
½ pineapple
1 frozen banana
½ cucumber
1 small piece of fresh ginger
1 small piece of fresh turmeric or 1 teaspoon of turmeric powder
1 cup (250ml) of unsweetened almond milk
Instructions
Simply place all the ingredients into a blender and blend until smooth.
Notes
If you don't have a frozen banana at hand, just use a normal one. You might want to add some ice cubes then, as the smoothie tastes best when chilled.
Enjoy!
---
DID YOU MAKE THIS RECIPE OR HAVE ANY SUGGESTIONS, QUESTIONS OR COMMENTS?
Feel free to leave a comment below, and don't forget to tag your creations on social media using #heavenlynnhealthy.
I'd love for this blog to be a dialogue.
---