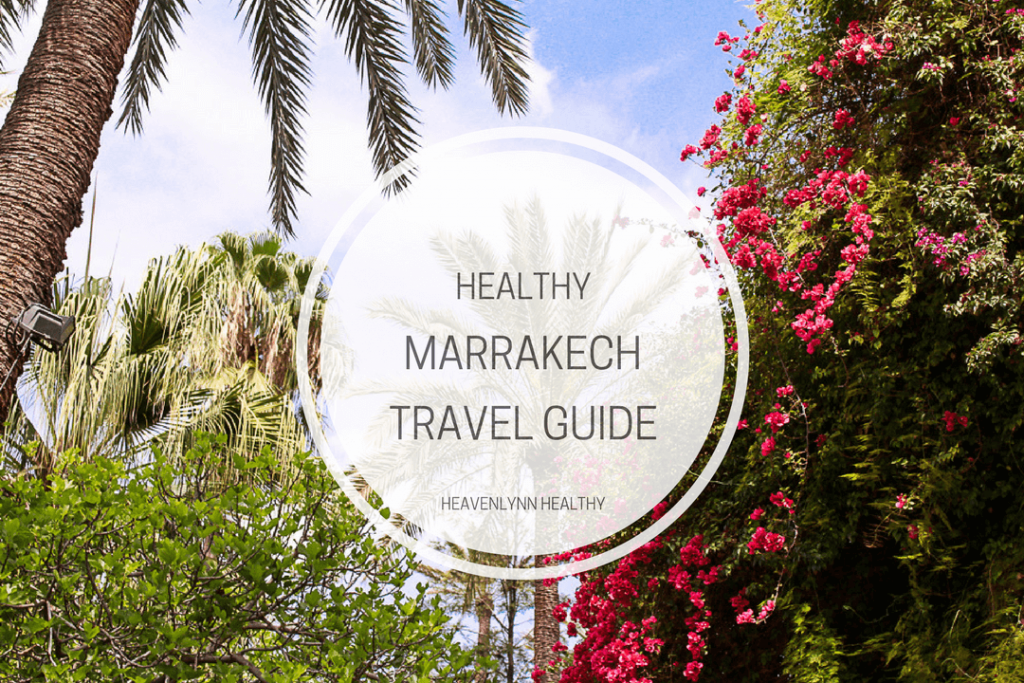 Before I visited Marrakech, I spent a lot of time scrolling through blogs for advice and it helped me so much that I decided to write my own Marrakech travel guide. I think that normal travel guides that you can buy in bookstores are always great, but they do not cover all the topics that you are really interested in like "Two blondes in Marrakech" (or do they? – please fill me in!). I decided to split my Marrakech experiences into two different posts: this Marrakech travel guide and a post about healthy eating in Marrakech, which I will release in just a few days. I hope you will find both helpful for future travel plans, and if not, then I hope you'll at least enjoy some of the photographs.
Where to stay in Marrakech?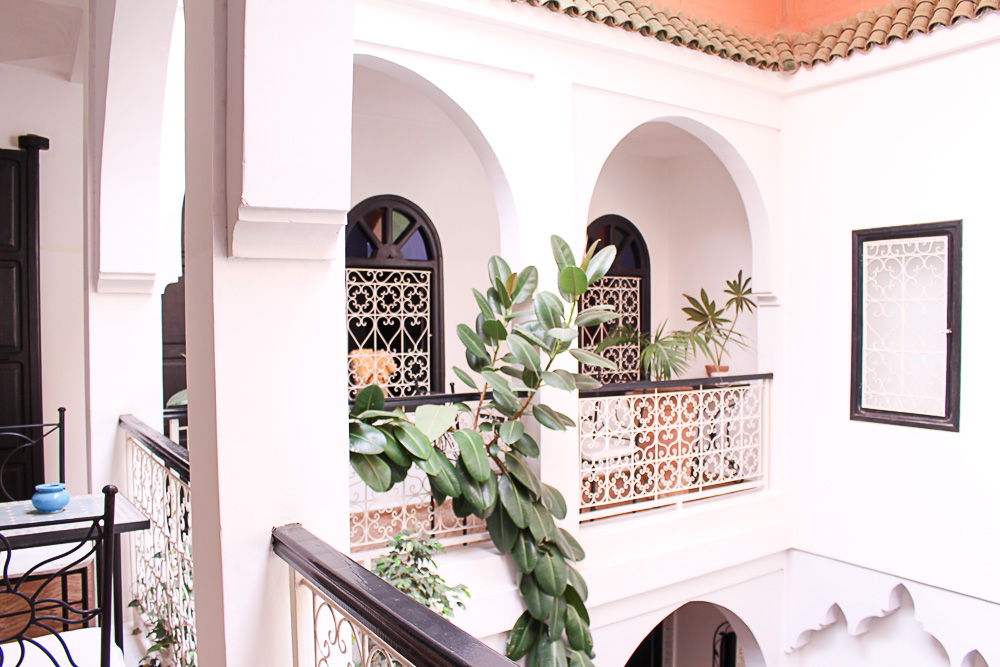 I definitely recommend staying in one of the Riads in the Medina. Riads used to be the residences of Moroccan men who needed a place to host their multiple women. Yup, the rooms in the Riads hosted the men's mistresses or several wifes. Talking about a  mansion… We decided to stay at Riad Alboraq, which I could not recommend more! The staff was super friendly and helpful and the Riad itself was beautiful and the interior very elegant. The pool was not open yet, as it wasn't warm enough, but it's definitely nice in the hot summer months.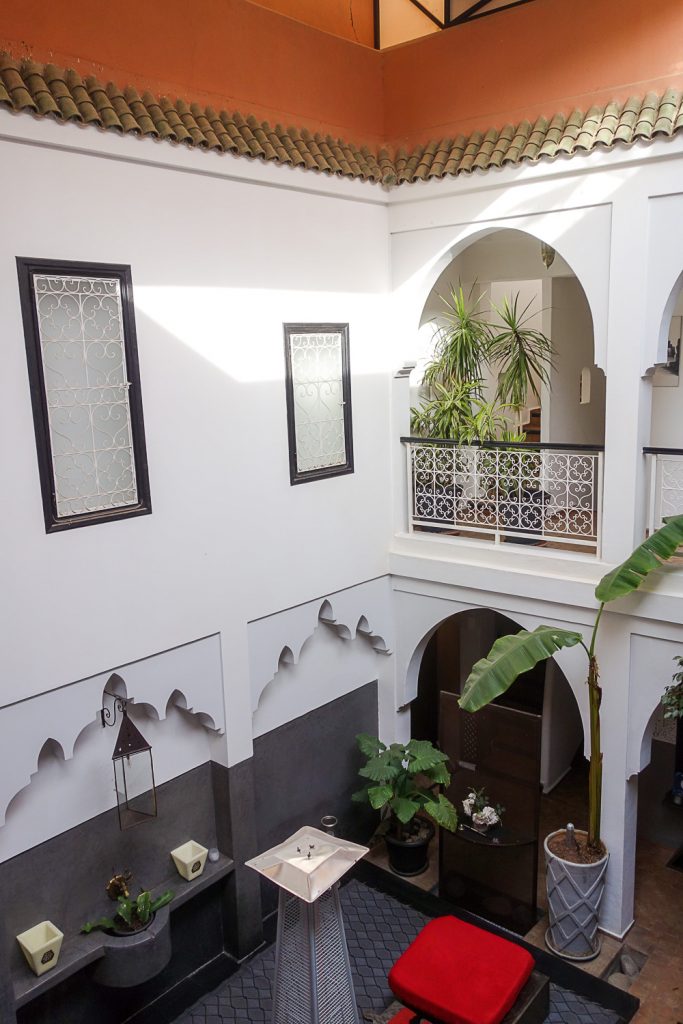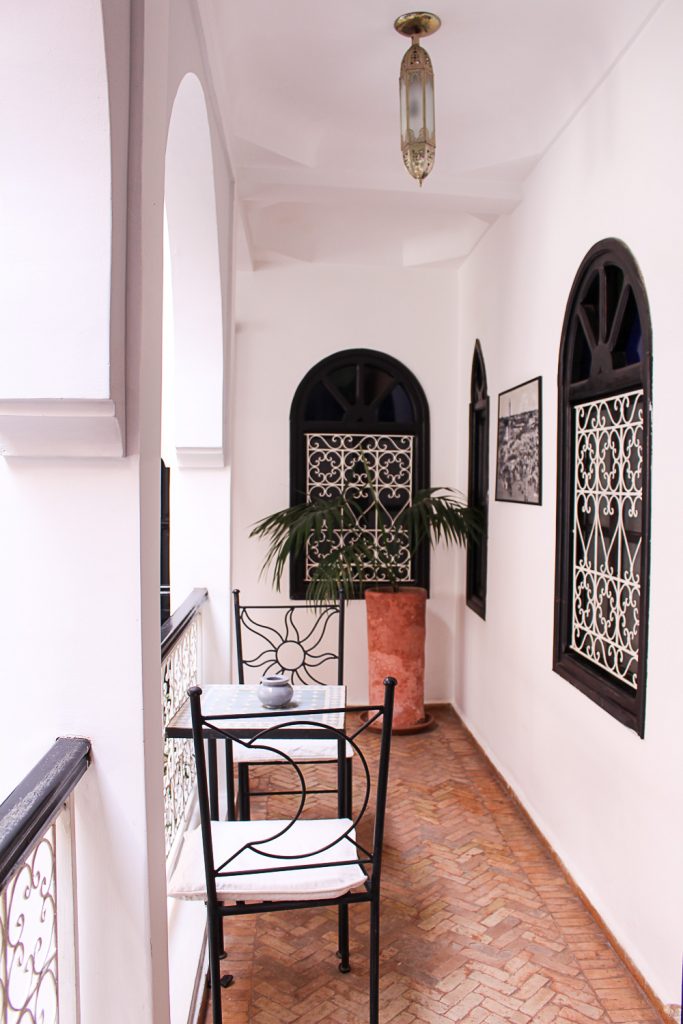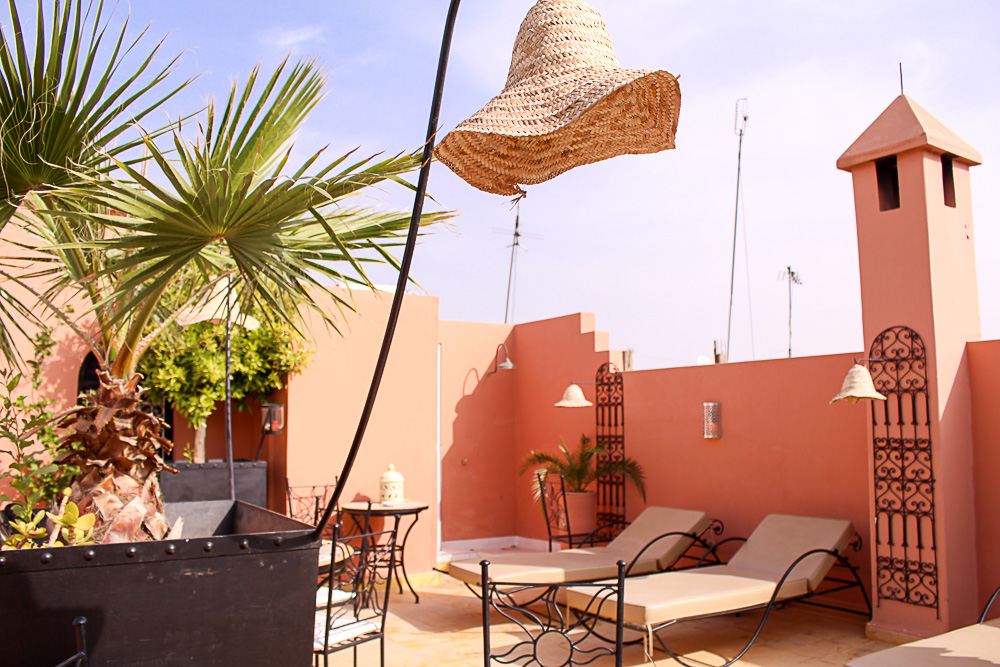 There are, however, some people that I wouldn't recommend to stay in the Riads. Those people are families with small children as the Riads are very small and normally very loud. I also don't know if I would recommend it to my parents. The reason for this is that the Riads are hidden in the middle of the Medina and often require some sort of orientation to find it. This can be especially tricky (and scary) at night, so if you don't like the idea of strolling through dark alleys and tunnels at night, maybe one of the hotel complexes might be a better choice for you. I usually would never say anything like that, because I love living like a local when going on a city trip, but this time, I think you should consider it, when planning a trip to Marrakech.
What to see in Marrakech?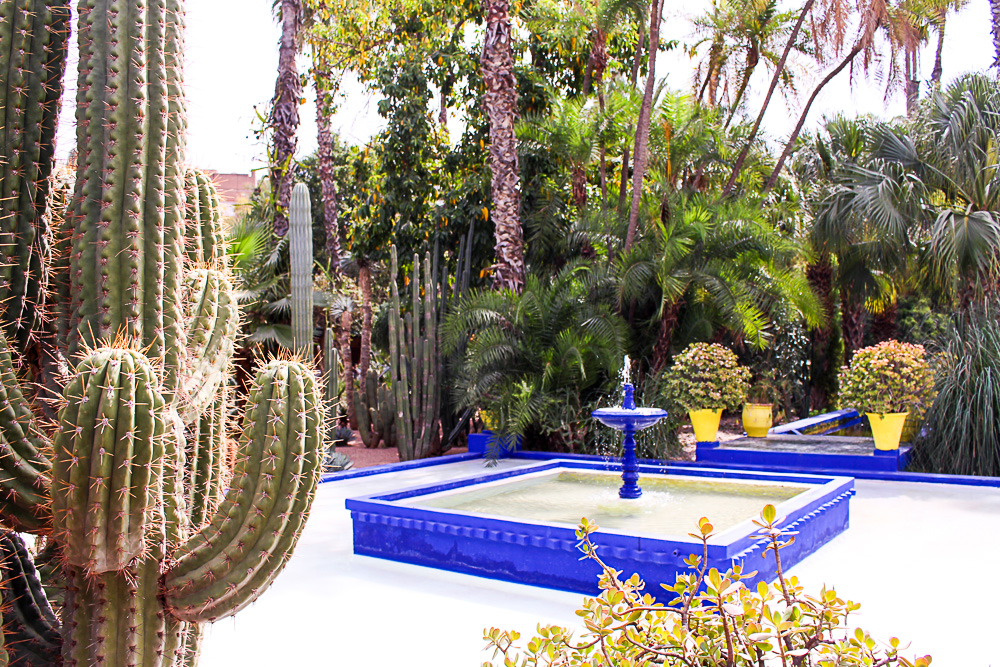 I am not really that into site-seeing to be honest. That does not mean that I do not appreciate culture – I love watching and talking to locals, eating at restaurants where locals eat and preferably even living with them. Living in a Riad is already part of the Marrakech experience, and eating out in delicious restaurants is another way to get to know the city. Of course we visited the usual sites: Jardin Majorelle, Palais de la Baharia und die Koranschule Medersa Ben Youssef, which I can all definitely recommend, but you will experience the real Marrakech outside of the sites.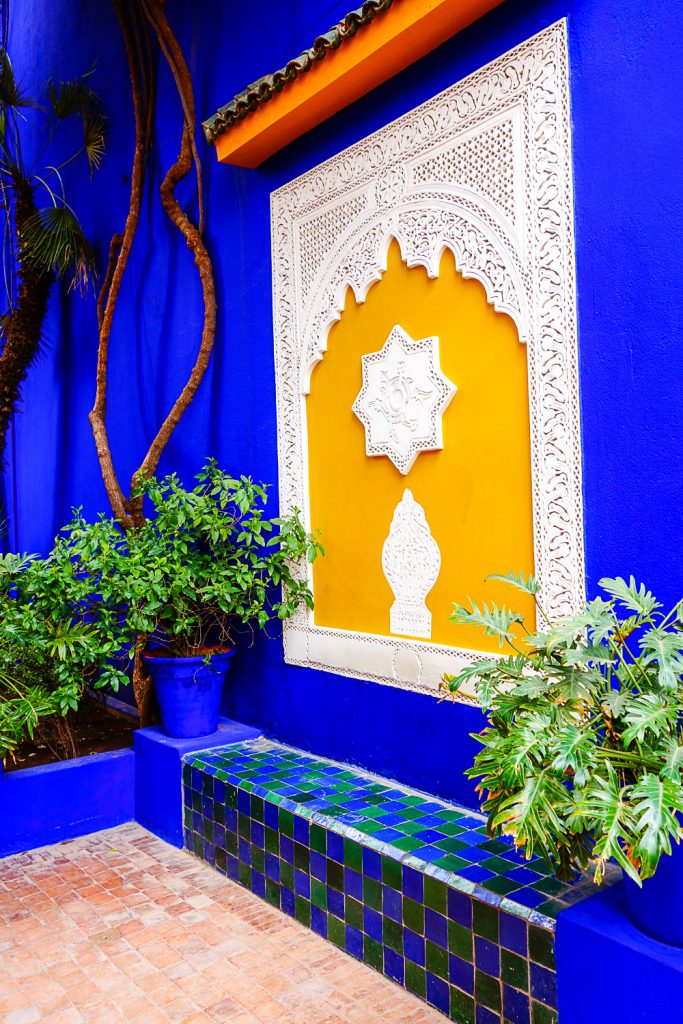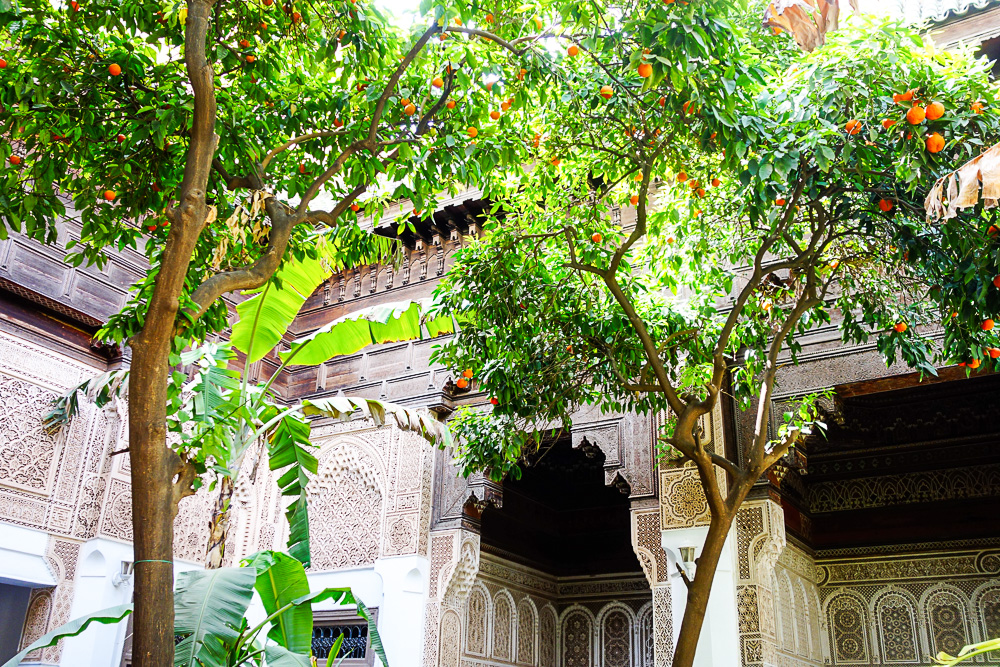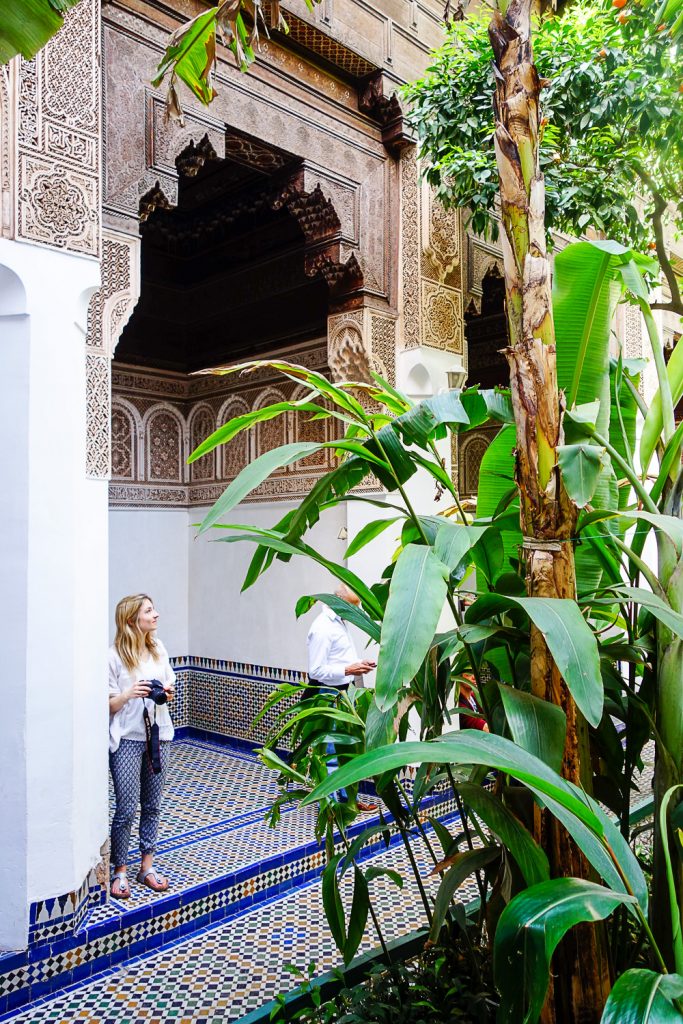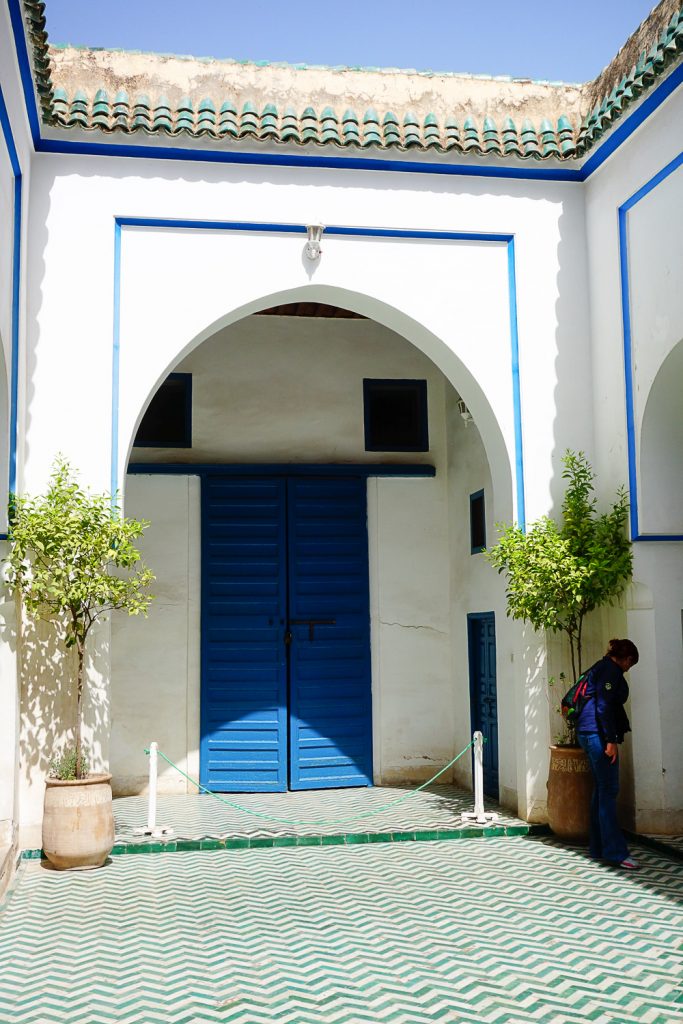 You will ultimately find yourself in the middle of the Jemaa El-Fna, "la place" or "the square" as it is called in Marrakech. It is the city center, UNESCO world heritage, and definitely a big part of the Marrakech culture. The square is definitely worth a visit, however, this was the only place where I felt uncomfortable during my stay. There are too many people, henna women touching your arms every other minute, chained monkeys, tooth extractors (no kidding) and serpent charmers. Yes, it is magical, but also very touristy and I could never spend more than five minutes on the square.
Where to shop in Marrakech?
There is no way to go to Marrakech and not lose yourself in the Souks (markets). The Souks are a variety of different streets in the Medina of marrakech where street vendors sell anything and everything you can think of. After a while you realize that the Souks do follow a system: there are the spices Souks, the shoe Souks, carpet Souks, clothes Souks, wood, lamps, and so many other Souks. It can be tricky to navigate, but when you get lost, simply ask a friendly vendor for "la place" and will guide you in the right direction.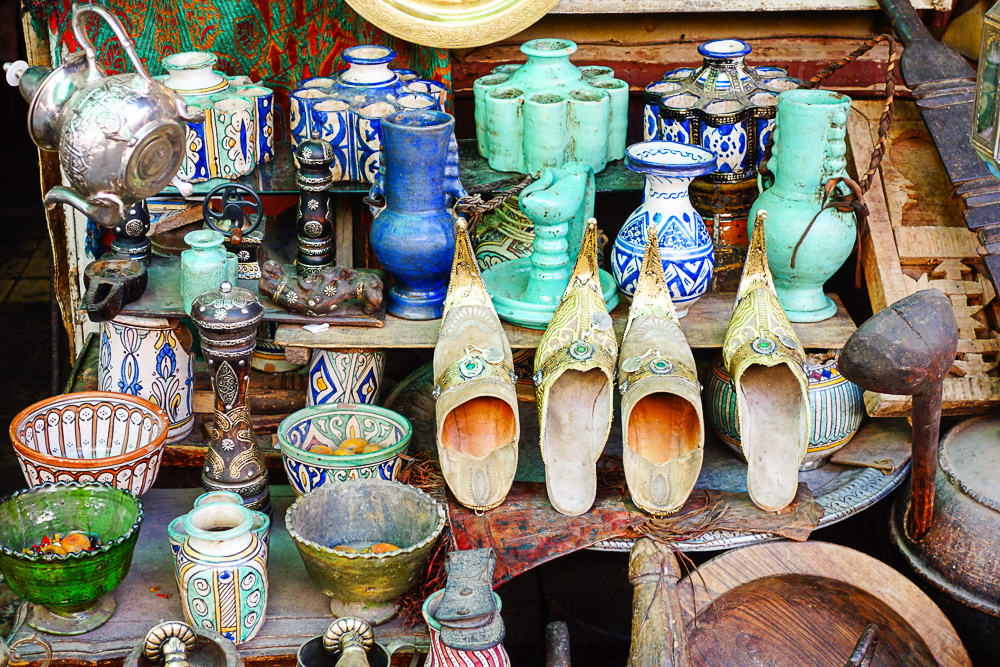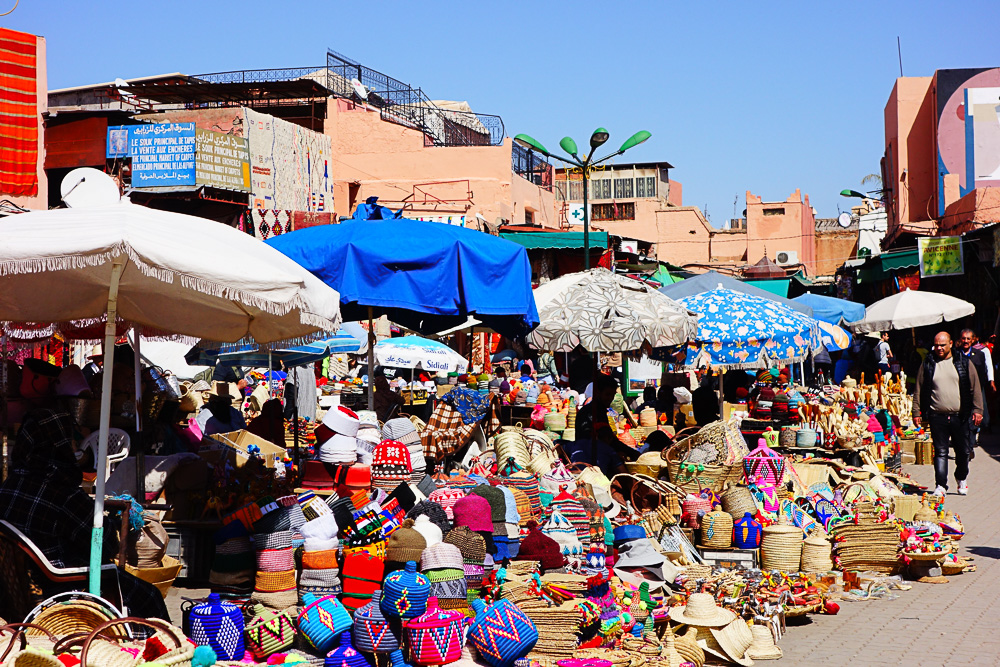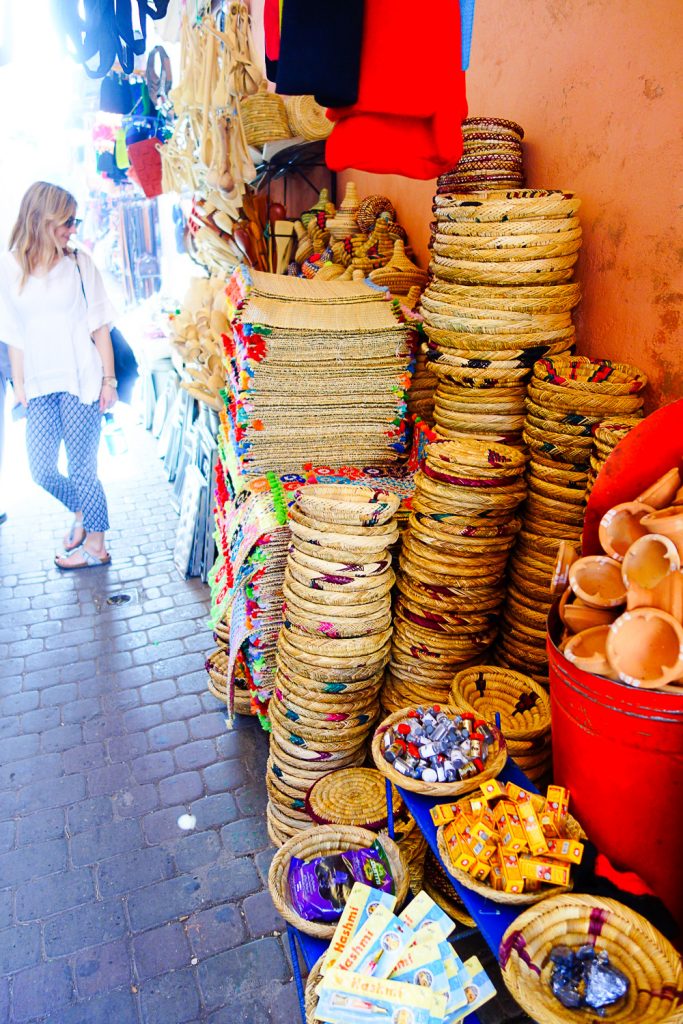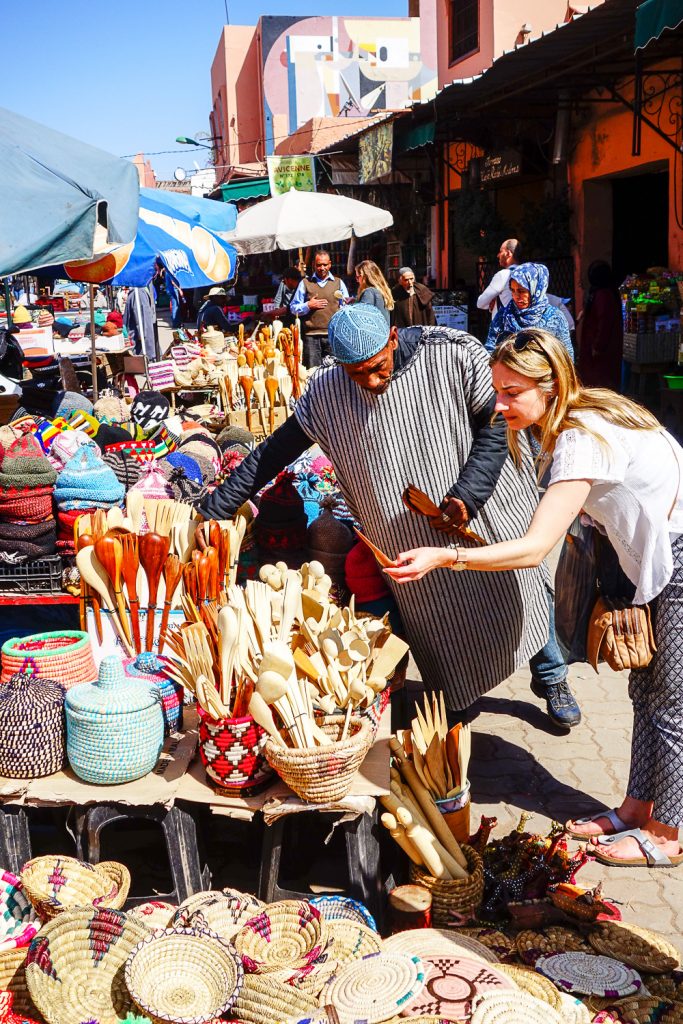 Bargaining is definitely part of the Moroccan culture and considered as polite – so keep on bargaining. If a vender tells you a price, you can expect the price to be up to two or three times higher than what you need to pay. Bargaining is fun as long as both sides gain from the deal, so if you can afford it, don't be too tough, but be aware of vendors selling "originals" that are clearly mass merchandise.
When to go to Marrakech?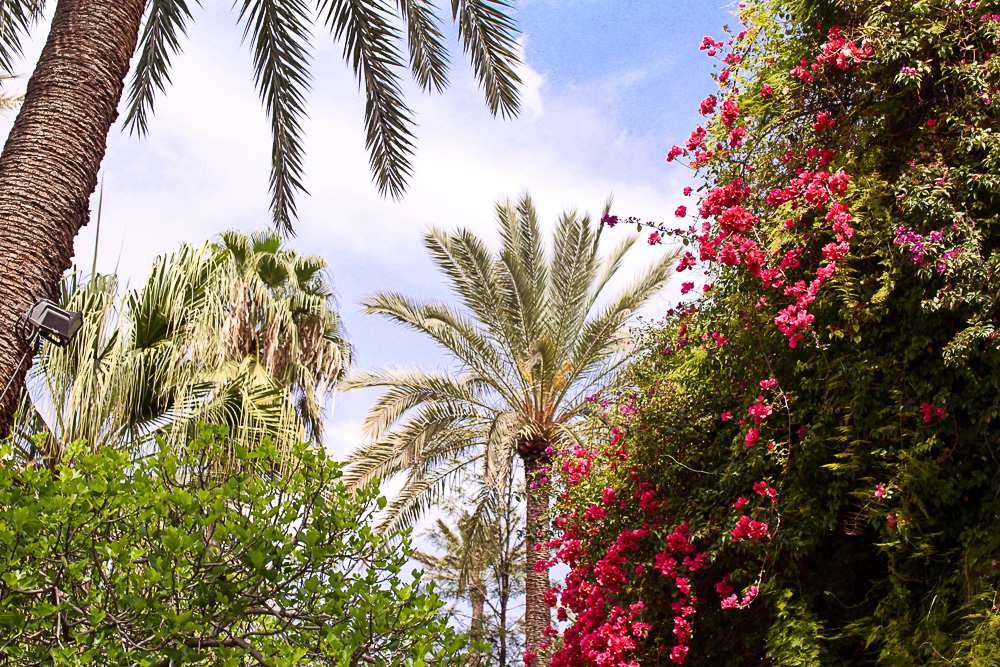 I would definitely always go back in March. It was the best month to visit Marrakech – it wasn't too hot yet, but not too cold either. Honestly, I don't think visiting Marrakech in the heat of the summer if very pleasant as there is no sea to dive in. So spring, fall and winter are great times to visit Marrakech.
Two blonde women in Marrakech – wasn't that a little risky?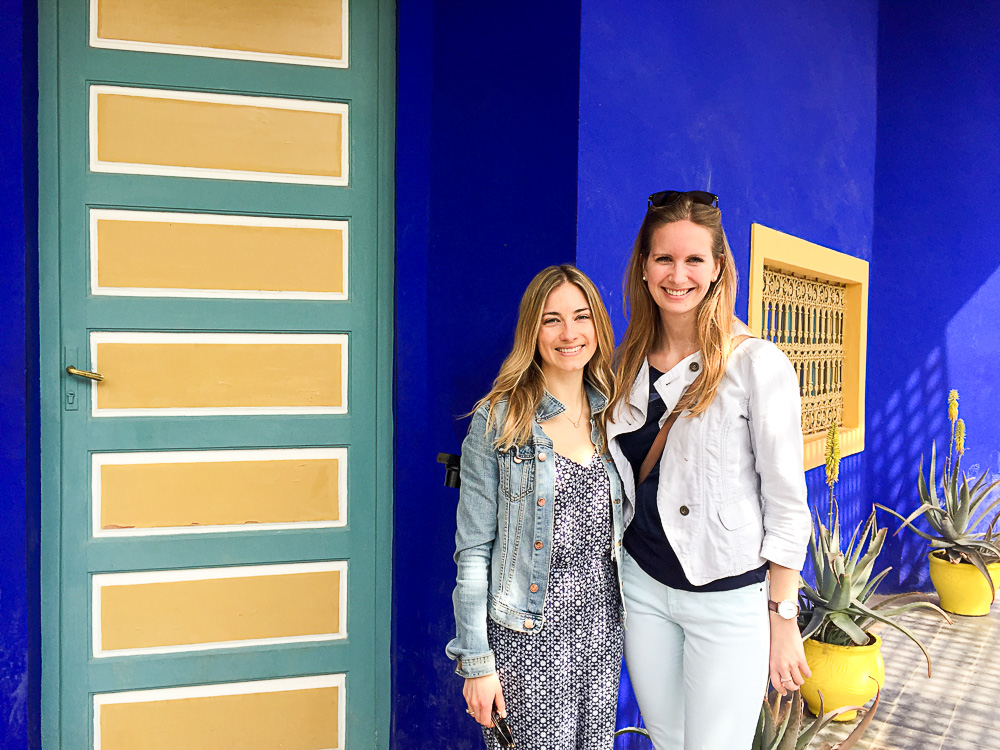 Not at all. But I need to say that both my friend and I are experienced travelers (though she is more of a back-packer, I'm really not). We knew what we were doing before booking the trip and we took the necessary precautions while touring through the Medina. As long as you know where to go, have a working phone with GPS in your hand and a smile on your face, you don't have to worry about safety. We always dressed appropriately (long pair of pants and a shirt that covered our shoulders), and treated the traditions of the locals with respect (a no-brainer but certainly not a given considering some tourists that we passed).
How long should you stay in Marrakech?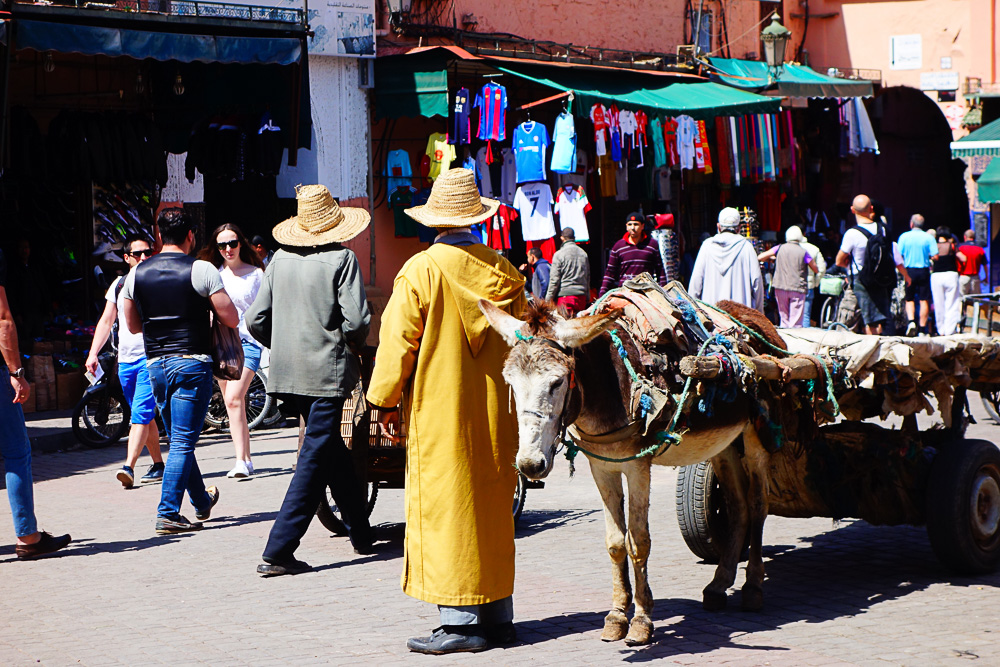 In my opinion, three full days (four nights) are definitely enough to cover Marrakech. However, Morocco is a beautiful country and if we had had more time, we would have definitely taken a trip to the Atlas mountains, the famous waterfalls and the Sahara. In the end, we spent a total of three days in Marrakech and went on a day trip to Essaouira, a harbor town by the Atlantic Sea, which was definitely one of our highlights.
Day Trip to Essaouira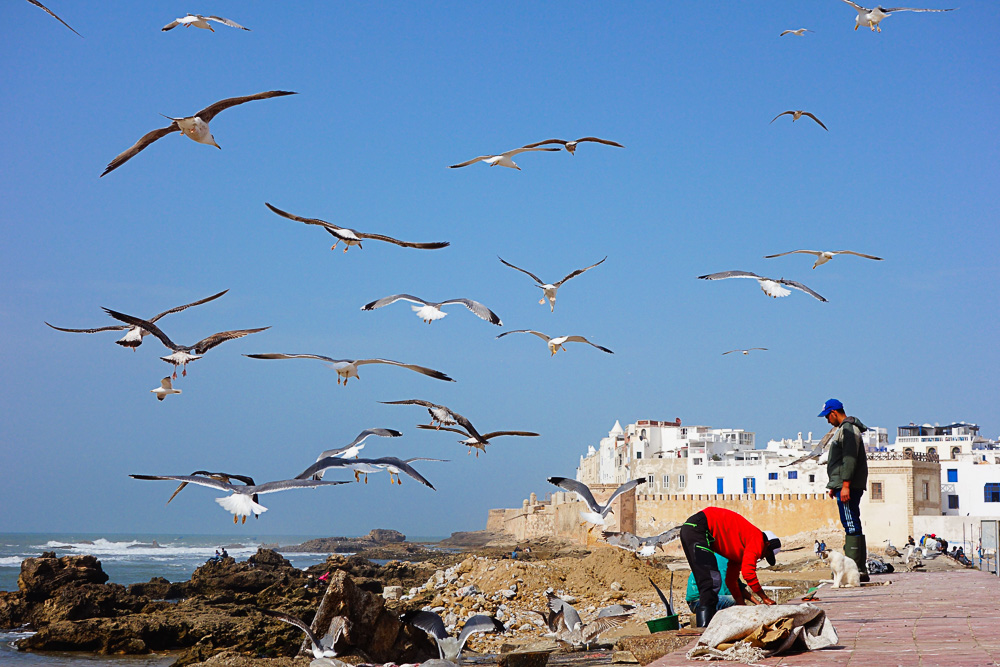 A friend recommended a day trip to Essaouira and it was by far the best tip we had gotten previous to planning our time in Morocco. While Marrakech is a tad bit hipper and more interesting, Essaouira has the surfer vibe, the Mediterranean flair and the brisk winds that make it feel more like a vacation spot than Marrakech. Contrary to  the red city of Marrakech, Essaouira sparkles in white and blue, reminding me of the Greek islands in a way.
I loved strolling through the little alleys of the town by the Sea, it is less crowded, less noisy, less dusty than Marrakech and definitely more airy, more fishy and more laid-back, too. Shopping in Essaoira was a blast, and I got all of my souvenirs (including wooden spoons, and an original Beni Ourani )from the fishermen's town. There are two bus companies driving back and forth between Marrakech and Essaouira several times a day. I recommend the company Supretours and their Comfort busses with free Wifi! The comfort bus is definitely worth the extra charge.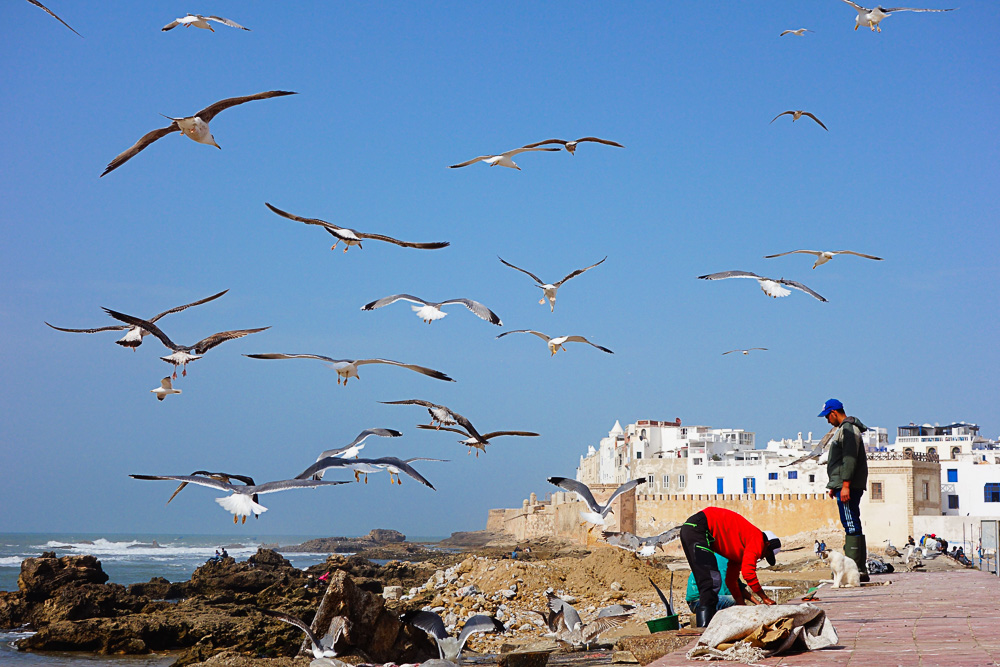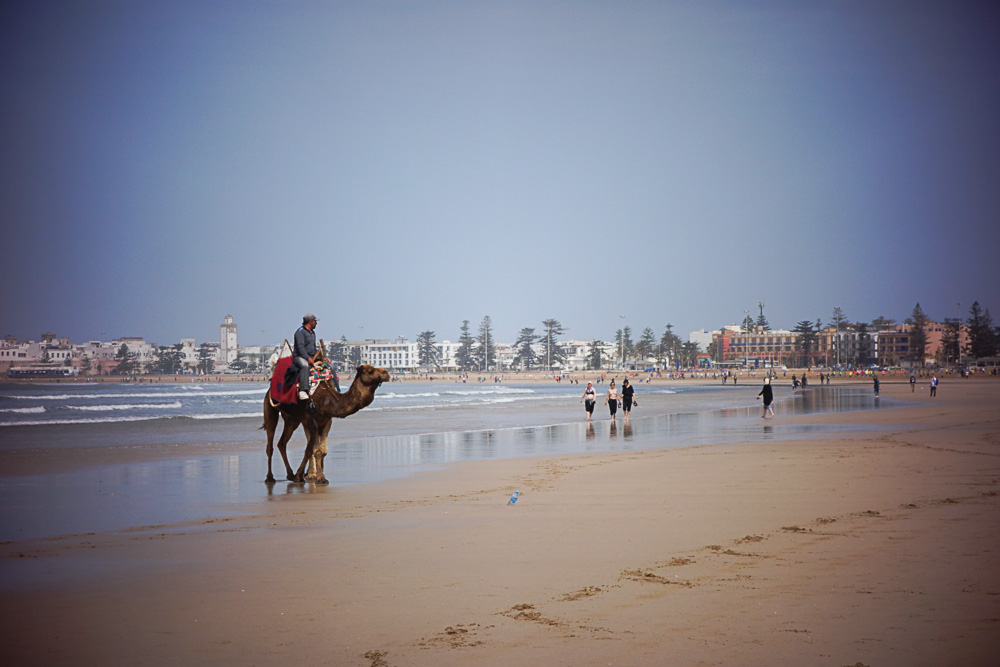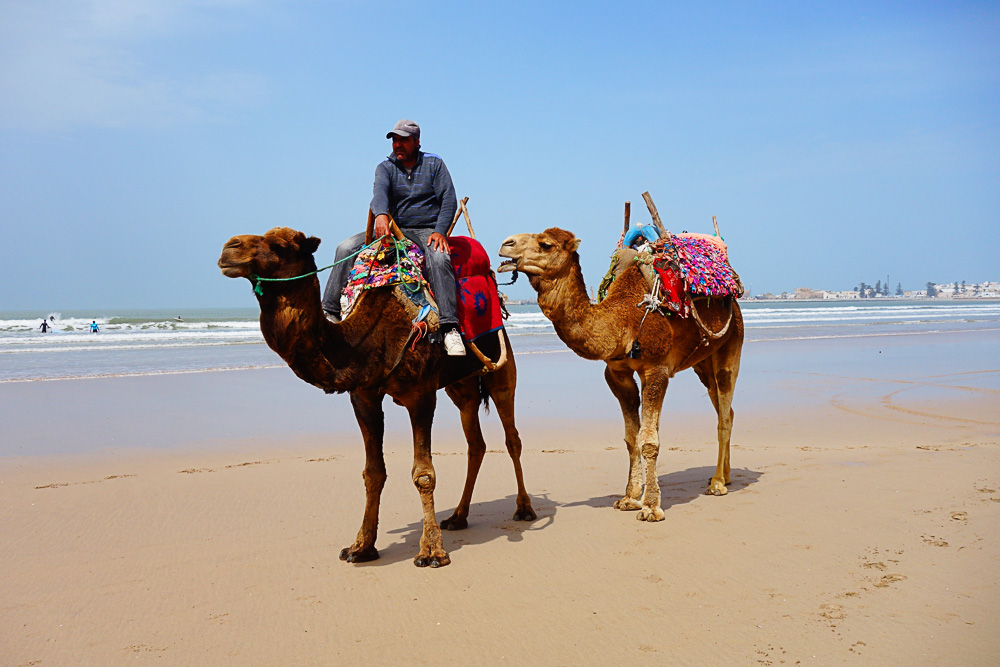 A few last tips: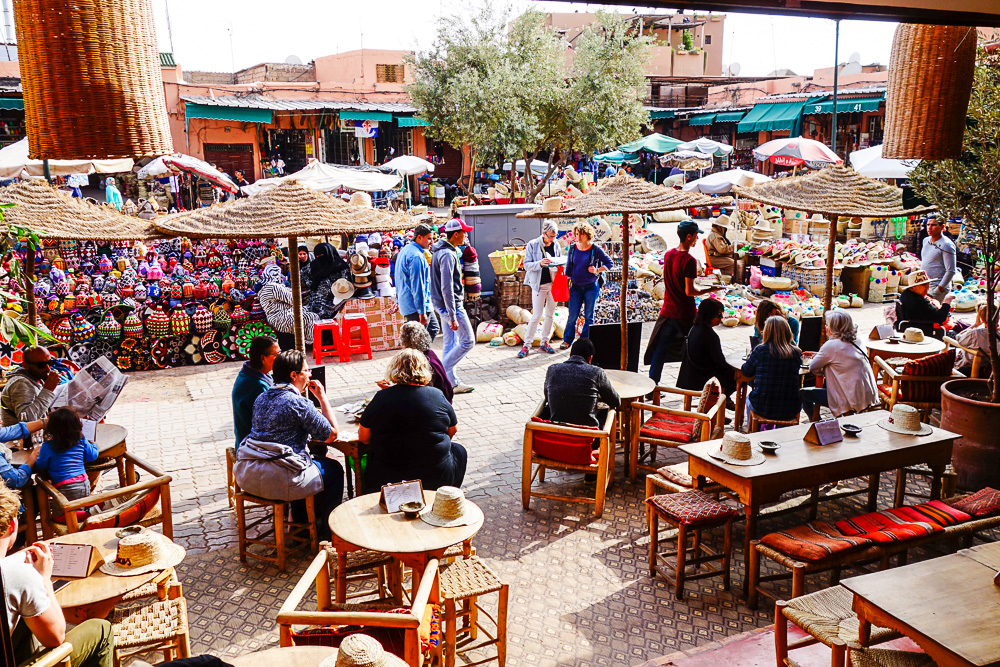 GPS: The Moroccan Medinas can be quite tricky to navigate. We saw countless tourists get lost with their maps in their hands (totally useless if you ask me). What really works is pre-loading the walking routes on Google Maps in your Riad or any restaurant with Wifi. Even if you have switched off cellular data, the GPS will track you without any cell phone costs. The GPS  helped us A LOT when we strolled through the Souks or searched for sites to visit.
Walking vs. taxi: I definitely recommend walking through Marrakech. We even walked to the new part of the town and back, which took us 40 minutes each way. Taxis usually overcharge and they don't even bother to turn on their taxometers. Walking is more fun and part of the experience. 
Dress code: Morocco is a Muslim country, so women are supposed to cover up. We always wore long pants and t-shirts or jackets that covered our shoulders and legs. In the Riads it is ok to show some more skin, but even there, we did not feel too comfortable doing so. Wearing longer clothes made us feel more secure and made us worry less about being foreign and blonde. 
Expectations: Before we flew to Marrakech, lots of people warned us how hectic, exhausting and dangerous Marrakech was going to be. To be honest, the taxi drive to our Riad was very adventurous and the walk through the dark alleys and pathways was more than an adventure – it was scary. However, since we expected to be completely overwhelmed by this city, our expectations were thankfully not met. It was not as loud, crazy and overwhelming as we thought it would be, so we quickly felt comfortable walking through the Medina and the Souks. It's all about expectations and the right mindset if you ask me. 
My Marrakech summary: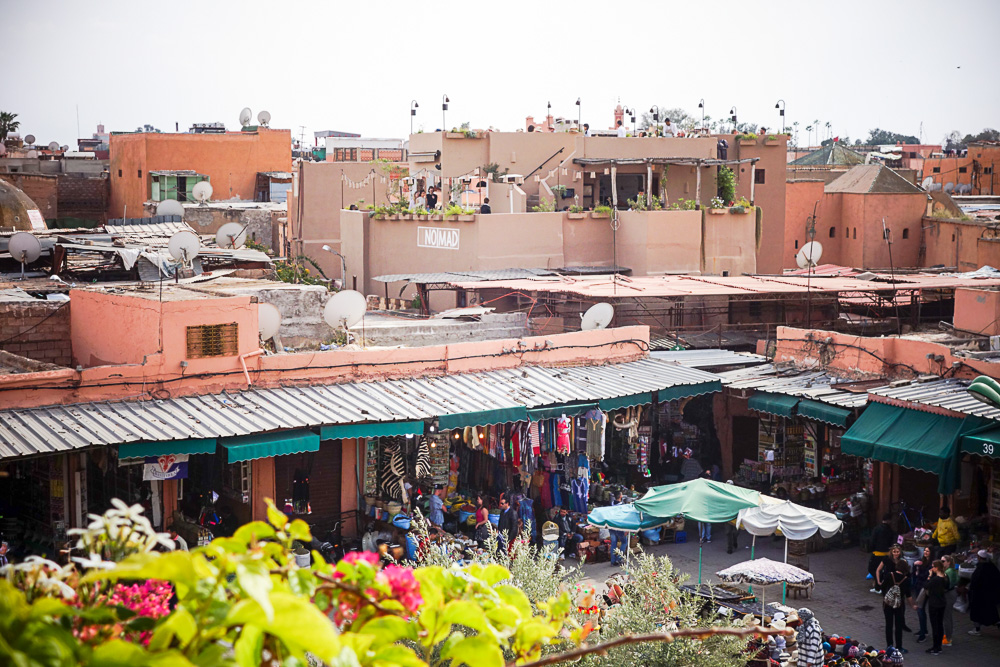 Go visit Marrakech! It's not your usual Ibiza, Bali or Amsterdam trip, but it takes you right into a different world where princesses still exist and you expect genies to jump out of all the Aladdin's lamps any time. Of course Marrakech is not all flowers and mint tea, there is lots of poverty and a big gap between the rich and the poor. However, tourism is a major source of income for the people of Marrakech, and you can see how much effort they are putting into their city. I came back with so many memories, new experiences (such as buying my first ever handmade carpet) and the friendliness of the people really stuck with me. Would I go back? Definitely, but Marrakech is not a city that you have to visit every other year. We've had five wonderful days in Morocco and I would definitely recommend anyone with an open mind and a sense of adventure to go visit Marrakech.
Thank you Kerstin from off white blog for your wonderful recommendations and thank you Elena for the amazing photos.