Moroccan Spiced Bliss Bowl inspired by my trip to Marrakech.
Ahh, Morocco! What a wonderful and exciting country. As I derive most of my culinary inpsiration from traveling, visiting new countries and exploring foreign cultures, I left Marrakech with a bag full of new inpiration for the blog (and of course several wooden forks and knives, and an orignal Beni Ourani carpet). Before I decided to visit Marrakech, I already loved the Moroccan cuisine, but mainly due to Moroccan restaurant visits in Berlin. Of course the cuisine is so much more exciting and prominent when you actually visit another country instead of just a new Moroccan restaurant in the neighborhood.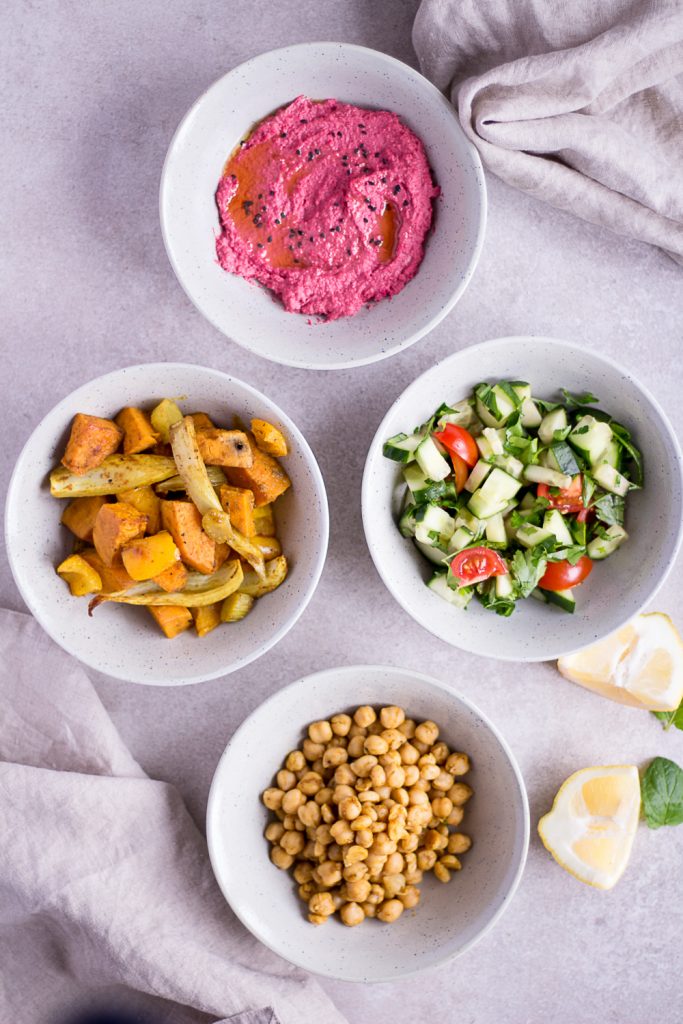 The biggest moroccan inspiration? Mint!
Moroccans love their Thé à la Menthe, the typical mint tea that is served to almost every hour in Marrakech. It is sweetened most of the time, but you can also get it unsweetened if you ask for it. Our Riad (little Bed & Breakfast) served complimentary mint tea all day long, so that when we got back from dinner or from a shopping trip through the Souks (the markets), we enjoyed a cup of mint tea while reflecting on the happenings of the day.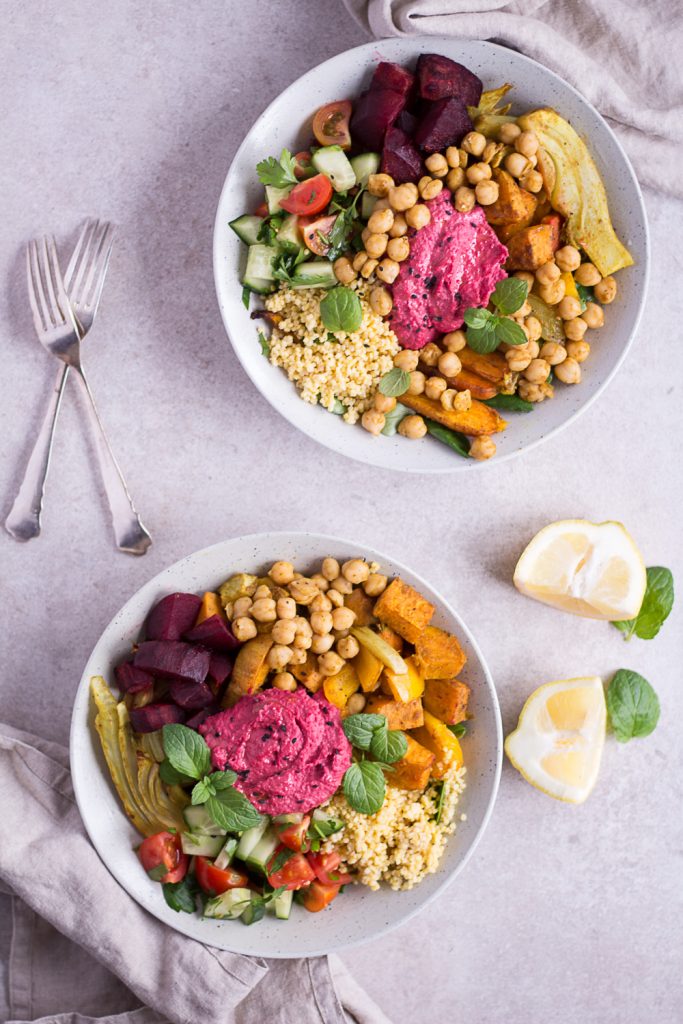 The other big inspiration? Spices!
The Souks are roughly divided by categories such as shoes, carpets, clothes or spices. Our favorite café was located by the Spices Souks so we loved to sit on the terrace and watch the happenings on the "place des épices" (spices square). Moroccan dishes always contain a mix of different spices, the most prominent being cumin, cardamom, coriander, cinnamon, turmeric and saffron. They also love their rose water, nutmeg and ginger. Lemon, parsley and mint are also wonderful additions of their salads, and chickpeas, vegetables, dates, figs and other dried fruits compliment many dishes. The most prominent dish in Morocco is the "Tajine" a braised vegetable or meat dish that is prepared in the typical "tajine" dish (which looks like a pointy hat).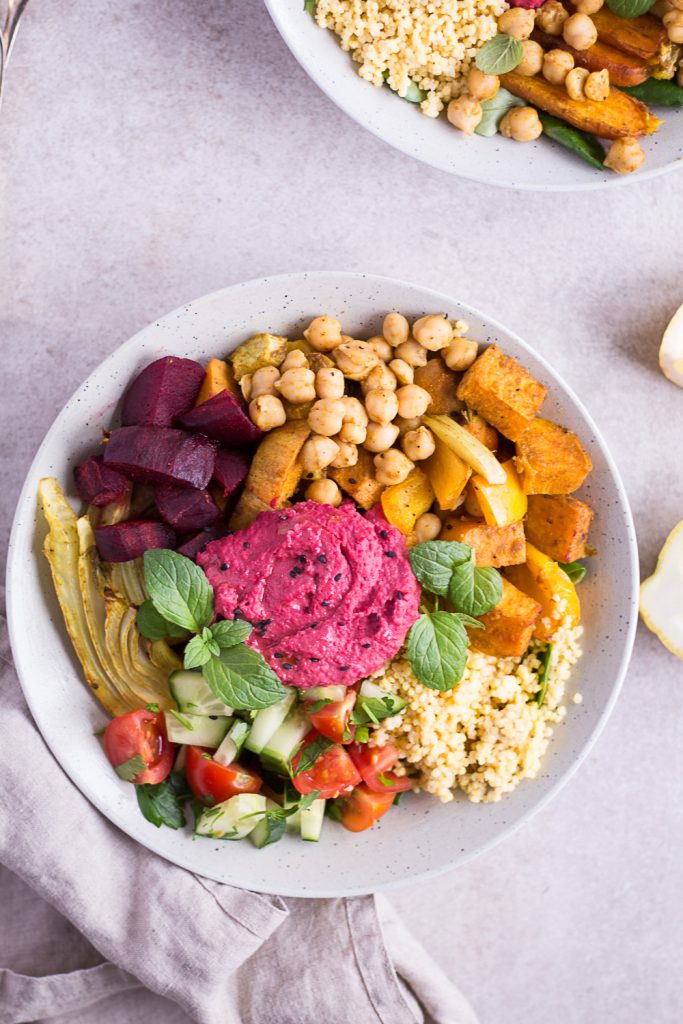 Of course I wanted to bring you an exciting Tajine recipe today, however, as probably 1% of my readers own a tajine dish, I figured that it may just lead to confusion and despair amongst you readers. So therefore I brought you this exciting Moroccan spiced bliss bowl, which will take you right into the center of the Medina of Marrakech.
The main ingredients in this bowl (if you can even say that) are the roasted vegetables with all of the spices mentioned above. Then we have protein and fiber rich chickpeas, millet, which is rich in calcium, magnesium and B-vitamins, and for freshness the typical "salade moroccaine", a cucumber tomato salad with lemon juice and mint. The best part is the large dollop of hummus in the middle – which, to be honest is not exactly typical Moroccan, but it's delicious and full of B-vitamins and vitamin E from the tahini.
Of course there will be a detailed post about my Marrakech experience next week, my favorite restaurants and trip suggestions including some amazing photos of my super talented travel buddy Elena.

Moroccan Spiced Bliss Bowl
Ingredients
For the bowl:
two handful of mache or other green leaves
300g of cherry tomatoes
½ cucumber
one bunch of fresh mint
the juice of half a lemon
a pinch of sea salt
a pinch of black pepper
300g of cooked millet
For the moroccan spiced roasted vegetables:
1 - 2 tablespoons of extra-virgin olive oil
1 sweet potato
1 beetroot
1 fennel
1 yellow bell pepper
1 red onion
½ teaspoon of paprika
½ teaspoon of cumin
½ teaspoon of coriander
½ teaspoon of turmeric
½ teaspoon of ginger
½ teaspoon of cinnamon
½ teaspoon of sea salt
½ teaspoon of black pepper
a pinch of cardamom
a pinch of cayenne pepper
For the moroccan spiced chickpeas:
1 can of chickpeas
¼ teaspoon of paprika
½ teaspoon of cumin
¼ teaspoon of coriander
¼ teaspoon of turmeric
a pinch of cinnamon
a pinch of sea salt
a pinch of cayenne pepper
For the orange tahini dressing (optional):
2 tablespoons of extra-virgin olive oil
2 tablespoons of apple cider vinegar
the juice of half an orange
2 teaspoons of tahini
a pinch of sea salt
a pinch of black pepper
Instructions
Cook the millet according to package instructions. Pre-heat the oven to 180°C (360°F). Peel the beetroot, wash and all the to be roasted vegetables and mix them with the olive oil and spices. Place them on a baking tray and roast for 30 minutes.
Drain and rinse the chickpeas and mix with the spices.
Wash and cut the cherry tomatoes, cucumber and about 8 mint leaves. Mix well and season with the olive oil, lemon juice, sea salt and pepper.
To assemble the bowl:
Place the green leaves into two bowl. Add the roasted vegetables, tomato-cucumber salad, chickpeas, and millet. Finish with a generous dollop of beetroot hummus, and garnish with more mint leaves.
If you like, you can serve it with an orange tahini dressing. Simply mix all the ingredients and drizzle on top of the bowl. I however do not think that this is necessary.
Enjoy!
---
DID YOU MAKE THIS RECIPE OR HAVE ANY SUGGESTIONS, QUESTIONS OR COMMENTS?
Feel free to leave a comment below, and don't forget to tag your creations on social media using #heavenlynnhealthy.
I'd love for this blog to be a dialogue.
---