This week it's all about rhubarb on my blog! At least today, because I am still working on the perfect rhubarb muffins for Easter weekend. I really hope to have them on the blog by Thursday or Friday. Rhubarb is one of those foods that divides people. Either you love it or you hate it. I'm definitely team rhubarb.
If you have always wanted to buy the pretty red sticks but don't know exactly how to prepare them, you've come to the right place. In this post, I'll cover rhubarb preperation, the deal with oxalic acid and ways to use rhubarb.
When is rhubarb season?
In Europe, rhubarb is available from the beginning of April to the end of June at the latest. Traditionally, it is only harvested until the 26th June (a former German Holiday), as the oxalic acid content is too high by then. More about this in a moment.

Is rhubarb healthy?
Rhubarb is not really susceptible to pesticides, which is why it does not need to be sprayed at all or only slightly. So you don't necessarily have to buy it in organic quality. Rhubarb is rich in fibre, contains a lot of vitamin C as well as iron, potassium and phosphorus. It is also very low in fructose, which also gives it its acidic taste.

What about the oxalic acid?
Rhubarb is often called unhealthy because of its high oxalic acid content. Oxalic acid is found in many green foods such as spinach leaves, chard or parsley. Since some kidney stones consist of the calcium salt of oxalic acid (calcium oxalate), green smoothies, for example, are often said to cause kidney stones. It is indeed true that oxalic acid can inhibit the absorption of calcium and also iron. For this reason, foods with a high level of oxalic acid should not necessarily be eaten in huge quantities. But be honest: someone who eats a balanced and healthy diet is definitely on the safe side. The formation of kidney stones is not caused by oxalic acid only. In most cases, many other factors are responsible for this, such as an unhealthy diet with too little water, too few minerals (especially magnesium and calcium), too much table salt and consequently dysbiosis and hyperacidity.
The oxalic acid content in rhubarb increases over the course of the harvesting period. Therefore, rhubarb should be eaten as early in the season as possible and should not be harvested or bought from June onwards. What I find especially interesting: dark red sticks contain less oxalic acid than the green ones. However, the leaves of rhubarb contain even more oxalic acid, so they definitely belong on the compost and should not be added to smoothies.

Can you lower the oxalic acid content?
It is perfect if you eat rhubarb with calcium-rich foods. However, this is difficult for vegans, because apart from sesame, it is mostly vegetables that are rich in calcium. Also, I don't think anyone would appreciate a nice broccoli and rhubarb compote. What you can do is add a little bit of sesame to your porridge with rhubarb compote to increase the calcium content. If you eat dairy products, the combination of rhubarb compote and yoghurt or curd is obvious, but it is generally not advisable to eat dairy products in combination with fruit (leads to fermentation in the intestine). Again, some sesame seeds might be the better choice even for vegetarians.
If you are taking iron supplements, it is recommendable that you do so 1-2 hours before eating rhubarb. If you are already suffering from kidney stones, rhubarb is probably not the best choice. At least in large quantities. Also, children should not eat too much of rhubarb.

Do you have to peel rhubarb?
Actually, yes. There's a lot of oxalic acid in the peel. As you can see in my pictures, I'm not so strict about that. I usually only peel the hard parts of the rhubarb stalks. But when in doubt, always peel them.
Can you eat rhubarb raw?
Yes, you can. Rhubarb is not poisonous when eaten raw. But be aware that it is extremely sour.

How to use rhubarb
Rhubarb compote is, of course, a classic (see recipe below). Rhubarb cakes or tarts are also very popuar. Here is Germany, we're crazy about rhubarb meringue cake. You can also make rhubarb jam. Less common, but no less delicious, is the use of the red sticks in savory dishes. It can be added to stews, for example, or cut thinly into salads. For seasonal reasons, rhubarb is often combined with strawberries. This is really one my favorite combinations in the spring.

To sum it up
Rhubarb is only available for a short time anyway and if you eat it as a compote, in cakes or salads, there is little danger of eating too much of it. If you eat a healthy and balanced diet anyway, there is no reason not to indulge in it.
To let your rhubarb experiments begin, here is the easy peasy recipe for rhubarb compote.
Print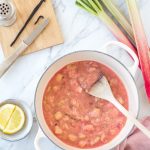 How to cook rhubarb + quick rhubarb compote
---
Author:

Total Time:

20 minutes

Yield:

4

1

x
 500 g rhubarb
approx. 50 ml water

3

–

4

tablespoons of maple syrup (or rice syrup or honey), more or less to taste
the pulp

1/2

vanilla pod or some vanilla powder
a splash of lemon juice (optional)
---
Instructions
Peel the rhubarb completely or only the hard parts of the stalks. Then cut the stalks into small pieces.
For the quick version, place the rhubarb in a saucepan together with some water, the vanilla pulp, a dash of lemon juice and maple syrup and let it simmer at medium heat until the rhubarb starts to dissolve. Stir occasionally and season with more maple syrup if necessary.
For the slow version, mix the rhubarb pieces with the maple syrup and a dash of lemon juice and leave to sit for about 30 minutes. Then add the rhubarb with the liquid (the sugar will drain the liquid out of he stalks) and only a few tablespoons of water and vanilla pulp to a saucepan and bring to a boil. Reduce the heat and simmer for about 10 minutes.
Season the compote with maple syrup and let it cool down a bit before eating.
Notes
The compote lasts only for a couple of days in the fridge, so eat it quickly.
Prep Time:

5

Cook Time:

15