The best healthy carrot cake to enjoy the Easter Holidays to the fullest!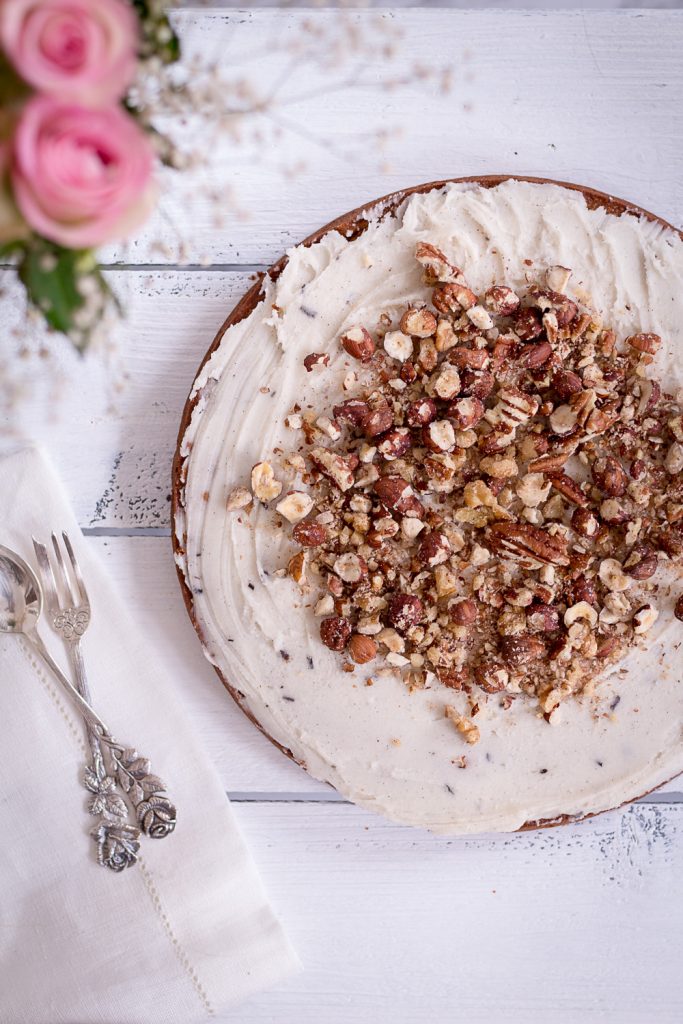 This healthy carrot cake has been waiting for its release date for almost a year now, hence, it is definitely proof of how much my food photography knowledge has increased in the past year. I never found the right date to publish this recipe as a carrot cake wasn't really something you want to make in the summer. Then it was fall and the photos looked so much like spring that I decided to wait until Easter to publish it. I am super excited to share this recipe with you, as it is one of the recipes that I am most proud of as I am a total carrot cake junkie.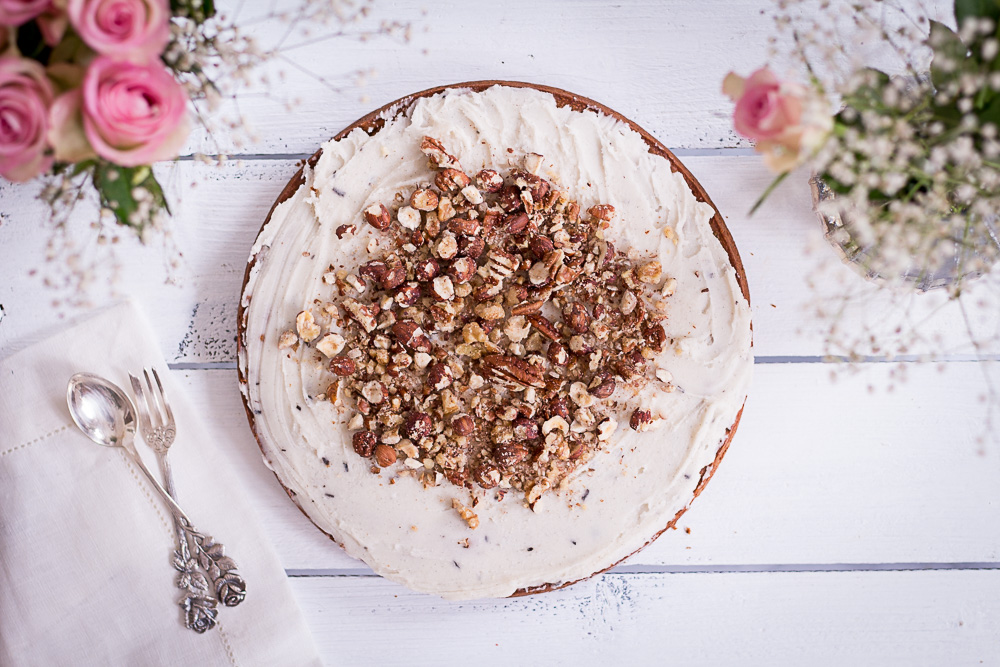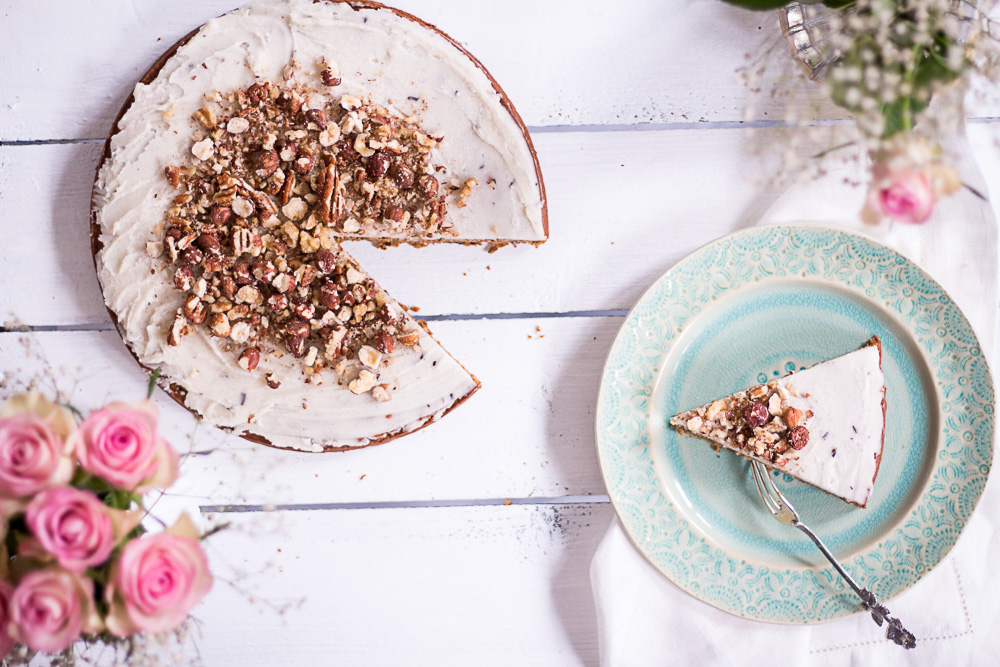 I tried several versions of this cake, but this one is the real deal. I can say with great certainty that this is the best healthy carrot cake, you'll find online. Haha, those are pretty big words for a small woman like me, but I mean them and I hope you guys will approve.
What makes this carrot cake so delicious is the almond cream. My first carrot cake attempts were all too dry, so I needed to come up with something to make it creamy without adding oil or any other kind of artificial creamer. So the other day, when I made almond milk, I realized that the consistency of blended almonds with water is pretty creamy. So instead of making almond milk, I used the whole blend in this cake, and it turned out to be a total game-changer.
Now, I know that the ingredient list may look pretty long at first, but trust me, it's mainly things that you already have in stock in your healthy pantry. Most of the list consists of spices, or things like baking powder, sea salt, lemon juice or vanilla powder, which I am fairly certain, most of you have sitting in the kitchen anyways. All you need to buy are the two types of flours, the coconut blossom sugar, the nuts and maybe coconut milk (you are probably laughing at me right now).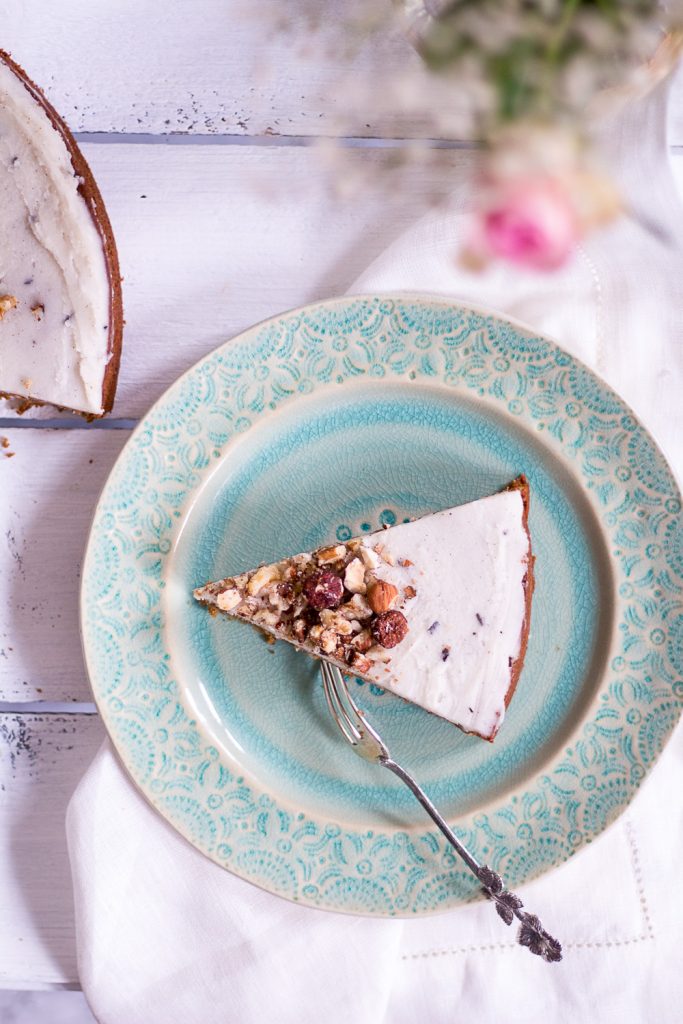 The little extra effort you have to put in to make this cake will definitely pay off, I promise. You'll find yourself enjoying the Easter holidays with a healthy, gluten free, oil-free, refined sugar free, plant based cake that includes only the best ingredients.

The best healthy carrot cake
Ingredients
For the cake:
200g of carrots
125g of pecan nuts
150g of brown rice flour
150g of buckwheat flour
120g of unsweetened apple sauce
65g of coconut blossom sugar
1 teaspoon of aluminum-free baking powder
½ teaspoon of baking soda
1 teaspoon of cinnamon
1 teaspoon of nutmeg
1 teaspoon of freshly ground ginger (or ½ tsp ground ginger)
1 teaspoon of freshly squeezed lemon juice
one vanilla pod or ½ teaspoon of vanilla powder
a pinch of sea salt
150g of pecans or walnuts (optional for toppings)
For the almond cream:
55g of almonds
300ml of water
1 teaspoon of fresh lemon juice
1 teaspoon of maple syrup
For the orange-cashew-frosting:
75g raw cashews
2 tablespoons of full-fat coconut milk (the creamy part, not the water)
2 teaspoon of fresh orange juice
1 teaspoon of orange zest (organic)
1 tablespoon of maple syrup
a pinch of vanilla powder
a pinch of cinnamon
a pinch of sea salt
Instructions
For the cashew frosting:
Soak the cashews in fresh water for 2 - 3 hours. Drain and mix in a blender with all the other ingredients for the cashew frosting and set to cool in the fridge.
For the almond cream:
Soak the almonds in water for one hour. Drain and blend with the remaining ingredients and set aside.
For the cake:
Pre-heat the oven to 180°C. Grease a round baking tin with coconut oil.
Grind the carrots, and chop the pecans with a knife or pulse twice or three times in a food processor. Set both aside.
Add all dry ingredients to a bowl (flour, baking powder, baking soda, spices, ginger and vanilla). Gradually pour in the almond cream, lemon juice, and apple sauce and mix well with a spoon. Add the carrots and nuts until you have a sticky batter.
Fill the batter into the baking tin and cook for 40 minutes until you can pull a knife out of the center of it clean. Let the cake cool down for a bit before generously frosting it with the cashew-orange frosting. Top it with chopped pecans or walnuts.
Enjoy!
---
DID YOU MAKE THIS RECIPE OR HAVE ANY SUGGESTIONS, QUESTIONS OR COMMENTS?
Feel free to leave a comment below, and don't forget to tag your creations on social media using #heavenlynnhealthy.
I'd love for this blog to be a dialogue.
---