My travel guide to healthy eating in Marrakech.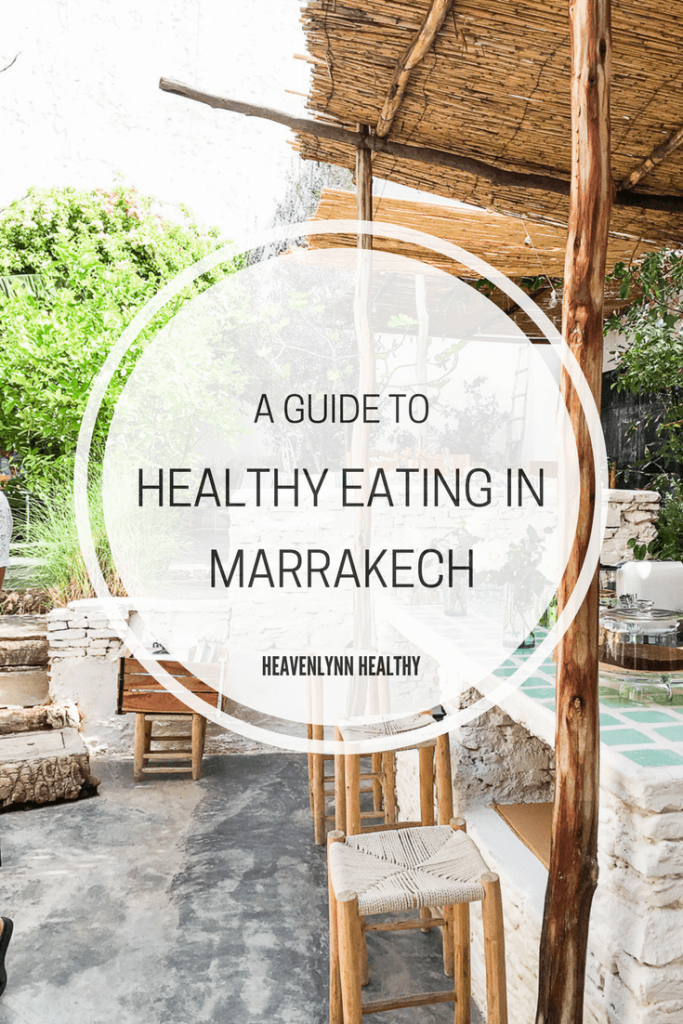 I've only been back from Marrakech for two weeks, but it already feels like a dream when I reflect on my experiences. Marrakech is different. Marrakech is not your average weekend get-away as I already mentioned in my previous Marrakech travel guide. It is busy, it is loud, it is colorful, it is full of surprises. I've had plenty of time to reflect on our trip and I must say that it was one of the most exciting, crazy and meaningful experiences I have had in a while. A trip to Marrakech is definitely something special – different, but special – that you won't forget so easily.
Since I love to travel almost as much as I love to cook, there will be more healthy travel guides coming your way soon. Before I go anywhere I always check out where to have lunch or dinner and I even mark the places either on my phone or even on an actual physical map. Knowing where you'll be for lunch or dinner makes any (weekend) trip so much easier as you don't have that – OMG where are we gonna eat – moment. So here you go, here comes my guide to healthy eating in Marrakech.
My favorite – Café des Epices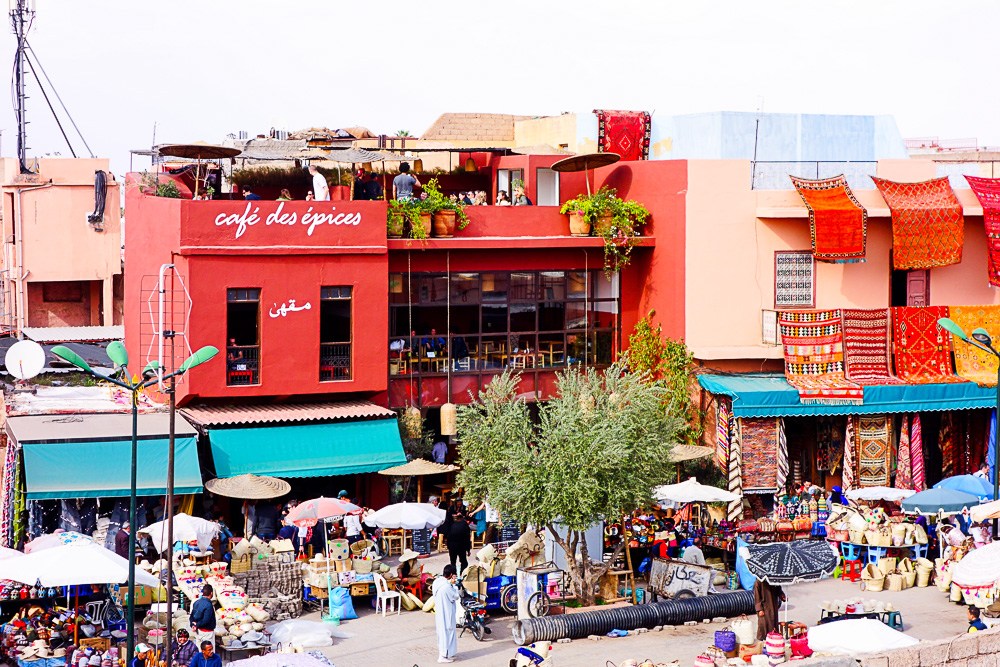 Café des Epices was definitely our most frequently visited restaurant / Café in Marrakech. What got us the most was the stunning roof terrace and the delicious menu. The prices are reasonable, however, the portions were enough for me, but would not have fed my 2 meters tall boyfriend. I suggest ordering a couple of things on the menu instead of just one. Must try is their vegetable tajine (plant based) and the house salad (plant based as well) AND definitely try the roasted potatoes as a side dish. My friend loved the chicken tajine, which she recommends for all the non-vegetarians. I also had a delicious spiced coffee with cardamom, cinnamon, coriander and black pepper. They do not have plant based milk, so make note of that before you order a milk-based drink. Do order a mint tea (thé à la Menthe) unsweetened (!) and enjoy the sunset and the view of the Atlas Mountains.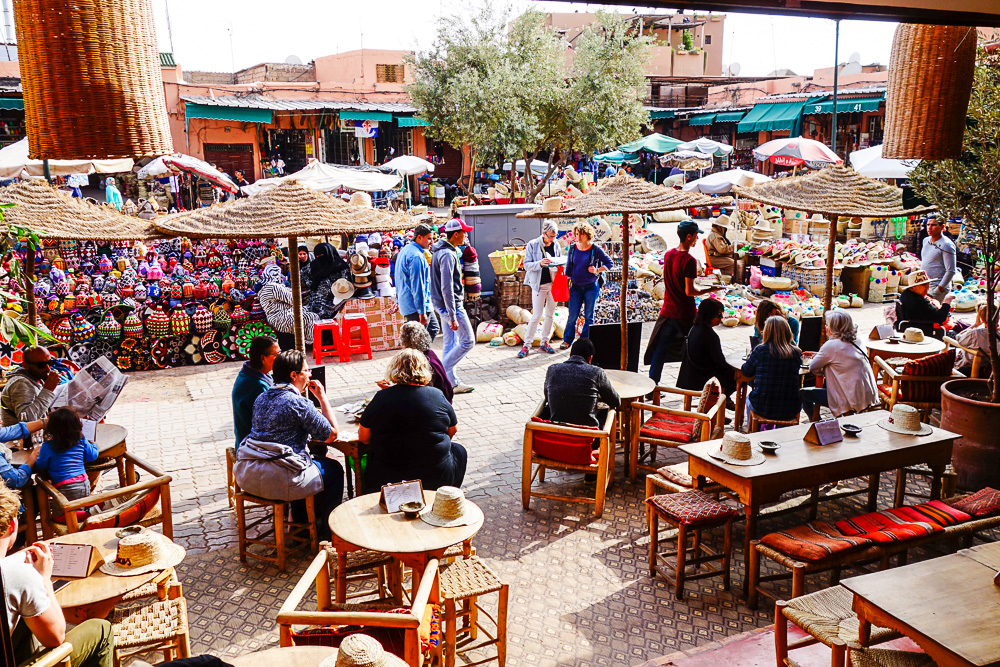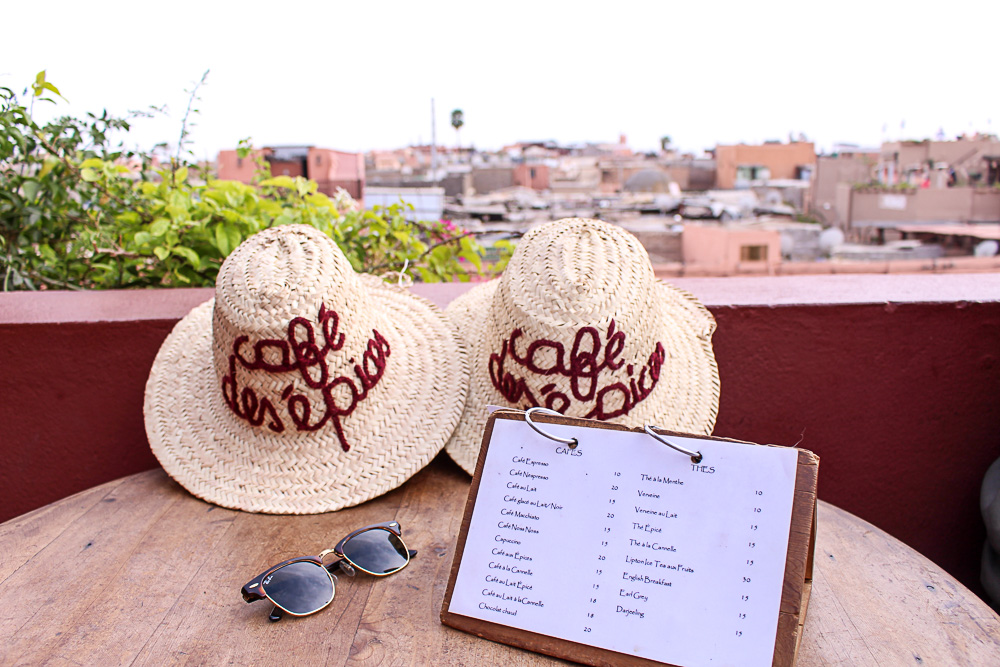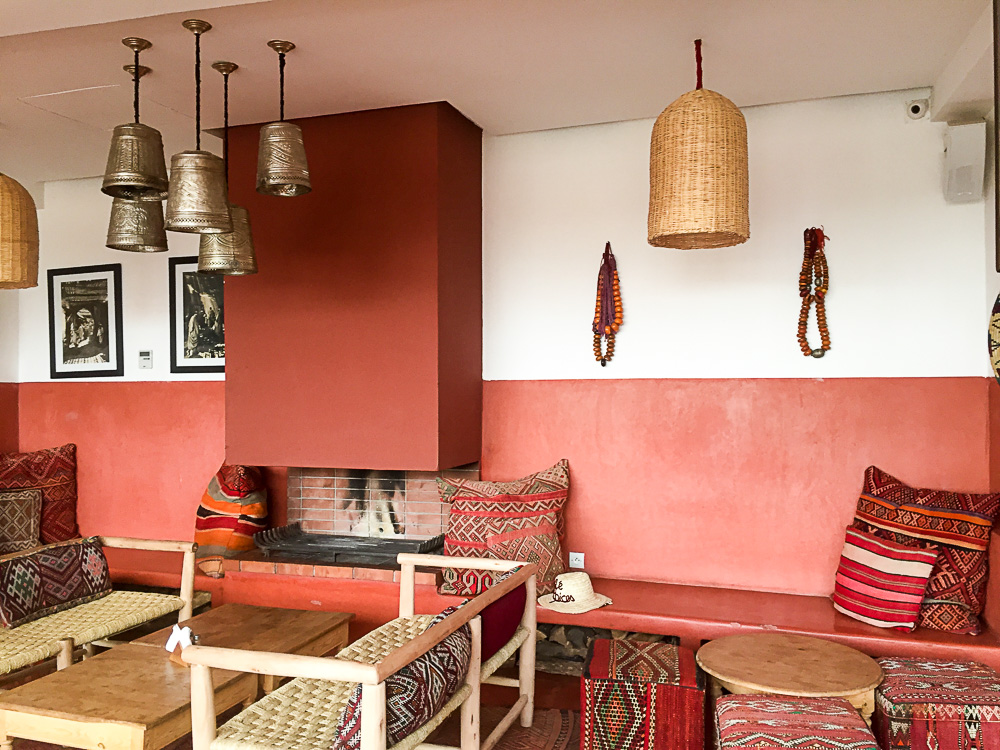 La famille – the most beautiful little restaurant in the Medina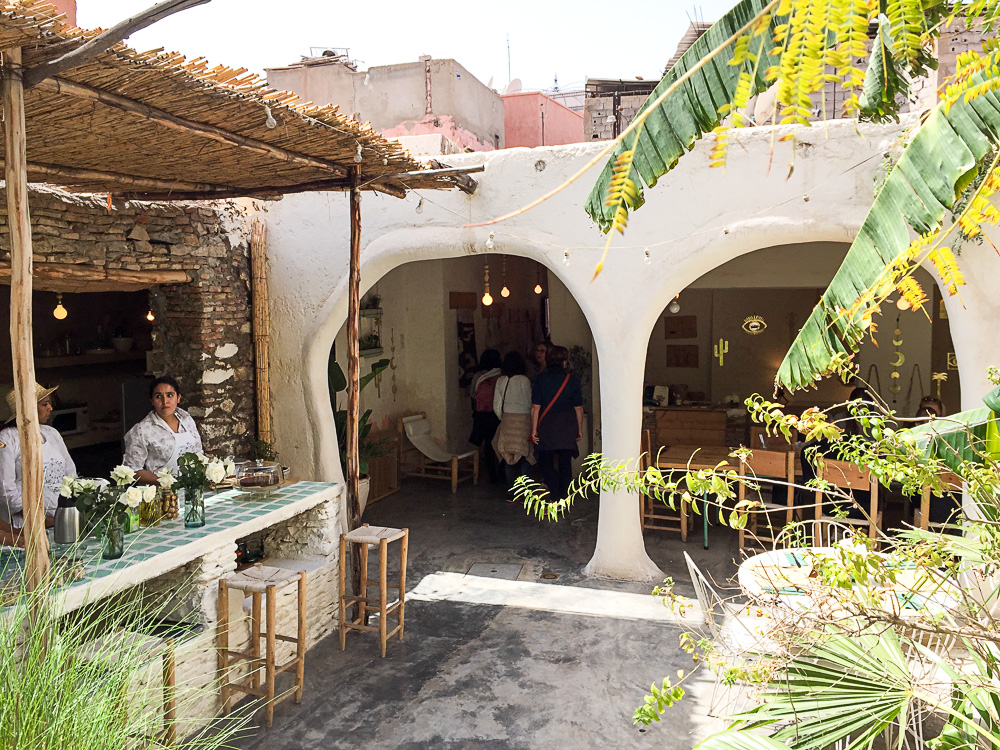 La famille was definitely the most beautiful place I've visited in Marrakech. Yes, it looks like a place you would find in Amsterdam, but I absolutely loved it! Unfortunately they were completely booked (even for lunch) while we were there, so do make reservations for lunch right at the beginning of your Marrakech trip or shoot them an email before you leave to be on the safe side. I cannot say anything about how their food tastes, but we peeked at the tables of some of the guests when we visited the shop, and it looked beyond delicious! The shop is definitely worth a visit, even if the tables are filled. It is a bit pricier than the Souks, but definitely better in quality.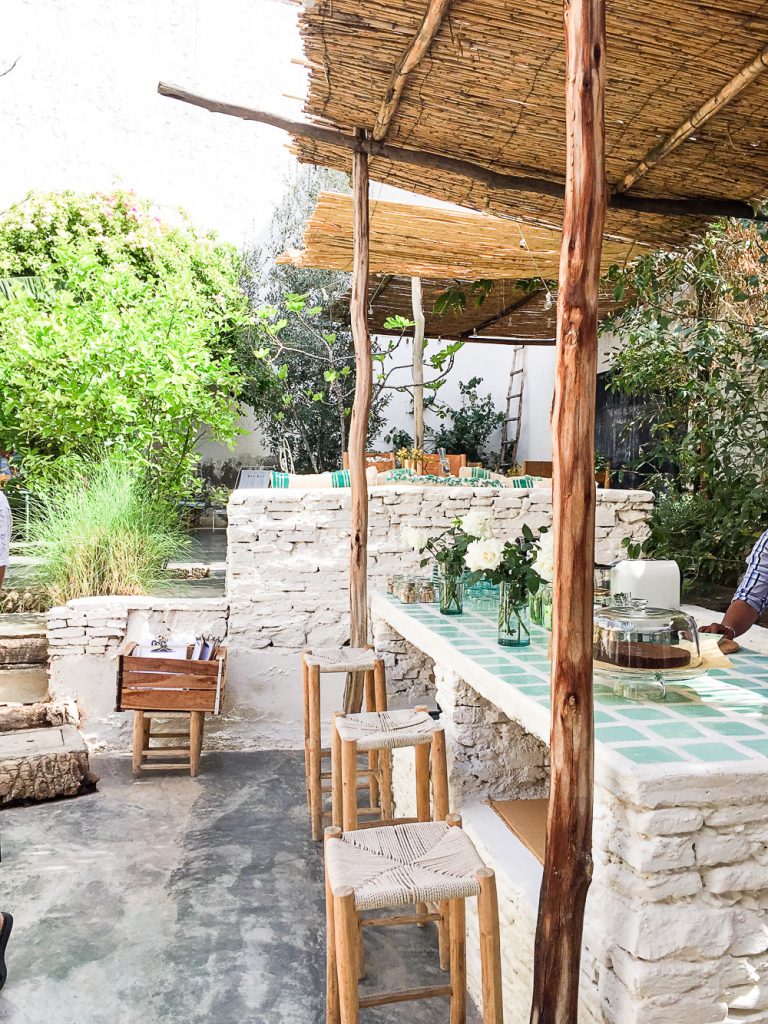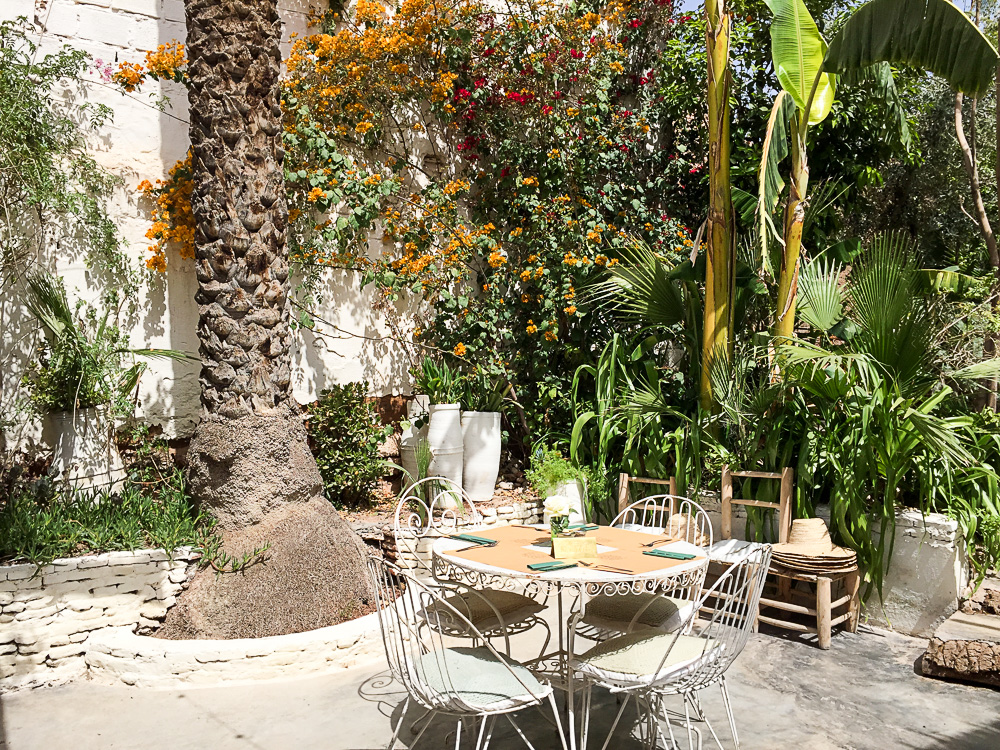 Le Jardin – the most magical place for a Moroccan dinner

We visited Le Jardin on our first night and were instantly mesmerized by its beauty. Everything shines in Smaragd green, and the menu is more than delicious. As with all places that we tried, the dishes are not really that big, so do order a full menu or at least a starter and a main dish if you're really hungry. Big plus were the delicious olives they serve complimentary.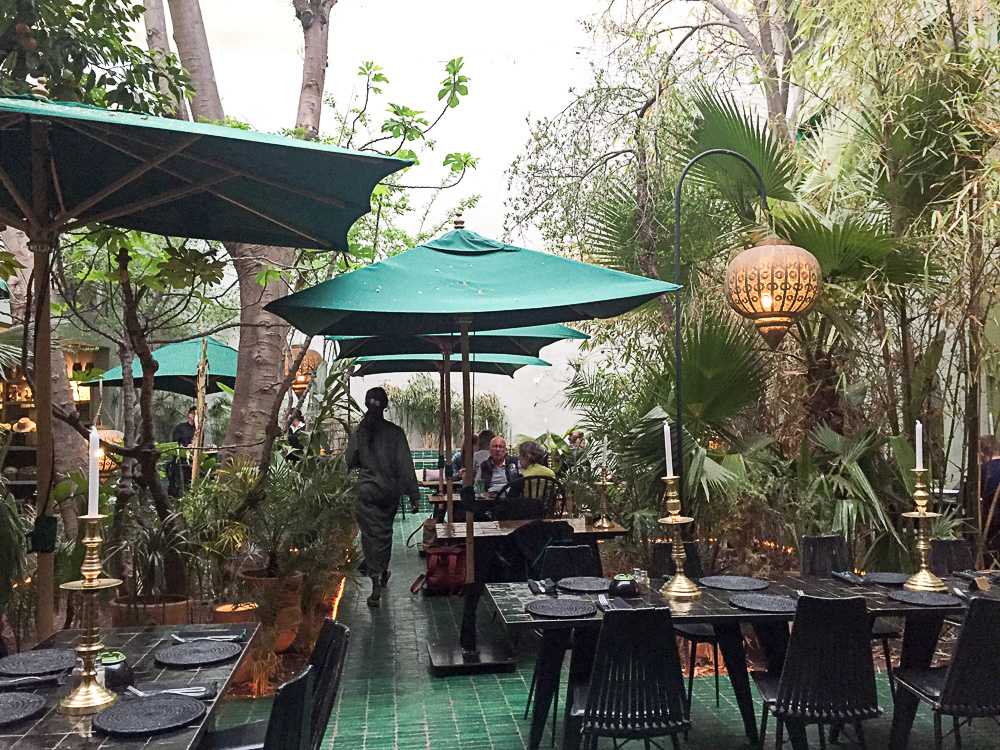 Nomad – Marrakech's hippest restaurant

Well, Nomad. This is probably Marrakech's number one place to visit. It's hip, it's sceny, and beautiful – no doubt about it. The view on the terrace is breath-taking, and I immediately fell in love with their black and white bar. However, we were very disappointed by the food. I normally don't like to talk bad about a place, and I really hope that we just visited this restaurant on a bad day. Our tajines were both cold and not cooked through (more like raw). I really liked the roasted potatoes that we ordered as a side and I also loved the Moroccan spiced popcorn and chickpeas they served as a starter. So, I still recommend this place as it is THE place in Marrakech and has a breathtaking view, but I think that there are other places that we liked more.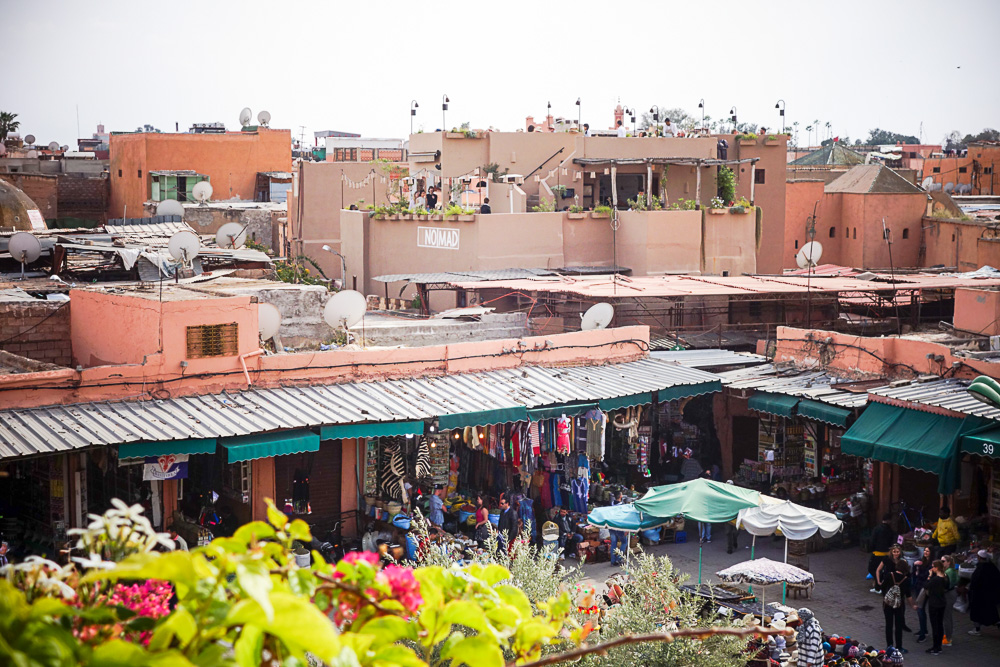 Cafe Kessabine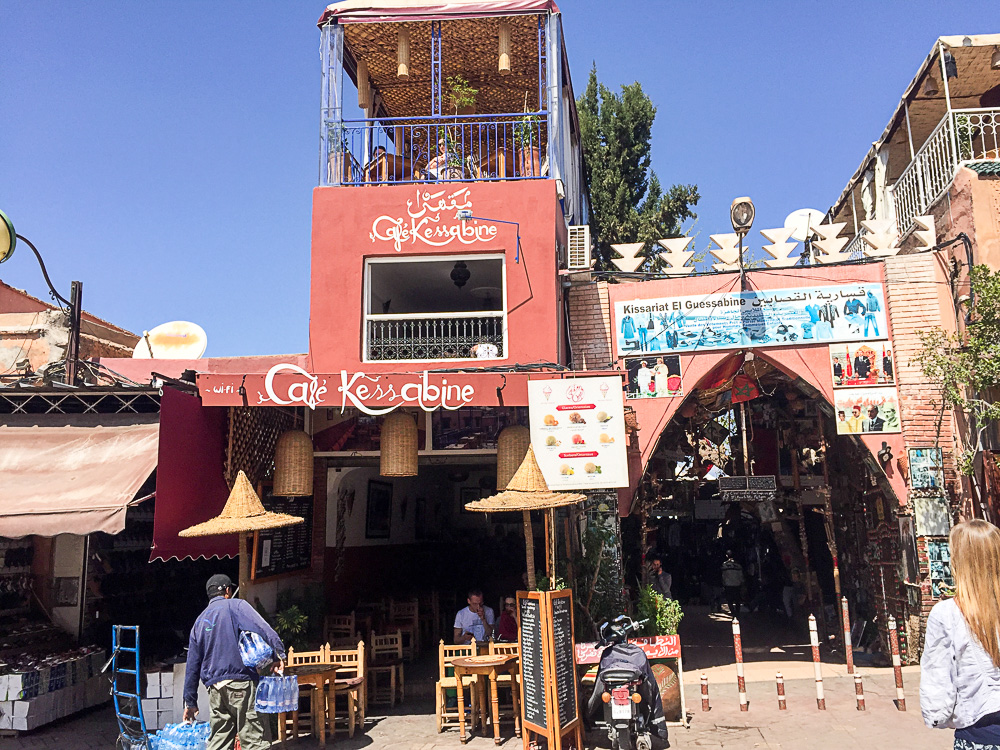 Café Kessabine is my lunch tip and a great place to escape the busy Djemaa Al-Fna during lunch hour. They serve everything from couscous to tajines, and offer an amazing view over "la place". It's not as crowded as the touri places such as Café France, and the prices are very reasonable and the staff friendly. Enjoy a juice, a salad or an omelette (like my friend did) and simply watch the happenings below.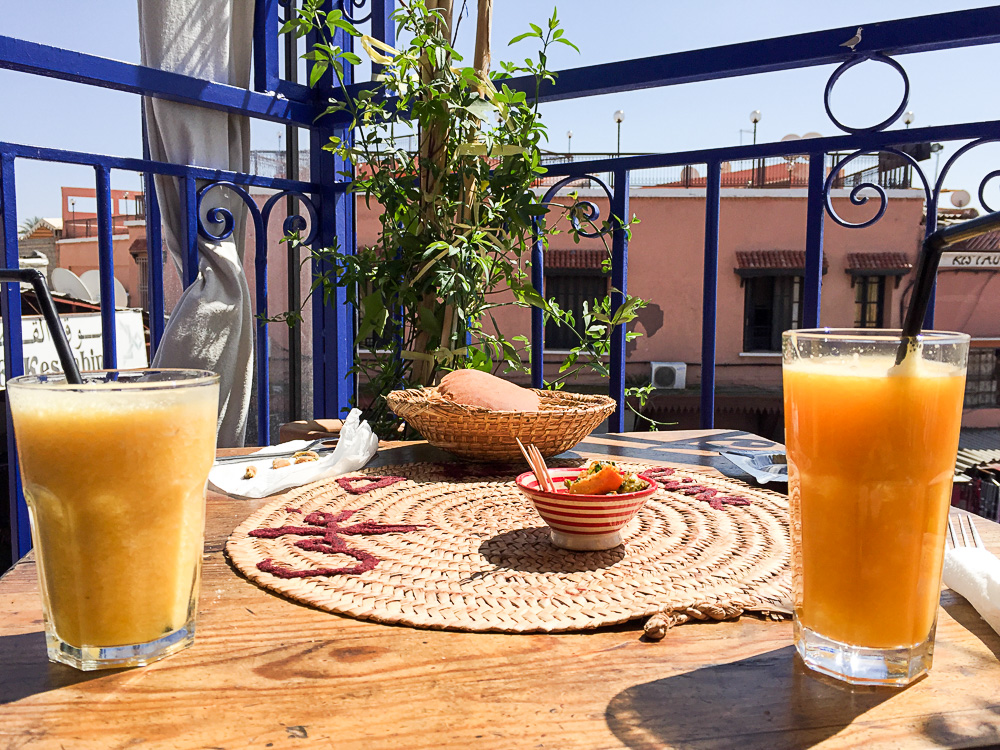 Hygiene: We had absolutely no problem with the foods in the restaurants, and none of us got sick while we were in marrakech. We made sure not to drink tab water, and only drank water out of plastic water bottles. We also brushed our teeth with the bottled water just to be safe.
Finally, I wanted to add that we did not eat on the Jamaa el-Fna food stands or juice stands for various reasons. First of all we were told that they do not clean the dishes there enough to kill bacteria, so if we were to eat there, we needed to make sure to be served the food on plastic containers. Since I hate plastic plates more than anything, it was a no-brainer for us anyways not to eat there. The other reason was that many juices on the square are served with ice cubes, which you cannot eat without suffering later (you know what I mean). However, apparently the food itself is really fresh and food standards and hygiene standards are supposedly pretty high, too. Yet, we did not want to risk getting sick.
These are my recommendations for Marrakech, but I'm sure there are plenty of other amazing restaurants that we did not have the time to visit. If you have any other recommendations, please leave me (and other readers) a comment below.
If you liked this post, then you might like my Marrakech Travel Guide or my other Healthy Travel Posts.
My Moroccan Inspired Chickpea Stew Video with Kitchen Stories
https://www.youtube.com/watch?v=jrgLTzwI0m4&t=63s
A big thank you goes out to Kerstin from Off White for her wonderful and helpful recommendations.