Healthy Easter Braid to keep those German Easter traditions alive.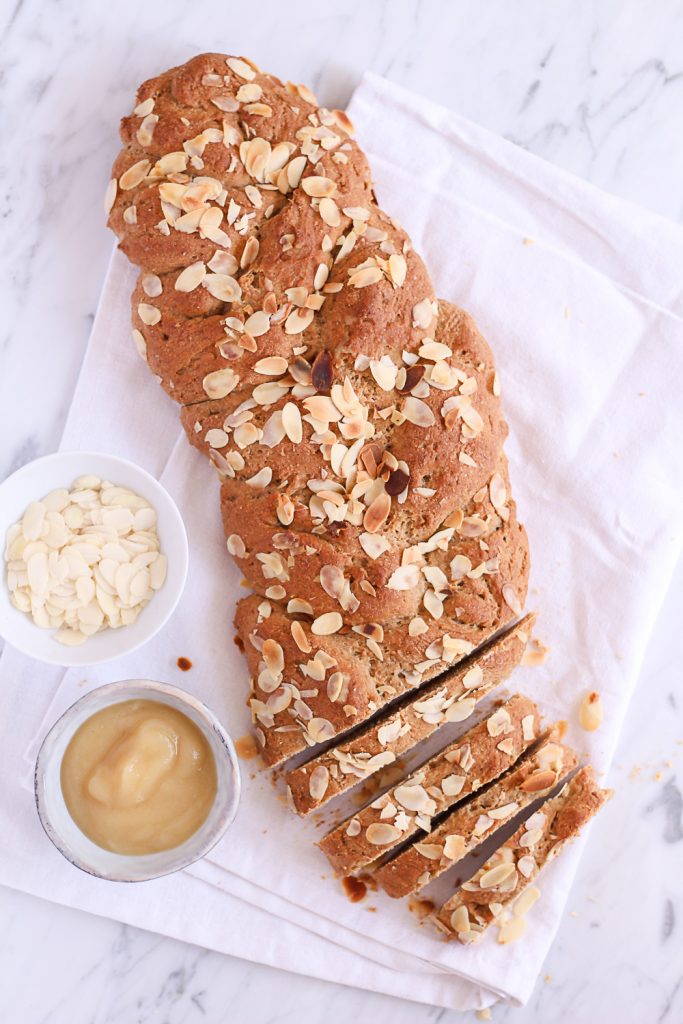 There are many traditional baking recipes that are only known in the German speaking countries. This Easter Braid is definitely one of them. What carrot cake is to many English speaking countries during Easter times, the easter braid is to the German-speaking countries. The dough is traditionally made of flour, sugar, eggs and butter (who would have guessed), but my version is of course much lighter with healthier ingredients that make it healthier, better digestible and available for people with intolerances or allergies.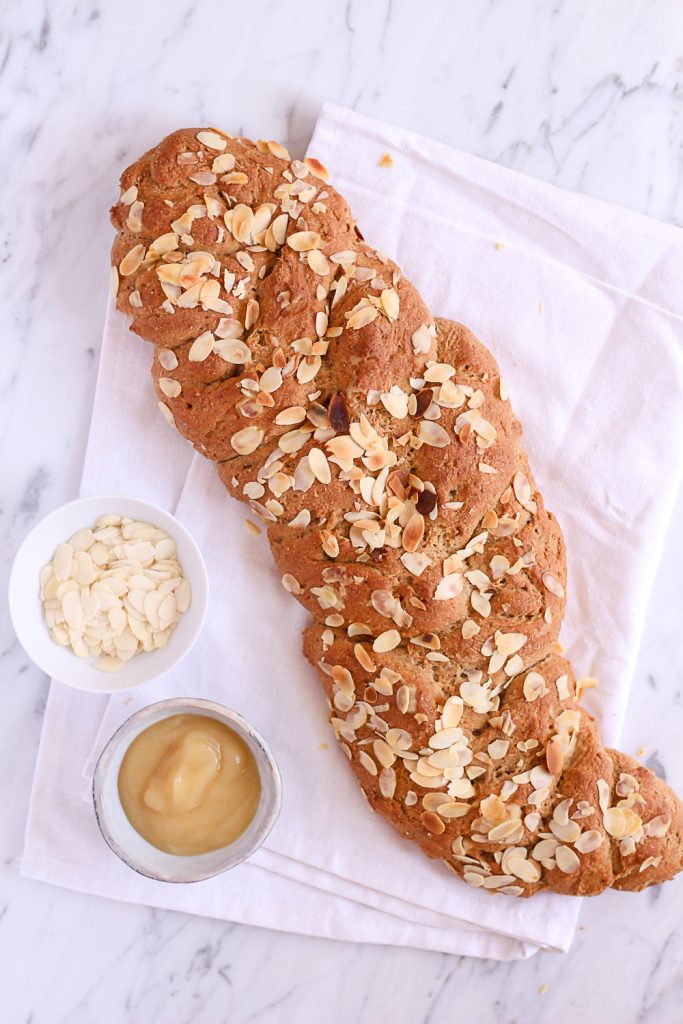 I did a quick research on the background of these yeast braids, because I love digging into the past of such traditional German recipes. One legend says that apparently women sacrificed their hair braids when their husbands died, and placed their hair next to their husbands during the funeral. So I guess one smart lady was too sentimental about her hair and came up with this sneaky bread to resemble her braid. You gotta give it to her – this was pretty clever. Don't mess with a woman's hair.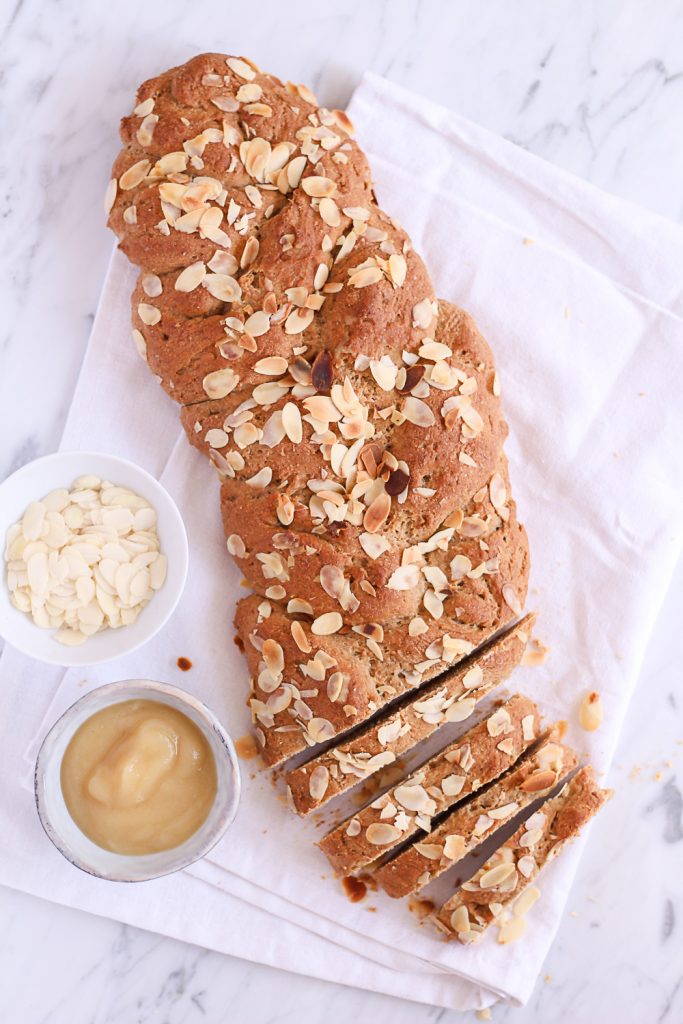 So back to the ingredients, which have pretty much nothing to do with the original. If you have tried a traditional German Easter Braid before, then I gotta tell you that this version tastes a lot different. It is pretty much impossible to recreate the taste of the original with healthy ingredients, but I have to be honest: I liked the healthier version much better. The traditional one belongs to the kinds of breads that you just cannot stop eating, because it is made out of addictive wheat flour. I used a mix of brown rice flour, buckwheat and millet flour instead – to keep the blood sugar level steady when you eat the braid. The flours and the lack of butter and sugar make it taste differently, but good.
Different is good, at least in my world.
Instead of white sugar, I used apple sauce, which not only acts as a binding ingredient in this recipe, it also makes it naturally sweet without having to add large amounts of refined sugar. I also swapped the eggs for sparkling water, which makes the dough extra fluffy and moist. If you do not like the taste of coconut oil, you could also use vegan butter (though it is not as healthy as coconut oil) or regular butter (which is actually healthier than vegan butter, because it does not contain any additives.
The only tricky part will be the braiding itself as the dough is gluten-free and therefore a little tricky to form. I've added some braiding tips in the recipe section below. Just be patient and treat the dough with respect, and it should work just fine.
With this I am wishing you Happy Easter! There will be a super duper exciting giveaway next week here on the blog, so keep your eyes peeled.

Healthy Easter Braid
Ingredients
200g (2 cups) of brown rice flour
100g (1cup) of buckwheat flour
200g (2 cups) of millet flour
1½ TL locust bean gum or tapioca
a pinch of cardamom
1 pck. aluminium-free baking powder (17g)
1 pck. gluten-free dry yeast
150ml (1/2 cup + 1 tablespoon) of almond milk + more for the glaze
100ml (1/3 cup + 1 tablespoon) of sparkling water
100g (1/2 cup) unsweetened apple sauce + 2 tablespoons for the glaze
50g (3 tablespoons) of extra-virgin coconut oil
a handful of almond slices
Instructions
Quickly heat the almond milk to lukewarm, not hot (test this with your pinky, it cannot be hot or the yeast will die). Combine 50g (1/4 cup) of almond milk with the yeast and 1 tablespoon of apple sauce. Set aside for 10 minutes until bubbly.
Combine all the dry ingredients in a large mixing bowl. Mix well.
Quickly heat the coconut oil, add the apple sauce and remaining almond milk. Mix well and add the wet mix and the yeast to the dry ingredients while constantly stirring with a spoon or a hand mixer. You can also do this process in your food processor. Finally add the sparkling water. Knead the dough for five minutes with your food processor or your hands (this will be sticky, however). Transfer the dough into a clean mixing bowl, cover with a clean towel and let sit for 1½ - 2 hours until it has visibly doubled in size.
Transfer the dough on a clean surface covered with a little bit of flour. Separate the dough into three equal pieces, and roll each part into equally long strands. You will need wet hands and probably some more flour as the dough is quite delicate. Place the strands diagonally onto a baking tray that you covered with baking paper. Press the three strands together at the top and begin braiding. Secure the end in the same way. Cover the braid with the towel and let it rest for another 15 minutes. Pre-heat the oven to 180°C (360°C) in the meantime.
Glaze the mix with 2 tablespoons of almond milk and sprinkle it with almond slices. Bake for 30 - 40 minutes until the bread is beginning to have a nice golden-brownish color.
Glaze the braid with a mix of 2 tablespoons of apple sauce and 1 tablespoon of almond milk right after you take it out of the oven. Let it dry for 10 minutes and enjoy.
---
DID YOU MAKE THIS RECIPE OR HAVE ANY SUGGESTIONS, QUESTIONS OR COMMENTS?
Feel free to leave a comment below, and don't forget to tag your creations on social media using #heavenlynnhealthy.
I'd love for this blog to be a dialogue.
---