Take your healthy eating to the next level by making whole-grain rye bread from scratch.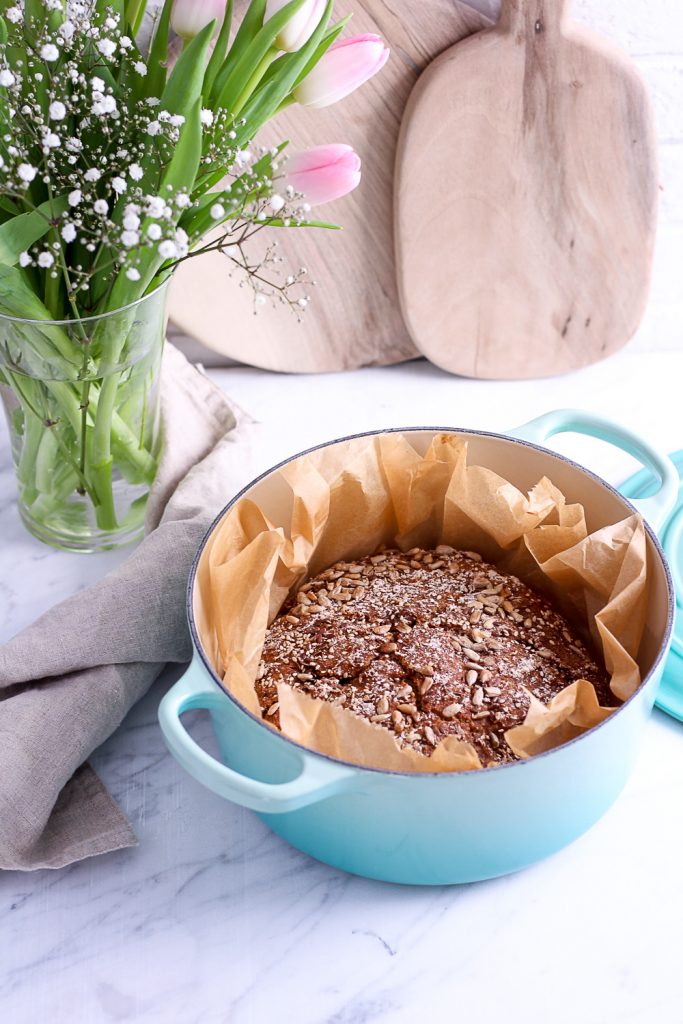 This post is sponsored by Le Creuset* Germany. 
Not to disappoint you guys, but since my blog is Germany-based, the giveaway below is only open for people with a German address. However, there is of course the awesome recipe that can be made no matter what country you come from.
So I think it's time that we talk about bread.
I know that there are many dietitians out there who praise that bread is the root of all evil (aka the reason why you're not losing weight). Well, unfortunately that might be true, but in my opinion it all comes down to moderation. There is a big difference between having a slice of bread complimentary to your big bowl of vegetable stew and making bread the main part of your meal (which is frankly what the German culture is all about FYI).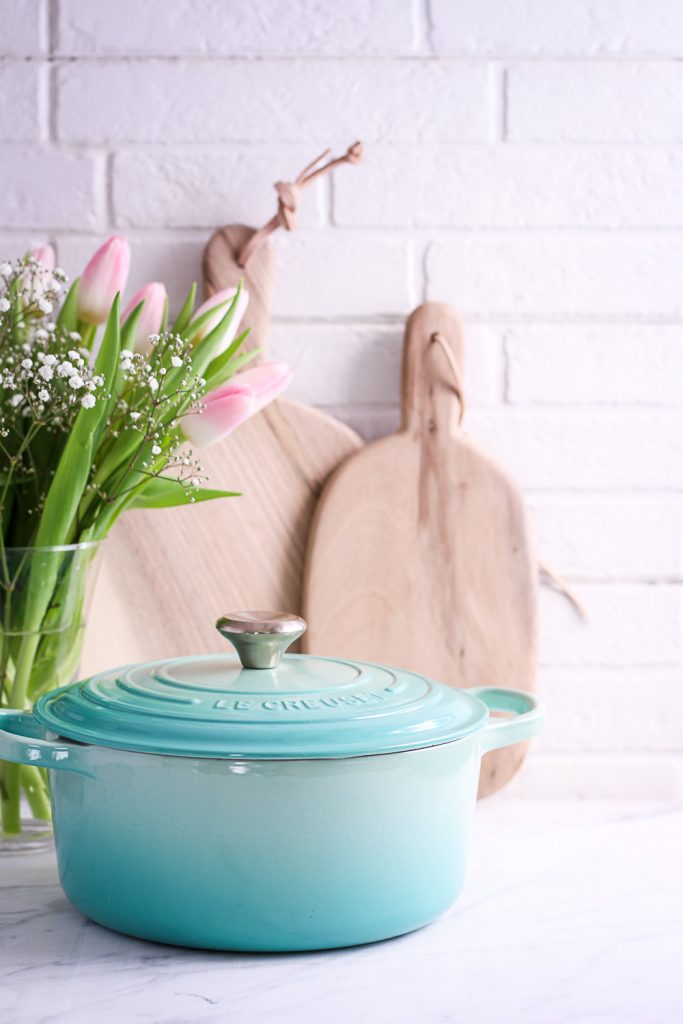 That white bread is bad for your health is no longer a mystery, and you probably also all know that whole-grain is your healthy go-to option. However, many people think that alternatives such as rye or spelt are always whole-grain, which is why rye or spelt breads are booming everywhere. The thing is, however, that these breads are nothing else than white bread with a fancy name.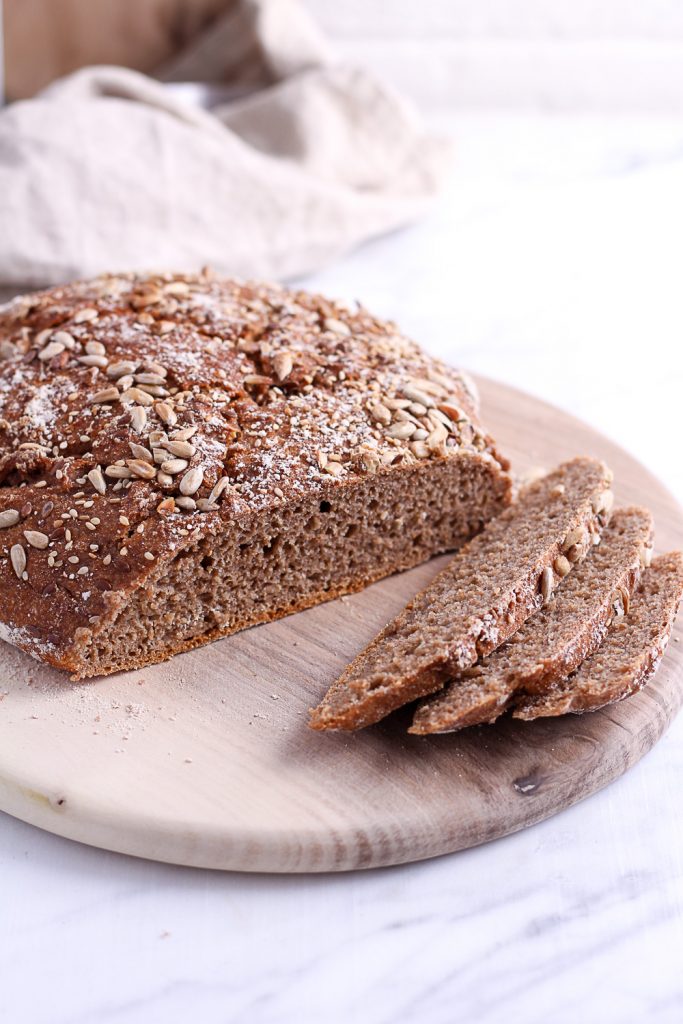 To understand the difference between white flour and whole-grain flour, we have to look at the whole kernel. It consists of three different layers: the inner layer, which is the starch, the middle layer, which is the oily part and the outer layer, which is the fiber, hence, the thickest layer. The nutrients of the kernel sit in the middle and the outer layer. These layers are removed for white flour. Yup, all that remains is the starchy inner layer with close to zero nutrients.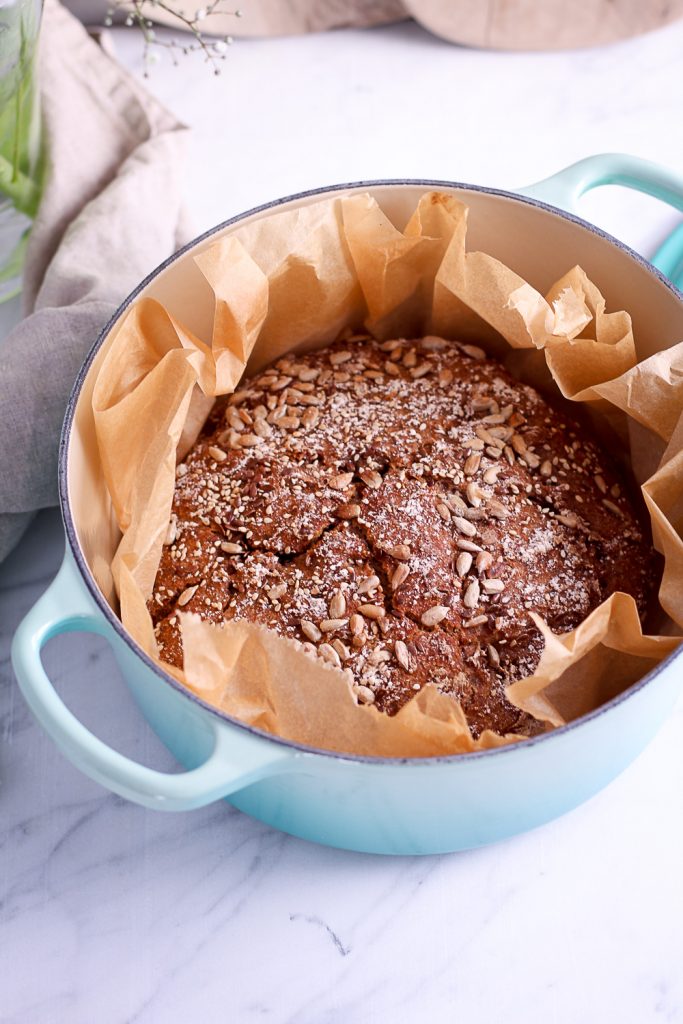 White flour can be made of wheat, rye, spelt, barley etc. Only by grinding the whole grains can you get whole-grain flour. Sort of obvious, but many people do not know that. If you have a strong blender or food processor, it is wise to blend your own grains because the longer whole-grain flour is stored, the more nutrients are oxidized, meaning the more nutrients are lost.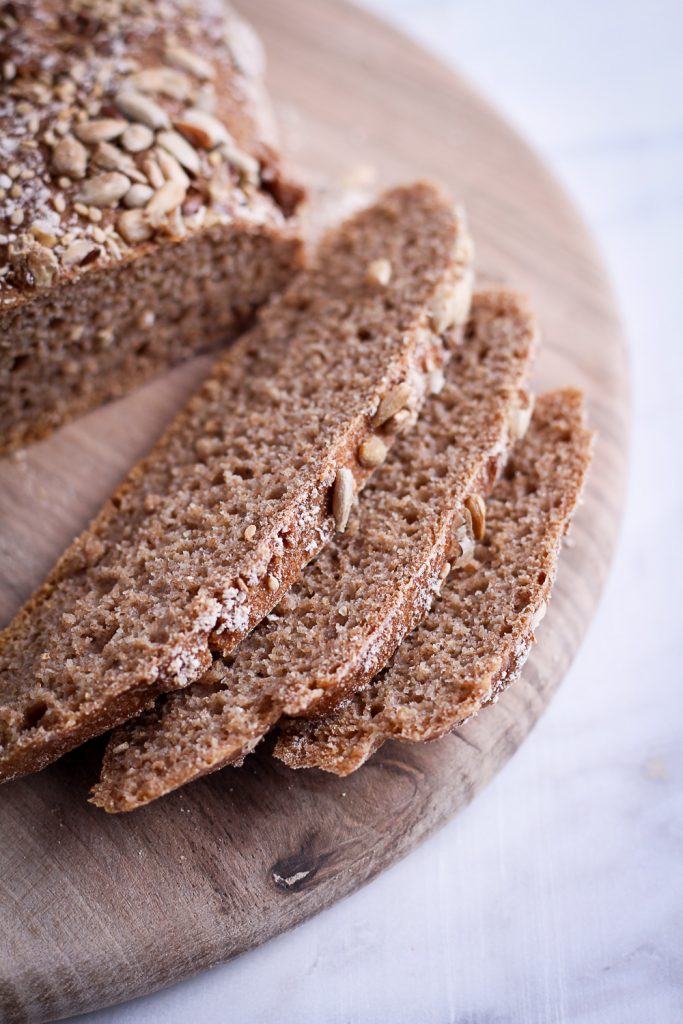 For this recipe, I've teamed up with the amazing Le Creuset, because I've been making my bread mainly in my Dutch oven lately. Since I know that Dutch ovens are not the cheapest, I am more than excited to announce that I am giving away a 22cm Le Creuset Dutch oven in cool mint – one of my favorite colors.
If you live in Germany, here's what you need to do to win a 22cm Le Creuset dutch oven in cool mint:
1. Leave me a comment below or on the German recipe (if you speak German) until April 25th, 11:59 pm and tell me what recipes you'd like to see more of on HLH.
2. Please provide a valid email address so I can contact you in case of a win (your email address will only be visible to me, please write down the address in the dedicated field in the form, NOT in the comment as this will be seen by the public).
3. I'll announce and contact the winner on April 26th, 2017.
The giveaway is only open to my readers with a valid German address.
Good luck!

Whole-Grain Rye Bread
Ingredients
400g of whole rye grains (or 400g of whole-wheat rye flour)
100g of whole spelt grains (or 100g of whole-wheat spelt flour)
340 ml lukewarm water
½ teaspoon of dry yeast or 10g of fresh yeast
1½ teaspoons of sea salt
1 teaspoon of maple syrup or honey
30g of seeds such as sunflower seeds, flax seeds or sesame to top the loaf
Instructions
Start by grinding the whole grains into a flour using a food processor or high-speed blender. Neglect this step if you are using already ground flour.
In a small bowl, mix the water with the yeast and let sit for a couple of minutes.
In a large bowl, combine the flour, salt, maple syrup or honey and gradually add the water. Knead the dough roughly with a wodden spoon or your hands and then cover it with a clean cloth. Let the dough rest for 2 hours on a warm spot.
After the 2 hours, heat the oven to 240°C. Place your dutch oven into the oven with the lit on.
Place the dough onto a floured surface and knead for at least 5 minutes. If you have a full kitchen machine, you can also let it do the work for you.
Transfer the dough onto a floured sheet of baking paper and sprinkle it with some water and the seeds. Lightly press them in the loaf with your hands. Take the dutch oven out of the oven with gloves and place the dough on the baking paper into the dutch oven. Place the lit on and bake for 30 minutes with the lit on and then for 45 minutes with the lit of.
Take the loaf out of the dutch oven immediately and let it cool on a rack for a few minutes before enjoying it.
Notes
Make it gluten-free: use a mix of brown rice, millet, and buckwheat flour with a teaspoon of tapioca starch.
The minimum germination time is two hours. If you have more time, do let it germinate over night. It makes it better digestible and fluffier.
Enjoy!
*Sponsored Post. This post is supported by Le Creuset*Germany. Thank you for supporting the brands that make hour-long recipe testings in my kitchen possible.