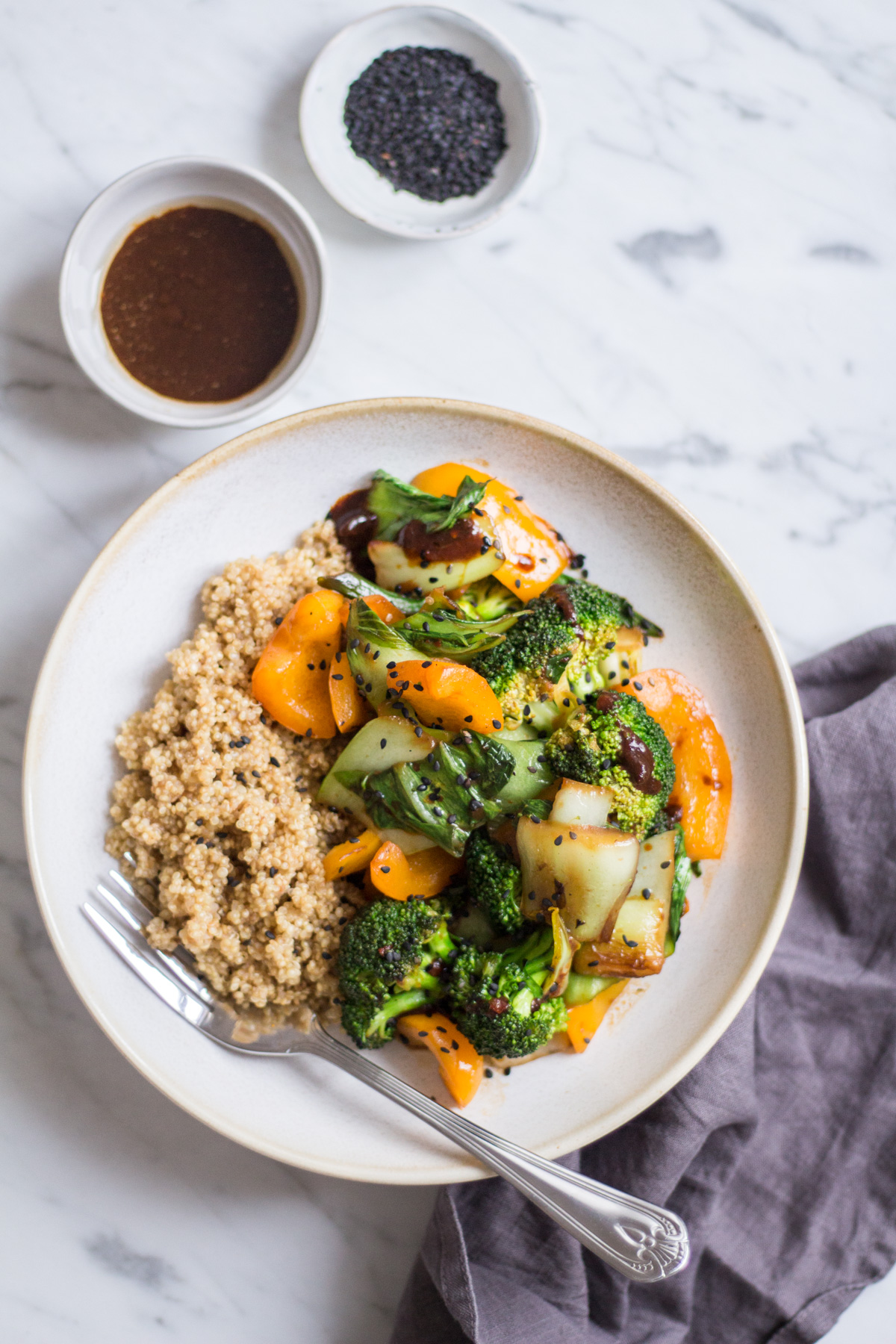 This recipe is also available in German.
Sometime in December, I shared a spontaneous dinner on Instagram, which consisted almost only of wok vegetables and quinoa. Super simple and thrown together in no time. The response on social media blew me away. While I know that everything we want to see today is quick and easy, I did not expect more than 400 messages asking for the recipe in my inbox.
That's why I'm going to restart my series of 30-minute dishes again, which you guys seemed to love last year. Sometimes it will be 20 minutes meals and yes, maybe even 15 mintutes. Sometimes it will be 40 minutes, of which your veggies will roast in the oven for 30 minutes while you can take care of other things than cooking. Eating healthy does not take much time. Only a little preparation, that is sometimes necessary. But this fast and healthy dish does not even need that.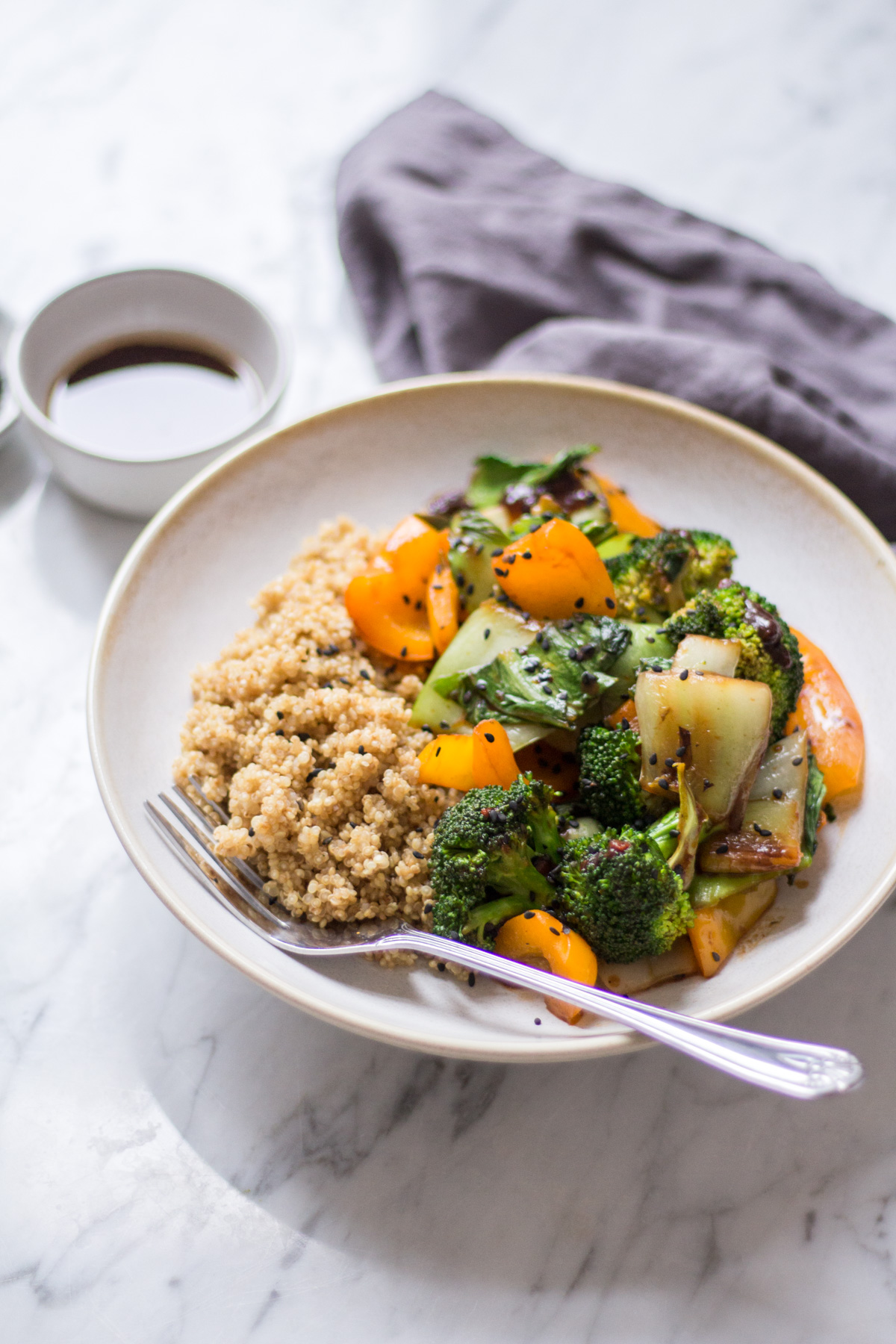 When you create a meal, always remember that your body needs all the macronutrients: complex carbohydrates, fats, and plant proteins. When it comes to fats, it's harder and harder for me to talk about good and bad fats, because unfortunately, not everything is so black and white. We already know that industrially hardened fats are not good for our bodies, yes. But I have the feeling that thanks to the Omega-3-hype, the omega-6 fatty acids have suddenly gotten a bad reputation. Both fatty acids are essential – we only eat the two fats in the wrong ratio. But I'll tell you more about this in another article. What you need to remember is that we need to increase our omega-3 intake since our diet already contains enough omega-6 fatty acids.
Heavenly for body and soul, because …
… miso is not only a great spice paste, but also contains unpasteurized important bacteria that are great for our gut. Miso is a fermented food that is fermenting for a long time, making it not only easier to digest, but also healthier. I love brown rice miso, but you can also eat the soy-based version without having to worry. Fermented soy is much healthier than raw soy and most people who can't have soy, mostly do well with fermented soy products. However, you might want to ask your physician if you have a soy allergy.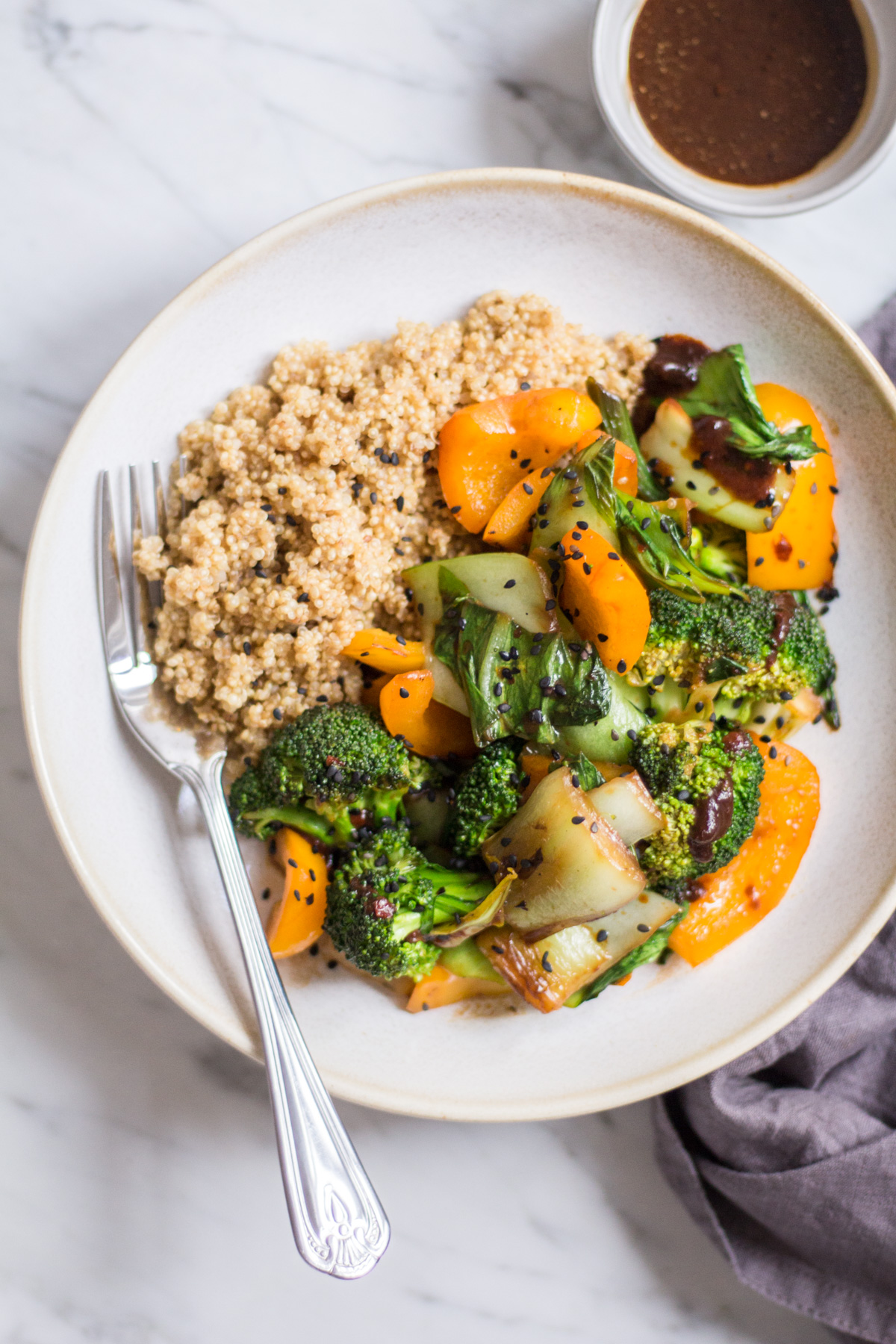 Where can I get unpasteurized miso paste?

Unfortunately, the BUT comes in this article. As this is a Germany-based food blog, I cannot tell you where to find unpasteurized miso in your country. My guess is, however, that it should be quite easy to find it in English or American health stores such as WholeFoods or PlanetOrganic (UK). In Germany, you need to order it online. I buy mine here or here.

Quick miso-vegetable stir fry with quinoa
Ingredients
200 g of quinoa
1 pak choi
2 peppers
1 big broccoli
2 tablespoons of miso paste
2 tablespoons of sesame oil
2 tablespoons of tamari
1 lime
1,5 cm of fresh ginger
1 teaspoon of sambal oelek or ¼ tsp chili flakes to taste
Black or white sesame seeds (optional, but a nourishing decoration)
Veggie options:
mushrooms
kale instead of pak choi
carrots
zucchini
Instructions
Wash the quinoa and bring to a boil with approx. 600 ml of water. Simmer for approximately 12-15 minutes.
Wash the vegetables and cut into bite-sized pieces. Place the pak choi across the cutting board lengthwise and cut into strips from right to left. Separate the front part with mostly green leaves from the stem parts. Add the stems to the remaining vegetables and keep the green leaves in a separate bowl.
For the sauce, mix together miso paste, 1 tablespoon sesame oil, tamari and sambal oelek, 1 teaspoon of lime juice. Optionally some grated ginger (only if you have the time).
Heat 1 tablespoon of sesame oil in a large pan or wok. Sauté the vegetables in it for about 2 minutes. After about 2 minutes, add the green leaves of pak choi. Cook the vegetables for another 2-3 minutes until tender.
Add the sauce to the vegetables and pan in the pan.
Serve the vegetables with the cooked quinoa.
Enjoy!