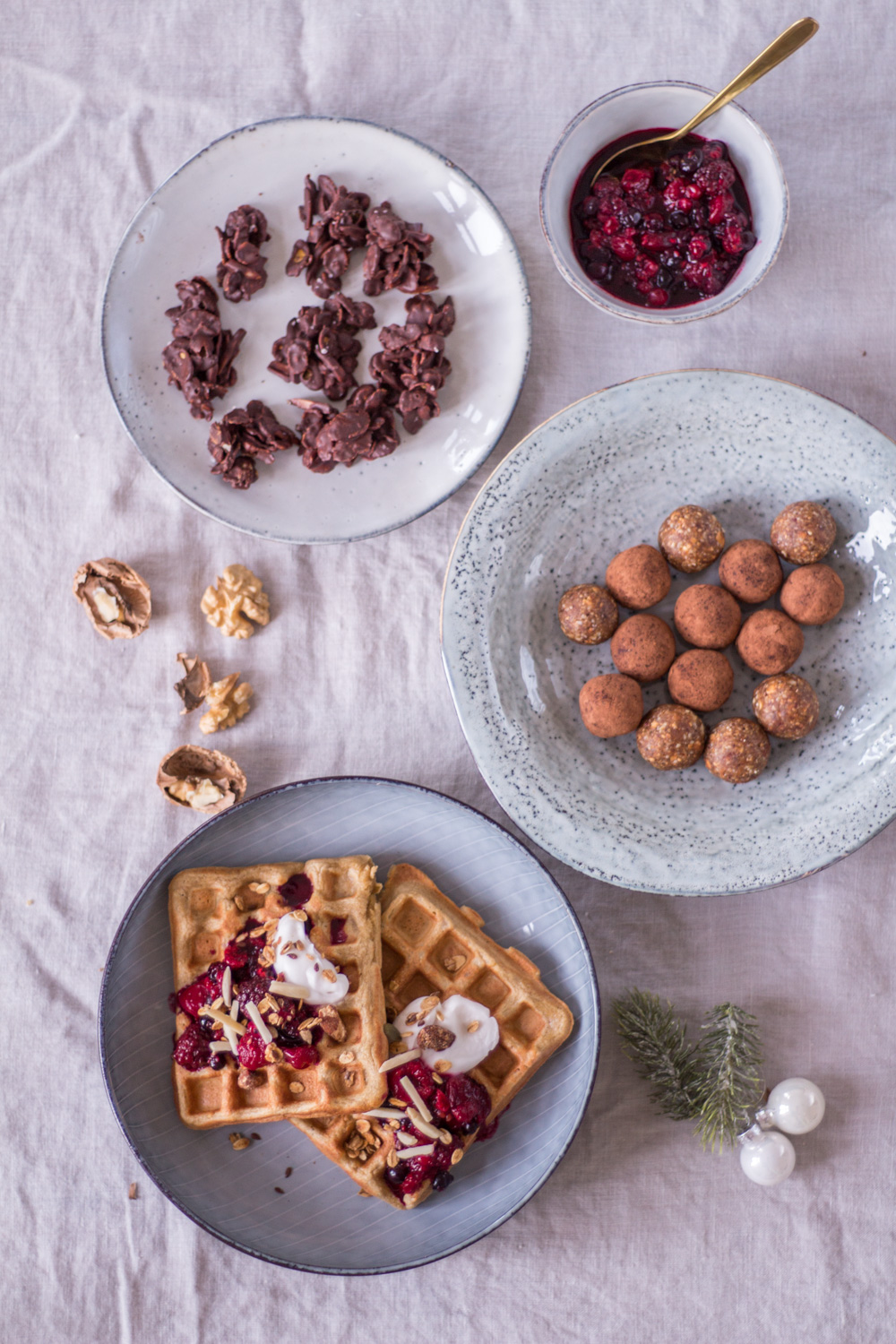 It doesn't always have to be cookies. With this in mind, I thought about my November column during an autumn walk. My blog already features healthier Speculatius, cinnamon stars and two kinds of vanilla croissants. The classics. But I wanted to find alternatives to the classics for my column. Stefanie of OhhhMhhh contributed to the idea of the waffles. Her love for energy balls also inspired me to create these Christmas energy balls. And the Choco Crossies are one of those sweets I always loved as a child. With some coarse sea salt on top, they're definitely a hit.
What's really great: all recipes are so incredibly simple, you will laugh at me. But that's exactly what we need in December. Simple, uncomplicated recipes that naturally sweeten the Christmas season. Speaking of sweetening: of course all recipes are free of household sugar and sweetened only with dates, maple syrup or coconut blossom sugar. Nevertheless, they taste as delicious as their conventional counterparts. The waffles, for example. I already imagine how you bake them together with your children or your dearest friends, then maybe quickly clean the shoes for Nikolas tradition (is that only a thing in Germany?)  or watch a Christmas classic like "The Holidays". Oh wow. Am I ready for Christmas.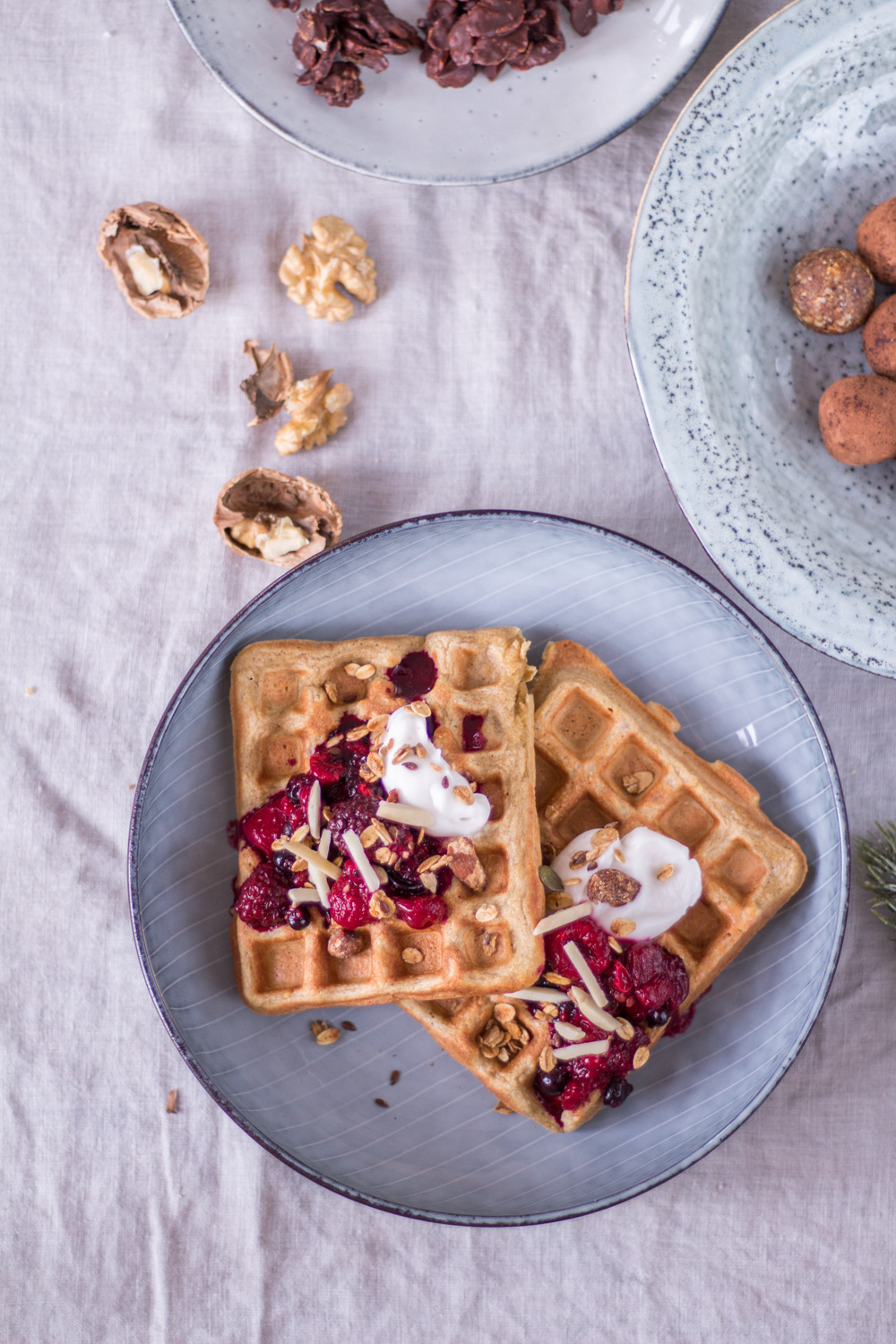 And the Christmas energy balls. There is no easier or faster way to make gingerbread. I hope to get as many photos on Instagram as I did with the first set of energy balls I shared. Since then, not a day has passed without being sent a great picture of you. The christmasy Energy Balls are my favorite of all three recipes. They taste just like gingerbread. The dates make them just sweet enough, the apple chips give them an unexpected crunch and the gingerbread spice gives the balls a dreamlike Christmas taste. By the way, I also rolled the balls in raw cacao. This gives them a slightly bitter note on the first bites, which is then quickly transformed into a heavenly sweetness. For children I'd rather leave out the cacao coat, but for us adults it's just mhhh.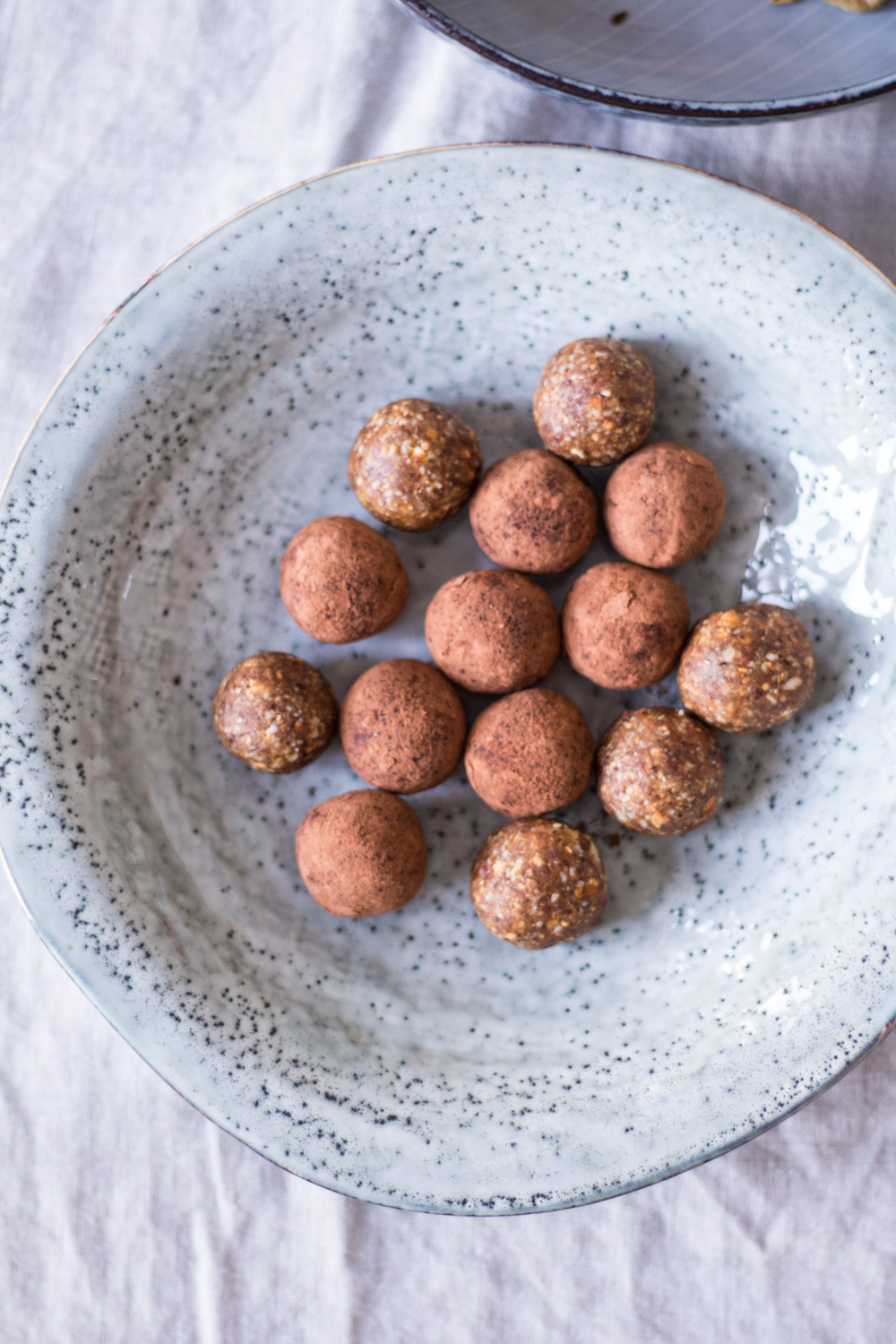 The Choco-Crossies are one of my secretly beloved sweets from childhood. For me Choco-Crossies are one of those things that you never buy yourself, but always love to nibble on when you're invited to a friend's home or party. Homemade Choco-crossies can also be spiked with other healthier ingredients such as almond sticks. You can also make the chocolate yourself, if you like. Of course you can also use bought dark chocolate. Whatever is your jam.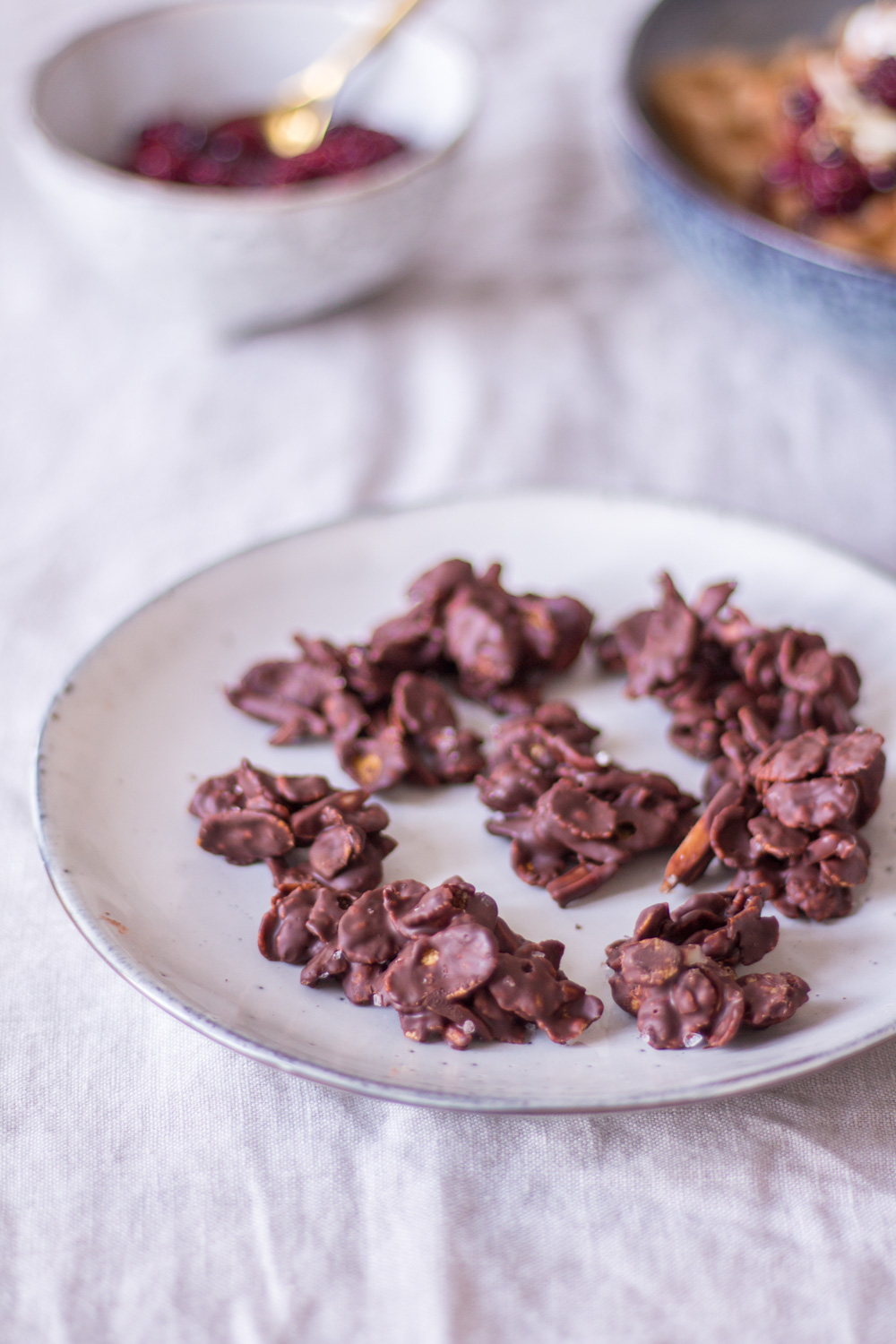 So why are the cookies and waffles good for us? Well, on the one hand, you should definitely listen to your favourite Christmas music during the preparation. That will instantly result in a more relaxed  you. Also, none of the recipes contain refined sugar, but healthier sugar alternatives and only a little of them. Because also alternative sources of sugar are to be enjoyed in moderation.
But the true health aspect of these recipes is that we enjoy them together with our loved ones. Because with all the talk about superfoods, nutrients and time-for-me, we often forget how important social contacts are for our well-being. Time with your loved ones is a big pillar of a healthy lifestyle.
If you're looking for even healthier biscuits, take a look at last year's healthy Spekulatius, vanilla crescent cokies, chocolate vanilla crescents, cinnamon stars or Rudolph cookies. Oh yes, I also have a healthier Stollen on the blog. It's one of the most traditional german recipes, which you should definitely give a try. It's really heavenly!
I wish you all a lovely pre-Christmas season and hope that you can enjoy it to the fullest.
xx
Lynn

Chai Waffles
Ingredients
For about 9 Belgian waffles:
250 g of oats
2 tbsp coconut sugar
1 tbsp aluminum-free baking powder (this is baking powder without aluminum)
2 tsp chai spice (see below)
1 pinch of sea salt
150 ml coconut yoghurt (or normal yoghurt)
100 ml of oat milk
100 ml of mineral water
3 organic free-range eggs (or 3 tbsp chia seeds + 9 tbsp water for the vegan option)
grated peel of 1 organic lemon
Butter or coconut oil for baking
In addition:
about 300 g of frozen berries
1 tsp chai spice (see below)
chopped nuts (eg almonds or hazelnuts)
(Coconut) yoghurt for serving
For the chai spice mixture:
2 teaspoons ground cinnamon
1 tsp ginger, ground
1 tsp allspice, ground
½ teaspoon of clove, ground
½ tsp cardamom, ground
½ teaspoon nutmeg, ground
Instructions
For a vegan version, mix the chia seeds with the water and set aside to swell. Mix all ingredients for the chai spice and store in an airtight glass container as you won't need it all for this recipe.
Preheat the waffle iron at medium heat.
Ground the oats into a fine flour in a food processor or blender. In a bowl, mix the ground oats, coconut sugar, baking powder, chai spice and sea salt well. Mix the (coconut) yoghurt, the oat milk, the three eggs (or chia eggs) and the lemon peel with a whisk in another mixing bowl. Then stir in the sparkling mineral water.
Add the wet ingredients to the dry and stir everything with a whisk into a smooth batter. Let the batter rest for about 30 minutes. During this time, slowly heat the frozen berries in a pan and mix with a little chai spice. Leave in the warm pan to keep the berries warm for later.
Heat the waffle iron a little more and add about 1 teaspoon coconut oil and distribute the oil thoroughly with a brush at the top and bottom.
Add a ladle of batter per side (for a Belgian waffle iron) and bake for about 5 minutes. With a European heart-shaped waffle iron you need less batter and the baking time per waffle has to be reduced accordingly. The waffles are ready when they are baked golden brown and can be easily removed from the waffle iron. I even like to let them get a bit browner and crispier.
Serve the waffles with the warm berry compote, yoghurt and chopped nuts.
Christmas Energy Balls
Ingredients
200 g of soft dates, pitted (about 17 pieces)
80 g of almonds
50 g dried apple chips, unsweetened
1 teaspoon gingerbread spice
optional:
2 tablespoons raw cacao powder
1 drop of orange oil (from the baking department in the organic store)
Instructions
Place the almonds and apple chips first in the food processor, pulse briefly.
Pit the dates (do not forget this step under any circumstances!) and briefly blend the pitted dates in the food processor until a sticky mass forms. Add the almond pieces, apple chips and gingerbread spice and mix everything together. Optionally, add a drop of orange oil if at hand. Be careful when portioning!
Using your hands, take about 1 tablespoon of batter and form it into 10-12 balls. Optionally roll each ball in the cacao powder and continue rolling between hands. The heat of the hands will incorporate the the cacao powder into the balls.
Stored in an air-tight contaier, the energy balls last for at least 2 weeks. They never last this long in my household.
Choco-Crossies
Ingredients
For the choco-crossies:
50 g cornflakes (or spelt flakes (spelt is not gluten-free), unsweetened
30 g almond sticks
a pinch of cinnamon
100 g dark chocolate, homemade see below
coarse sea salt to sprinkle
For the homemade chocolate:
120 g cacao butter (from the refrigerated shelf in the organic market)
75 g of raw cacao powder
80 g of maple syrup
Instructions
If you make the chocolate yourself, start by making it in the beginning. Carefully melt the cacao butter in a water bath. Stir in the raw cacao and maple syrup and allow to cool well. By cooling, the mass becomes a little thicker, which helps with the choco-crossies.
Mix the cornflakes with the almonds and cinnamon in a bowl. Mix the homemade chocolate directly with the ingredients or melt the purchased chocolate over a water bath and mix with the dry ingredients. Spread a small teaspoon of the mixture on a baking tray with baking paper. If you have only a small fridge, like me, cut the baking paper, place it on a plate and place the choco-crossies on the plates. Put the tray or plate in the fridge for about 1 hour to cool.
Airtight, the choco-crossies keep for about 2 weeks.
Enjoy!