Healthy Mince Pies filled with a heavenly mince meat with apples, pears, raisins and tonka bean.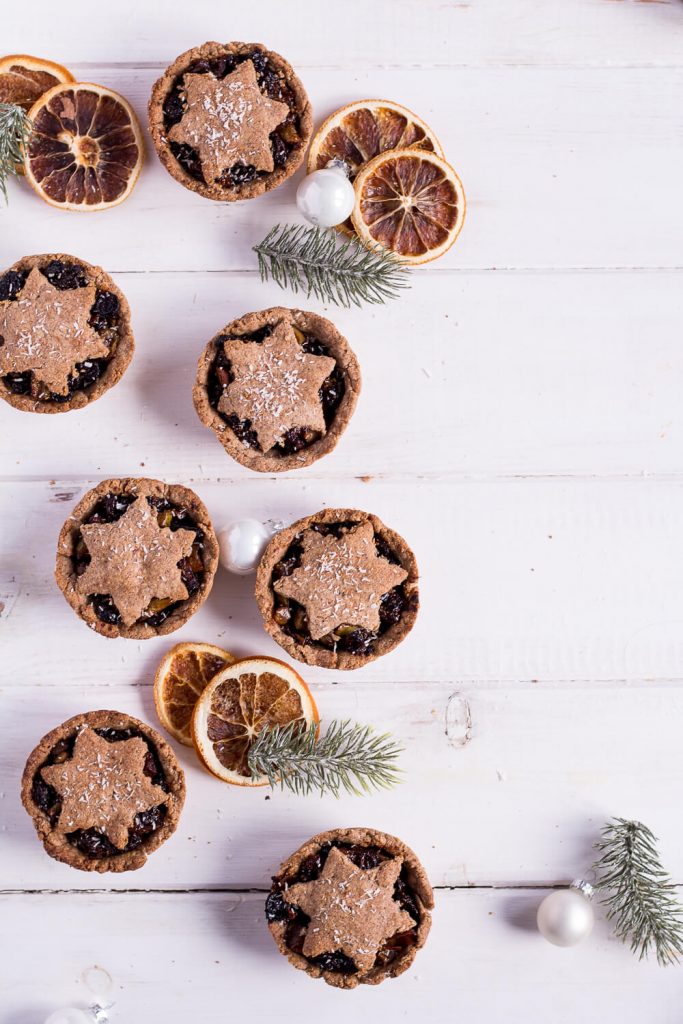 My sister trip to London this past summer definitely proofed that all sayings about the British cuisine are rubbish. Of course I can only speak for London, but this city is definitely the culinary capital of Europe. We had some of the best foods in the city, visited great cafes and delis and literally all we did was eat. We also stayed with my sister's roommate in her parents' house near Watford for two days and we were served some of the best foods I have ever eaten, including the British broccoli that I am so totally jealous of. Can someone please import British broccoli to Germany? Asap, please!
My sister told me about the Mince Pies that her flat mate's Dad always makes, so of course I was curious about these little British pies. Seeing them all over Pinterest, I just had to make them, and they turned out amazingly. Of course this is nowhere near the original mince pie recipe as I used completely unconventional ingredients, but the mince meat is always a mix of fruits, some dried fruits and Christmas spices. In England you can even buy "mincemeat" jars in every supermarket. It's definitely the equivalent of the German "Stollen", except it's much tastier, fresher and tastes so much more like Christmas than cookies or Christmas bread.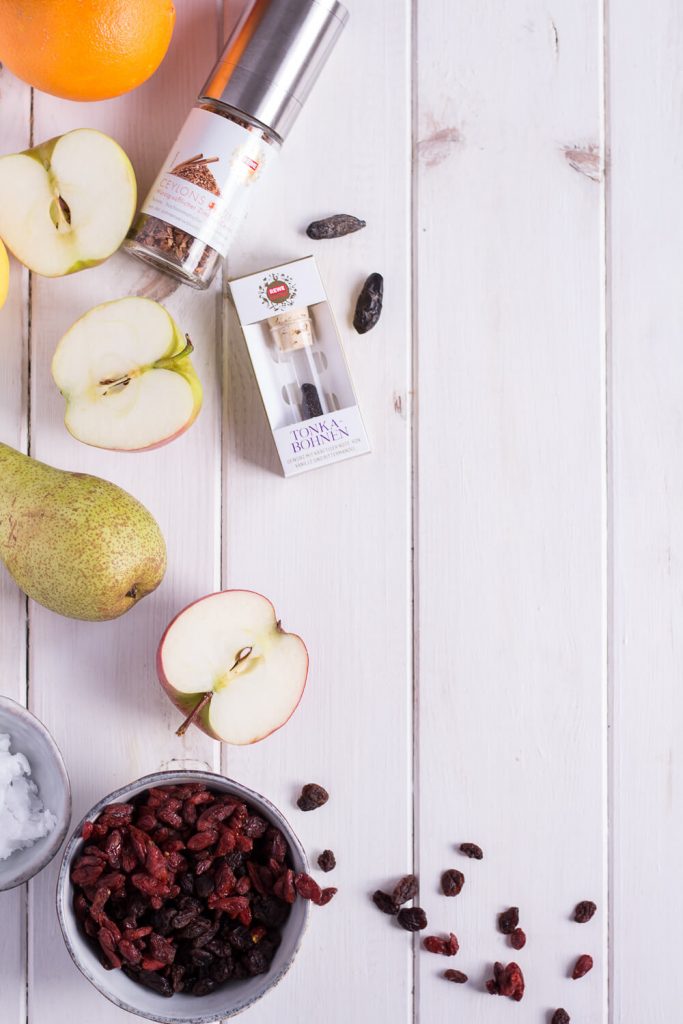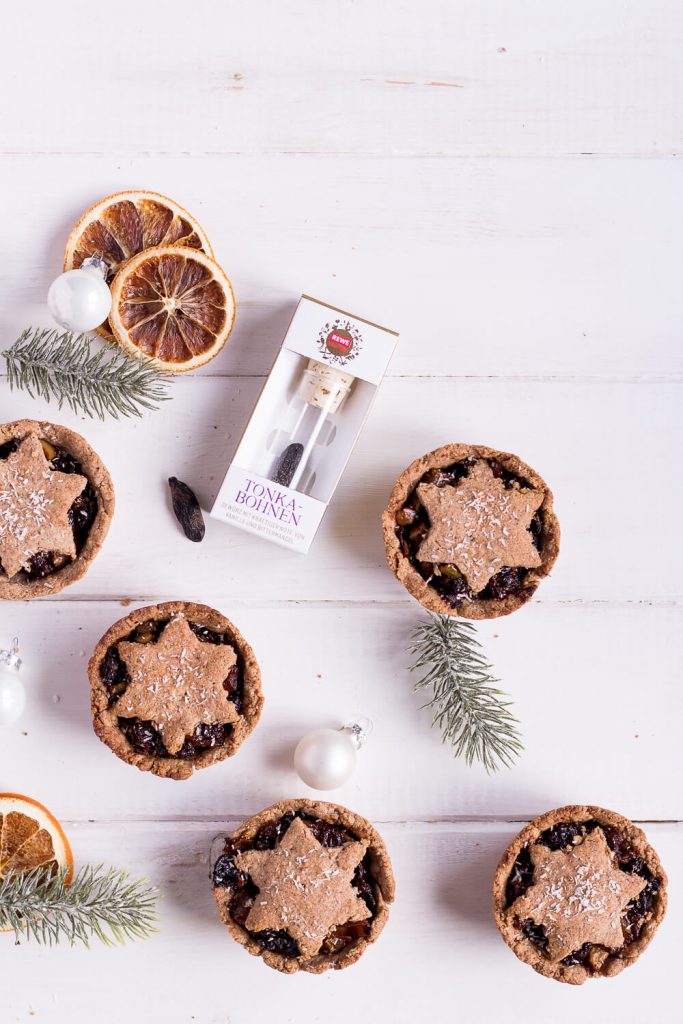 My Mom was completely in love when she first tried them, and I also think that it's one of the best Christmas desserts ever! It's really moist, rich and flavorful, and something very different than anything I've ever tried. Another big plus is that they are just so freaking pretty! I am a sucker for pretty food, so these healthy mince pies will definitely make your Christmas table look so much fore festive.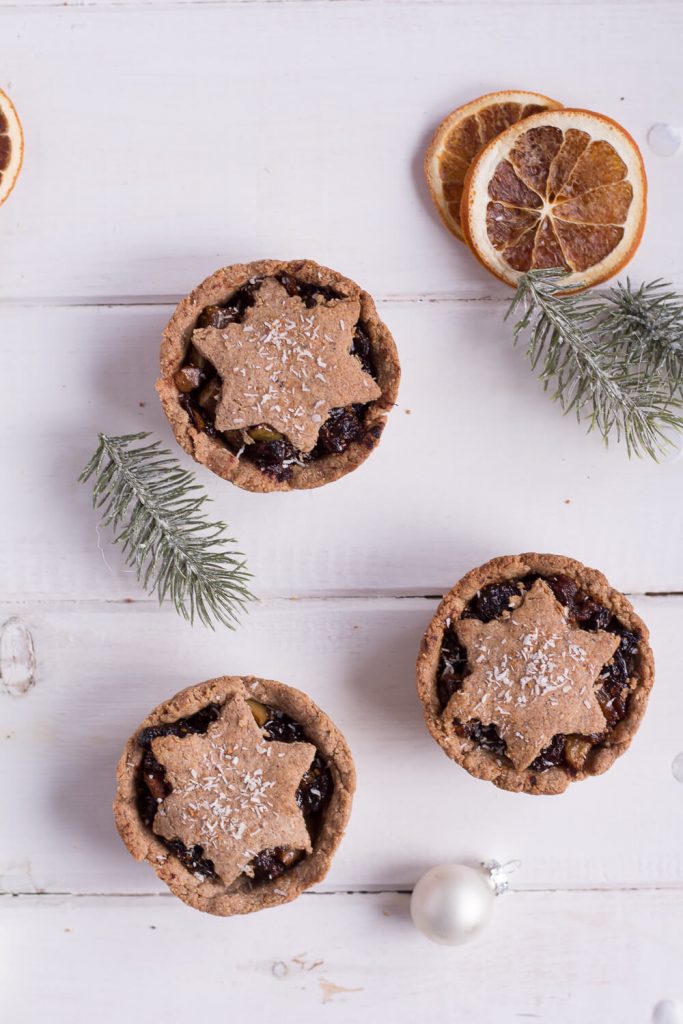 Instead of vanilla, I used the tonka bean, which is an ugly black bean from the tonka tree, which is originally grown in South America. You only need a bit of tonka beans, which are commonly ground with a small grinder, for a rich flavor that reminds me of vanilla. It's very common in upscale restaurants around the world, so it's about time that we use it in our own homes, don't you think?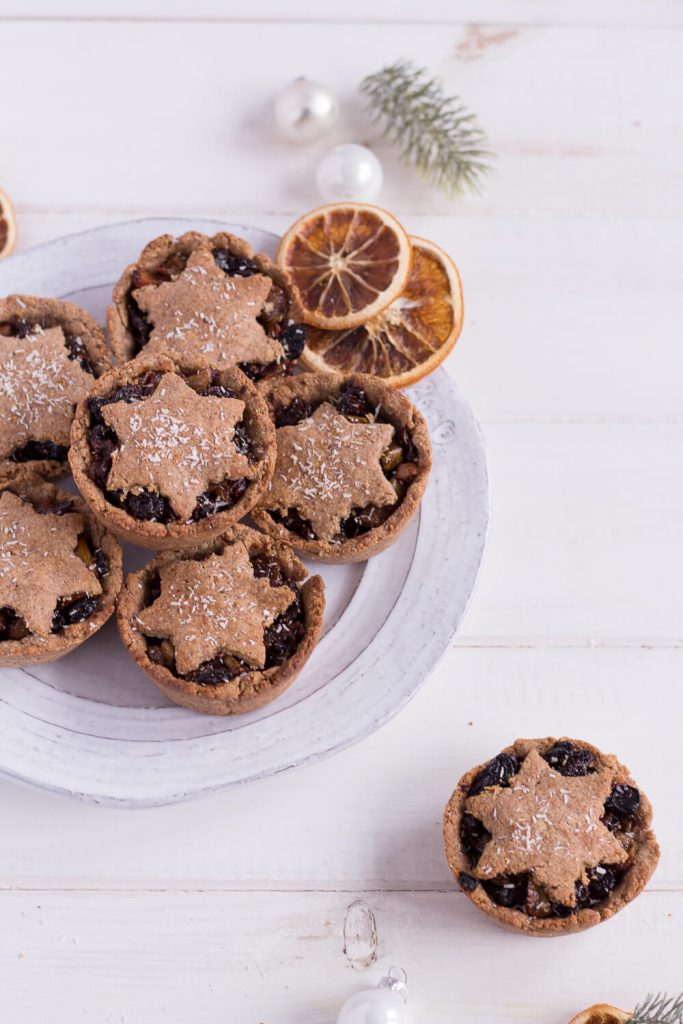 This is the last item on my Christmas menu this year, and I hope it inspired you once again to eat a bit healthier during the Holidays. It's definitely possible to eat healthy at Christmas, and it does not require deprivation or starvation. Healthy Holidays are so much fun, and I hope that these healthy mince pies, my sweet potato and parsnip soup and the stuffed butternut squash proofed how delicious and healthy Christmas can be.

Healthy Mince Pies
Ingredients
⅔ cup (100g) of almonds
1 cup (100g) of (gluten free) oats
½ teaspoon of aluminum-free baking powder
¼ teaspoon of sea salt
1 tablespoon of maple syrup
1 tablespoon of chia seeds or ground flax seeds
2 tablespoons of water
1 tablespoon of extra-virgin coconut oil, melted
1 tablespoon of shredded coconut flakes (optional, for sprinkling)
For the mince meat:
2 small apples
1 pear
⅔ cup (100g) of raisins
⅓ cup (50g) of goji berries or more raisins
¼ tonka bean
the juice of one organic orange
zest of ½ organic orange
zest of ½ organic lemon
1 teaspoon of cinnamon
½ teaspoon of ginger
a pinch of nutmeg
a pinch of ground cloves
Instructions
Pre-heat the oven to 175°C (350°F). Grease six muffin molds in a muffin tray with coconut oil.
To make the dough, blitz the almonds and oats in a food processor until a fine flour forms. Add all the other ingredients and process into a dough. You can also do this with your hands if you do not have a food processor. Place the dough into the fridge for 30 minutes while making the mince meat.
For the mince meat, cut the apples and pear, remove their cores and cut them into small pieces. Add all ingredients except for the tonka bean to a pot. Grind the tonka bean with a small gringer, and add it to the other ingredients. Cook the "meat" over medium heat for about 15 - 20 minutes until soft. Set aside.
Take the dough out the fridge and separate it into 8 equal balls. Roll out each ball into a round flat disk and gently fold it into the muffin molds. Press it into the fold with your hands. It does not need to reach up to the edges of the molds, it just needs to cover the ground and about half of the sides. Pre-bake the mince pie bases for about 7 - 8 minutes then take them out of the oven.
Roll out the two remaining dough balls between two sheets of baking paper and cut out six stars with a cookie cutter.
Fill about 1 - 2 tablespoons of mince meat into each mince pie, gently pressing down the cut-out stars on top of each filling. Place the mince pies back into the oven and bake for another 10 - 12 minutes. Watch them carefully, so they do not burn. You might only need 9 minutes of baking depending on your oven.
Finally take the mince pies out of the oven and let them cook completely before sprinkling them with a little bit of shredded coconut flakes.
Notes
This recipe only makes 6 mince pies. If you want to make more, just double the amount of ingredients.
If you do not have a food processor or strong blender, use 200g of ground nuts instead.
Enjoy!
*A Big Thank You to REWE Feine Welt for sponsoring this post. And thank you, readers, for supporting the brands that make hour-long recipe testings in the Heavenlynn Healthy kitchen possible.
---
DID YOU MAKE THIS RECIPE OR HAVE ANY SUGGESTIONS, QUESTIONS OR COMMENTS?
Feel free to leave a comment below, and don't forget to tag your creations on social media using #heavenlynnhealthy.
I'd love for this blog to be a dialogue.
---