I'm sorry I have only published one recipe a week these past weeks. Life has been crazy, sunny and beautiful, and I'm finally working on finishing my Master's degree, which I'm sure you all understand. Being a food blogger is a dream come true, but who knows, how long I will be able to live this dream. Finishing your education is so important, especially in times like these, where school kids want nothing more than to become an influencer. Before I continue, I quickly need to talk to you about the new EU GDPR. You may have heard about the new General Data Protection Regulation ("GDPR"), that comes into effect May 25, 2018. To help comply with GDPR consent requirements, the time has come to ask a very important question: do you want to continue to receive my Newsletter straight into your inbox? I sent out an email today, formally informing you about my updated Privacy Policy, and in this email, you will find a blue botton "Update Preferences". If you click on this button, you'll get to your profile, where you can OPT-IN to "Email" Marketing Preferences. I need you to check this "Email" button in order to comply with GDPR consent requirements.
If you have not yet signed up for my my Newsletter yet, you can do so here. You will never miss a recipe anymore, and you'll be the first to know about any Heavenlynn Healthy related news.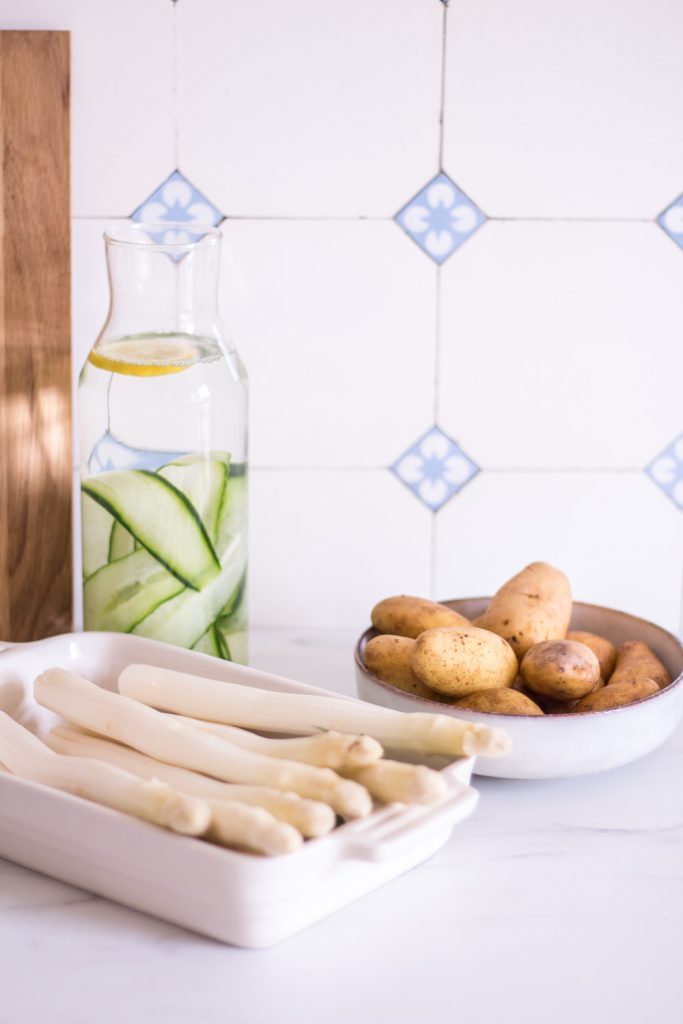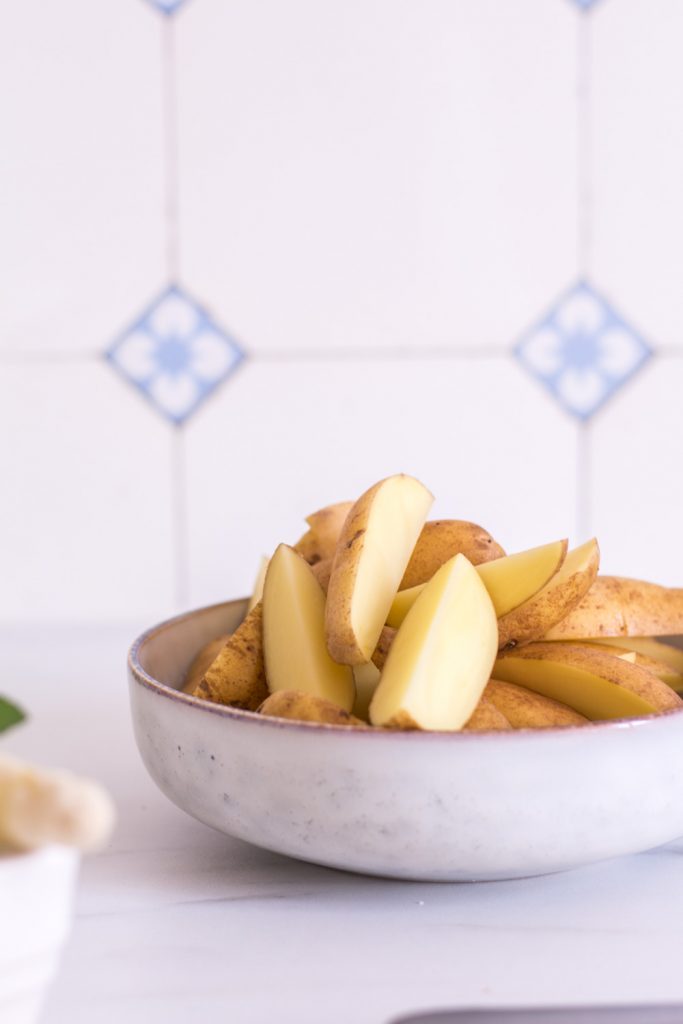 Now back to the REAL exciting things. With all the data requirement fuss going on this week, I was in deep need of something nourishing to refuel my body. If you're a one-woman show and you're doing all of the technical stuff yourself, things can quickly become too much to handle. That's why I needed something light, delicious and nourishing this week, to help me cope with increasing stress levels. So I opted for white asparagus with a fresh lemon pesto and potato wedges.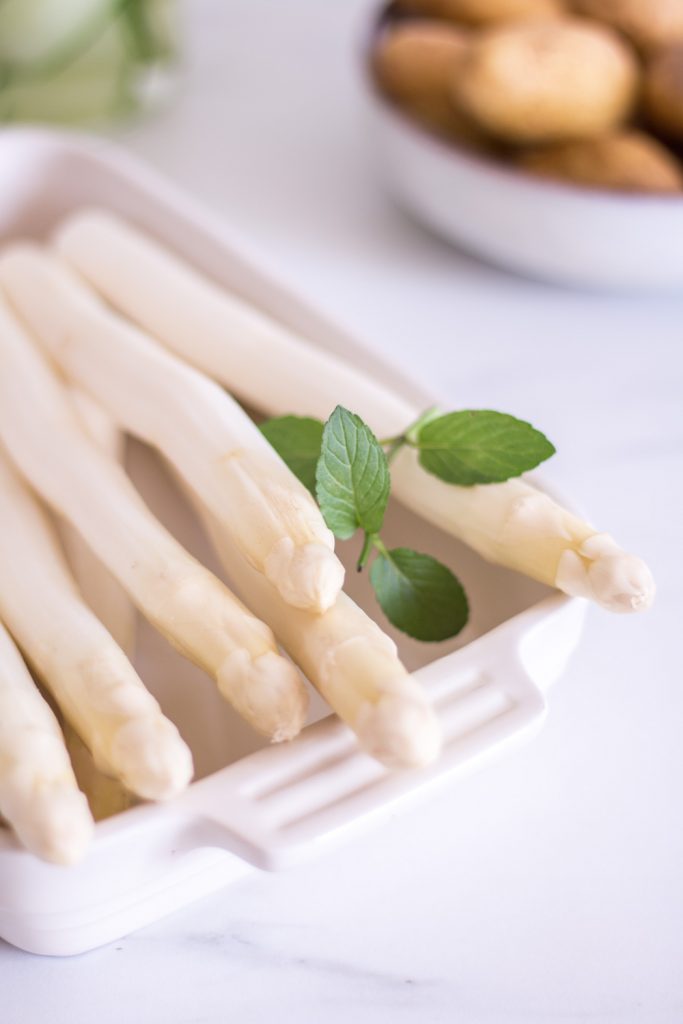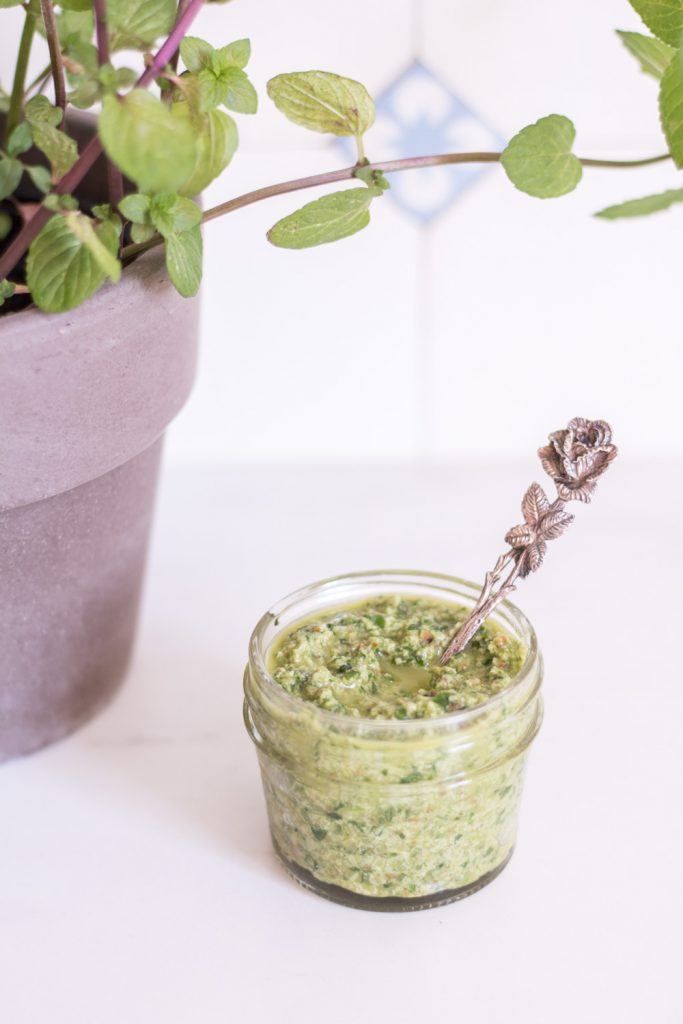 I'm sure you already knew that asparagus is super healthy. We used to say that asparagus is super healthy, because it contains close to no calories. Which is true, but that's not the reason why it is healthy. Asparagus fills up your body with minerals and vitamins, such as folate (a vitamin), that is especially important for pregnant women. Also, if you are planning on having a baby any time in the future, you should also stock up on asparagus as the folate helps the fertility. Asparagus main component is water and enzymes, so it is also a wonderful way to stay hydrated during these crazy hot spring days that we are currently experiencing in Germany.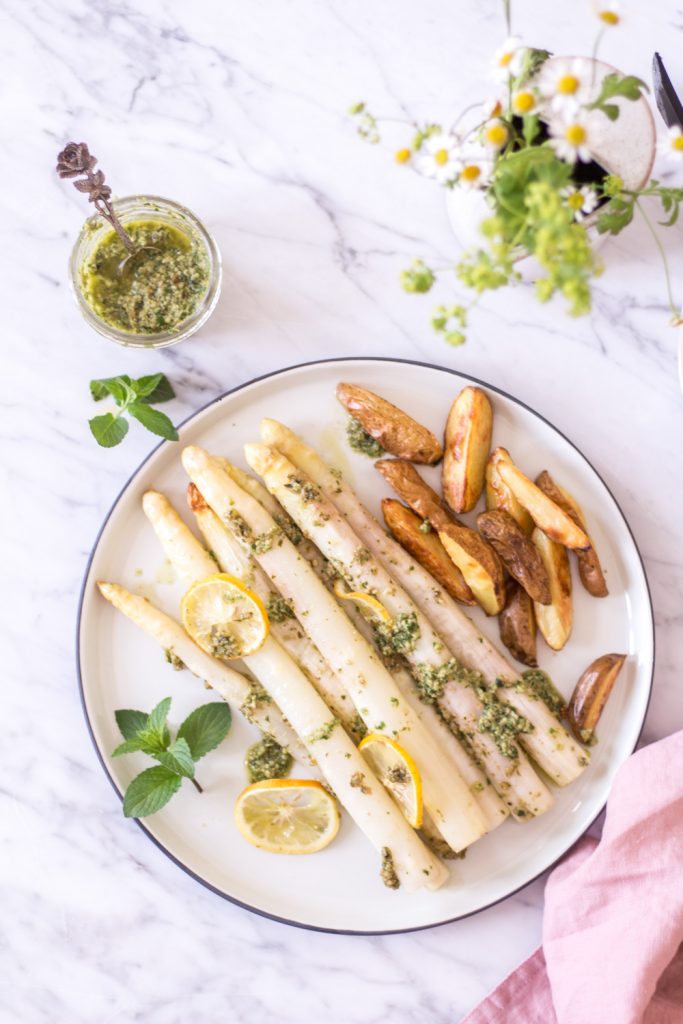 So I guess we can all agree that we should eat more asparagus. If you enjoy it with a freshly made lemon pesto with arugula, mint and walnuts (or hemp), you're really nourishing your body from the inside. Now enjoy this dish and don't forget to take a deep breath in and out while reading this. You've just found your dinner inspiration, so no need to be stressed anymore!
Take care,
xx
Lynn

Quick oven-roasted asparagus with lemon pesto - 30 minute dinner
Ingredients
For the oven-baked asparagus:
500 g of white or green asparagus, peeled if white and ends cut off
400 g of small new potatoes, cut in fourth
2 tablespoons of extra-virgin olive oil
½ lemon, sliced
sea salt and pepper
For the lemon walnut pesto
1 bunch of arugula, washed and dried
10 mint leaves, washed and dried
30 g of walnuts (or use any other nut if allergic)
1 clove of garlic, peeled
80 ml (1/3 cup) of extra-virgin olive oil
the juice of ½ lemon
sea salt and pepper
Instructions
Pre-heat the oven to 200°C.
Slice half of the lemon. Mix the potatoes with one tablespoon of olive oil and season with salt and pepper. Place the asparagus in a baking dish aligned with baking paper, add the other tablespoon of olive oil and the juice of the remaining half a lemon. Mix well until the asparagus is covered in lemon juice and olive oil. Place the lemon slices between the asparagus. If room, place the baking dish onto a baking tray. Assort the potato wedges around the baking tray or place the potatoes on a new tray.
Bake the asparagus and potatoes for about 30 – 40 minutes until the potatoes are nicely roasted. Half way through, give everything a stir. If the asparagus is too dry, add some more lemon juice.
While the potatoes and asparagus bake, prepare the pesto. Place all of the ingredients into a food processor and pulse until you get a pesto-like texture. You want some chunks of walnuts to remain.
minutes before serving, drizzle the asparagus with the pesto so the flavor can fully expand while in the oven.
Serve the asparagus with the pesto and potato wedges. A nice side salad is the perfect addition to this dish.
Enjoy!