*Ad/Werbung. This post is not sponsored by any of the mentioned brands. I simply thought you would want to know which brands I love and trust.
You guys, I have a confession to make. Up until last week, I probably didn't have a smoothie for three months! Or maybe even more. I realized that I need it to be warm and sunny outside in order to really "feel" the smoothie vibe. I guess this has to do with me getting into the whole smoothie-world back when I lived in North Carolina. It's really always sunny in North Carolina, and so I literally made myself a smoothie every day for lunch during the last year of my bachelor's degree. Given that temperatures and humidity can reach extreme highs in this place of the world, drinking a smoothie packed with nutrients was so much for appealing to my sweat-drenched body than eating a huge lunch most days. Of course, I would not only have a smoothie for lunch, but the smoothie was the part I was most excited about.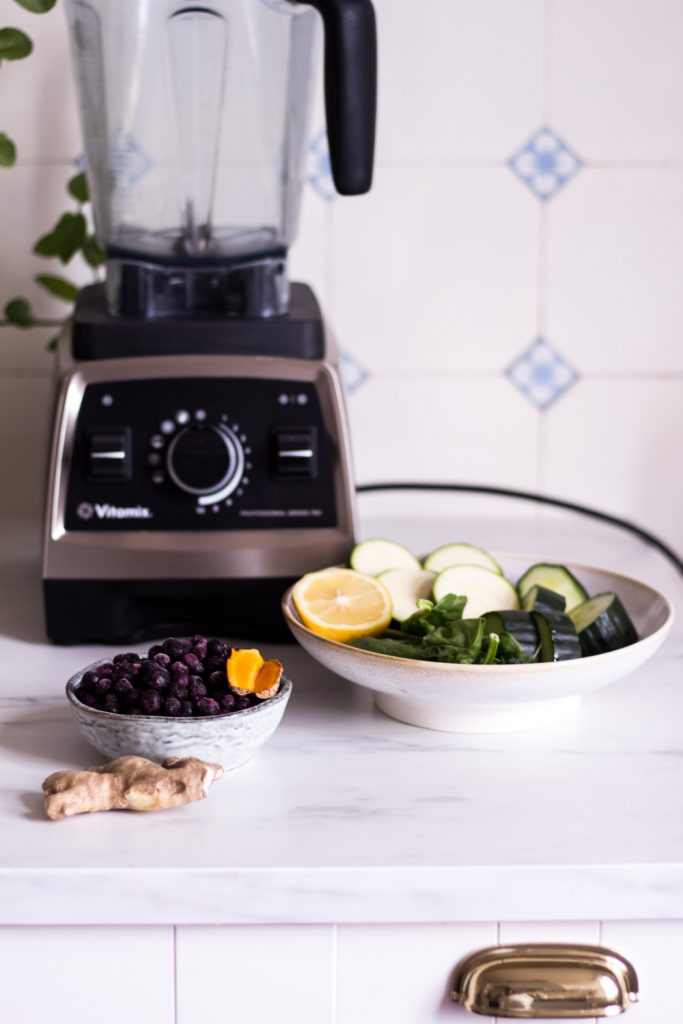 But I realized over the years, that I am such a summer-time smoothie person and that I forget about my blender all from October through March. Totally stupid, I know, but I am just always cold (due to my blood pressure meds) that I really prefer warm meals and hot drinks in the winter. I am not saying that this is a smart idea, it's just how I feel.
So now that we're basically experiencing summer in May this year here in Northern Germany, I am totally back at my smoothie game. So back, you guys. So back. For the past week, I have had this craving for blueberries, and so I have been making this blueberry zucchini smoothie every single day. Like every day. And you will, too, once you have tried it!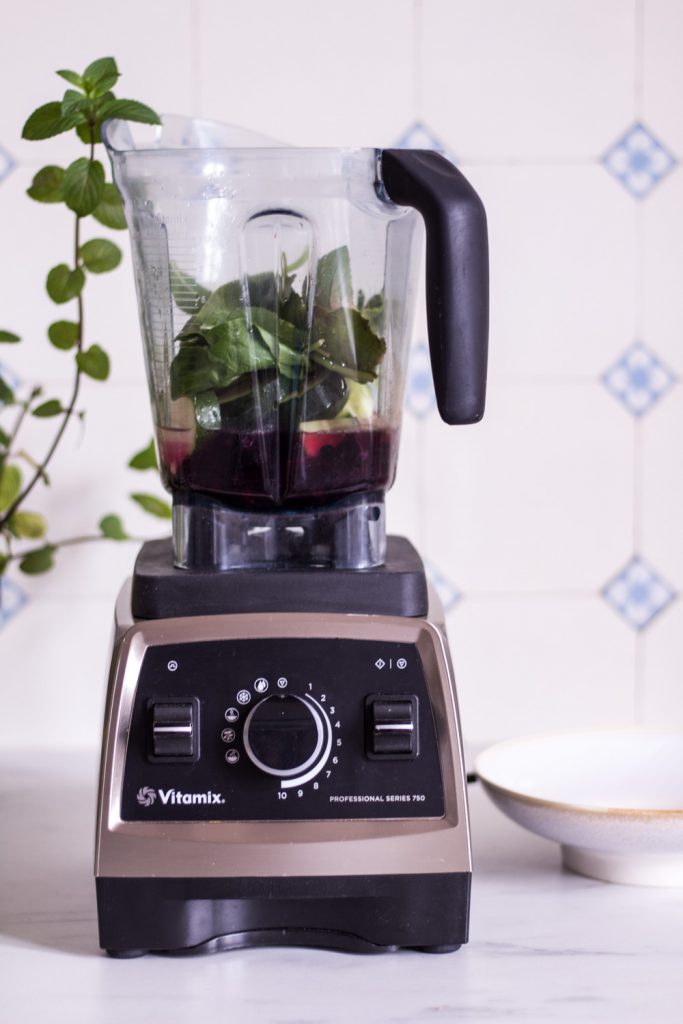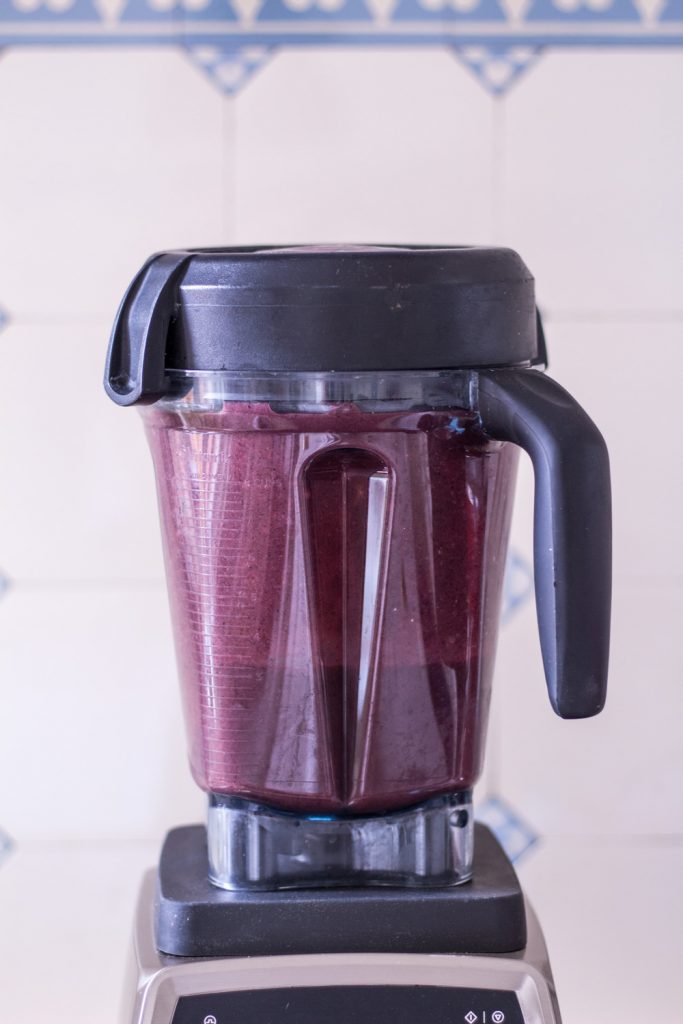 This smoothie is packed with so much goodness, I don't even know where to begin. Let's have a quick reign check:
Blueberries: major source of antioxidants, which protect your cells from damage, aka: protect from UV radiation, protect your skin from getting early wrinkles and other signs of age. Amazing! Also, the dark pigments in blueberries, called anthoyanes, have shown to protect the body from cancer!
Zucchini: Mainly in this for the volume, but zucchini are also packed with minerals such as magnesium and calcium.
Cucumber: mostly water infused with delicious enzymes.
Banana: high in potassium, which is important for a healthy heart function.
Avocado: high in heart-healthy fats, avocado is one of the best healthy fat sources available. It is also a real skin-food!
Are you ready for more goodness?
Turmeric: The root is one of the best anti-inflammatory foods out there. If you can, use the fresh root.
Spinach: one of the best sources of Vitamin K, a bone-strengthening vitamin! But spinach also contains a good amount of iron, loads of vitamin A (think eye health!) and folate, which is especially important for pregnant women and their unborn children.
Lemon: probably the most well-known antioxidant out there. The vitamin C in the lemon also helps make the iron of the spinach better available for absorption.
Lineseed oil: first of all, every vegetable-containing smoothie needs some sort of fat in order for the fat-soluble vitamins (ADEK) to be absorbed. And Lineseed oil is one of the best sources of omega-3-fatty acids, which fight inflammation in the body and strengthen the cell membranes and the skin barrier for one. Omega-3 fatty acids are also vital for a healthy brain function.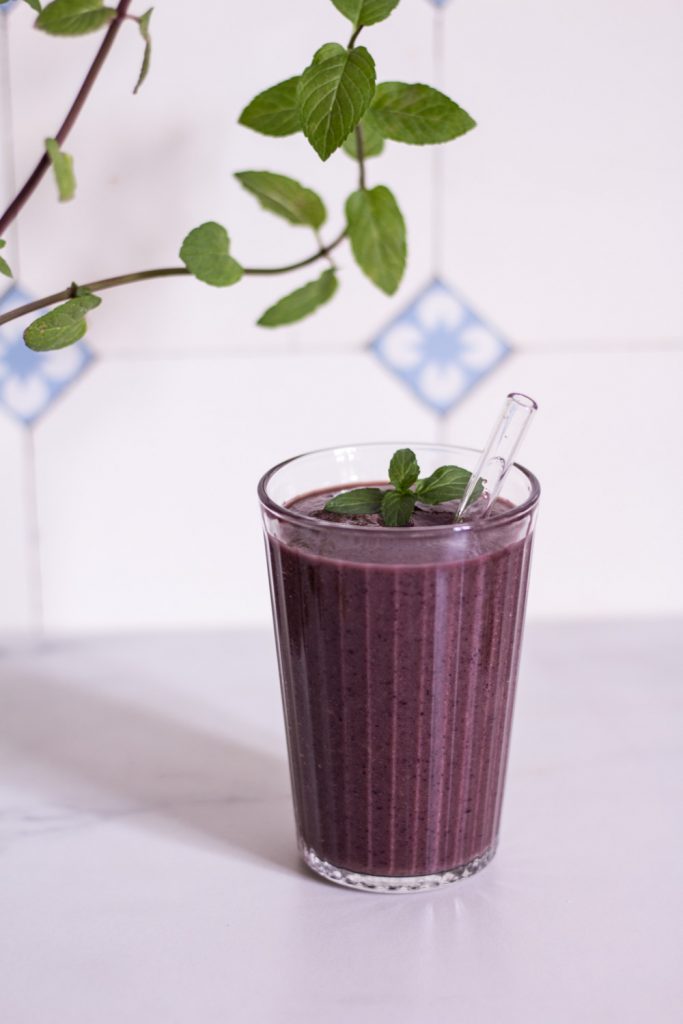 The ultimate blueberry power smoothie
Ingredients
For the basic blueberry smoothie:
130 g (1 cup) of blueberries
½ banana
the juice of one lemon
½ avocado
60 g of zucchini (about ½ of a zucchini)
130 g of cucumber (about a half a cucumber)
a small piece of turmeric
a handful of spinach
1 tablespoon of almond butter or sunflower butter
240 ml of coconut water
Powerful optionals:
a small piece of ginger
1 teaspoon of linseed oil
10 mint leaves
5 basil leaves
Instructions
Simply blend all ingredients in a powerful blender until smooth.
Enjoy this blueberry power smoothie!