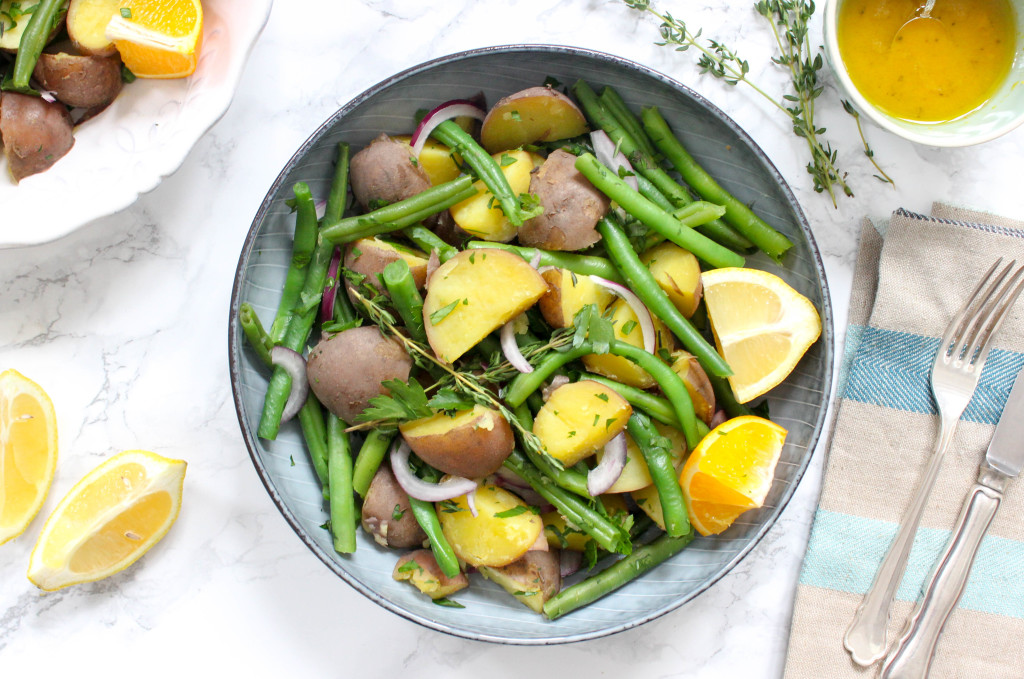 There was a time was I was the biggest potato lover ever. My sister was quite the opposite and would never eat potatoes, only plain white rice. So I ate plain potatoes while she ate her plain white buttered rice. Imagine my mom's devastation, trying to get the two of us to add some vegetables. There was one vegetable that we would eat, however, and that was green beans. Whenever we visited my mom's relatives during the end of summer, we'd help them pick their fresh green beens – an experience that I just remembered the other day when I prepared this simple green bean and potato salad. There's something about the smell of fresh green beens, that makes me absolutely happy and content. I'm really glad I like them because I know that for many people, they are simply boring and plain. This salad, however, combines the two veggies that are made for each other – green beens and potatoes. Potatoes have been given a bad rep over the last couple of years, as they are mostly eaten as deep-fried french fries (crisps) or potato chips. The poor little potato has so many great health benefits though. They have amazing blood pressure regulating benefits. It also contains a great amount of the B-Vitamin B6, which is important for many body functions such as cell building, nervous system activity and cardiovascular protection.
Green beens are one of the best foods that support food sustainability because they are grown locally in so many countries – so no import needed for these beauties. Health wise, they are a great source of the mineral silicon, which is much less known than magnesium or calcium, but it is very important for bone health and the formation of connective tissue in our body. They have a great antioxidant content from vitamins such as vitamin C. The area that they really shine in though is phytonutrients like carotenoids and beta-carotene which have amazing health-supportive antioxidant properties.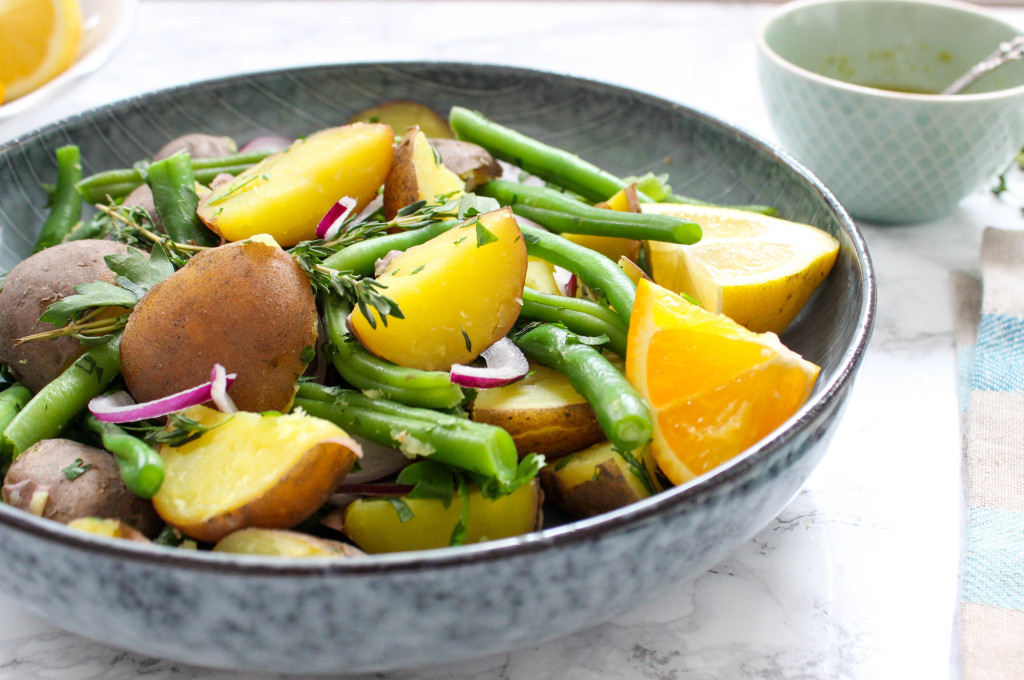 The composition of green beans, potatoes and fresh herbs like thyme and parsley is so simple yet to delicious. The potatoes melt in your mouth while the green beens provide that nice crunchy element. It's all topped with a naturally sweet orange-vinaigrette that rounds this dish up perfectly.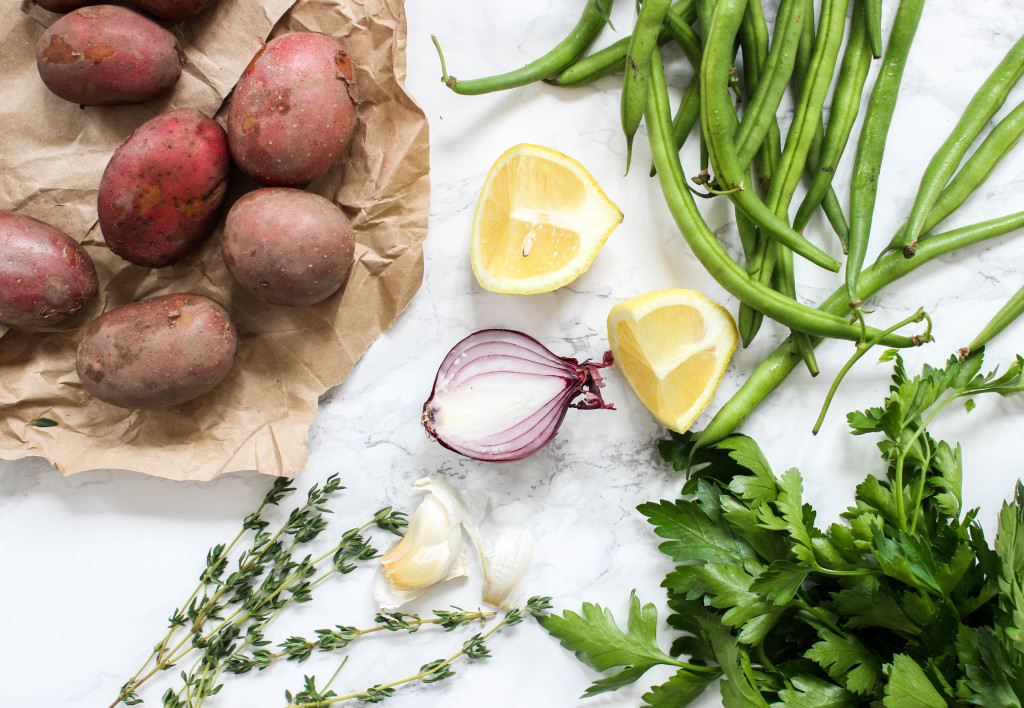 INGREDIENTS: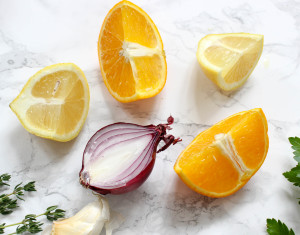 Serves 4:
– 1 pound small potatoes
– 1 pound green beans
– 1 red onion
– 1 handful of parsley
– a few strands fresh thyme
For the orange-dijon-vinaigrette:
– 4 tbsp olive oil
– 1 tbsp apple cider vinegar
– the juice of 1/2 small orange
– 1 tsp fresh lemon juice
– 1 tsp dijon-mustard
– 1 tsp mustard seeds
– 1 tsp honey, maple syrup or agave if vegan
– 1 clove of garlic (optional)
– salt & pepper
METHOD:
Steam your potatoes until they are nicely soft. If you don't have a steamer, then you need to boil them.
To boil the potatoes, place them in a large pot and cover them entirely with water. Bring to a boil and add a bit of salt. Boil them at medium heat for about 10 – 15 minutes depending on the size of your potatoes. Drain them, and let them cool.
Wash the green beans and cut off both ends.
Steam your green beans for about 10 minutes or boil them.
To boil your green beans, place them in a pot and cover them entirely with water. Bring to a boil and add a bit of salt. Boil them at medium heat for about 4 – 5 minutes. Drain the green beans, and rinse them with really cold water or, if you have ice-cubes at hand, place them into an ice-bath for a couple of seconds. Set aside.
Next, chop the red onion, parsley and remove the thyme leaves from the stem.
To make the dressing, roast the mustard seeds in a small saucepan (no oil needed!) for a few minutes until they start to smell. Be careful that they don't burn.
To assemble the dressing, simply mix all ingredients together including the mustard seeds. Mince the garlic for the dressing, if you use it.
Cut the potatoes in halves, or bite-sized pieces if you have very large potatoes. Cut the beans in half.
To assemble, simply place the green beans, potatoes, freshly chopped herbs, red onion in a large salad bowl and add the vinaigrette on top.
Enjoy!