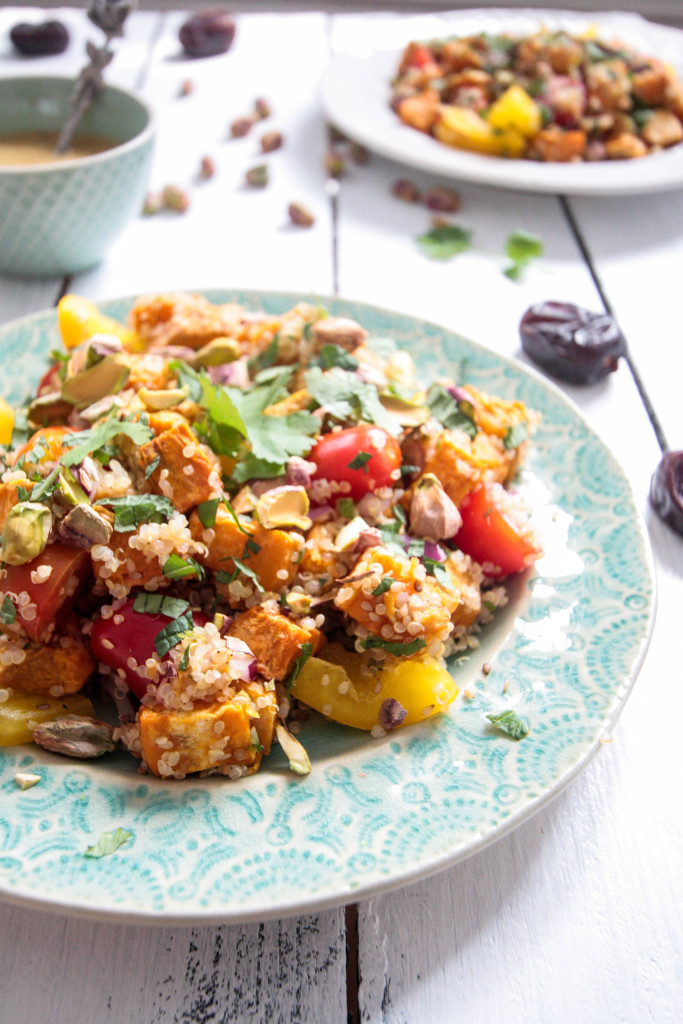 I know I've already posted a sweet potato and quinoa salad before, but this sesame-roasted sweet potato & quinoa salad with date-dijon dressing is completely different in taste and texture than the first one. It's such a great composition that I could eat it all the time these days. It's also really something that you can enjoy all year around as the ingredients aren't really seasonal. I had never tried pistachios in a salad before, but since I made pistachio butter the other day, I still had some left to use. Sprinkling them on top of this salad was the best decision I've ever made, so please don't skip this essential ingredients when you make this salad tonight, which I am very much hoping you will.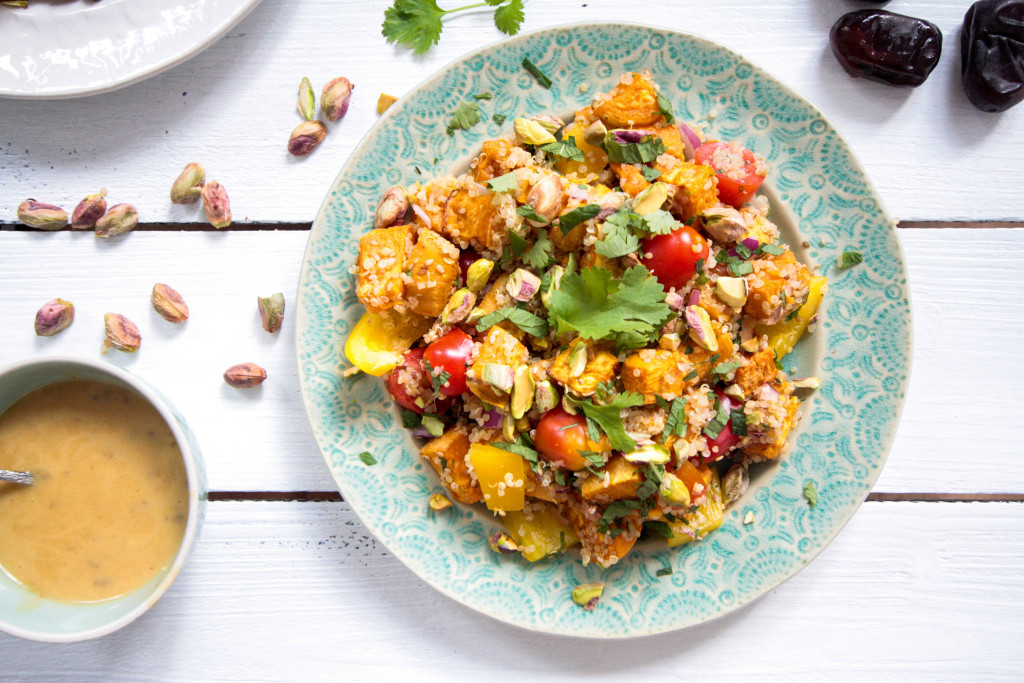 There's something about this salad that I cannot quite put in words yet, but it's definitely a sweet meets savory kind of salad. The creamy roasted and sesame coated sweet potatoes really melt in your mouth where they meet the crunchy and oh-so-fresh garden vegetables. The nutty quinoa combines everything to a powerful protein-rich salad, which is then topped with the most incredible sweet date and dijon dressing. Everything is then rounded up with fresh mint and coriander, and pistachios which add a nice extra crunch. I seriously cannot recommend this salad more, it's fantastic.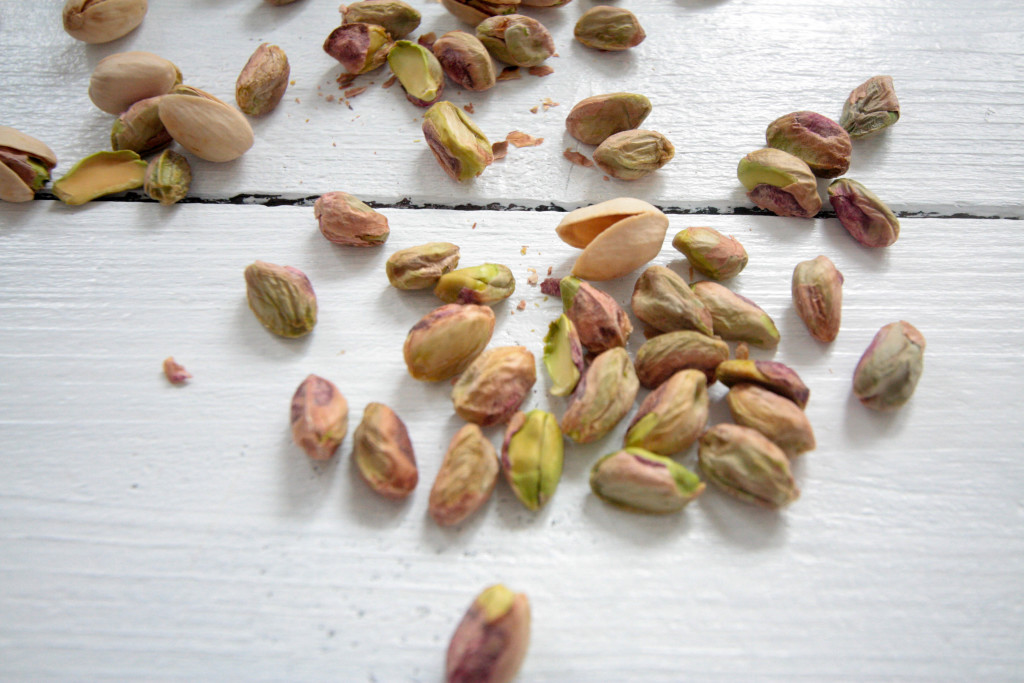 There's so much goodness in this salad that I do not even know where to begin. Sweet potatoes are packed with vitamin A, which is crucial for a healthy vision. Quinoa is probably the most protein-rich "grain" you can find, and the garden veggies are all filled with lots of immunity-boosting nutrients such as vitamin C. If you want to treat your body today, pamper it with this salad. I hope you'll love it!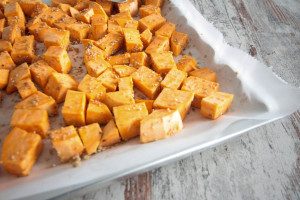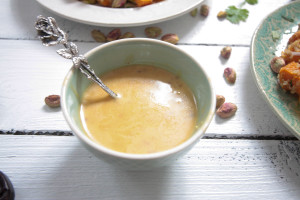 Sesame-Roasted Sweet Potato & Quinoa Salad with Pistachios & Date-Dijon-Dressing
Ingredients
For the salad
2 sweet potatoes (mine weighed 800g)
3 tbsp sesame seeds
2 tbsp extra-virgin olive oil
1 bell pepper
250g cherry tomatoes (about 2 cups)
1 carrot
½ red onion
½ cup of quinoa
a handfull of fresh mint
a handful of fresh coriander
¼ cup of pistachios
For the date dijon dressing
2 medjool dates
2 tablespoons of extra-virgin olive oil
1 thumb-sized piece ginger (about 1 inch)
1 tablespoon of apple cider vinegar or white balsamic
1 tablespoon of dijon mustard (unsweetened please!)
1 teaspoon of sweet paprika
½ teaspoon of cumin (optional)
½ teaspoon of chili flakes (optional)
salt and pepper to taste
Instructions
Pre-heat the oven to 200°C (356° F).
Start by peeling the sweet potatoes and then cut them into bite-sized cubes. Add them to a large bowl, and sprinkle them with two tablespoons of extra-virgin olive oil and the sesame seeds. Mix them well with a spoon until every piece is evenly sesame-coated.
Spread the sweet potatoes on a baking sheet that you've covered with baking paper and bake for 25 - 30 minutes until they become heavenly soft. You may want to check every 5 minutes or so, to avoid burning.
While the sweet potatoes roast, cook the quinoa. Place it in a bowl with about two cups of fresh water and 1 tbsp of apple cider vinegar, bring to a boil and let simmer for about 15 minutes. If you are using red quinoa the cooking time may be a bit longer. You may have to add more water during the cooking process.
While the quinoa cooks, wash and chop the bell pepper into bite-sized pieces. Peel the carrot and chop it into small pieces. You can also grate it if you like. Cut the cherry tomatoes in half and add both to a large salad bowl. Add all veggies to a large salad bowl.
Once the quinoa is ready, drain any remaining water and add it to the salad bowl.
To make the dressing soak the dates (stones removed) in water for about 10 minutes. Place 2 tablespoons of the date water into a food processor or strong blender and add the dates and all the remaining ingredients. Blend well until you have a smooth dressing. Add more date water if your machine is not strong enough.
Once the sweet potatoes are heavenly soft, remove them from the oven and add them to the salad bowl.
Sprinkle with fresh coriander, mint and crushed pistachios.
Enjoy!
---
DID YOU MAKE THIS RECIPE OR HAVE ANY SUGGESTIONS, QUESTIONS OR COMMENTS?
Feel free to leave a comment below, and don't forget to tag your creations on social media using #heavenlynnhealthy.
I'd love for this blog to be a dialogue.
---