Green Superfood Smoothies are the perfect invention for hot summer days. I find it very hard to eat a full meal when it's above 28°C outside, especially when it's humid, so I found that smoothies and especially green smoothies are a great way to start the day. They provide you with some much needed nutrients that you lose due to sweat, and they fill you up for a couple of hours.
This one uses mainly seasonal ingredients which you will definitely get at this time of the year. It's also boosted with some superfoods that provide your body with an extra touch of much needed goodness on hot summer days. It's loaded with vitamin C from the peach cantaloupe, which helps your body fight free radicals and strengthens the immune system so you won't be too prone to getting a summer flu. The potassium in the banana keeps the blood pressure in a normal range and helps maintain a healthy heart function. It also prevents muscle cramps and injuries, which is great for athletes and active people.
Spinach is of course one of the best greens you can put in a smoothie, because it is loaded with vitamin K, which is needed for blood clotting and maintaining healthy bones. It's also a wonderful source of vitamin A (in the form of carotenoids) which is an amazing antioxidant power house that protects or eyes and vision.
Hemp seeds give this smoothie a great protein boost as well as many beneficial nutrients. The little seeds are rich in healthy omega-3 fats, which help prevent heart disease, and lower cholesterol and blood pressure. They are also bursting with fiber, which keeps you satisfied for hours and prevents your blood sugar level from spiking. Another great benefit is the amount of magnesium it contains. Magnesium is very important for a healthy nervous system, muscle function and energy productions. 
You see, you can't go wrong with this smoothie. Try it tomorrow as a smoothie bowl topped with some more fresh fruit or granola and you'll start the day nourished and healthy.
Ingredients:
Serves 2:
– 1 peach (about 100g)
– 1 banana (125g)
– 1 cup honey dew or cantaloupe (100g)
– 1/2 avocado flesh
– 1/3 cucumber
– 1 handfull fresh baby spinach
– 1 handful fresh mint leaves
– 3/4 cup coconut water (185ml)
Toppings:
– 1 tsp hemp seeds
– 1 tsp chia seeds (optional)
Note:
If you're new to green smoothies then try sprinkling only a few of the chia and hemp seeds onto your smoothie. Since your bowel system is not used to digesting so much food at once, it may happen that your digestive track will rebel against this nutrient bomb.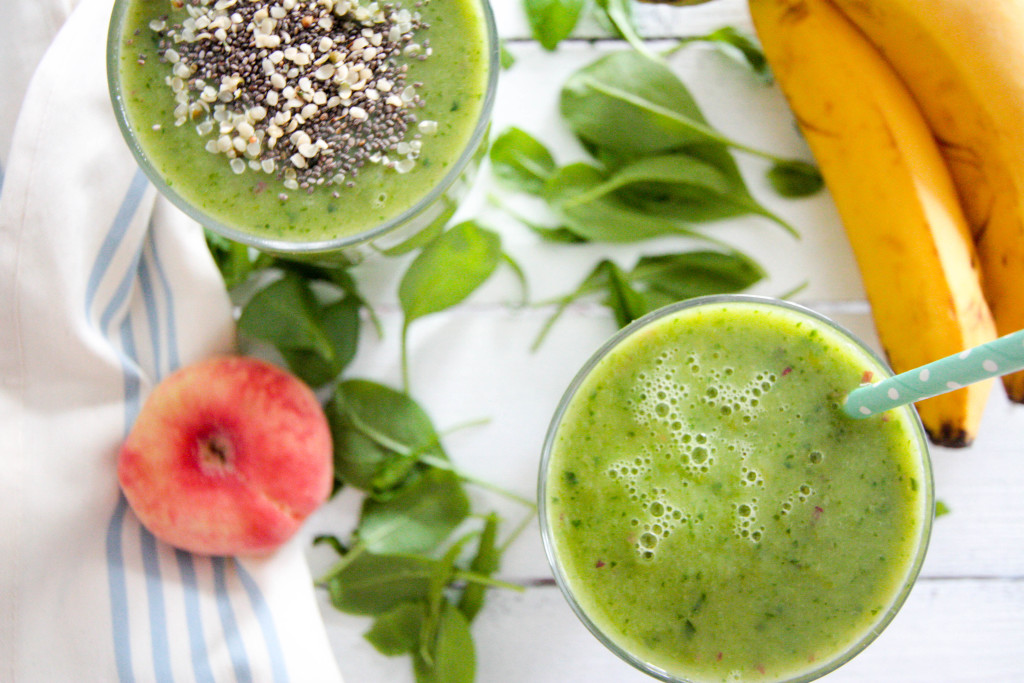 Remove the stone from the peach and peel the banana. Blend the coconut water with the spinach and mint leaves. Add all the other ingredients except chia seeds to your powerful blender and blend until smooth. Serve immediately and sprinkle some chia seeds on top.
You can also enjoy it as a fresh smoothie bowl topped with fresh granola or fresh berries.
Serve immediately and enjoy!