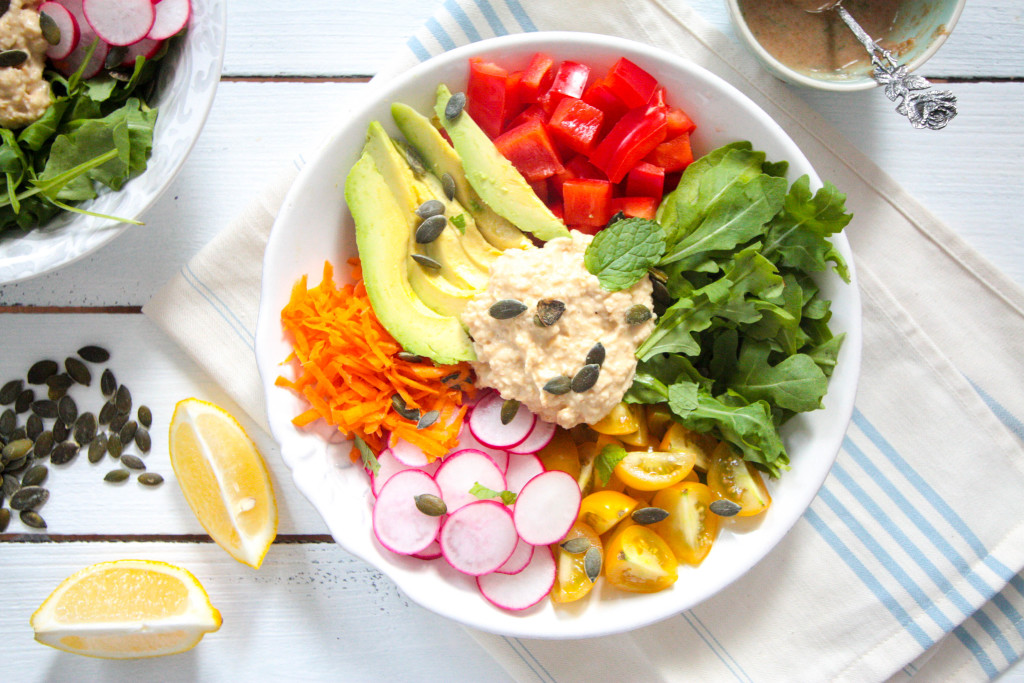 This is the easiest lunch bowl ever and the most nourishing too. It only takes a couple of minutes to prepare and you can easily box it and take it to work. If you have this rainbow bowl of goodness for lunch, then I guarantee you that you won't hit the 2 o'clock low , because this salad, with all it's vitamins and minerals, will let you feel amazing and energized all afternoon.
The red bell pepper, carrots and tomatoes are my favorite vegetables as they are so sweet and crunchy. The avocado and hummus add the most amazing creaminess as well as important fats and protein to keep you satisfied for hours. The dressing is my absolute favorite because it's a creamy yet fresh blend of tangy tahini and fresh mint leaves, combined with a sprinkle of lemon juice. Tahini is one of my favorite ingredients for a creamy dressing because it is packed with vital nutrients. It a great source of protein, and it actually contains even more protein than nuts. Tahini is also rich in minerals such as magnesium, potassium and iron which are all essential for healthy body functions including normal blood pressure and the transportation of oxygen.
You can of course change the recipe a bit and add whatever vegetables you still have in your fridge. If you don't have or like rocket, then spinach or any other green leaf is fine.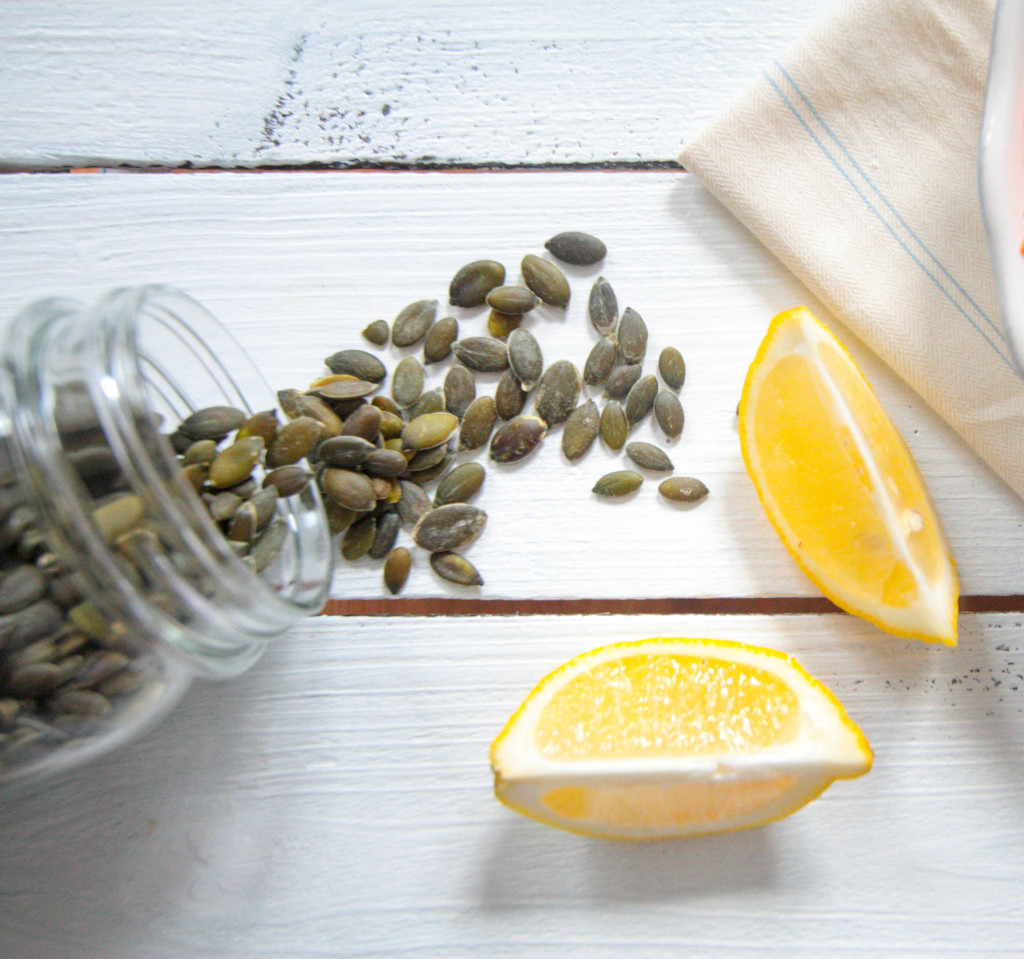 For this recipe you'll need either classic hummus or roasted beetroot hummus.

Hummus Salad Bowl with Tahini-Mint-Dressing
Ingredients
two large handful rocket (arugula)
1 red pepper
1 avocado
2 carrots
2 handful (250g) cherry tomatoes
about 6-8 radishes
2 big spoonful of hummus
1 tbsp pumpkin seeds
For the tahini-mint-dressing:
1 tbsp extra-virgin olive oil
1 tbsp apple cider vinegar
1 tbsp tahini
1 lemon
1 handful of fresh mint
½ tsp paprika
½ tsp cumin
salt and pepper
Instructions
Peel and grate the carrot and chop the red bell pepper and the cherry tomatoes into small cubes. Cut the avocado in half and scoop out the flesh with a spoon, removing the stone. Cut the flesh into small cubes.
Next, wash and dry the rocket and assemble everything into a salad bowl.
Add a generous amount of hummus right in the middle of the salad.
To make the dressing simply wash and dry the mint leaves before finally chopping them. Combine them with all the other ingredients and whisk with a fork until smooth. You can make more of the dressing but I feel like this amount is enough for two salad bowls, because the hummus already combines everything really well.
Drizzle the dressing on top of the salad bowl and sprinkle with some pumpkin seeds.
Enjoy!