Oh how I love these summer smoothie popsicles. They are the perfect treat in the summer because they are so packed with incredible goodness. I do not even know where to start when describing them – every single flavor tastes so heavenly, that I don't think that anybody would not like them. When I made these, I couln't decide on just one flavor, so I made three: blueberry acai, mango coconut and classic strawberry. They are all so refreshing and hydrating which makes them the best summer treat. The popsicles are basically frozen smoothies which is such a great way to intake your daily dosis of vitamins and nutrients in a creamy and delicious for. They also last forever when stored in the freezer so you can totally make a whole bunch of them right now and always have something exciting waiting for you at home during the next three months of hopefully warm and beautiful weather. The smoothie popsicles are also incredibly easy to make.
All you need is a semi-strong blender or food processor, the one you would normally use to make smoothies. I promise you that you won't be disappointed in them. The only thing that I might need to add is that there's banana in all of them. That's because I absolutely adore banana ice-cream, and because bananas are an incredibly healthy and natural sweetener. If you don't care so much for bananas, then you can totally leave them out by increasing the amount of blueberries, mango or strawberries. You will also need to increase the amount of coconut milk accordingly, so you get the same creaminess.
Ingredients:
Each flavor makes about 4 or 5 lollies depending on the size of your mold
Blueberry Acai:
– 1 Banana
– 1 cup (120g) of blueberries
– 1 tsp acai
– 1 tbsp water
Mango-Coconut
– 1 Mango
– ½ banana
– 4 tbsp coconut milk (the full fat kind)
– 2 tbsp water
Classic Strawberry
– 1 Banana
– 1 ½ cups of fresh strawberries
– 1 tbsp coconut milk (the full fat kind)
– 1 tbsp water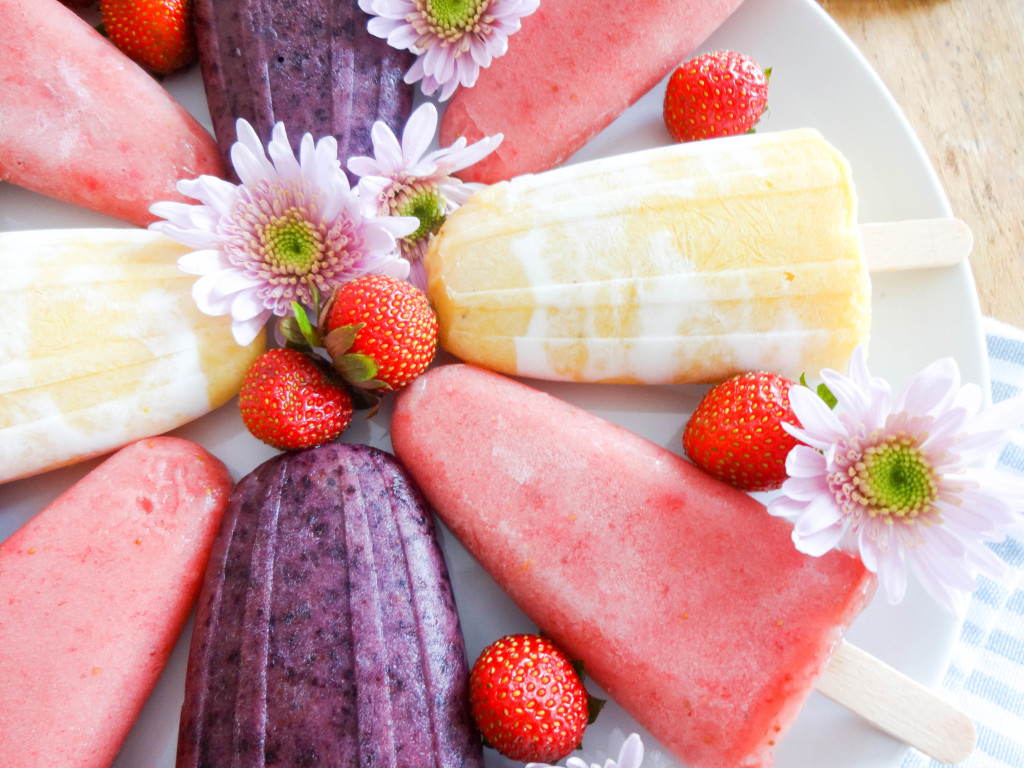 To make the smoothie lollies simply place all the ingredients for one flavor into your blender or food processor and blend until it smooth. Pour the smoothie into your popsicle or ice lolly mold* and freeze them for at least 6 hours. The great thing about this recipe is that you can enjoy left-over smoothie "dough" right from the bowl.
In order to remove the lollies from the mold, just place them under running warm water in your sink for a few seconds. They should then come off easily.
Enjoy and happy summer!
*Affiliate-Link: When you purchase the ice lolly molds through this link, I get a small reward, which will help me cover the costs for running this blog. There's not higher cost for you when you make the purchase through this link.
xo Lynn