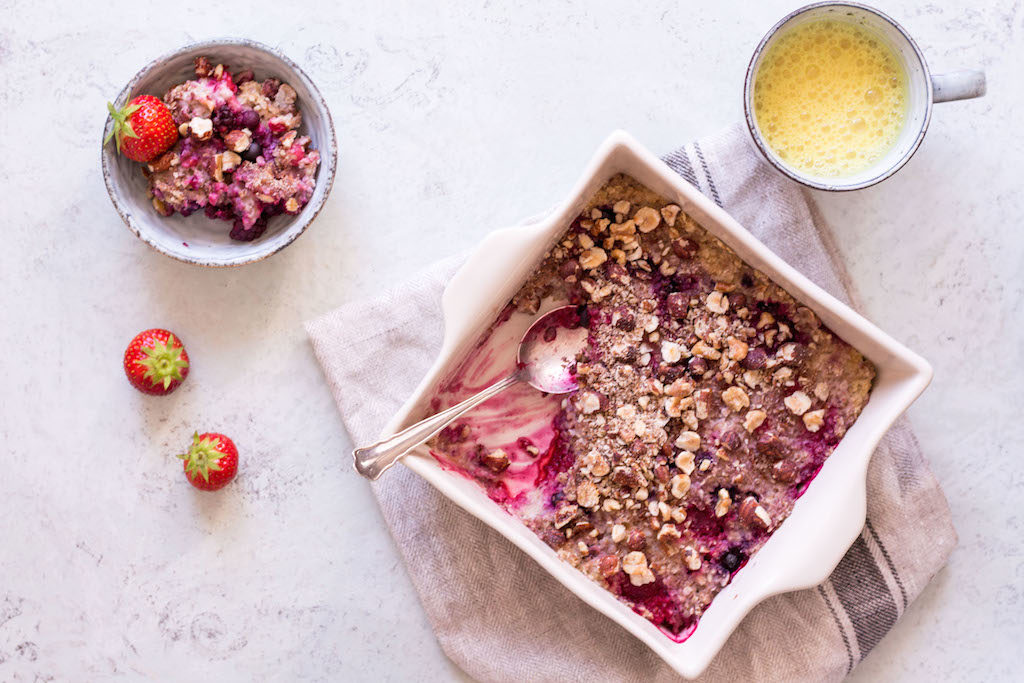 If you live in Germany like me, then you know that summer is once again being a diva over here. It's been a typical northern European summer this year: lots of rain, wetness, cold and only occasional peaks of sunshine. I was lucky to be able to spend the last two weeks in Austria with the most beautiful weather, but coming home was such a disappointment weather-wise. I did not feel like cold smoothies at all these past mornings, and I even felt like making oatmeal for breakfast. Instead, I chose this summer baked berry oatmeal, which is a nice change from my usual healthy bircher muesli in the morning. It's so nice to eat something warm for breakfast, without feeling like it's already fall or winter.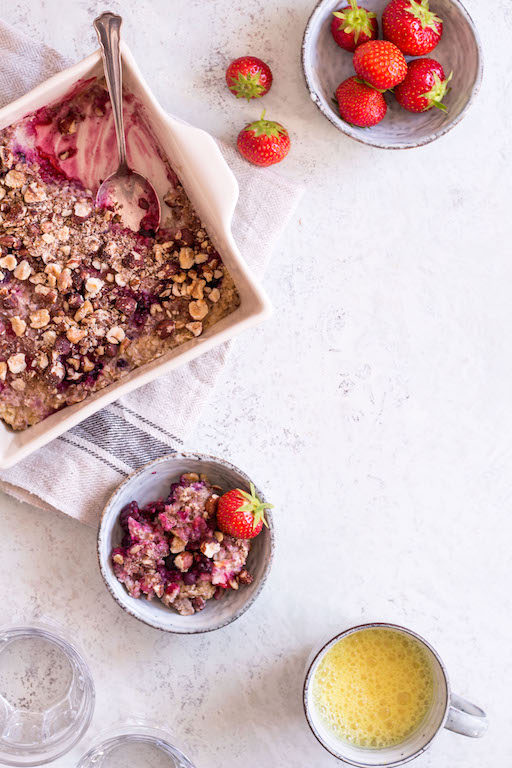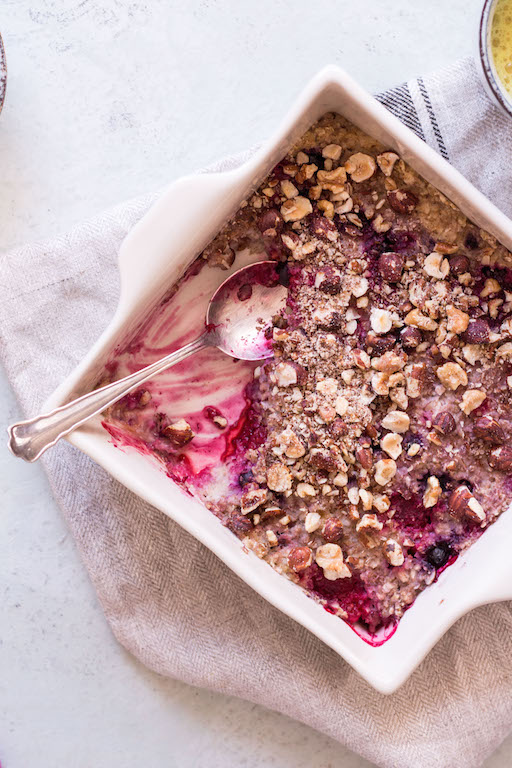 Baked oatmeal is nothing less than, well, baked oatmeal. Instead of eating it straight from the saucepan, you add all ingredients to a baking dish, cover it with nuts and more berries and put it into the oven for a few minutes. So basically it's like a hybrid between oatmeal and crumbles. There's not much sugar in this baked berry oatmeal, as sweet, local berries are in season right now, so it's a healthy and wholesome breakfast option that keeps you satisfied for many hours.
Berries are my favorite reminder that it's actually summer, even though the weather here tells me otherwise. They are the best antioxidant boost, protecting your body from free radical damage and chronic diseases. If you pair this oatmeal with my current favorite turmeric latte, then your body is really in for a treat.
Have you ever tried baked oatmeal? What's your favorite flavor combination?

Baked Berry Oatmeal
Ingredients
½ cup (90g) of (certified gluten free) oats
1 cup (100g) of mixed berries (e.g. blueberries, raspberries, blackberries)
¼ cup (30g) of mixed nuts (I like walnuts and hazelnuts)
⅓ cup (80ml) of unsweetened almond milk
1 teaspoon of cinnamon
¼ tsp of ground vanilla
1 teaspoon of honey (use rice or maple syrup if vegan)
a pinch of sea salt
Instructions
Pre-heat the oven to 180°C.
Place the oats in a saucepan and cover them with 1 cup (250ml) of boiling water. Let them soak for about 10 minutes. While the oats soak, roughly chop the nuts.
Once the oats have absorbed the water, add the mixed berries, almond milk, and honey (or syrup of choice), and give it a stir.
Place all the ingredients into a baking dish that you greased with coconut oil (or aligned with baking paper). Sprinkle the nuts on top, gently pressing them into the oatmeal using a spoon.
Bake for 20 - 25 minutes until the top has browned. Watch the oatmeal carefully while baking, you might need to cover it with aluminum foil after 15 minutes so the nuts on top do not burn.
Enjoy with additional berries (I love it with fresh strawberries) or a big dollop of coconut yoghurt.
Enjoy!
---
DID YOU MAKE THIS RECIPE OR HAVE ANY SUGGESTIONS, QUESTIONS OR COMMENTS?
Feel free to leave a comment below, and don't forget to tag your creations on social media using #heavenlynnhealthy.
I'd love for this blog to be a dialogue.
---