4Summer is for salads, so I thought I'd show you my go-to summer salad this season: my tamari sautéed mushroom salad with mole dressing. I have been playing around with chocolate in my food a lot lately, I love adding cacao nibs to my breakfast granola, in chilis such as this buckwheat chili, and recently I have become a real fan of chocolate dressings. Don't worry, this salad does not taste like a sweet dessert at all, the chocolate flavor rather complements all the ingredients. Combined with the saltiness of the tamari sautéed mushrooms, and the sweetness of the tomatoes, this is a salad that everyone in your household will love.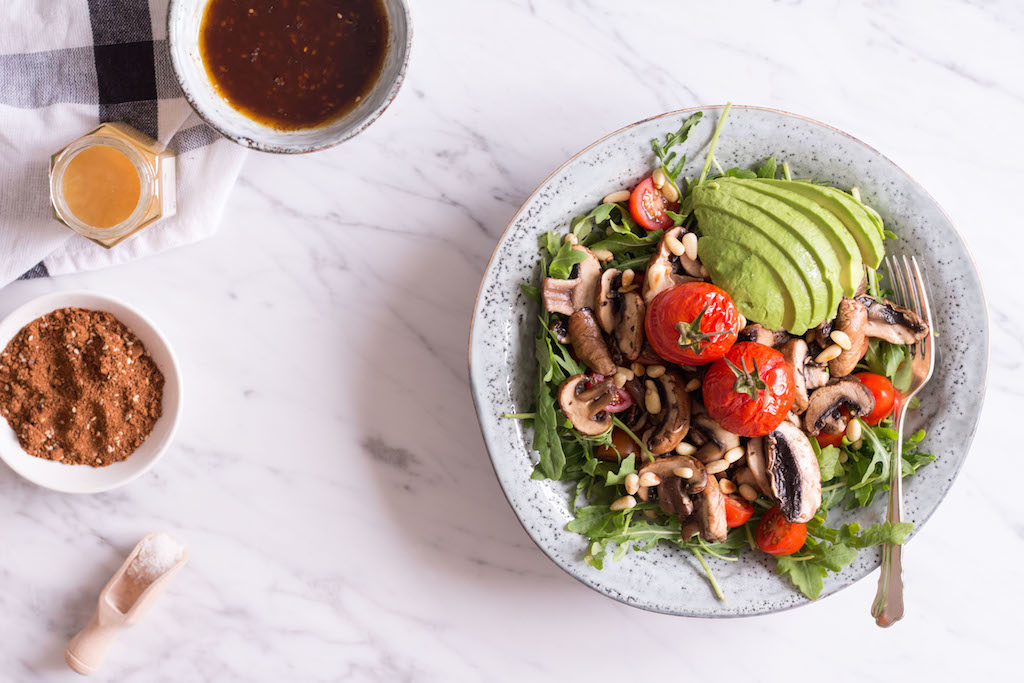 I created this tamari sautéed mushroom salad with mole dressing for Delinero*, a German online delivery store, who asked me to get creative with some of their ingredients. Since I love discovering new things for the kitchen, I spend hours in their highly exclusive store, before deciding on ingredients for a new recipe. What instantly caught be eye was their raw honey selection. Since honey is kind of a difficult topic, I thought I'd take this opportunity to talk a little bit more about raw honey and its benefits in this post.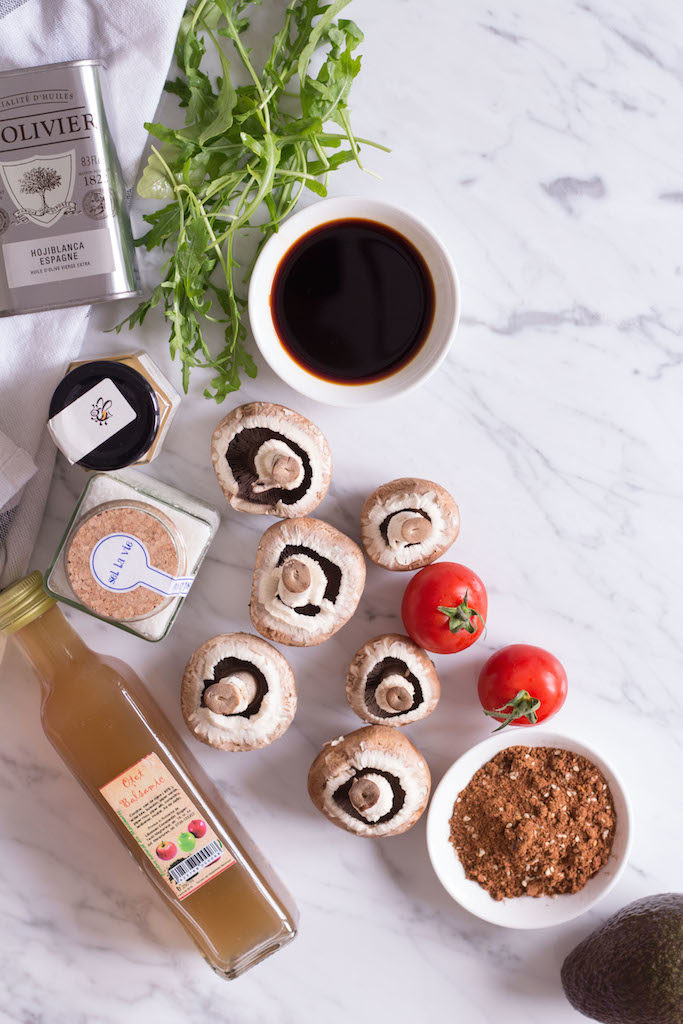 Why should you consume raw honey?
The answer is easy. Raw honey still contains all the enzymes and nutrients that turn it into the antibacterial superfood that it is often claimed to be. However, if you go into most supermarkets, you'll find cheap, refined honey, which is basically just pure fructose with a little bit of colorants to make it look like honey. This honey, which usually comes in the form of plastic bears, is also often full of antibiotics, which is something you absolutely do not want on your dinner table. Of course any kind of honey contains large amounts of fructose, and it is definitely not a low calorie substitute for sugar and should be eaten in moderation. But I love using honey in my recipes, as I believe it's much tastier than sugar and comes with some health benefits that table sugar has never heard of.
  
What are the benefits of raw honey?
Raw, cold extracted honey contains a number of nutrients such as calcium, magnesium, iron and zinc. Of course the amount of these nutrients is minimal, as you cannot eat large amounts of honey, but honey is proven to have antibacterial properties, and is even used to cure wounds. There is a reason why our grandparents and parents gave us tea with honey when we were sick as kids, there's nothing better for a sore throat. My personal favorite is to use honey as a lip balm for sore lips. Just apply it at night before you go to bed and you'll wake up with heavenly smooth lips in the morning (if you don't lick it off immediately).
Besides from choosing the raw honey, I also ordered a delicious extra-virgin olive oil, some herb infused apple cider vinegar and the cutest little sea salt box, which I think is the perfect gift for your next dinner party host. I am especially in love with the little wooden spoon that comes with it, since I am a sucker for these little details. I was super content with the delivery, and amazed by the delivery time of just one day. Therefore, I could not recommend Delinero* more. If you don't live in Germany, then you can of course use any other raw honey, olive oil or apple cider vinegar.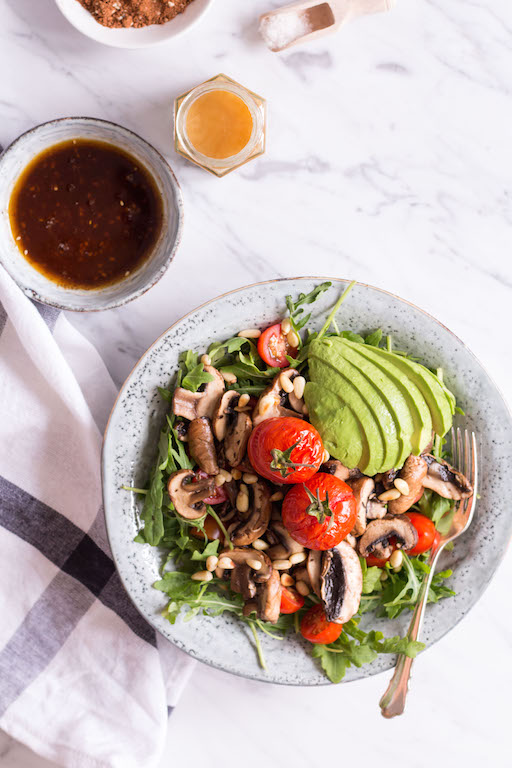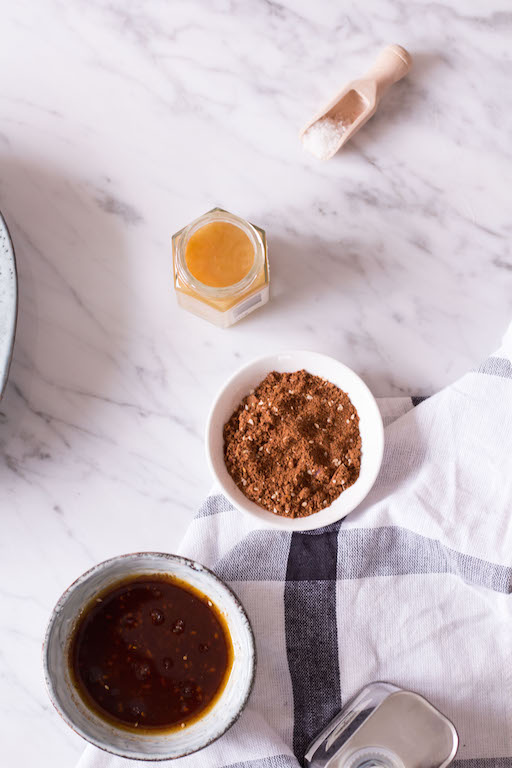 Now on to this tamari sautéed mushroom salad with rocket and mole dressing. It is A-M-A-Z-I-N-G. Haha, seriously, you're going to love the mixture of spices, the savory flavor of the mushrooms, and the dressing is simply divine. Obviously you can play around with the fresh ingredients in this the salad. I think roasted sweet potatoes or red bell peppers would go really well with it, too. I have a spice mix for mole in my cupboard, which you should be able to get at well-sorted supermarkets, but for those who cannot find a mole spice mix, I've added a recipe below.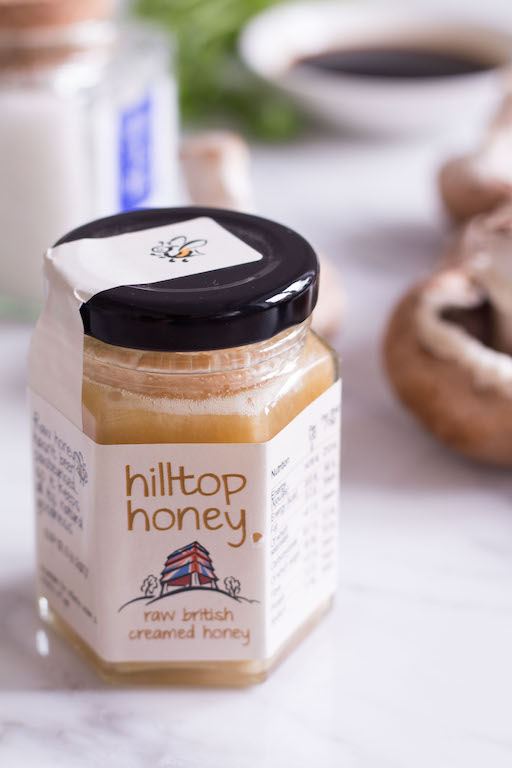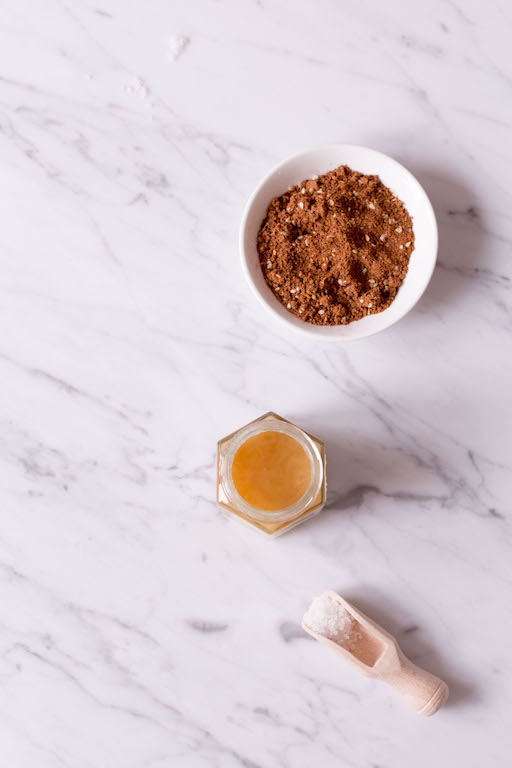 Tamari sautéed mushroom salad with rocket and honey mole dressing
Ingredients
For the salad
2 handful of fresh rocket (arugula)
about 8 large brown mushrooms (300g)
2 tablespoons of tamari (or soy sauce)
2 cups (about 200g) of cherry tomatoes
2 tablespoons of pine nuts
4 mid-sized tomatoes with the greens
For the dressing:
3 tablespoons of extra-virgin olive oil
2 tablespoons of apple cider vinegar
1 teaspoon of mole spice, see below
1 teaspoon of raw honey
½ teaspoon of cinnamon
½ teaspoon of paprika
a pinch of salt
a pinch of pepper
a pinch of cayenne pepper
For the mole spice mix:
1 tablespoon of raw cacao powder, or regular cocoa
1 tablespoon toasted sesame seeds
½ teaspoon of chili flakes
1 teaspoon of cumin
½ teapoon all spice
½ teaspoon of vanilla powder
¼ teaspoon of ground anise
¼ teaspoon of ground cloves
Instructions
Pre-heat the oven to 180°C.
Wash and dry the vegetables. Cut the cherry tomatoes in half, and slice the mushrooms. Combine all ingredients for the dressing in a small bowl and whisk with a fork. Mix the mole spice in a separate bowl and store in an airtight container. Set aside.
Place the mid-sized tomatoes into the oven and roast them for about 10-15 minutes, until they start to wrinkle.
Heat the pine nuts in a small saucepan without oil for about 3 - 4 minutes or until brown. Watch them carefully, as they burn quickly. Set aside.
Now heat the mushrooms in a saucepan without oil on high heat. Reduce the heat once they start to release their moisture. Now add the tamari and sautée the mushrooms for about 5 minutes.
Place the rocket onto two salad plates, add the cherry tomatoes, tamari sautéed mushrooms and roasted tomatoes, and sprinkle the salad with the pine nuts. Finally pour the dressing on top and serve immediately.
Notes
If you don't have all the ingredients for the mole spice mix in stock, then simply use raw cacao powder in the dressing. It will taste just as delicious.
Enjoy!
---
DID YOU MAKE THIS RECIPE OR HAVE ANY SUGGESTIONS, QUESTIONS OR COMMENTS?
Feel free to leave a comment below, and don't forget to tag your creations on social media using #heavenlynnhealthy.
I'd love for this blog to be a dialogue.
---
*This is a sponsored post by a brand I trust, the online shop Delinero.de. All opinions are my own. Thank you for supporting the brands that make hour-long recipe testings in the Heavenlynn Healthy kitchen possible.