Warm and nutritious carrot cake oatmeal to add more veggies to your breakfast bowl. 
Hello veggie lovers! I realized that I did not eat enough veggies last week, so I tried something totally new and crazy: veggies for breakfast. Being German usually means that I enjoy a sweet breakfast more than a savory, so I never really thought about adding vegetables to my morning oatmeal. Until the other day, when I had some grated carrots left from the salad I had the night before. I simply added them to my oatmeal with some cinnamon, cardamom, ginger, honey and toated walnuts, and I was in carrot cake heaven!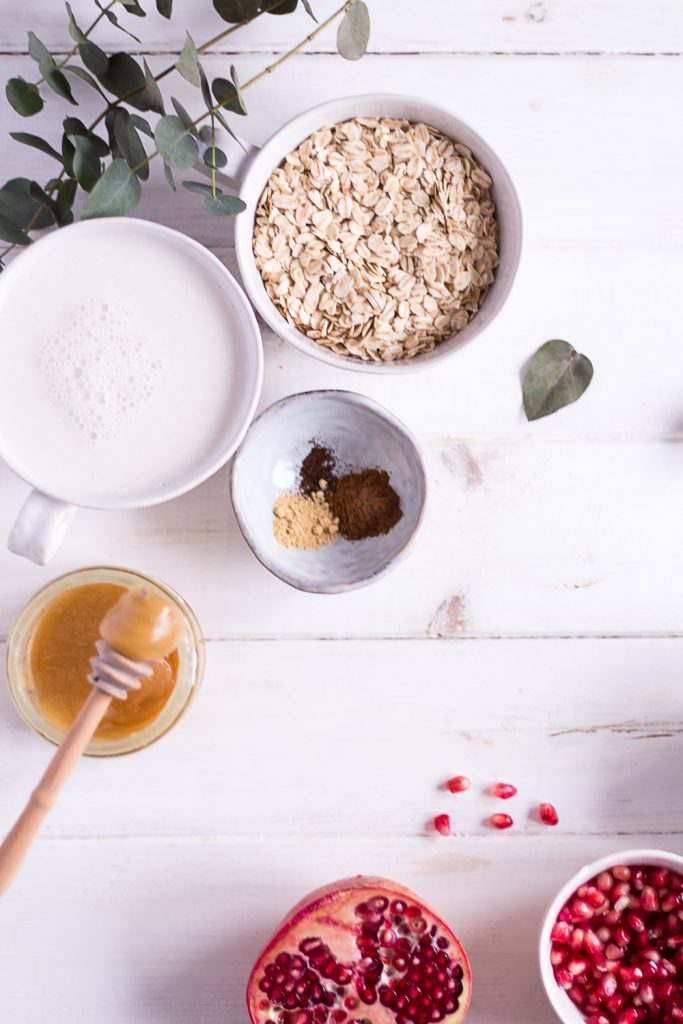 I never knew that vegetables for breakfat tasted so amazing!
Having carrots for breakfast is also extremely healthy. They are a great beta carotene source, a Provitamin that is turned to Vitamin A in the body. Vitamin A is vital for a healthy vision and an overall healthy immune system. Adding some grated carrots to your oatmeal is an easy way to increase your beta carotene intake already early in the morning.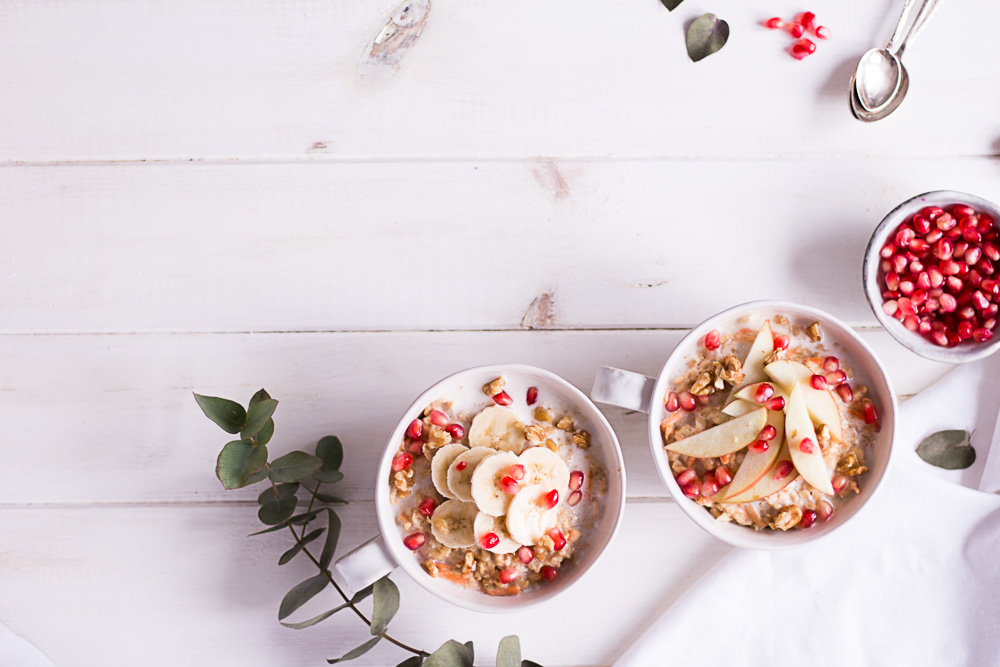 This Carrot Cake oatmeal is also the easiest thing in the world. All you need to do is add your grated carrots to your oats, almond milk and a few of spices and let it cook for a couple of minutes. The carrots add a lovely sweetness to the oatmeal, and literally make your breakfast taste like carrot cake. Carrot cake is probably my all-time favorite cake in the entire world, so there you go. You're very welcome that you now have an excuse to have cake for breakfast that even strengthens your eyesight.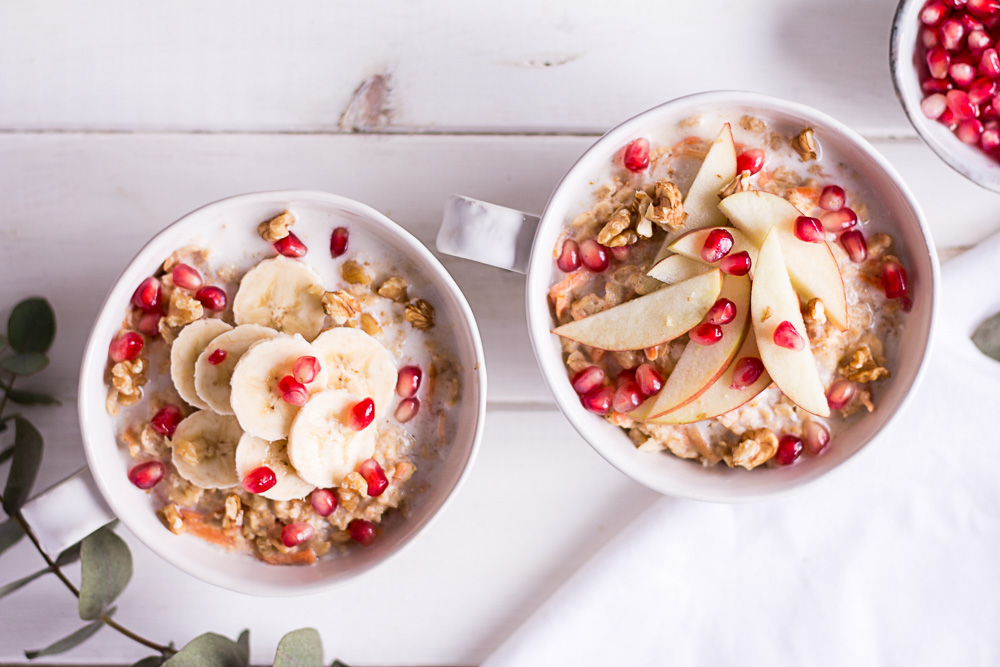 This recipe is all new in my column over at "Ohhh….Mhhh" one of my favorite lifestyle blogs. If you're a German lover or like to see how my recipes look on another blog, feel free to check out Steffi's blog and my column.

Carrot Cake Oatmeal
Ingredients
For the carrot cake oatmeal:
1 cup (125g) of grated carrots
1 cup (100g) of (gluten free) old-fashioned oats
1 ½ cups (360ml) unsweetened almond milk
1 tablespoon of honey (or maple syrup if vegan)
1 teaspoon of cinnamon
¼ teaspoon of ginger
a pinch of ground cardamom
a pinch of vanilla powder
a pinch of sea salt
the juice of ½ orange
the zest of ½ orange
Possible toppings:
a handfull of toasted walnuts
a handful of raisins
a handful of coconut flakes
pomegranate seeds
banana or apple slices
Instructions
Finely grate the carrots. They should be as thin as possible.
Add the oats, almond milk and carrots to a pot and allow it to cook for about 5 minutes, or until bubbly.
Add the spices and orange juice and stir frequently. If it gets too dry, add more orange juice or almond milk.
Finally add the honey or maple syrup if desired.
Crush the walnuts lightly and toast them in a small saucepan without oil until they turn slightly golden brown.
Pour the carrot cake porridge into two bowls and garnish with the the toasted walnuts, banana slices, raisins and coconut flakes.
Enjoy!
---
DID YOU MAKE THIS RECIPE OR HAVE ANY SUGGESTIONS, QUESTIONS OR COMMENTS?
Feel free to leave a comment below, and don't forget to tag your creations on social media using #heavenlynnhealthy.
I'd love for this blog to be a dialogue.
---