Roasted Red Bell Pepper Hummus and a little life update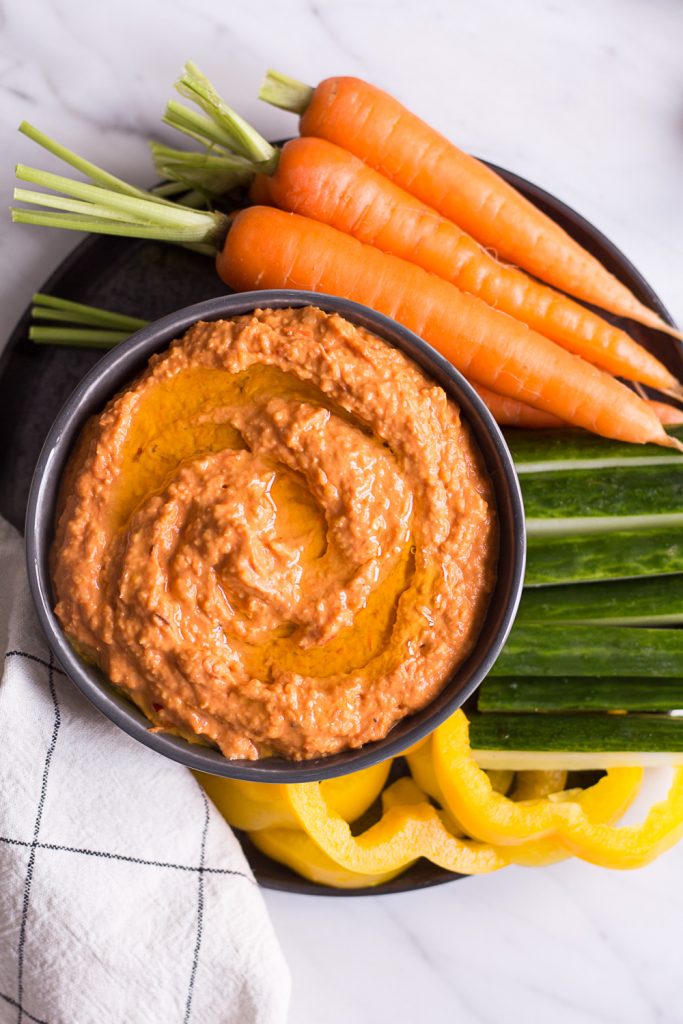 Guys, I have a confession to make. I am completely done with the world these days. Besides my Master studies, my studies to become a holistic health coach and another secret project, we are currently moving into a new apartment, and I am completely exhausted. I know, I know, this blog is supposed to be a happy place, and I do not want to complain, but I just had to tell you that I'm not feeling all that great these days. It all came down on me last Saturday at IKEA. When I was trying to configure my new PAX closet. The tears just kept coming and I think I had a litte meltdown there for a moment.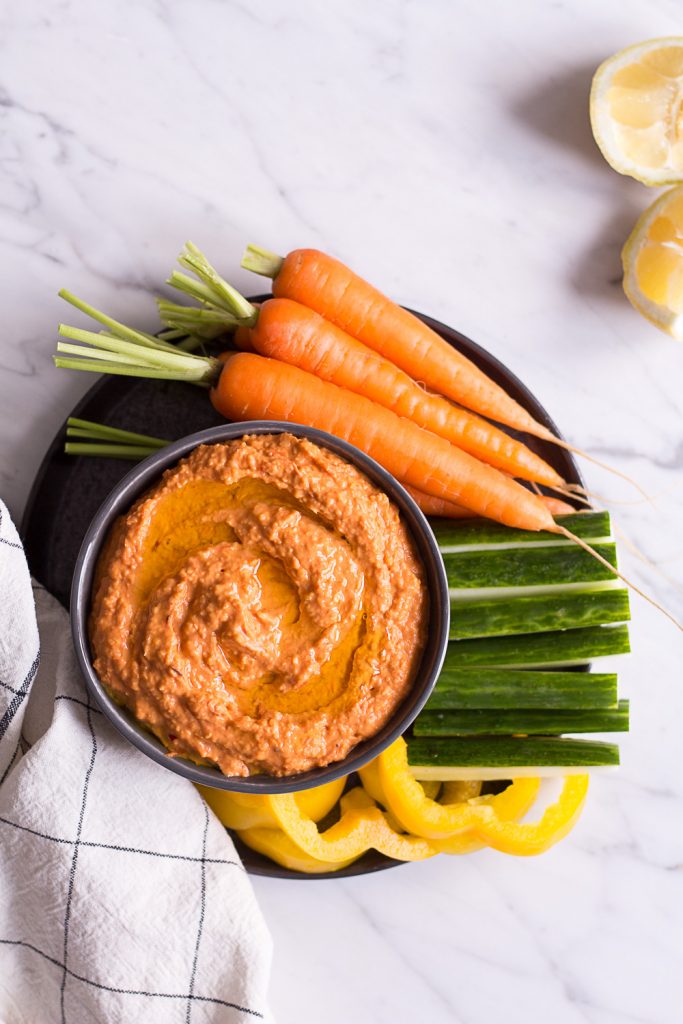 I do not want your pity, guys, because I know that all of have to go through tough times. It's not always sunshine and rainbows, and it's ok not to be o.k. all the time. I am not suffering from any serious problems, I just needed a moment to let it all out, because it feels so good to talk about your emotions and not have to pretend there for a moment. For me, making decisions is always tough. I hate making decisions. They force me to be a grown-up, and being a grown-up is freaking hard.
Besides my dislike to make decisions, I have also been struggling to eat well these past few weeks. I have always been honest with you that I do not eat healthy all the time, and I will continue to tell you this, because it's the truth and I do not want you tot hink that I am all perfect when it comes to healthy eating. In my opinion, balance is the key, even if some health coaches strongly disagree with this opinion. While Jannis and I were painting our new apartment, there was more than one pizza involved. There was non-vegan chocolate, beer and even a kebap involved. Yup, you heard right. I do not want to promote this kind of eating, but it's my reality sometimes. What's important to note is that there will be healthier days once we've fully moved in again. Lots of healthy and happy days in this new apartment.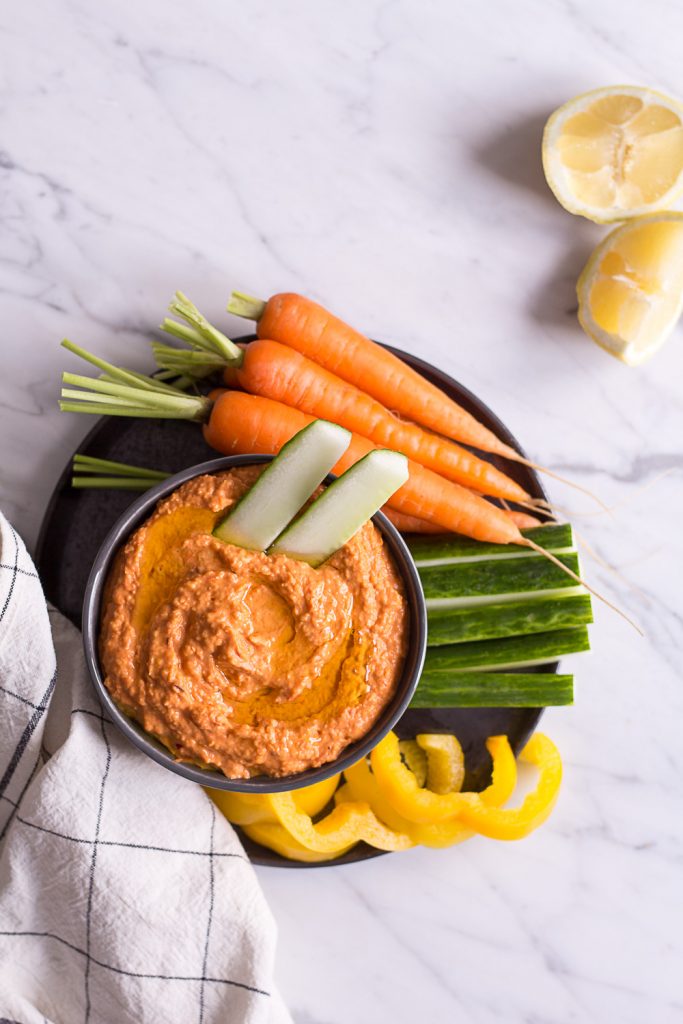 Why am I telling you all this? Because I want you to know that it's ok not to be perfect. It's ok not to eat healthy all the time, it's ok to miss workouts, it's ok to admit that something is not right. There is no shame in admitting that we are feeling a little down at the moment. There will be better times when you can whip up all the healthy dishes in your kitchen after a sweat-drenching HIIT workout. But sometimes, we cannot be all healthy, all grown-up, mature and functioning at the same time.
After days of bad food, I finally took the time today to make a delicious roasted pepper hummus that Jannis and I will be feasting on this week while packing, DIYing and getting ready for the final move date this weekend. It will probably be the last recipe that I will have shot in my old apartment, which already makes me feel very sad, but also excited for the things to come. I cannot wait to show you our new home.

Roasted Bell Pepper Hummus and a confession
Ingredients
2 red bell peppers
2 cloves of garlic
1 400g (about 15-ounce) can of chickpeas
2 tablespoons of tahini
3 tablespoons of extra-virgin olive oil
1 lemon
1 teaspoon of sambal oelek (optional)
2 tablespoons of water, more if needed
a pinch of sea salt and pepper
Instructions
Cut the bell peppers in half, remove the stem and seeds and place them face-down on a baking tray aligned with baking paper. Add the garlic cloves, drizzle some olive oil on top and roast everything at 400°C for 30 minutes.
Place the tahini and olive oil in a food processor or mixer and mix well for about a minute. This will make the hummus extra fluffy. Add the roasted bell peppers and mix until smooth. Add the juice of the lemon, the chickpeas, sambal oelek, sea salt and pepper and blend until smooth. Depending on the strength of your food processor or mixer, you might need to add some water. Add it one tablespoon at a time until you reach the desired texture.
Enjoy!
Merken