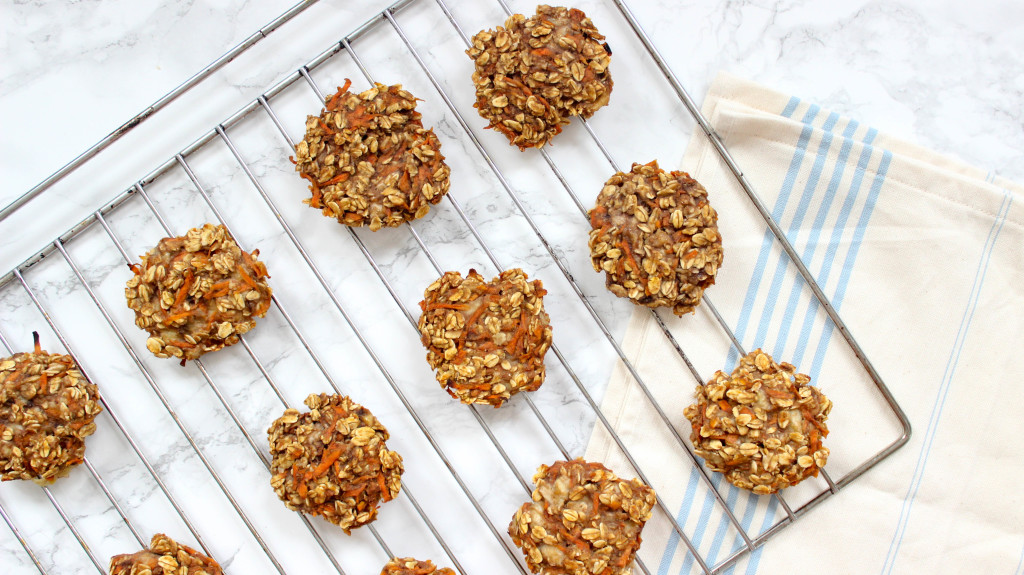 These cookies are simply heavenly. My kitchen has been smelling like fall and even a little bit like Christmas when I made these, and I absolutely loved the outcome. Usually it takes a few attempts to perfect my recipes, but this one needed no more alteration – the cookies tasted amazing. When my boyfriend tried these the first time, he stopped chewing and looked at me with the most adorable puppy eyes and said: "Love really does go through the stomach". Just a little side note to tell you how much he loved them. We caught each other walking back to the kitchen that day several times, and in less than 24 hours we had finished the first batch.
So even if it is not quite fall yet, and summer show off with a little come-back, I could not withhold this recipe from you. Consider it as my fall-welcoming recipe.
The recipe is also so simple that everyone can do it. No fancy or expensive superfoods needed. Just oats, carrots, bananas, apple purée, honey and some nuts if you like. And that's it. Really. No flour, eggs or sugar needed.
What I love about this recipe is that it only uses real, whole foods that you can get at any supermarket, and that it only takes a few minutes to prep. There are so many nutrients in these cookies that they also make for a healthy quick on-the-go breakfast. Now if that isn't a good enough reason to make these, I don't know what is.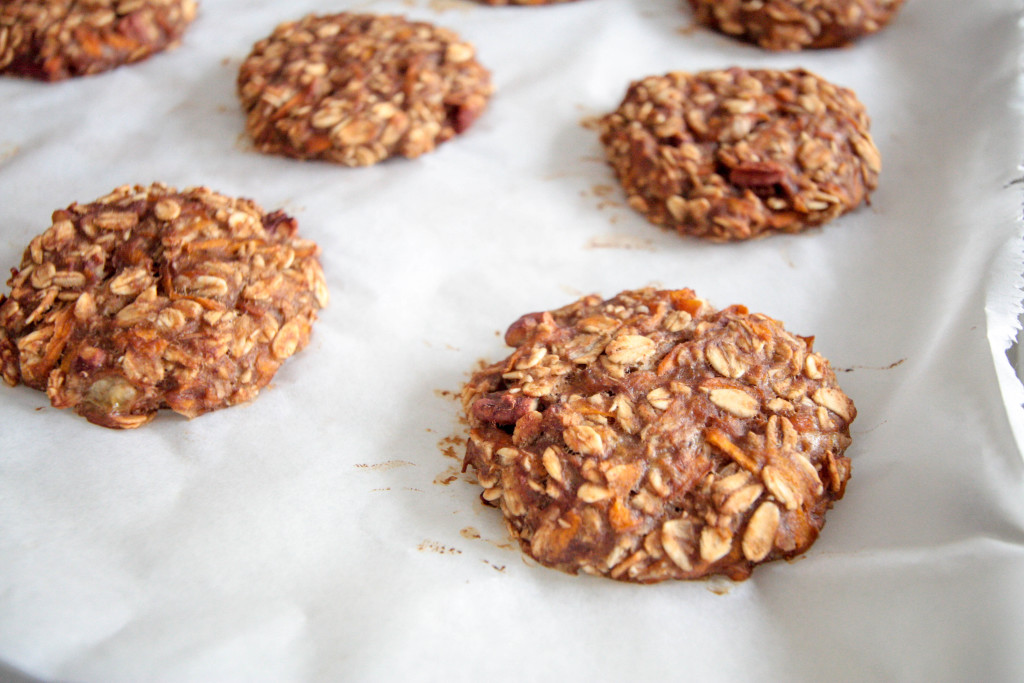 Ingredients:
Makes about 12 cookies:
– 3 bananas (mine weighed about 400g)
– 1 1/2 cup (150g) shredded carrots (about 2 carrots)
– 2 cups (200g) old-fashioned oats (use gluten-free if allergic)
– 1/2 cup (100g) apple purée
– 1/2 cup (50g) pecans
– 2 tsp honey
– 2 tsp cinnamon
– 1 tsp ginger
– 1/4 tsp nutmeg
– a pinch of salt
Notes:
I have tried making these with maple syrup but I do not recommend it because the maple leaks out of the cookies, making them sticky in a bad way. If you're strictly vegan then maybe try coconut sugar or agave
The bananas and apple purée act as a natural binder, so unfortunately there is no substitute for these.
You can play around with the spices. Cinnamon, ginger, and nutmeg are my favorite but you can also use carrot cake spice if available in your country
If you're allergic to nuts, then simply leave these out. It won't hurt the taste.

METHOD:
Pre-heat the oven to 180°C.
Start by peeling the bananas. Mash them with a fork, leaving some chunks for texture.
Next, grate the carrots and add them to the bananas.
Add all other ingredients and mix everything well with a spoon.
Using your hands, form the dough into round balls and put the on a baking tray that you covered with baking paper. Using your palms, push them down gently so they get into the right cookie shape. I use about one tablespoon for each cookie.
Cook them at 180°C for about 20-25 minutes until they are golden brown but not burned.
Once they are done, remove the tray from the oven and let them cool at least 20 minutes before enjoying them.
Stored in an air tight container in the fridge, they will last about 5 days.
Enjoy!