A healthy rhubarb-strawberry parfait that's perfect for Mother's Day.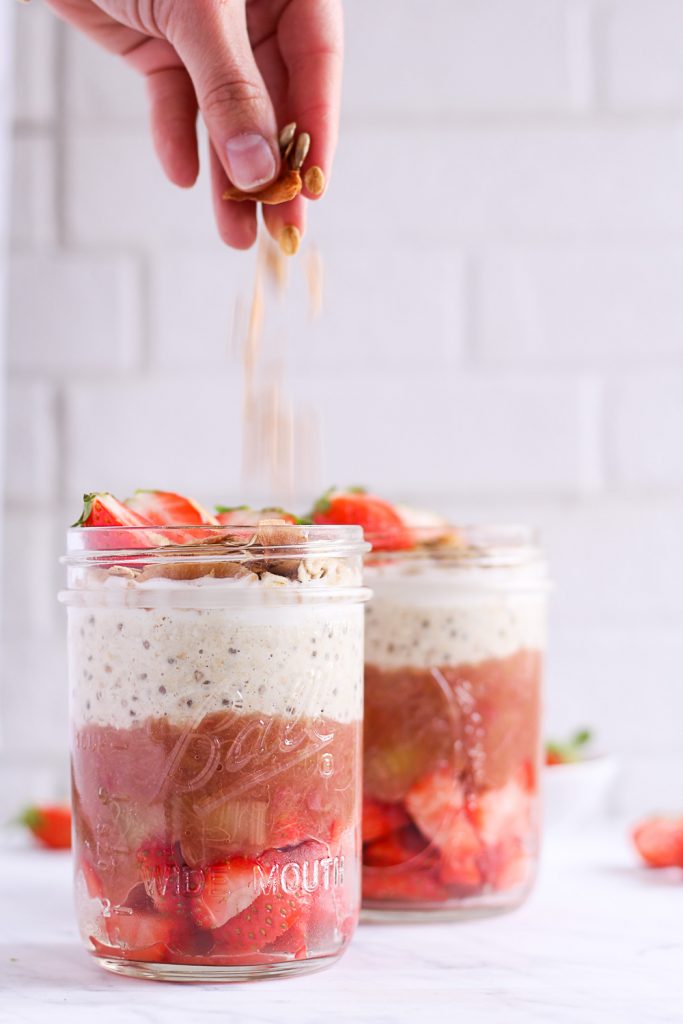 Before I start talking about today's recipe, I want to take a quick moment to thank you for all the lovely comments under my last post "Healthy Inspiration in May". Your comments were so honest, so real and so touching, and I feel truly blessed to have such amazing readers. I am honored that so many of you have shared their happy moments and their not so happy moments – it's so important to note, that not everything you see on Social Media is real. Trust me, it's not – nobody's life is perfect.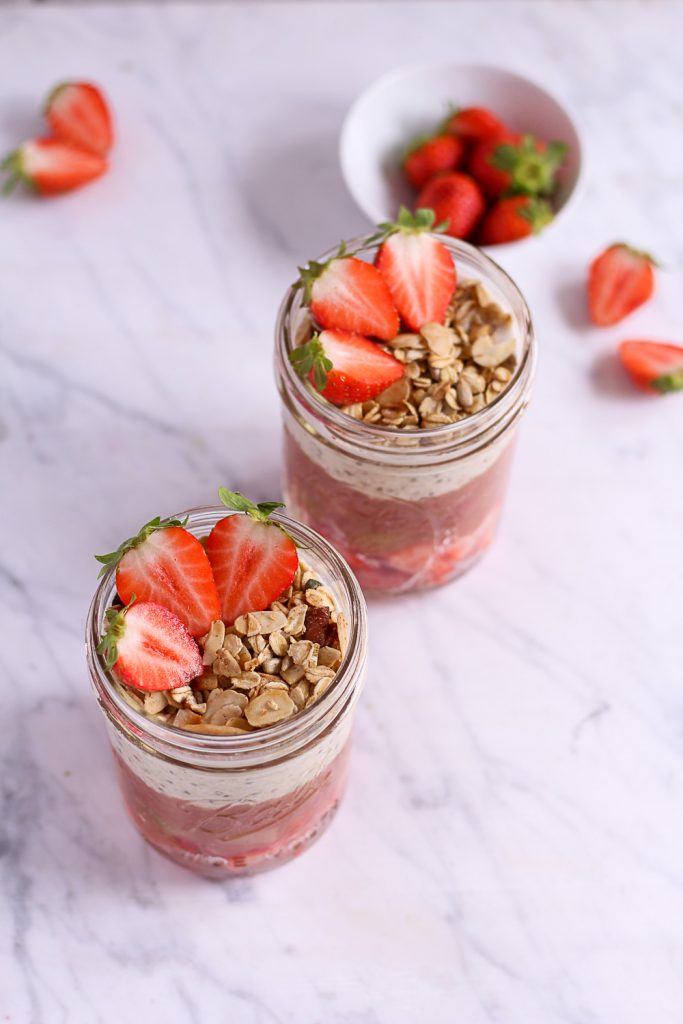 Now, on to this rhubarb-strawberry parfait. The timing could not be better, because this parfait is just waiting for you to make it for Mother's Day tomorrow. As we all know, tomorrow is a big day for all the Moms in this world (or at least in Germany), and so I thought: why not treat your Mommy with a healthy but oh so delicious breakfast parfait. It basically screams "I love you, Mom" and "don't worry, it's healthy". Besides that, why don't you also cook your Mom a lovely lunch or dinner (find some inspiration here, and here), and treat her like the most important person in your life. At least that's what my mom did for the past, well, 27 years.
If you can't find or do not like rhubarb, you can easily use strawberries or other berries for the compote instead. Berries are also naturally sweeter than rhubarb, so you might not even need any coconut blossom sugar at all. However, I love rhubarb, it's sour taste and the way it tastes combined with vanilla and strawberries. It reminds me that summer is just around the corner and waiting for us to embrace it.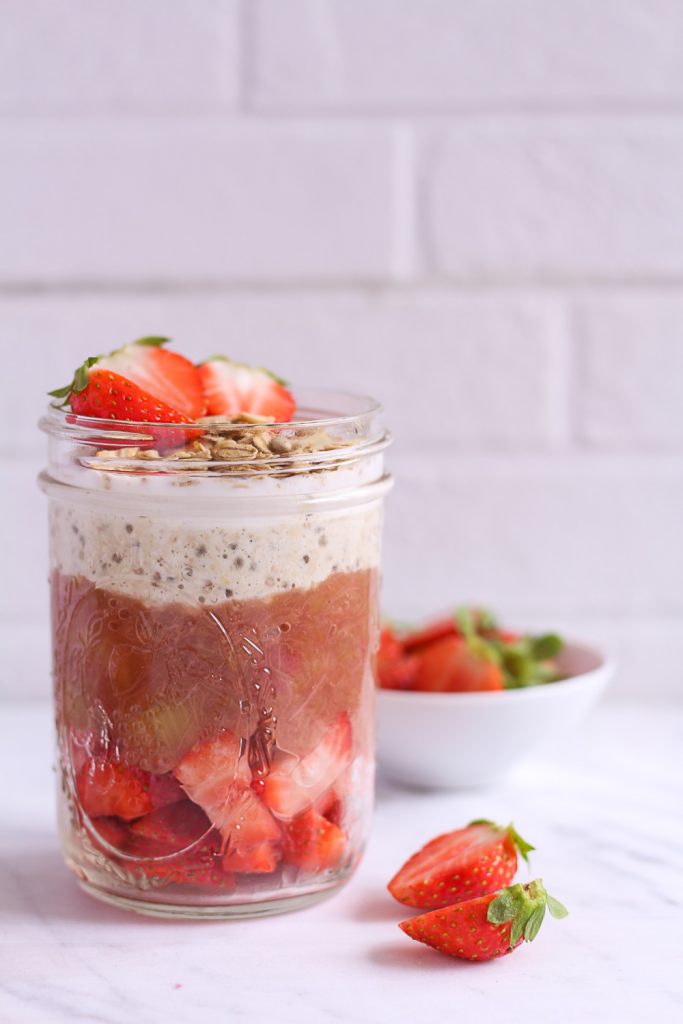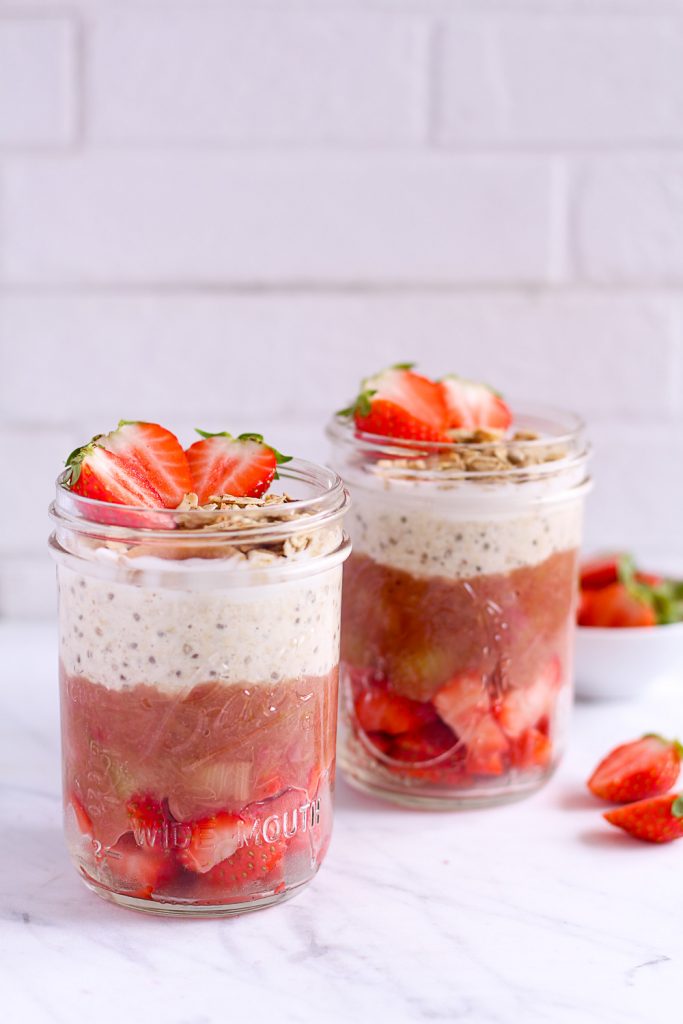 If you do not tolerate the oxalic acid in the rhubarb well, then you might want to take the following precautions when preparing rhubarb: make sure to steam or cook the rhubarb in water for a couple of minutes before making the compote. This way, most of the oxalix acid will be absorbed by the water and leaves the roots. The water needs to be drained and you can start making compote with the already soft rhubarb. I tend to tolerate rhubarb fine, so I usually do not worry so much about it, but if you've had issues with rhubarb in the past, it might be due to the oxalic acid.
Now I wish you all a happy Mother's Day and if you make this rhubarb-strawberry parfait, then do tag me on social media using #heavenlynnhealthy.

Rhubarb-Strawberry-Parfait Mother's Day
Ingredients
For the rhubarb compote:
3 cups (300g) of fresh or frozen rhubarb
2 - 3 tablespoons of coconut blossom sugar, more if desired
the inside of one vanilla pod or half a teaspoon of vanilla powder
2 tablespoons of water
For the parfait:
3 cups (300g) of strawberries
1 cup (100g) of oats
1½ cups (375ml) of oat milk
2 tablespoons of chia seeds
one teaspoon of honey or maple syrup
homemade granola, I love my almond coconut granola
½ cup of coconut yoghurt
Instructions
The night before, or at least 30 minutes before, make the overnight oats. Simply mix the oats with the oat milk, chia seeds and honey and let sit in the fridge for at least 30 minutes, preferably overnight (it makes the oats better digestible).
The next morning, make the rhubarb compote. Cut the ends of the rhubarb and cut the reddish parts of it into bite-sized pieces. Place them into a pot with the water, vanilla and vanilla pod and let simmer on medium heat until soft. This might take between 5 and 7 minutes. Make sure to watch it the whole time, so it does not burn. Add more water if desired. Once the rhubarb is soft, sweeten with the coconut blossom sugar according to your taste. You want it to be sweet but still a bit sour.
To make the parfait, cut the strawberries into pieces and layer the strawberries, overnight oats, rhubarb compote, coconut yoghurt and granola in two jars.
Enjoy!
---
DID YOU MAKE THIS RECIPE OR HAVE ANY SUGGESTIONS, QUESTIONS OR COMMENTS?
Feel free to leave a comment below, and don't forget to tag your creations on social media using #heavenlynnhealthy.
I'd love for this blog to be a dialogue.
---
Merken
Merken