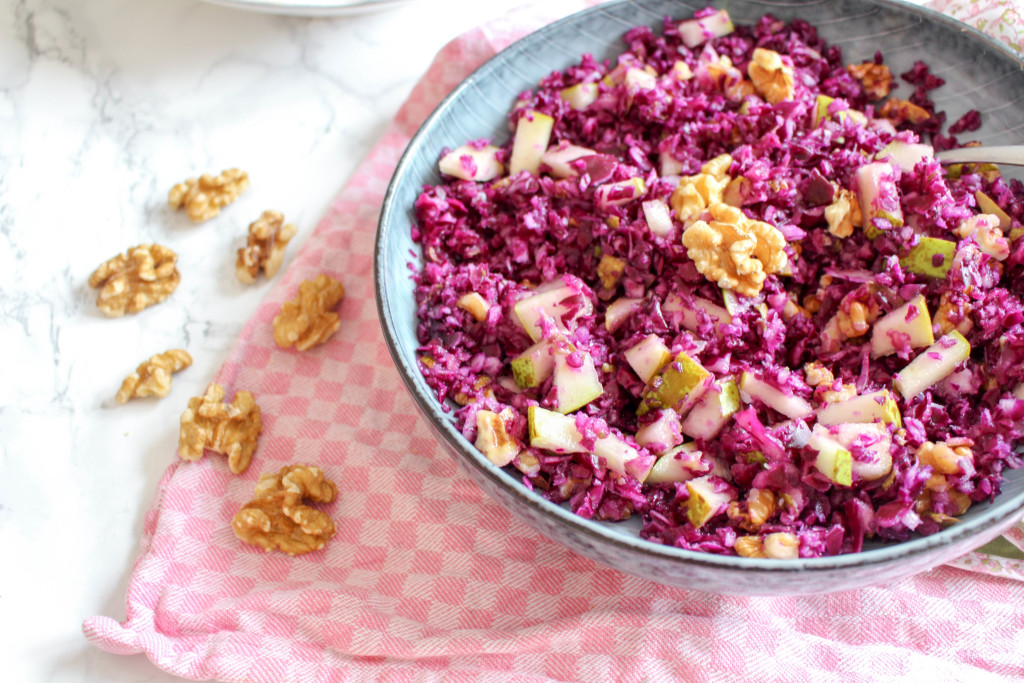 Red cabbage used to not be on my grocery shopping list. I associated it with fatty German foods, because Germans eat their red cabbage traditionally cooked with lots of meat. Ever since I discovered that you can eat it raw, however, I have been in love. It's a great alternative to regular green salad, and it has so many nutrients, you simply have to try it. The combination of pear and walnuts in this salad is heavenly. It's once again a salad to impress – your body and your friends. Of course it's loaded with many vitamins and minerals as well. The anti-inflammatory benefits and antioxidants content of red cabbage is higher than in any other cabbage. The pears provide fiber, and the heart healhty benefits of walnuts are mostly due to their high omega-3 fats. So it really is the perfect winter salad.
Health benefits in this red cabbage pear and salad:
– copper (important for the development of the myelin sheath that surrounds the nerves; important for the transformation of melanin which is involved in the pigmentation of hair, eyes and skin)
– fiber (important for heart health, lowers cholesterol levels)
– manganese (for nerve health)
– omega-3-fatty-acids (prevents heart disease, lowers cholesterol and blood pressure)
– potassium (lowers cholesterol levels and blood pressure)
– vitamin C (good for your immune system, tissue health)
– vitamin K (important for blood clotting and healthy bones)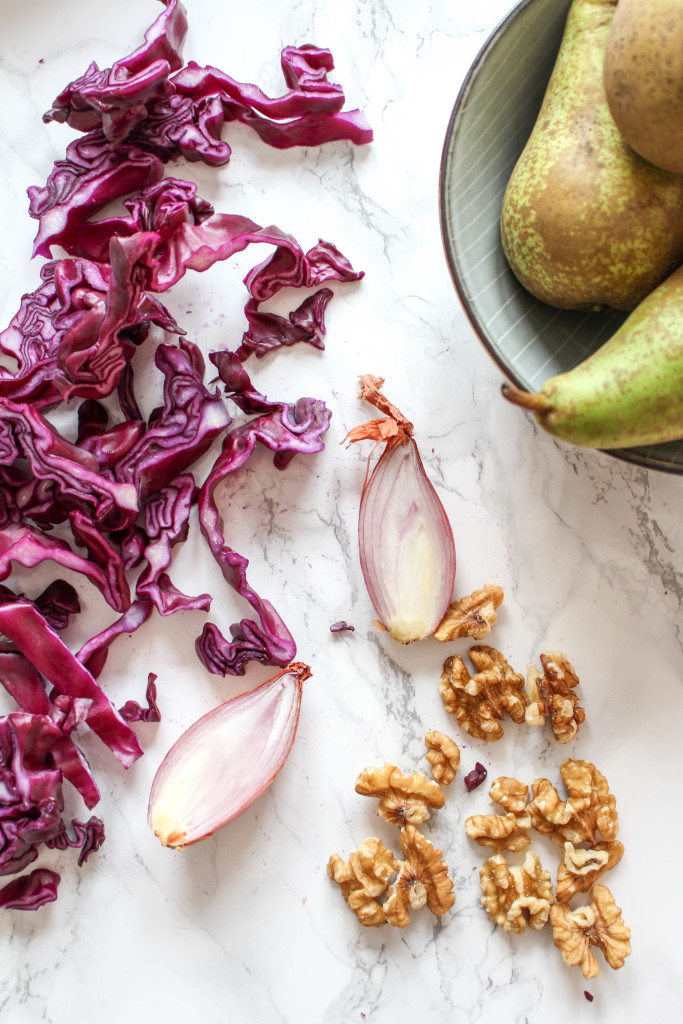 Red Cabbage and Pear Salad with Walnuts
Ingredients
1 medium pear
½ small shallot (sweet onion)
2 ½ cups (200g) chopped cabbage
1 tsp (5g) honey
1 tbsp (15ml) apple cider vinegar
1 tbsp (15ml) apple juice, no sugar added
1 tbsp (15 ml) rapeseed oil, or any non-flavorful oil
¼ cup (50g) walnut halves
½ tsp salt
¼ tsp pepper
Instructions
Start by chopping the cabbage and cutting the pear into small cubes and place both into a bowl. Chop the shallot and add it to the cabbage and pears.
Add the apple cider vinegar, honey, apple juice, rapeseeds oil, salt and pepper in a small bowl and stir well until combined. Pour the dressing on top of the salad and stir well.
Then break down the walnuts with your hand and add them to the salad as well.
Serve as a side dish or enjoy by itself.
Enjoy!