*This post is sponsored by Alnavit.
It's Thanksgiving week, so naturally, this winter spiced apple chocolate cake is just what you need to for a healthy Thanksgiving dessert. Every year, Jannis and I plan on having a Friendsgiving dinner, but then somehow we always forget about Thanksgiving. I suppose it is because it's just not our tradition to have, though both of us have lived in the United States for a considerable amount of time.
Maybe next year. Maybe.
But this cake is not just a delicious Thanksgiving treat, it's absolutely suitable for every Sunday cake get-together in December. I made it with my all-time favorite Alnavit* organic basic gluten-free flour mix, because it is one of the few flour mixes that is made with whole-grain ingredients: brown rice flour, millet flour and a little bit of corn starch, and it's guaranteed that your gluten-free cake will be a success.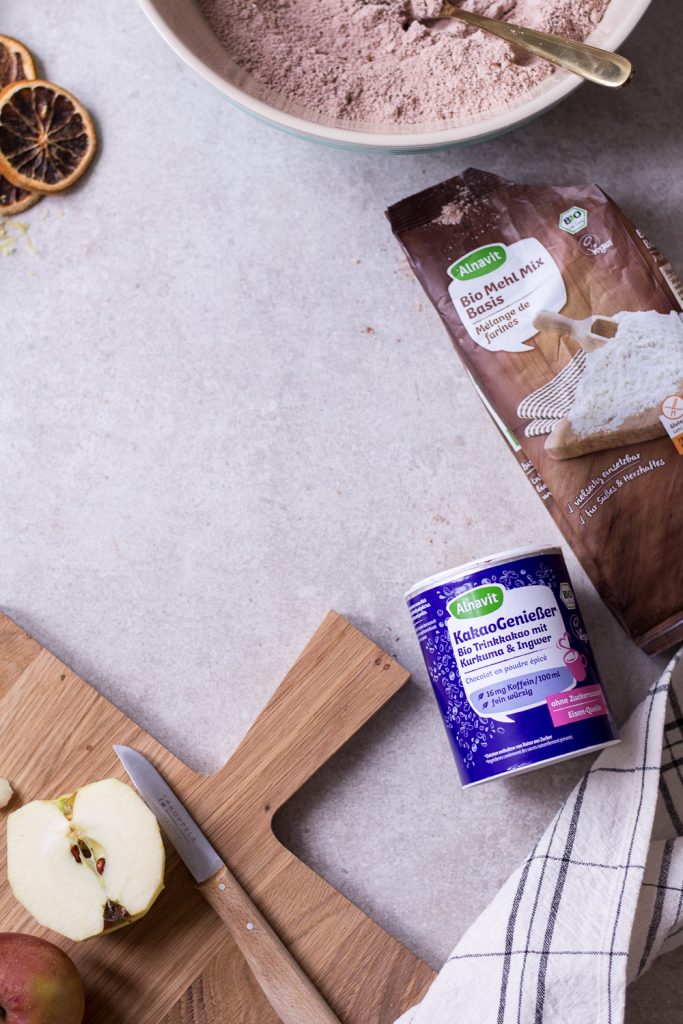 Also, do you remember my hot superfood chocolate from last year? Alnavit basically sells this Superfood hot chocolate in a box now, it's called KakaoGenießer (organic drinking chocolate) and it's made with raw cacao, turmeric, ginger and cardamom. When I told Steffi from Alnavit about my winter spiced apple cake idea, we both instantly loved the idea of using the cacao powder mix in this cake. So easy, so good!
I know that many people keep asking me, where to find Alnavit products. I am quite lucky, because I live right next to a Budni and a Müller supermarket, which both sell the products in Northern Germany. Recently, Lüneburg also got a brand new Alnatura supermarket, which carries the entire Alnavit product range – good for Alnavit, bad for my wallet… You can find a whole list of shops with Alnavit products in their shop finder.
Now, what makes this cake a healthy alternative to traditional cakes? First of all, it's made only with natural ingredients such as whole-grain flour, which stabilizes your blood sugar level and keeps your energy levels up. The opposite would be that commonly known food low, which many of us experience about an hour or so after an empty carb-excessive lunch, when we start craving sweets due to a drop in blood sugar levels. This cake is also naturally sweetened with a banana and coconut bloosom sugar, which also keep your blood level steadier than refined sugar. However, just because this cake contains healthy ingredients, does not mean that it's a free pass to finish it all by yourself. Even healthier treats should be enjoyed in moderation for them to actually have a healthy effect.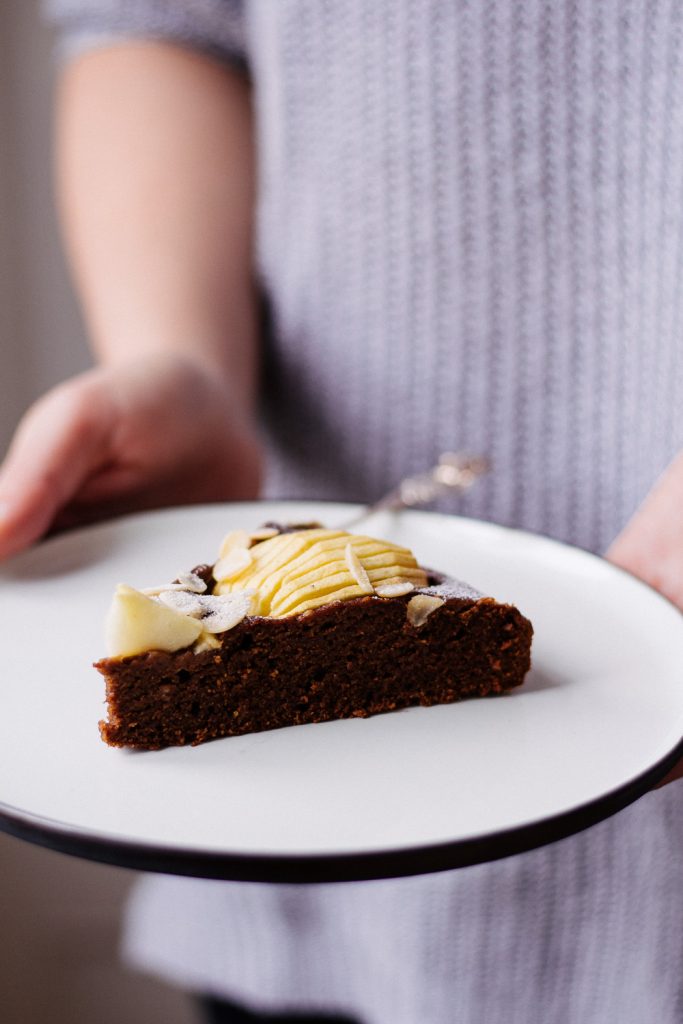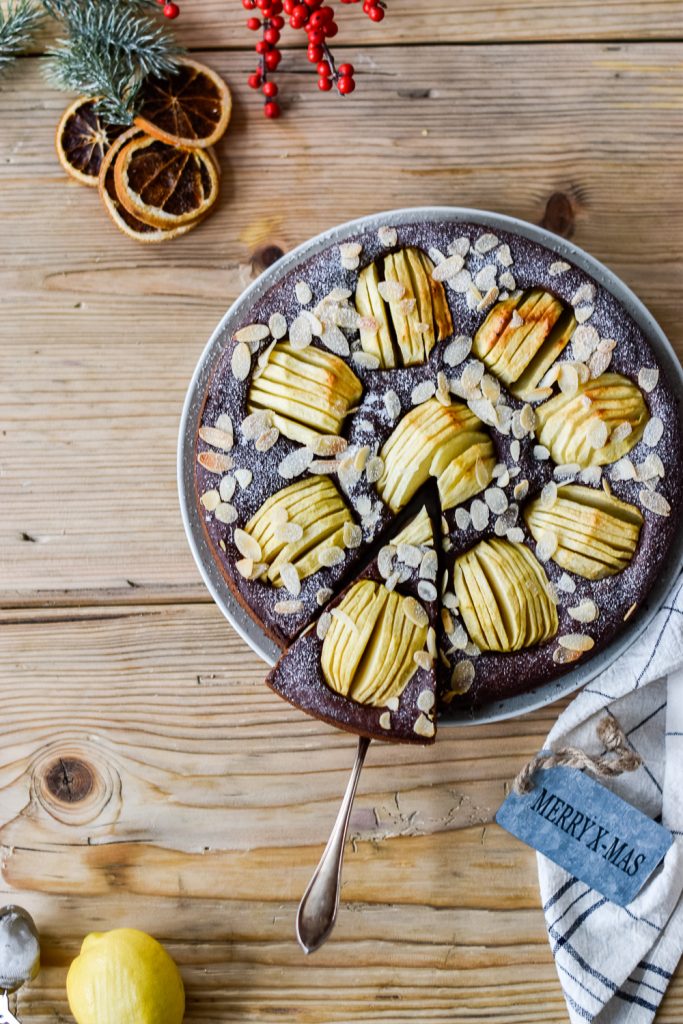 On a last note, I just wanted to tell you that I have sucessfully passed my exam to become a holistic nutrition and health coach. Thank you all so much for your support these past weeks, especially on social media. Now enjoy this cake and let me know if you've made it on social media using #heavenlynnhealthy.

Winter Spiced Apple Chocolate Cake
Ingredients
100g of almonds
250g of Alnavit Basic-Flour Mix
3 tablespoons of Alnavit cacao mix
1 teaspoon of cinnamon
2 teaspoons of gingerbread spice
4 teaspoons of aluminum-free baking powder
150ml of oat milk
1 ripe banana (about 75g)
120g of coconut blossom sugar
80g of rapeseed oil
80ml of sparkling water
3 small apples, I like Elstar
2 tablespoons of almond slices
Instructions
Pre-heat the oven to 175°C. Ground the almonds in a food processor or high speed blender. Align a small round baking dish (26cm diameter) with baking paper.
Combine all dry ingredients in a large bowl.
Mash a banana with a fork. Add it to the oat milk mix and whisk until a smooth liquid forms.
Pour the wet ingredients over the dry ingredients and whisk well until combined. Save the sparkling water for last and only quickly combine it with the batter, so the carbonation won't get out.
Peel the apples, cut them it into quarters and carefully remove the cores. Gently slice the apple quarters without cutting them through. Pour the batter into the baking dish. Carefully push the apple quarters on top of the batter. Sprinkle the batter with the almond slices.
Bake for 45 - 50 minutes. Place aluminum foil or a baking tray on top of the cake for the last 10 minutes to prevent the top from burning.
Remove the cake from the oven and let sit for at least 20 minutes.
Sprinkle with some powdered xylit (I cut out some stars to make it look pretty) and enjoy!
Notes
To make gingerbread spice simply mix:
1/2 teaspoon cardamom
1/2 teaspoon of vanilla powder
1/4 teaspoon nutmeg
1/4 teaspoon of ginger
Enjoy!
Did you make this recipe? Tag me with #heavenlynnhealthy on social media.