*This post is sponsored by REWE.
"Stop! Don't touch them!" was all I could cry out the other day when Jannis came home from work. He automatically enters the kitchen when he comes home to see if there is anything he can sneak into his mouth.
He yells back "Don't worry, I don't like chocolate muffins anyways".
My face, you guys. My face. Total disbelief. It was literally something that could have changed our entire relationship.
"Said no one ever. Who doesn't like chocolate muffins?".
Well. To be honest. Me. I was never really into chocolate muffins, because they were always too heavy for my taste. I preferred fruity cakes. At least before I discovered that you could use sweet potatoes in desserts and skip the refined sugar. It was a game-changing moment in my life and I have never looked back.
I don't have the sweetest tooth, but sometimes, I really appreciate a decadent treat. However, I still like them to refer to my food philosophy, meaning made out of real food, unrefined ingredients, no refined sugar and plant-based whenever possible. I even want my sweet treats to be as good for the body as possible. Of course I still have unhealthy sweets from time to time – I call this my joy factor – but most of the time, I even prefer the taste of naturally sweetened cakes and sweets.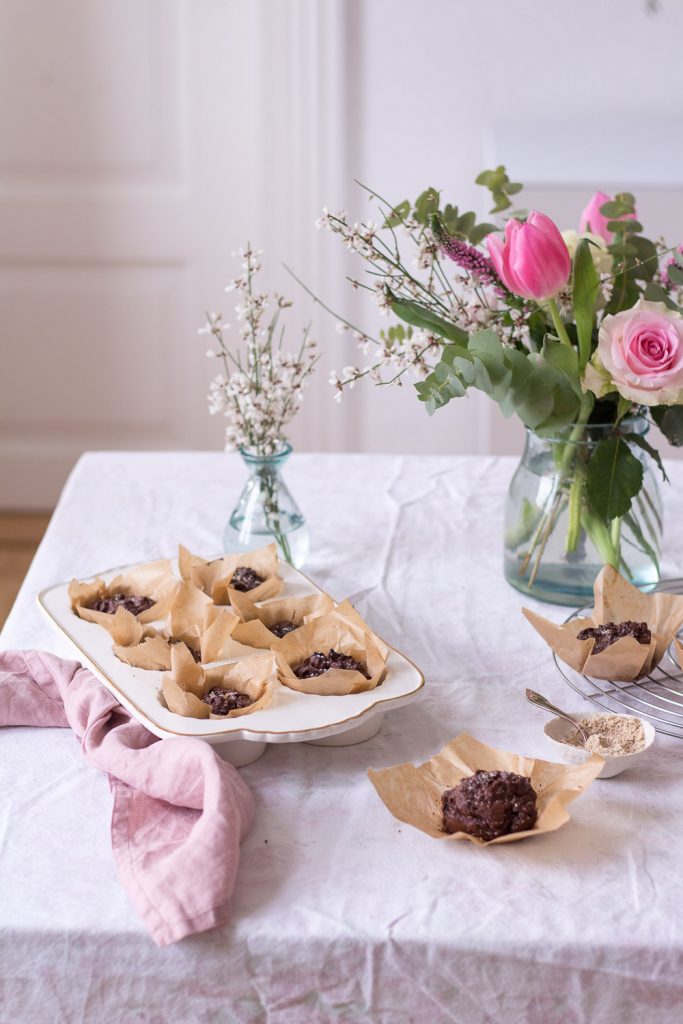 For this recipe I teamed up with REWE. This year, REWE started a big campaign to reduce sugar in their generic brands. The campaign losely translates to "You are sugar – how much sugar do you still need"? If you live in Germany, you might have seen this campaign in your local supermarket. I strongly believe that it was about time that one of the big players in the German food industry starts to unravel the truth about the high sugar consumption in our society. REWE started their sugar reducing efforts by introducing one of their "REWE Deine Wahl" products, a chocolate pudding, in different sugar reduced options. The consumer can vote online, which one they like best, and this product will hopefully replace the traditional version. It's perhaps not the ideal approach, but it might raise awareness for the less informed consumer about how much sugar is actually hidden in our foods.
Of course this campaign won't change the mass consumption of sugar over night, but perhaps it will give some consumers the last notch to start reducing sugar in their diet. The company has the goal to reduce the sugar content of all of their generic products by 2020 – which is already in two years, guys! More infos regarding REWE's efforts to reduce sugar can be found here.
Generally, I believe it's great that REWE starts the fight against our sugar consumption as the very first German "Big player". Health coaches, startups and bloggers like me would never be able to reach a crowd as big REWE does. Therefore, if we want word to spread, we rely on big companies such as REWE to use their logistics to reach the consumers all over the country. At the same time, whenever I walk through the REWE grocery stores, I keep seeing all of the sugar bombs that are currently sold to the consumer in these stores. I would have appreciated it, if REWE had replace their chocolate pudding with the sugar reduced version without asking the consumer first. However, this would have undercut the consumer's choice. And also, I highly doubt that the average consumer will like the option with the least sugar, because the taste buds of our society are conditioned to favor sweetened over unsweetened. Resetting the taste buds takes time and dedication… something that few people possess these days.
In my "Bullerbü"-world, no one buys chocolate pudding. We all make our own, naturally sweetened pudding. But I know that this vision is far from being realized, and it might never come true. That's why sugar-reducing advocates like me need big firms like REWE to be willing to reduce the sugar content in their products.
Of course, REWE knows that I don't eat store-bought chocolate pudding. So they asked me to create a naturally sweetened chocolate recipe, to show that sugar reduction does not equal a sacrifice of taste.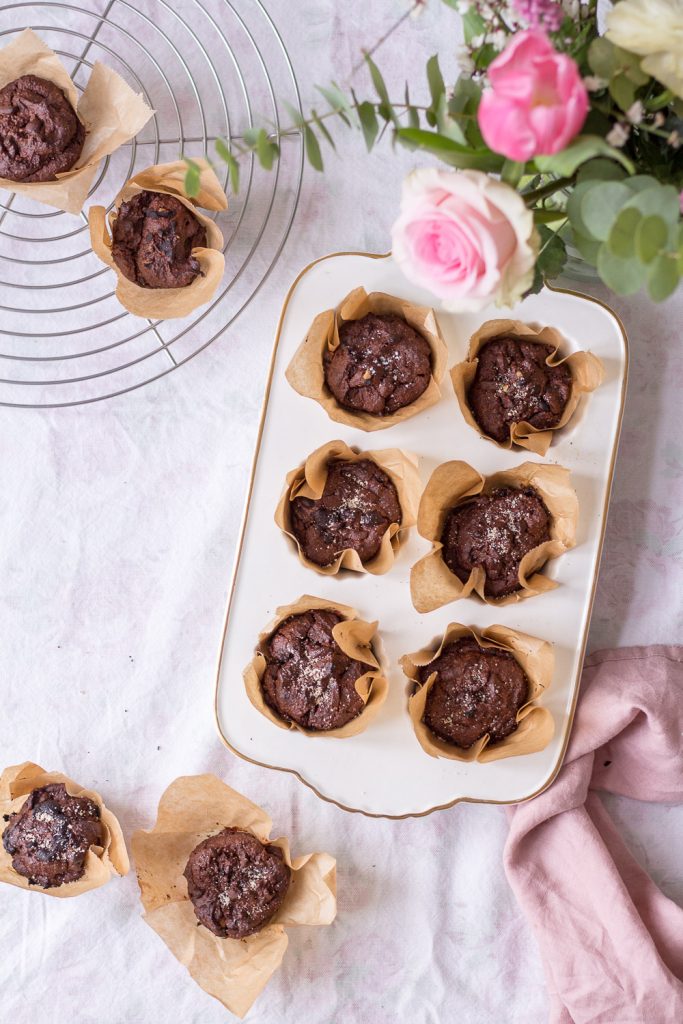 In this recipe, I used sweet potatoes, applesauce and just a teeny bit (45g to be exact) of coconut sugar. I have tried them without the coconut sugar, and most of my recipe testers were not too fond of the taste. The coconut sugar and maple syrup worked better for them. I also liked them without the extra sugar, but my taste buds have really gotten used to close to zero added sugars.
Now you! What do you like to sweeten your treats with? Dates, maple syrup, rice syrup, molasses? Let me know in the comments below.
If you are a frequent visitor at my blog, then you know what comes next. These sugar-free chocolate sweet potato muffins, though made with unrefined, natural ingredients, still count as sweets. Hence, you should enjoy them occasionally, and treat them like you would treat a regular muffin as well. I'm sorry.

Sugar-free chocolate sweet potato muffins
Ingredients
2 tablespoons of chia seeds + 6 tablespoons of oat milk
90g of oats
90g of almonds
2 teaspoons of aluminum-free baking powder
2 tablespoons of arrow root powder or GM-free corn starch
250g of sweet potato puree, see notes
70g of unsweetened applesauce
45g of rapeseed oil or coconut oil
55g of oat milk
6 (40g) tablespoons of raw cocoa powder
45g of coconut sugar
2 tablespoons (30g) of maple syrup (optional)
40g of chopped dark chocolate (I like Ombar, Lovechock or Alnatura), or 70% dark chocolate
Instructions
Pre-heat the oven to 170°C fan. Combine the chia seeds with the oat milk and let sit for about 10 minutes to thicken. Stir occasionally.
Place the oats and almonds into a food processor and grind to a fine flour. Place into a bowl, add the baking powder, arrow root powder and combine well with a wooden spoon.
In a second bowl, combine the sweet potato puree with the applesauce, rapeseed or slightly warmed coconut oil, oat milk, cacao powder, coconut sugar, and optionally maple syrup. Mix the wet ingredients with a whisk until well combined. Add the dry ingredients and mix well with the whisk. Add the chopped chocolate and give it a last stir.
Grease a muffin tin with coconut oil or use little muffin forms.
Equally divide the batter in the twelve muffin molds. If you like, you can sprinkle some chopped chocolate onto each muffin.
Bake the muffins for about 30 – 40 minutes until you can pull knife out the center of it clean.
Notes
To make sweet potato puree, peel 300g of potatoes and chop them into small bites. Steam them for 20 minutes, then mash them with a fork. You can also roast them for about 30 minutes at 180°C in the oven.
You can also easily make your own applesauce.
If you wonder about the long baking time, I have tested this recipe a couple of times, and found that they were perfect some time between 30 and 40 minutes. It will also depend on the number of muffins that you make.
Enjoy!
*This post is sponsored by REWE. However, all photos and texts are by me and always reflect my personal opinion. Thank you for supporting the brands that keep me dancing around my kitchen all day.