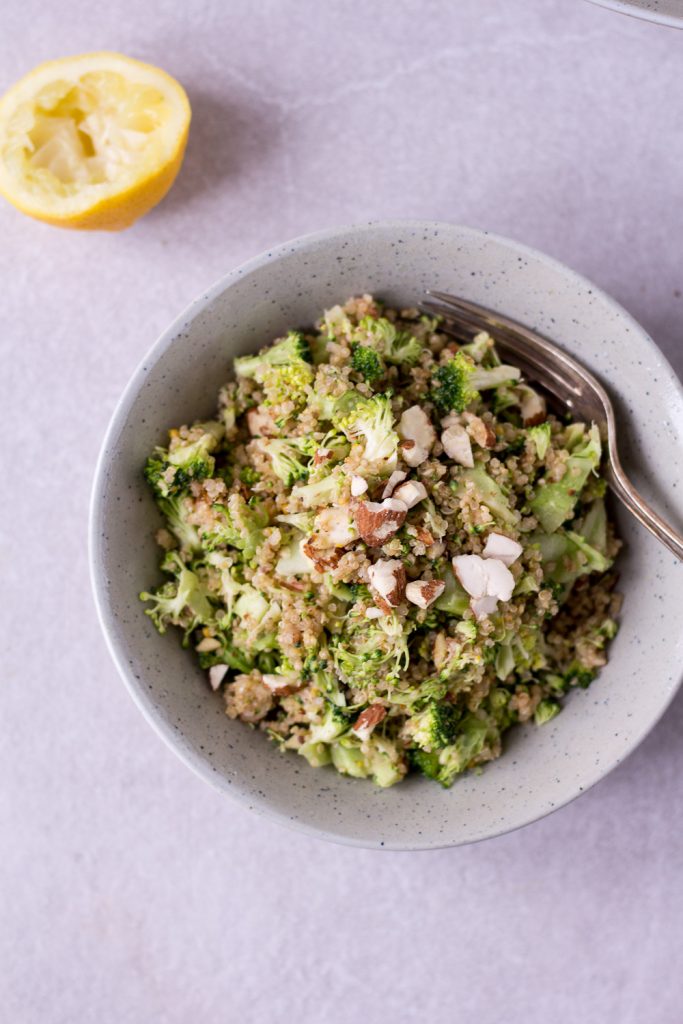 I have really been craving raw, nutritious salads recently. I know it's February, but somehow I am so ready for spring, colorful foods and sunshine. That's why this salad is bright, raw and comes with a delicious and creamy almond butter dressing.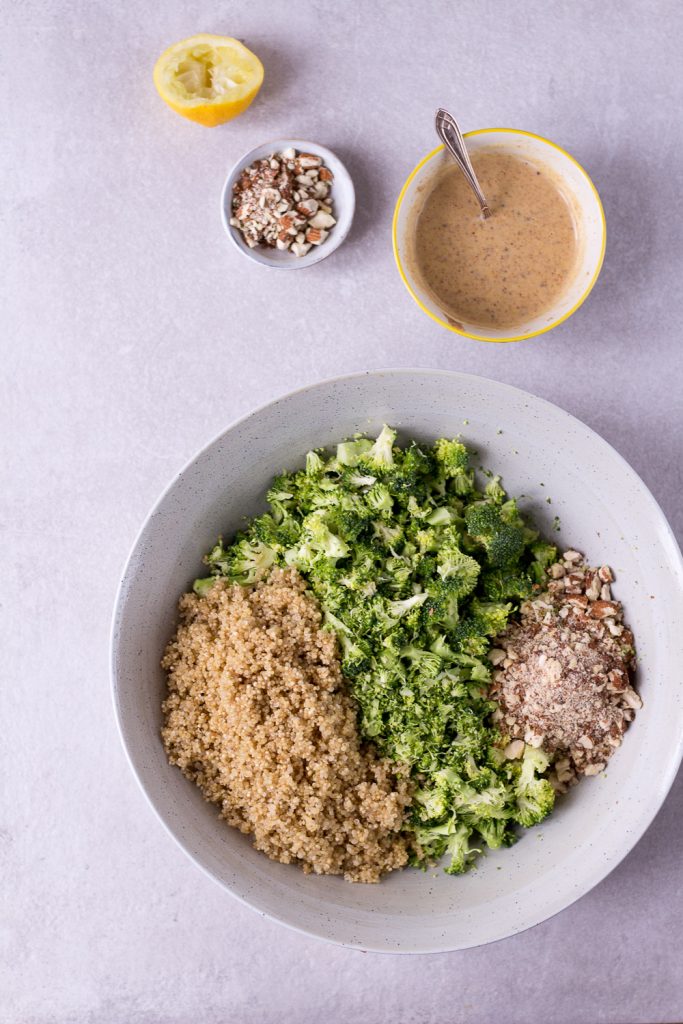 Before I lived in the United States, I had no idea that you could eat broccoli raw. I always associated broccoli with watery, bland side vegetables so I was never a big fan. Eating broccoli raw has changed my perception of the green cabbage drastically. I have become a real fan and will never boil my broccoli ever again.
Though this salad may seem boring at first glance, it's actually pretty amazing and so delicious. If you take a closer look you'll see that although it only contains three main ingredients, these three ingredients are huge health boosters. Broccoli contains more vitamin C than any other cabbage, quinoa is one of the best plant-based protein sources out there and almonds are not only rich in proteins, too, they also contain viral fatty acids. Furthermore, almonds are a real beauty food due to their high vitamin E content, which is said to give us the beauty glow, aka glowing skin, hair and nails.
So basically this salad is not only prepared in no time, it's also just what you need in stressful times. No excuses, people!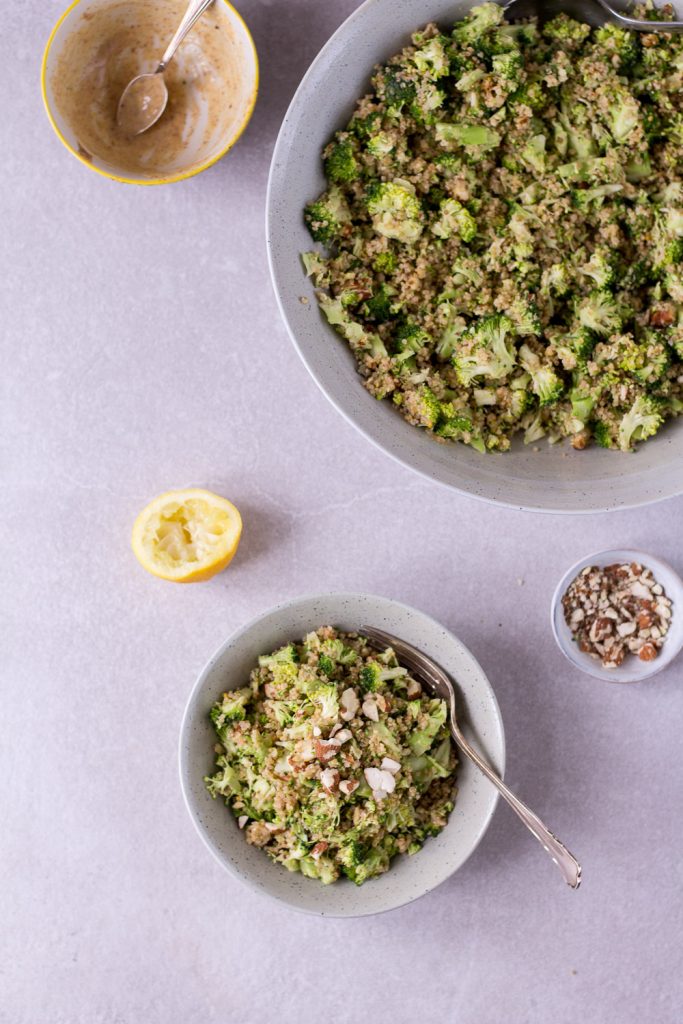 If you don't have almond butter in stock, worry not! I make my own almond butter, so it's my preferred choice of nut butter. But you could also use peanut, cashew or sunflower butter as well as tahini as a substitute. You could also leave it out, if you have neither avaiable in your cupboard. Then your dressing won't be as creamy as it can be, but still delicious. It's really up to you.
So what are you waiting for? Go to the store, buy the fresh ingredients and get cooking!

Raw broccoli quinoa power salad
Ingredients
For the salad:
1 broccoli (about 500g)
80g (1/2 cup) of white quinoa
40g (1/4 cup) of almonds
For the almond dressing:
3 tablespoons of almond butter
the juice of 1 lemon
2 tablespoons of apple cider vinegar
2 tablespoons of extra-virgin olive oil
1 teaspoon of maple syrup
1 tablespoon of grainy mustard
2 – 3 tablespoons of water
Instructions
Place the broccoli in a food processor and pulse 2 – 3 times until roughly broken apart. Add to a large salad bowl. Place the almonds into the food processor and pulse a few times until they are roughly broken apart. If you don't have a food processor, roughly chop both the broccoli and the almonds with a knife.
Cook the quinoa with 160ml of water and a dash of apple cider vinegar for about 10 – 12 minutes. Fluff with a fork and add it to the broccoli and almonds.
Mix all of the ingredients for the dressing in a small bowl and whisk with a fork until a homogenous dressing forms. Add more water if it is too thick for your liking.
Add the dressing to the salad and mix everything well.
Enjoy!
Have you tried this recipe? Then take a photo and share it on social media using #heavenlynnhealthy.