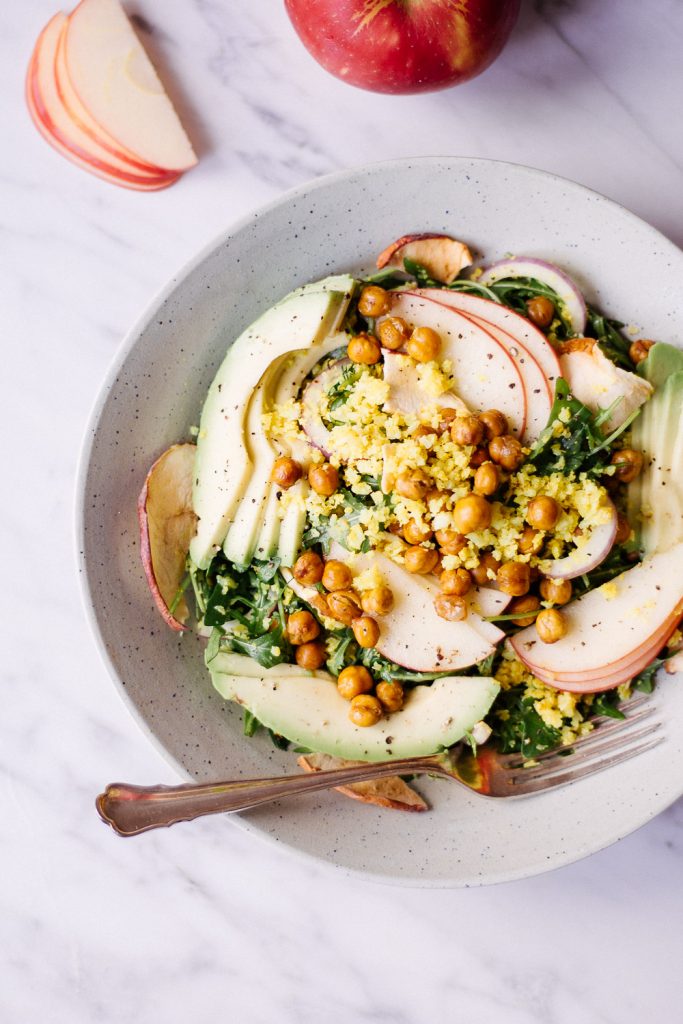 *This post is sponsored by Honeycrunch.
I have been blogging for almost three years now, but I am always blown away by how many visitors my blog gets in January. It's by far my busiest month of the year. That's why I love January. Not because of my blog visitors, but because I love the feeling that's in the air after New Year's Eve. It's a feeling of a new beginning. The feeling of a fresh start. The feeling of joy and excitement for life and the new year.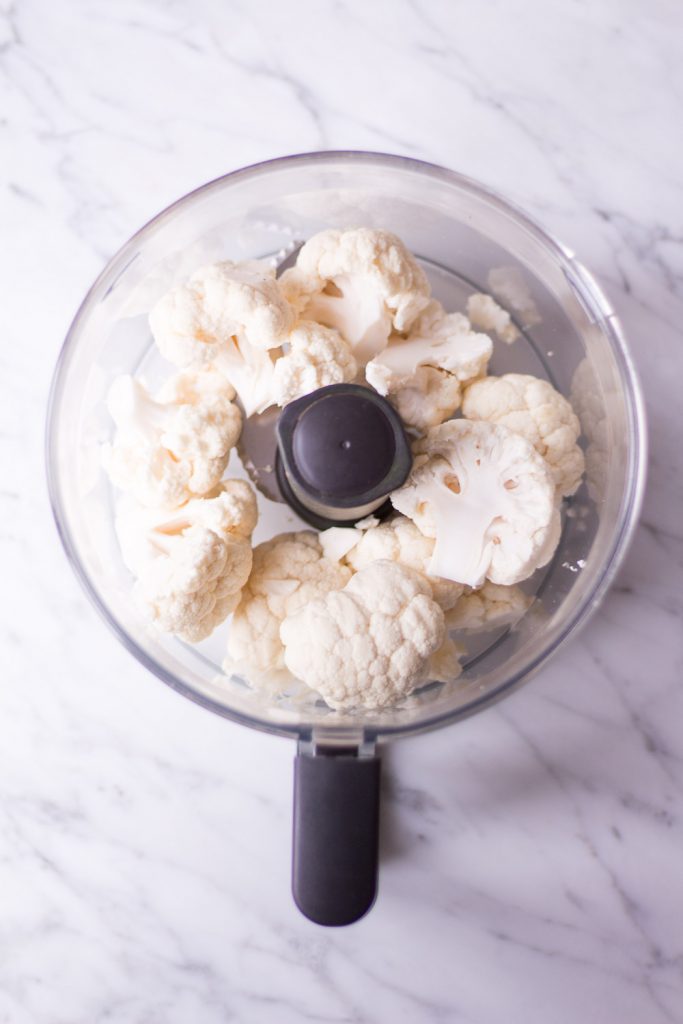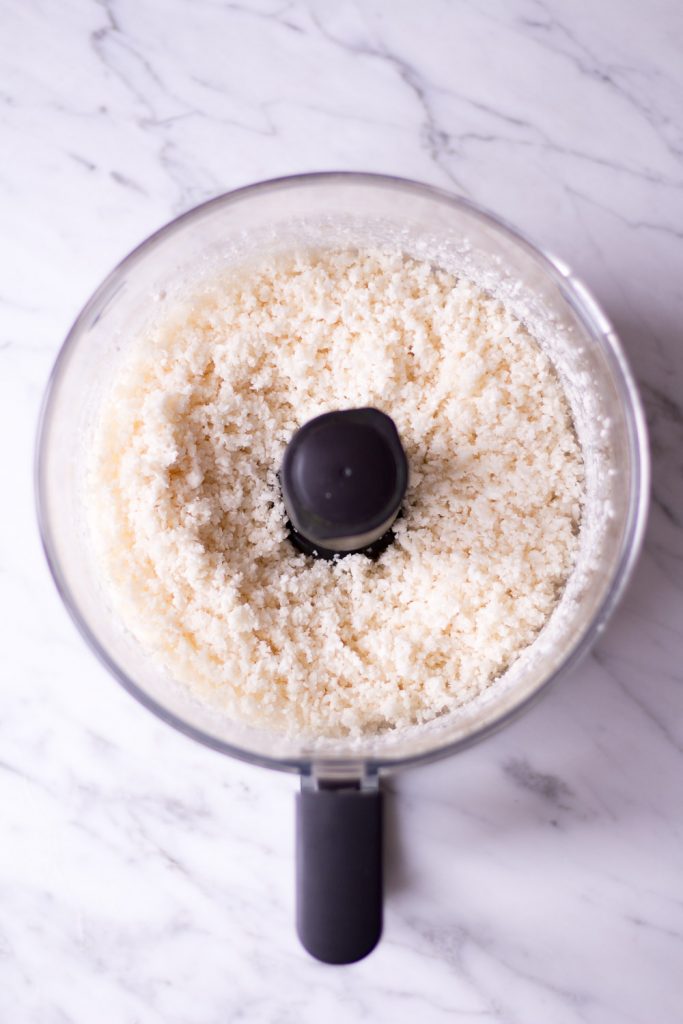 I've been getting lots of questions if I couldn't do a January challenge. Such as a "30 days of no sugar" or "30 days vegan" or "30 days of healthy recipes" or "30 days being dairy-free". But somehow, that doesn't feel like me. I don't like challenges. Never have, never will. They feel so much like diets.
And diets is something that we definitely do not like.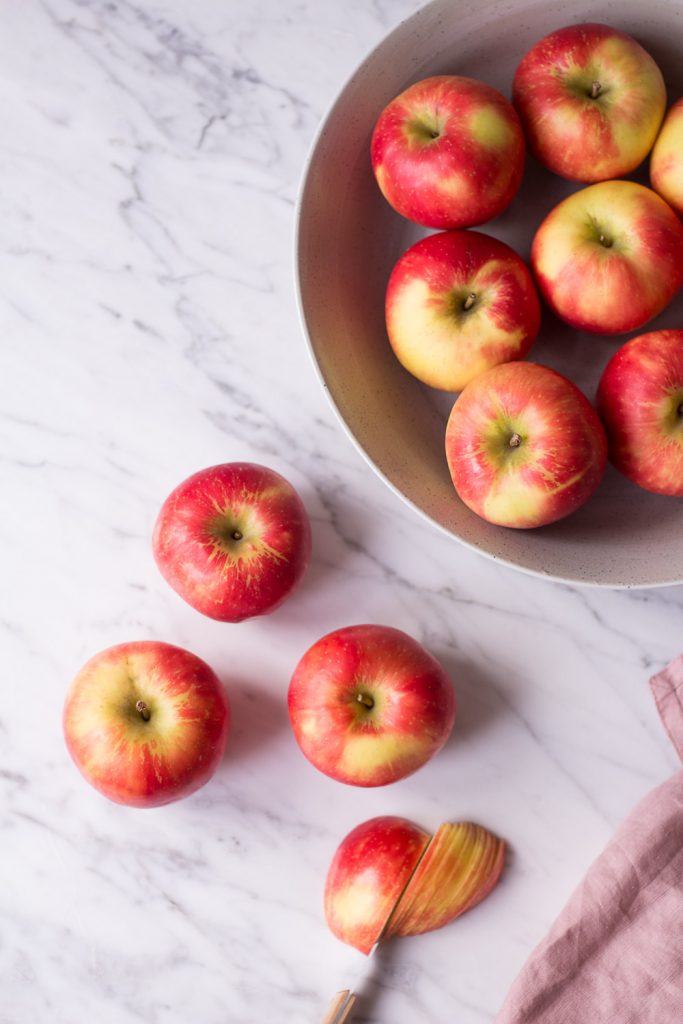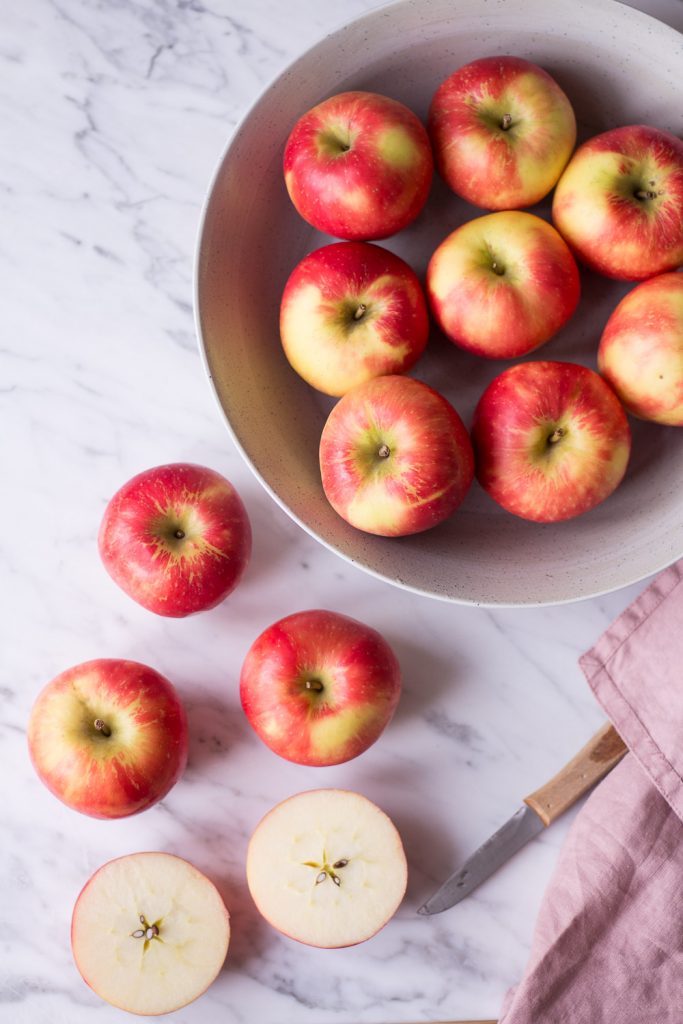 The problem with diets is that they are bound on a certain amount of days. I dream of a world, where I can encourage people (you!) to make long-term changes in their diets. Or at least change their perception and understanding of diet and health. Once it clicks that diet and medicine are closely related, then everything will fall into place.
If you love challenges and if you need challenges, then I challenge you to eat Heavenlynn Healthy recipes for 30 days. Then you'll have it all at once: plant-based, dairy-free, gluten-free, sugar-free and vegan. And if you've been health-conscious for a while now, then you've probably been living a year-long healthy eating challenge last year.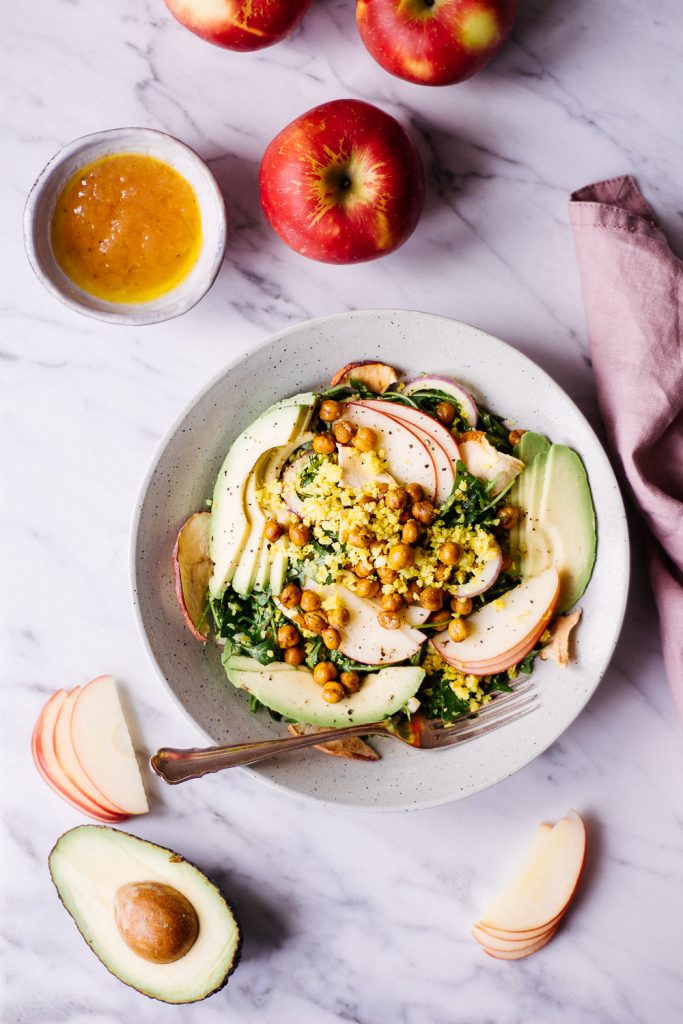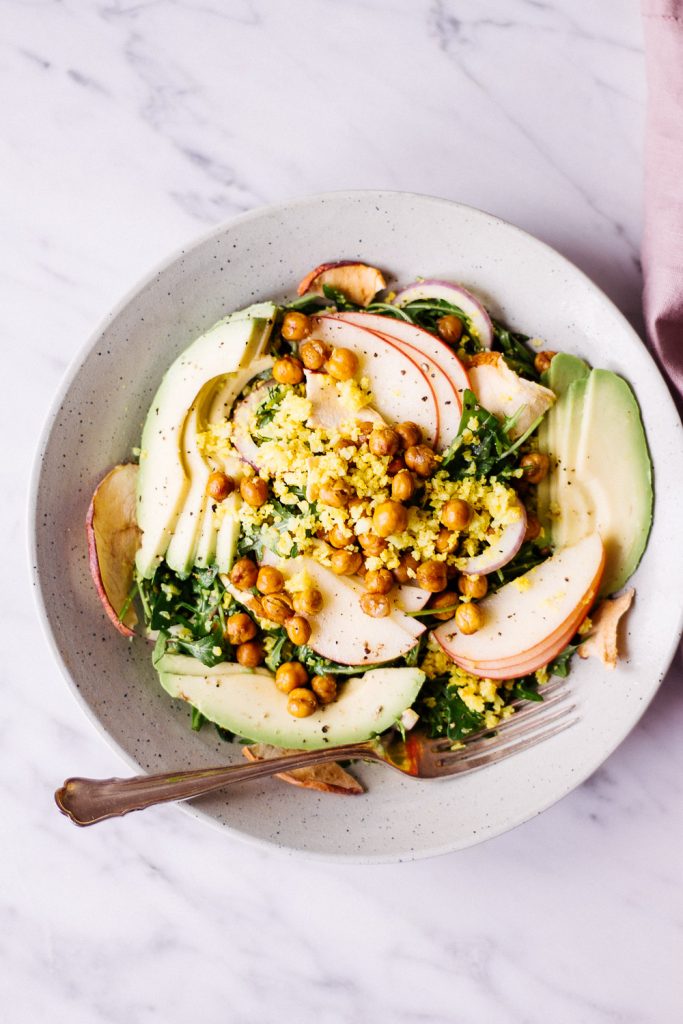 To continue your healthy eating progress in January, I brought you this delicious cauliflower apple power salad. It's loaded with vitamins, minerals and nutrients, and it tastes incredible due to the addition of Honeycrunch* apples. Honeycrunch is a new apple  that originated in France, but that is now also grown locally near my home. As lover of apples, I love testing new breeds, and Honeycrunch really is bursting with flavor, balancing the art of being sweet and tangy at the same time.
This salad definitely is an aromatic explosion – I know I tend to exagurate sometimes, but trust me on this. You need to make this salad asap! Adding Honeycrunch to really adds the … well … crunch! Seriosuly! If you want the whole apple experience then you need to make the apple sauce dressing, too! It's like the fuji apple salad from Panera minus all the artificial add-ons. Natural and simple and made only with local ingredients, at least most of them.
So who's making this salad this weekend?

Crunchy Apple Cauliflower Salad with Apple Dressing
Ingredients
For the salad:
1 can of chickpeas
a pinch of cayenne pepper
1 tablespoon of extra-virgin sesame oil
½ cauliflower head
2 apples, such as Honey Crunch
2 avocados
3 handful of rocket
1 red onion
1 bunch of parsley
4 strangs of dill
a few apple chips (optional)
For the apple-dressing:
4 tablespoons of extra-virgin olive oil
2 tablespoons of apple cider vinegar
2 tablespoons of homemade apple sauce
½ teaspoon of sea salt
freshly ground black pepper
Instructions
Drain the chickpeas. Place them on a baking sheet aligned with baking paper. Drizzle a bit of sesame oil, cayenne pepper and sea salt on top and bake it for 25 – 35 minutes until crispy.
Cut the cauliflower into florets. Pulse it in a food processor until it has crumbled down to a grain-like texture. Combine the cauliflower with the turmeric, olive oil and sea salt. Place it on a baking sheet aligned with baking paper and bake for 15 minutes. You don't want it to be cooked through, just warmed up a little.
Slice the apple and the avocado, wash the rocket, chop the onion, parsley and dill. Mix the ingredients for the dressing.
To assemble, place the rocket on a large place or bowl, add the warm cauliflower, apple slices, apple chips, avocados, red onion, parsley and dill and drizzle with the dressing. Mix everything together and serve with the crispy chickpeas.
Enjoy!
*This post is sponsored by Honeycrunch. All opinions are my own. Always. Thank you for supporting the brands that keep me dancing in my kitchen (oh and cooking, too!).