These sweet potato chickpea enchiladas are probably my most favorite satisfying dish ever. The recipe is adapted from the first "Oh She Glows" cookbook, but I modified it to make it even healthier and tastier. It's hard to believe that it is actually good for you, since it looks like such a comfort food, but it is really packed with nutrients.
All you need for this recipe is a good chunk of my all time favorite sweet potatoes, a red bell pepper, chickpeas and/or  black beans, tomato paste, and quite a variety of different spices. As this is a Tex-Mex cuisine inspired dish, there's also a simple Guacamole recipe that I love with the enchiladas.
"Oh She Glows" is one of my two favorite healthy cookbooks that I cannot live without. Angela is my hero, and all of her dishes look completely amazing. So amazing, that you would never believe it's healthy. I also love her story of becoming vegan and how a healthy lifestyle has not only transformed her body but also her overall well-being, satisfaction, and happiness. If you've got a minute or two today, then please do yourself a favor and stop by Angela's blog "Oh She Glows" and simply browse through all of her recipes and healthy lifestyle tipps.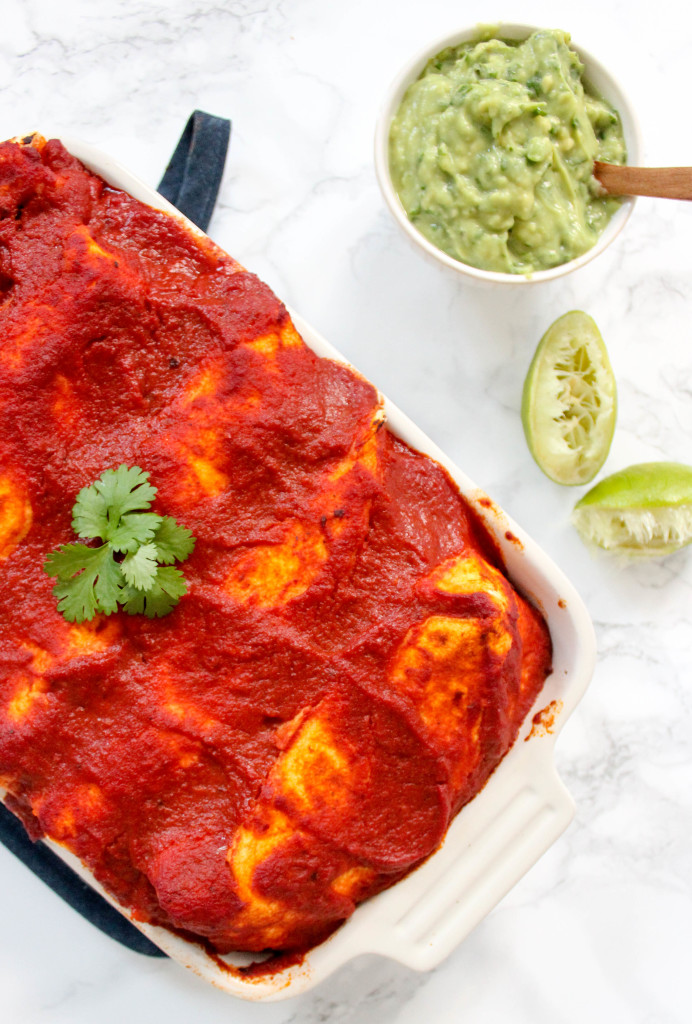 Health benefits:
Most prominent nutrients that you treat your body with by eating this dish:
– Vitamin A (antioxidant powerhouse, anti-aging benefits, maintenance of good eye-sight)
– Vitamin C (good for your immune system, tissue health)
– Protein (important for a healthy metabolism, immune systems, production of enzymes)
– Iron (important for healthy red blood cells that transport oxygen through your body)
– Manganese (for nerve health)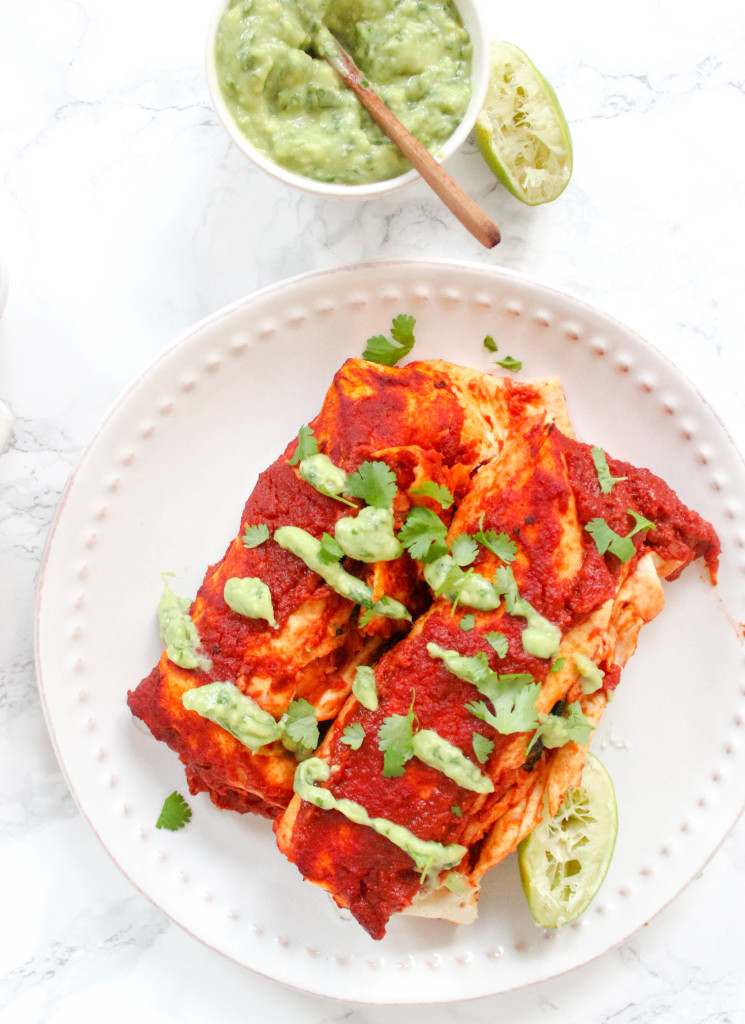 I simply love how much goodness these enchiladas give your body so I eat them at least once a week. You will also not miss the cheese, because the sweet potatoes provide enough creemy sensation and fill you up pretty fast.
Ingredients:
Note: This recipe is adapted from the glorious cookbook Oh She Glows: Vegan Recipes to Glow From the Inside Out. Copyright 2014 by Angela Liddon. Published by Avery.
Serves 4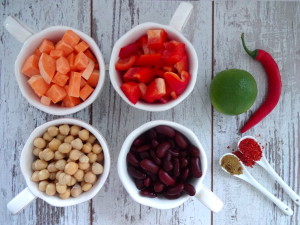 For the filling:
– 2 cups (500 g) sweet potatoes
– 1 red bell pepper
– 1 can of chickpeas
– 1 can of black beans (or 2 cans of chickpeas if you do not like black beans)
– 2 large handfuls spinach
– 1 red onion
– 2 cloves garlic
– 1 lime
– 1 tsp chili flakes
– 1/2 tsp ground cumin
– salt and pepper to taste
– 6 (gluten-free) tortilla wraps
For the sauce:
-2 tbsp (30 g) rapeseed oil
– 2 tbsp (30 g) buckwheat flour
– 2 tsp chili flakes
– 1 tsp garlic powder
– 1 tsp ground cumin
– 1/4 tsp cayenne pepper
– 1 cup (250 g) tomato paste
– 1 3/4 cup (425 g) vegetable broth
– sea salt to taste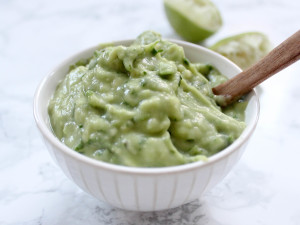 For the guacamole:
– 1 ripe avocado
– 1 large handul cilantro
– 1 lemon
– sea salt
METHOD
Preheat the oven to 180°C (350°F). Grease a large baking dish with coconut oil.
Start by making the homemade enchilada sauce. In a mid-size saucepan heat the oil. Add the flour and stirr well until a thick paste forms. Add the chili flakes, cumin, garlic powder, and cayenne pepper. Next, add the tomato paste and the vegetable broth and bring to a quick boil. Lower the heat to medium low and cook for 2-3 minutes. Season with salt and set aside.
Peel and cut the sweet potato into bite-size cubes. Place them into a saucepan and cover with water. Bring the water to a boil and then lower the heat and cook for about 5-7 minutes until fork tender. While the sweet potatoes cook, cut the red pepper into bite-sized pieces, chop the onion and mince the garlic.
Next, heat the oil in a large pan over medium heat. Add the chopped onion and garlic and sauté for 3 minutes. Season with salt and pepper.
Now add the cooked sweet potato, red pepper, chickpeas (and/or black beans) and spinach.  Raise the heat to medium high and cook for about 5-7 minutes until spinach is wilted. Turn down the heat and add 1/2 cup (120 ml) of the homemade enchilada sauce, the juice of one lime, chili flakes, cumin and salt. Remove from the heat and set aside.
Cover the bottom of the baking dish with 1/2 cup (125 g) of the enchilada sauce. Place the wraps into the oven for 2 minutes until they are soft enough to fold without breaking. Put 3/4 cup (175 g) of  the sweet potato mix into each wrap and place them next to each other in the baking dish. If you did not already eat all of the left-over filling, place it on top of the wraps. Finally, cover the enchiladas with the remaining sauce.
Bake the enchiladas for about 20 minutes until heated through.
While the enchiladas bake, make the guacamole: Wash the cilantro, and dry it with a paper towel, then place it into a food processor. Add the pitted avocado, juice of one lime, and the sea salt.
Take the enchiladas out of the oven and serve with the avocado guacamole.
Enjoy!