I learned something this week: you should never say never or else I would not have tried making these thai lettuce wraps with tofu and peanut chili sauce. I once said that I will never post a recipe with tofu on the blog, but here it is, and it is truly delicious! When I was a true vegetarian around my teenage years of 16 and 17, I ate a lot of tofu. But little did I know about cooking back then, so my tofu eating habits looked pretty much like this: lettuce, chopped carrots and red bell pepper with soft (!) plain tofu scrambled on top. If it hadn't been for the salad dressing, it would have been a total taste nightmare, but it was the best I could prepare in the kitchen at that time, so it sufficed.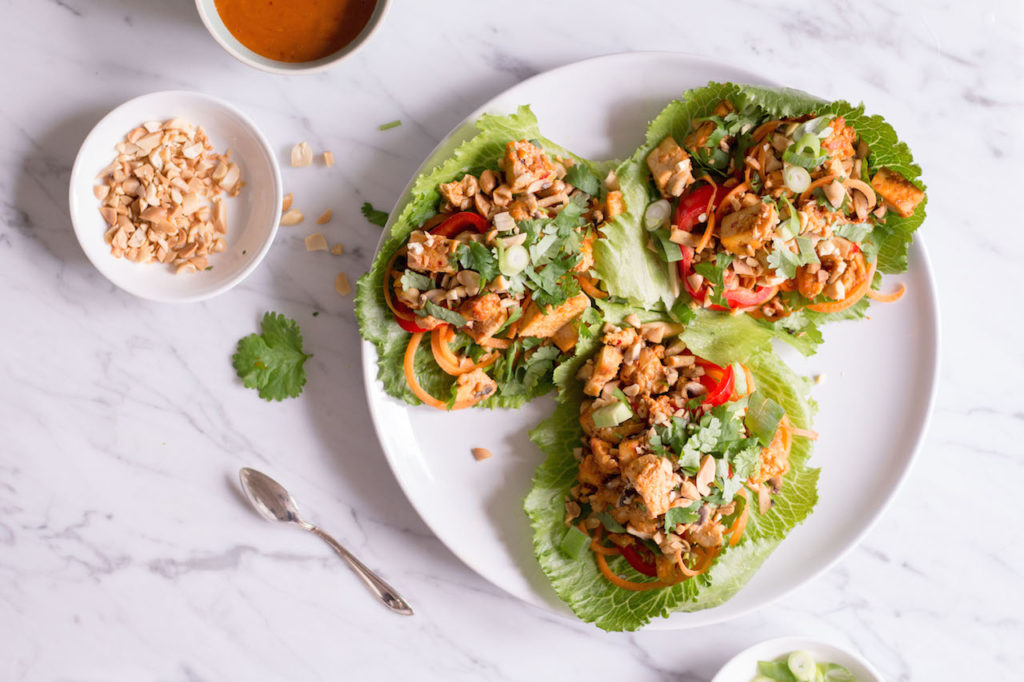 Obviously, I never really liked the taste of tofu back then (duuuh!), as it turned into a slimy texture in my mouth. It was the only way I knew how to eat proteins, however, and in sweet South Dakota, where I lived at that time, I was lucky to get any tofu at all at Walmart. My tofu experience changed recently, however, when I had the most delicious thai coconut tofu soup and vegetable stir fry with the best marinated tofu ever. I had it at one of my favorite vietnamese restaurants in Hamburg, and this experience changed my tofu taste forever. It all comes down to the marinate or sauce, and you'll never look at tofu the way you did before. So naturally the secret star of this recipe is the sauce, and not the tofu itself.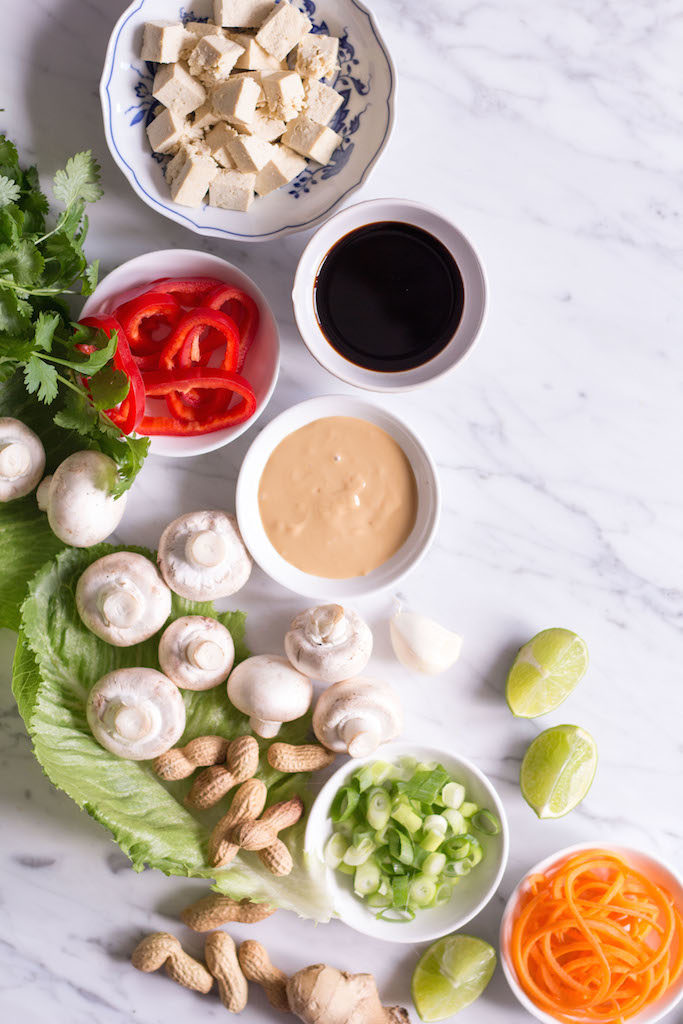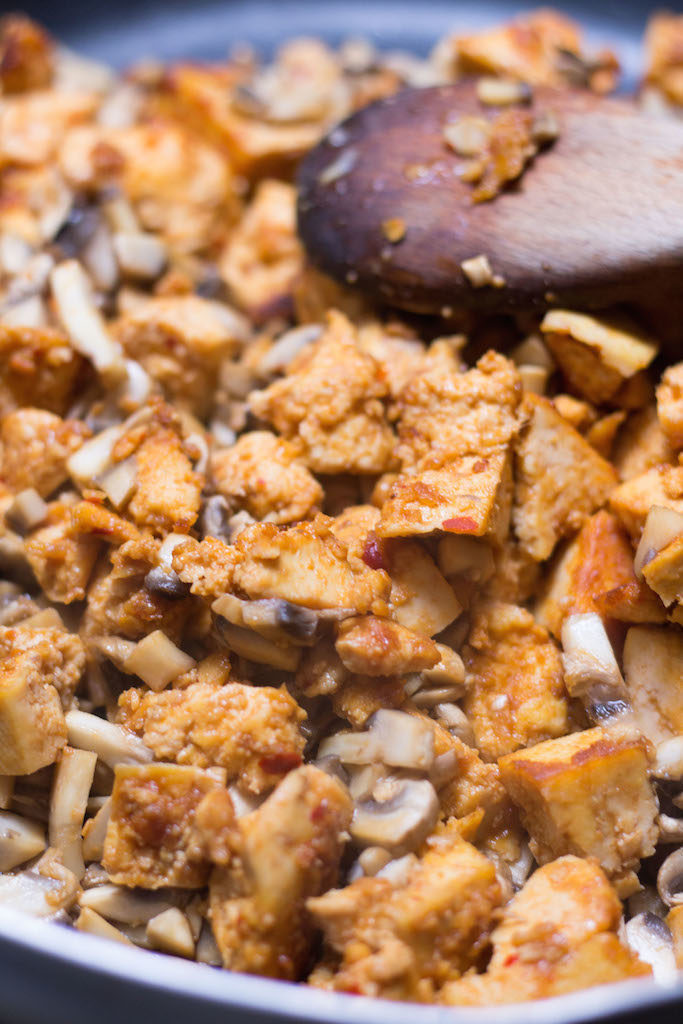 If you have been following my blog, then you might have noticed that I am quite obsessed with peanut sauces. I usually prefer almond butter during the day, but in Asian dishes, peanut butter is simply a must. Obviously peanut sauce is not really a light sauce, but it simply tastes amazing and comes with another great bunch of protein and healthy fats. The peanut butter combined with a chili sauce like sambal olek, lime juice, tamari and ginger is a sauce made in peanut heaven. If you have a peanut allergy, then almond butter will work just as well, but it will have a different taste. You could also swap the peanut butter for sunflower butter, if you're allergic to all nuts.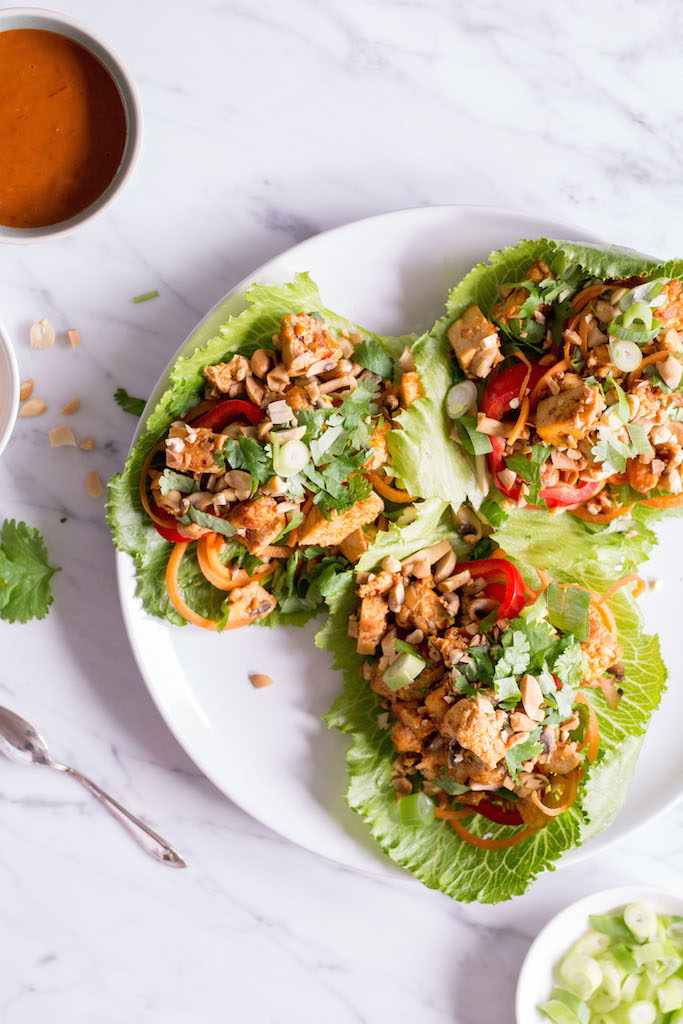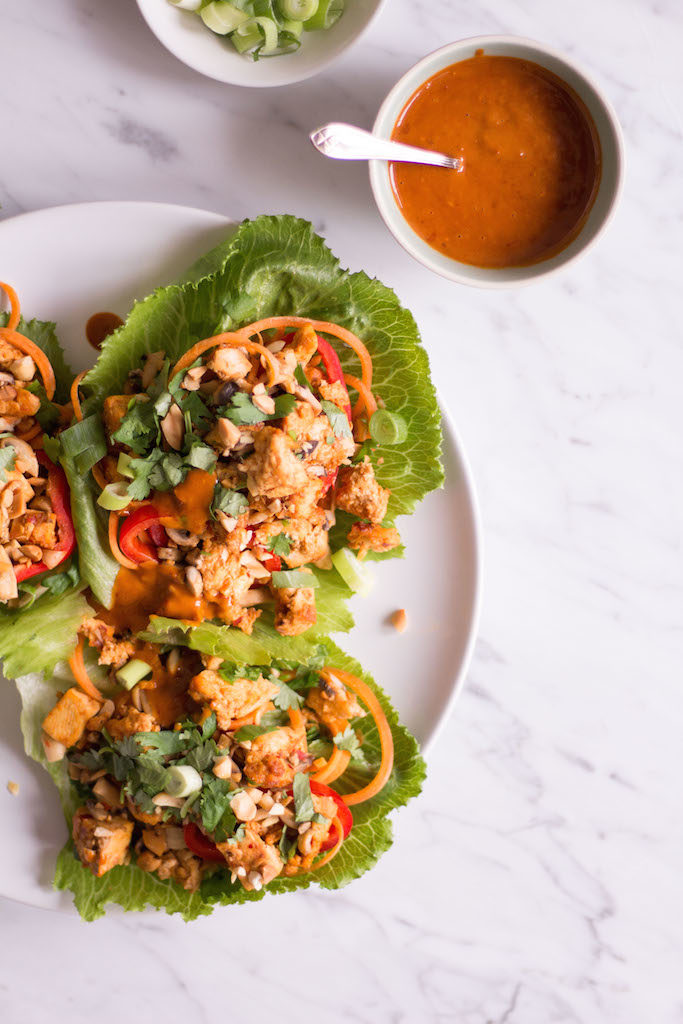 So what good do these thai lettuce wraps do for your body? First of all, these wraps are made with many fresh and raw ingredients, so naturally, you'll find a good amount of nutrients in this dish. For once we have a vitamin C overdose from the red bell pepper and carrots, as well as some eyesight-protecting vitamin A. Then there's the tofu and peanut butter, which provide healthy fats and protein. In addition, this is also a low-carb dish because you don't even need carb-loaded tortillas as the salad leaves serve as your wraps. What a great invention, don't you think? Try to find large salad leaves so you can have large wraps with lots of filling.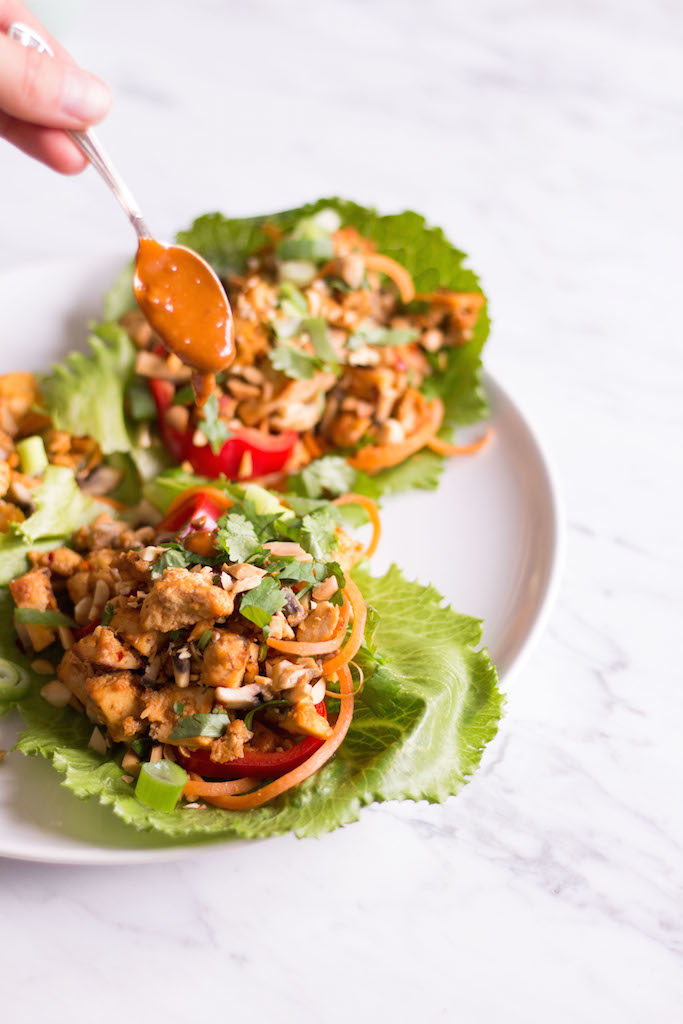 Whether you use the peanut chili sauce to marinate tofu, sweet potatoes, cauliflower or organic meat from happy animals that have led a truly happy life, these thai lettuce wraps are a crowd-pleasing dish and definitely a must-try for every foodie.

Thai Lettuce Wraps with Tofu and Peanut Chili Sauce
Ingredients
For the peanut chili sauce:
1 small garlic clove
1 thumb-sized piece of ginger
the juice of 1 lime
½ cup (120g) of pure peanut butter
2 tablespoons of rice vinegar (optional)
3 tablespoons of tamari or soy sauce
3 tablespoons of maple syrup
2 tablespoons of water
1 tablespoons of unsweetened chili sauce (I used Sambal Olek) or 1 chili
For the thai lettuce wraps with tofu:
2 tablespoons sesame oil
400g (14oz.) of GMO-free firm tofu
½ cup unsalted peanuts, chopped
500g (about 6 cups) fresh mushrooms
2 carrots
2 red bell peppers
2 tablespoons of tamari or soy sauce
12 leaves of lettuce (I used romaine lettuce)
1 green onion
1 bunch of fresh cilantro
Instructions
Prepare the sauce: Juice the lime. Mince the garlic, and chop the ginger. You can do this in a food processor or by hand. Add all the remaining ingredients and whisk to a sauce. Set aside.
For the tofu: Press excess moisture out of the tofu. You can do this with a tofu press or by wrapping it in paper towels between two cutting boards and placing a few books on top. Do not press it with your weight as this might turn your tofu into crumbles. This should take about 10 - 15 minutes.
In the meantime slice the mushrooms and red bell pepper, and spiralize or slice the carrots. Chop the peanuts, cilantro and green onion.
Then cut the tofu into bite sized pieces. Heat a tablespoon of oil in a nonsticky pan. Add the tofu and stir fry until golden brown. Then add about 4 tablespoons of the sauce and simmer until the tofu becomes browned in the pan. This should take about 5 - 10 minutes depending on your stove. Set aside.
Now add the mushrooms to the same pan without adding oil. Fry them until they start to release moisture while constantly stirring. Add the tamari or soy sauce and let them simmer for about 5 minutes. Drain the moisture (tamari and water from the mushrooms) and add the tofu to heat it up again. Once it's nice and warm, remove from heat.
To assemble:
Add about ¼ cup (2 tablespoons) of the tofu mushroom mix to each leaf, top it with the veggies, chopped cilantro, peanuts, green onion and a teaspoon or two or the sauce.
Notes
This serves as a lighter main dish for two and an appetizer for 4 - 6 people.
Enjoy!
---
DID YOU MAKE THIS RECIPE OR HAVE ANY SUGGESTIONS, QUESTIONS OR COMMENTS?
Feel free to leave a comment below, and don't forget to tag your creations on social media using #heavenlynnhealthy.
I'd love for this blog to be a dialogue.
---