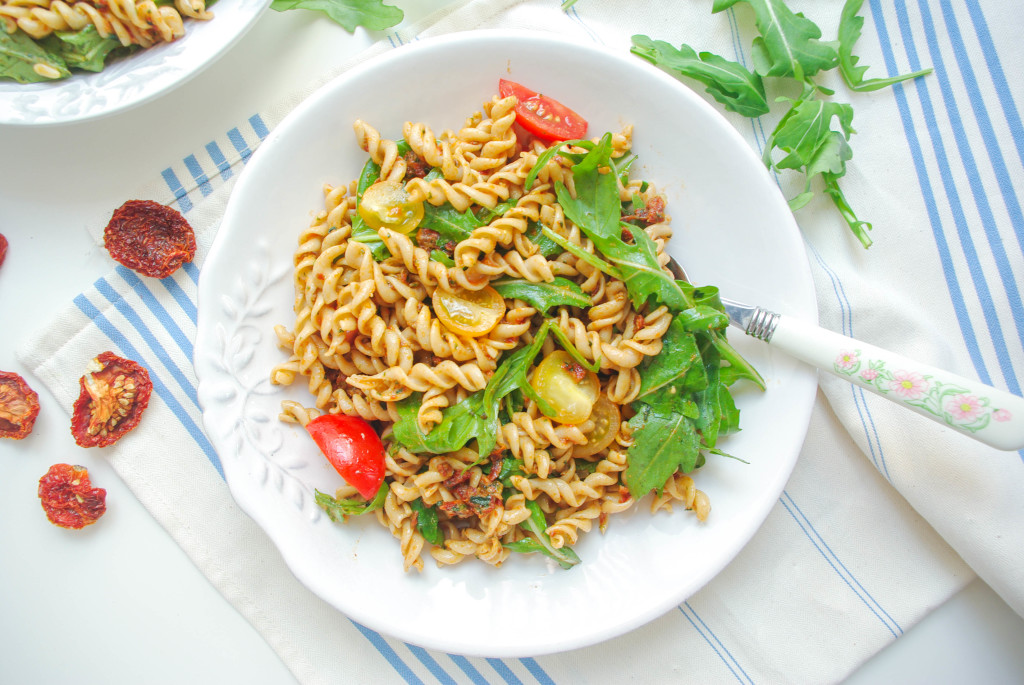 This sun-dried tomato pasta pasta salad is currently my favorite thing. I can't tell you why, but I have been obsessed with sun-dried tomatoes for quite a while now. I eat it with anything: in my salads, in sauces, with pasta, rice, and I even made hummus with it. (Recipe coming soon!). I just love the taste of them so much. It tastes like summer to be and for some reason it makes me think of Italy and the amazing food there. Pasta salad is one of my favorite comfort foods, as it is so easy to make and takes very little preparation time. I can throw this salad together in the 8 – 10 minutes that the pasta cooks, so it's the perfect meal for when you come home exhausted after a long work day.
I've had several people try this pesto pasta salad, including my boyfriend, best friends and family and they all loved it. Even my meat-loving dead, who usually cuts sausage into every single meatless meal, resisted the urge to "meatify" this salad. That's about the greatest honor I can get. So you should take this really serious.
The ingredients of the pesto literally melt in your mouth. The sun-dried tomatoes give it a summer-salty taste, while the pine nuts add a nice touch tanginess and a little extra crunch. The olive oil rounds up the whole thing, so be sure to use good-quality olive oil with a fruity touch.
You can also be more creative and add more veggies that you still have in the fridge. Red bell pepper, spinach, mushrooms or avocado are all great. Just be creative and eat the rainbow. There's really no reason not to try it, so go ahead and treat yourself with some good old pasta tonight.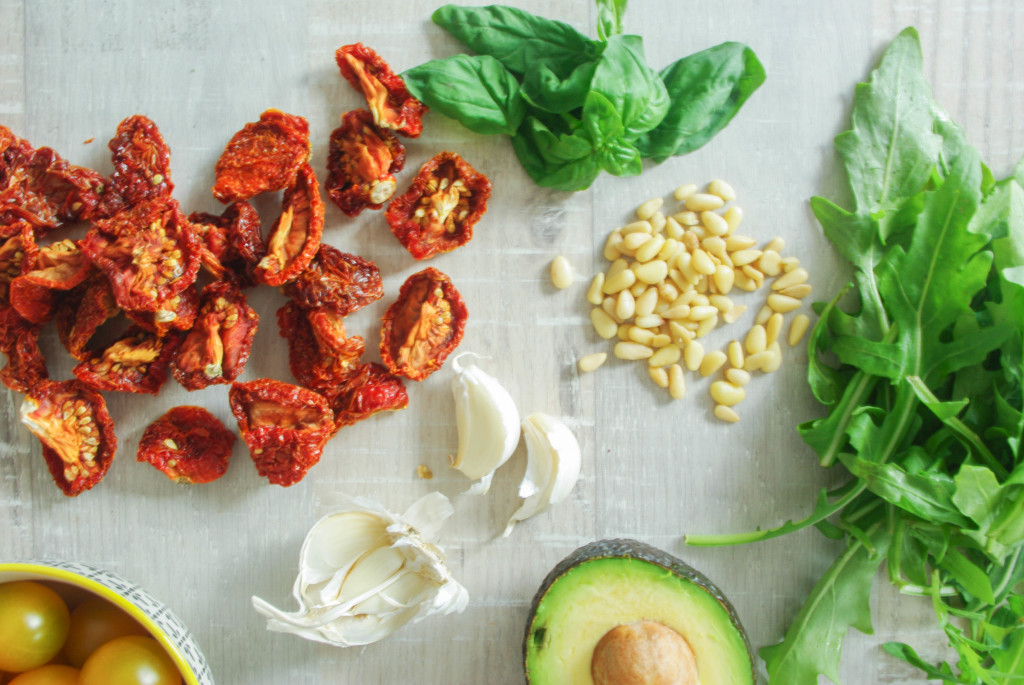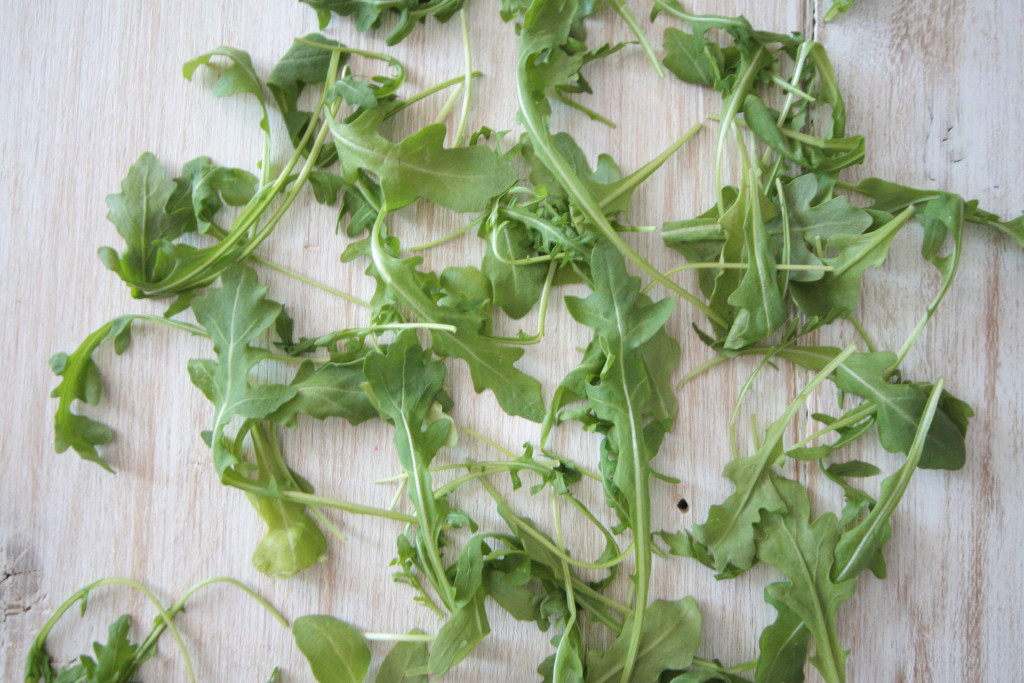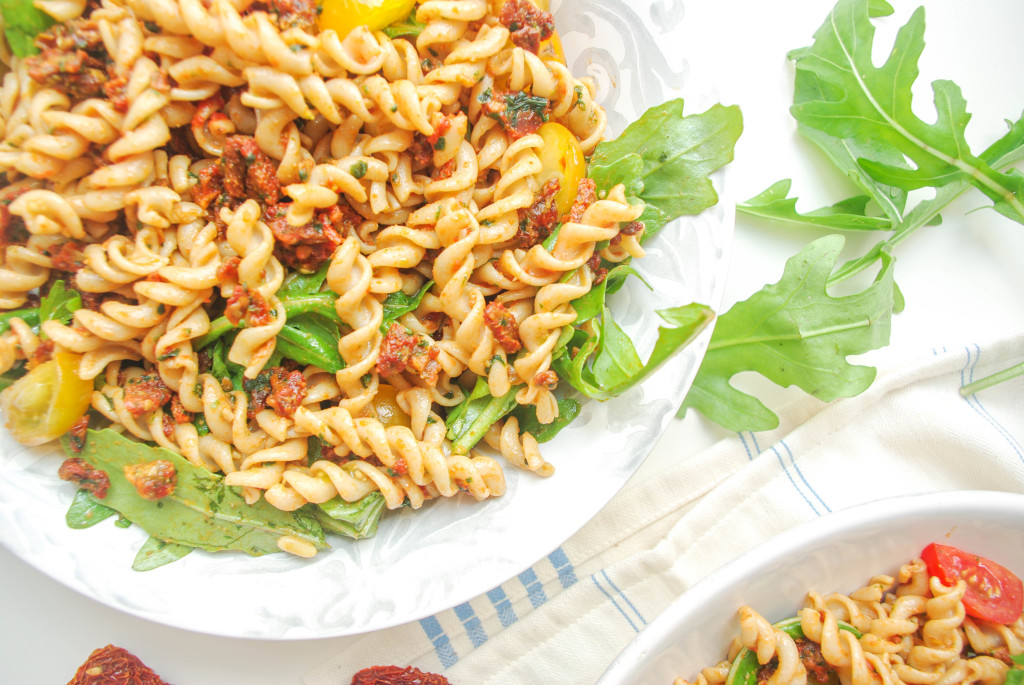 Sun-Dried Tomato Pesto Pasta Salad
Author:
Heavenlynn Healthy
Ingredients
500g gluten-free pasta (I love brown rice or buckwheat fusilli)
1 cup (125g) sun-dried tomatoes
¼ cup (45ml) extra-virgin olive oil
2 garlic cloves
1 tbsp tomato puree
1 handful fresh basil plus more for serving
¼ cup (30g) pine nuts plus more for serving
2 handful rocket (arugula)
2 cups (250g) cherry tomatoes
1 avocado (optional)
Instructions
Start by boiling water for the pasta. Add salt and pasta and cook according to package instructions.
In the meantime, roast the pine nuts on medium heat in a small skillet. No oil needed as the pine nuts naturally extract their own fat. Roast until golden brown. Be sure to watch them closely as they burn very fast.
Once they are perfectly brown and smell heavenly, remove the skillet and add most of the pine nuts to your food processor. Put some aside for serving.
Add the sun-dried tomatoes, garlic cloves and basil and mix everything for a few seconds until it is broken down nicely. Now add the olive oil and puree it to a pesto-like consistency.
Now wash and try the rocket and add it to a large salad bowl. Wash and dry the tomatoes, cut them in halves and add them to the rocket. I love to add some avocado to the salad for extra creaminess, but that's totally up to you.
Once the pasta is ready, drain it in a colander and pour it into the salad bowl. Add the pesto (you don't have to use it all - I do though) and mix everything with a salad fork and spoon.
Sprinkle with some pine nuts and chopped basil.
Notes
If you can eat gluten, then spelt pasta is heaven. Whole wheat is fine as well.
If you're allergic to pine nuts, then you can substitute them with cashew nuts, sunflower seeds or simply leave them out.
Add more garlic if you like. I am a huge fan of too much garlic in my pesto, but I think you can add up to 4 cloves to the recipe.Serves 4:
Enjoy!