*There's a heavenly Christmas giveaway for all readers living in Germany at the end of this post.
So, I guess it's safe to say that it's finally Christmas time, now that Thanksgiving is over. Being American at heart, my boyfriend and I had ourselves a small little Thanksgiving dinner as well, even though we don't live in America anymore. But it's always a nice reminder of good old times in the United States. Now it's inevitable that Christmas is around the corner and everyone is starting to stress out about Christmas gifts. I am a big fan of homemade DIY-Christmas gifts, which is why I thought I'd give you an early idea of an easy but thoughtful Christmas gift: homemade gingerbread granola in a mason jar. The stores in Germany are filled with "Cookies in a Jar" or "Bread in a jar" mixes, so why not do something different and make granola in a jar? Your friends or family will appreciate the homemade aspect of the gift, and everyone can use a good old Ball Mason Jar at home.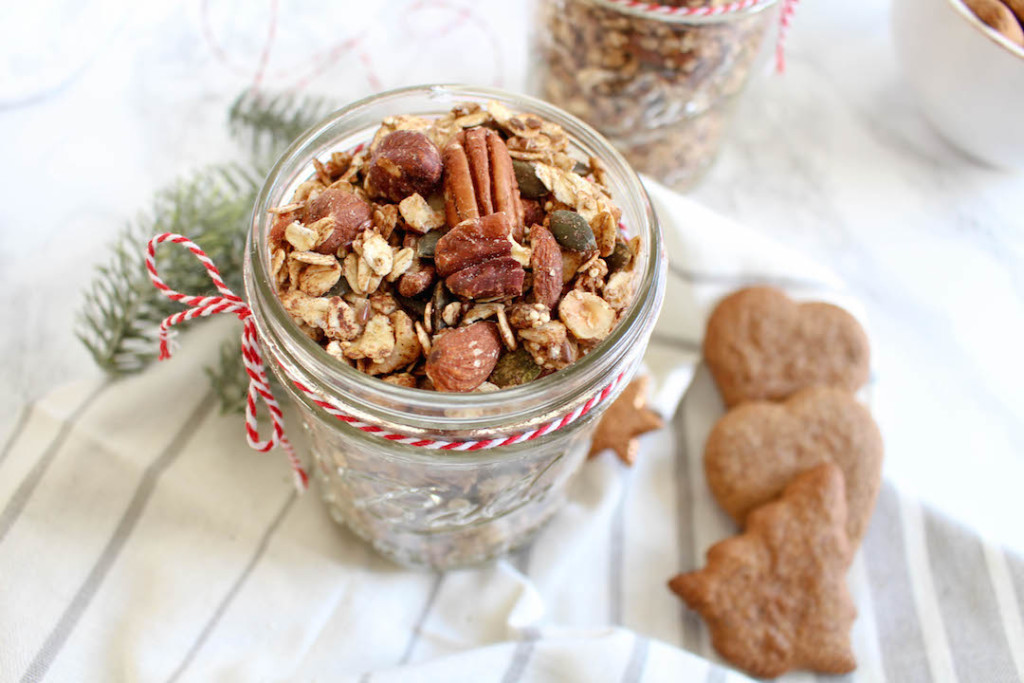 Of course it doesn't have to be the original Ball Mason Jar, any pretty jar will do it. Just wrap a nice Christmassy strap around it, and your friends will love the thoughtful DIY Christmas gift. When you prepare it, your kitchen will smell heavenly, too, and it will certainly get you into a jolly Christmas mood.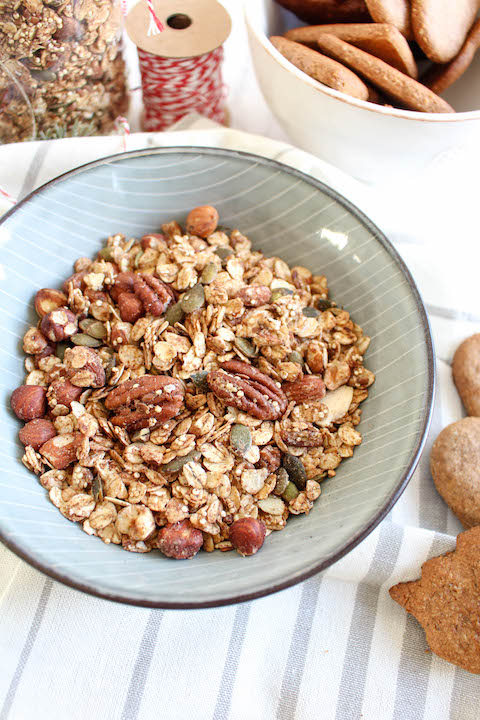 The granola is perfect to start your day with an extra touch of Christmas feeling, because every bite of this gingerbread granola tastes like Christmas. It's not particularly sweet, but it is nicely crunchy, with a wonderful nutty and gingerbread-y flavor. The spices really give it an amazing touch, and you'll never want to eat another granola ever. I don't think I will only have this granola during Christmas time. It will be my winter granola until at least the month of March. Don't believe me? Then try it for yourself. It's just sooooo good!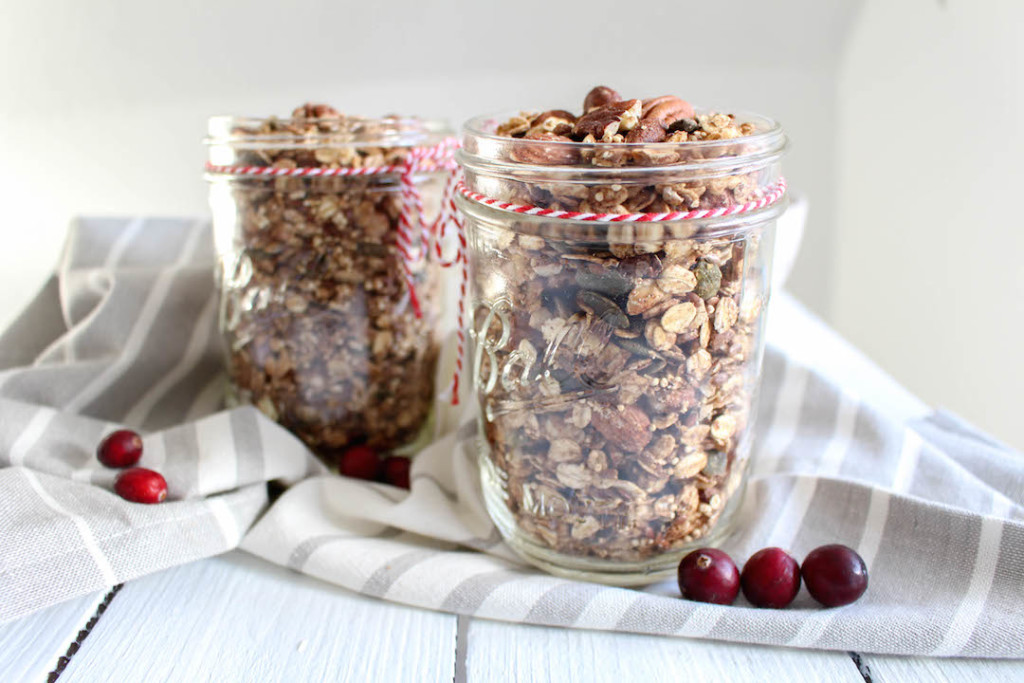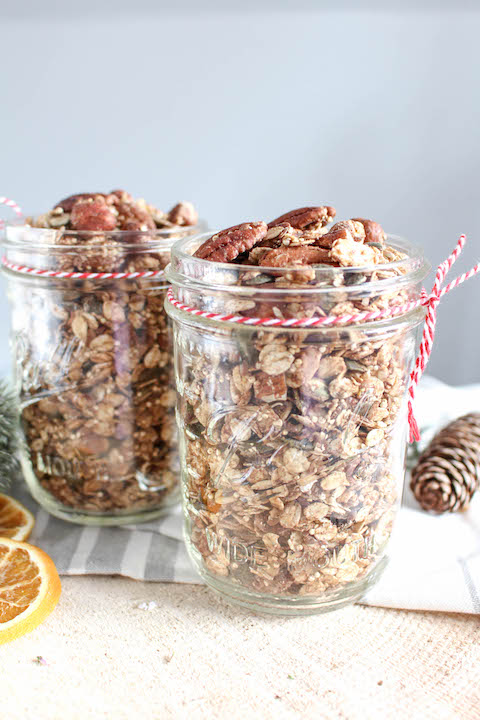 If you live in Germany, then I have a nice little Giveaway for you. Together with Lieblingsglas.de*, I am giving away two sets à 2 Ball Mason Jars as well as a pack of paper straw of your choice. Find more details in my German post.

INGREDIENTS
– 1/2 cup (65g) of whole almonds
– 1/3 cup (30g) of pecans
– 1/2 cup (65g) of hazelnuts
– 1/2 cup (40g) of pumpkin seeds
– 1/4 cup (35g) of flax seeds
– 1/4 cup (35g) of uncooked quinoa
– 2 1/2 cups (210g) of old-fashioned or gluten-free oats
– 1 teaspoons of cinnamon
– 1/2 teaspoons of ground ginger
– 1/8 teaspoons of ground cloves
– a pinch of ground vanilla
– 2 tablespoons of extra-virgin coconut oil
– 3 tablespoons of maple syrup
– 1 tablespoon of almond butter (optional)
METHOD
Preheat the oven to 160°C (320 °F).
Start by putting the almonds, pecans and hazelnuts into a food processor and crush for 2-3 pulses until they are broken into pieces. They should not be completely crushed, you still want to be able to identify them as nut pieces. Place the crushed nuts into a large bowl. Add all the dry ingredients except spices, and stir well until the ingredients are combined.
Next, melt the coconut oil in a small sauce pan. Add the maple syrup, spices and almond butter if you're using it, and stir well until everything is dissolved.
Now pour the sweet spice mix over the dry ingredients and mix well until everything is slightly sticky.
Pour the granola on a baking sheet which you have aligned with parchment paper, and bake for about 20-25 minutes. After 10 minutes or so, take the pan out and stir well so the outer edges do not get burned. Repeat this every 5-10 minutes for the rest of the time.
Take out the tray and leave it to cool for about 20 minutes. By this time the granola should be nicely crunchy but not burned and your kitchen should smell devine.
Serve with milk, non-dairy milk, yoghurt or non-dairy yogurt, top with fruits. Stored in an air-tight container it should taste amazing for up to 6 weeks.
Enjoy!