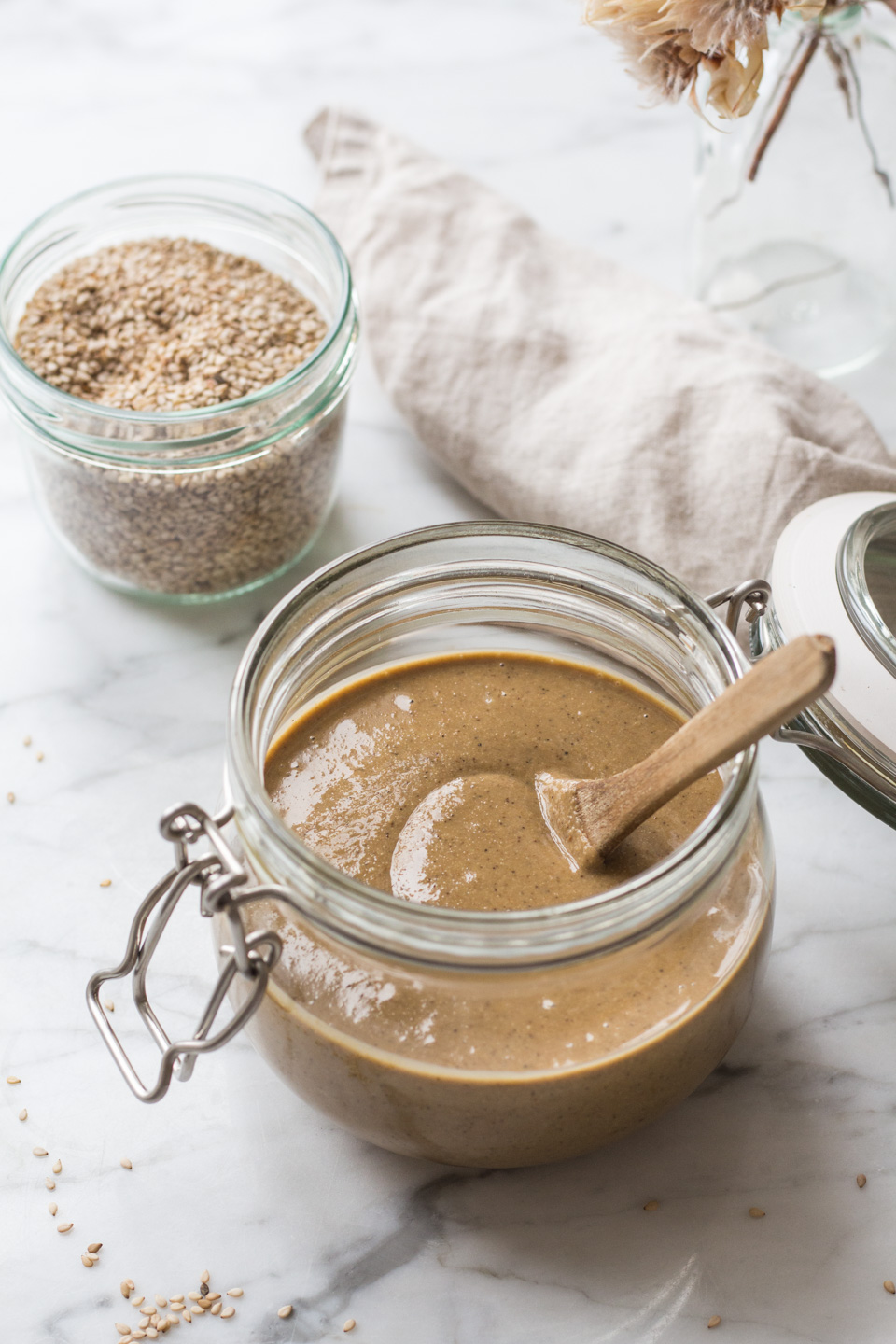 This recipe is also available in German. Dieses Rezept gibt es auch auf deutsch.
Do we really have to make our own tahini when we can just go and buy it at the store? Of course not, but it's fun, super easy and also cheaper. Since I love to experiment in my kitchen, making tahini has been on my list forever. Tahini is sesame butter and it is made by grinding sesame seeds until the fat is released from the seeds. It's the same method used to make nut butter.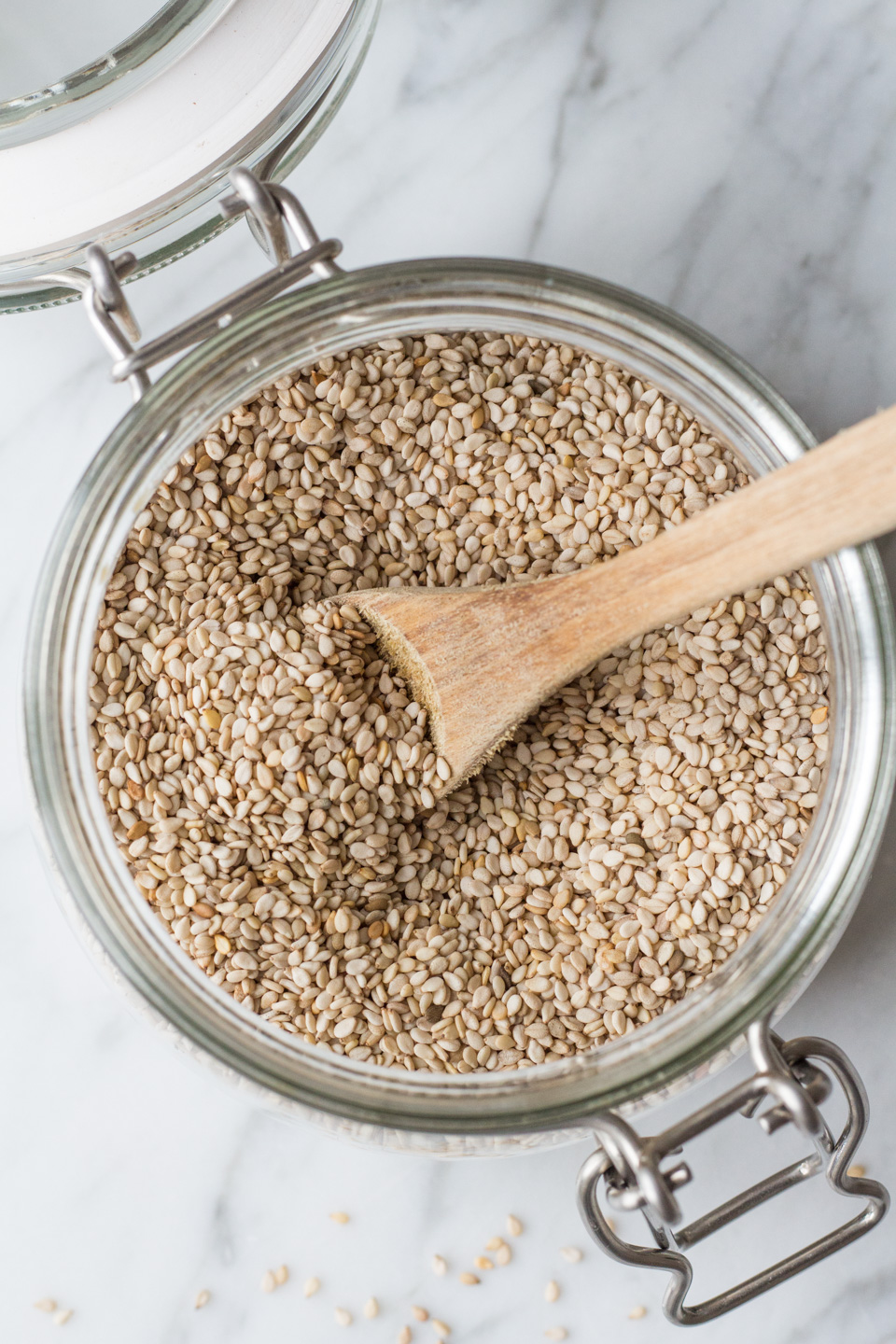 After reading a couple of articles about homemade tahini on the Internet, I realized that it would be hard to make tahini by only grinding sesame seeds by themselves. Since you do not need almond oil to make almond butter, I thought it would be the same thing with tahini. I did manage to make tahini without additional sesame oil, but only with the help of my Vitamix. Since I know that this kitchen tool is quite expensive, I also tried it with my Magimix (food processor). It worked really well, however, everyone was on the Internet was right: I did need sesame oil to achieve the desired texture. This does not diminish the quality of the tahini, just make sure to use high-quality cold-pressed organic sesame oil.
Since I am a big fan of Amy Chaplin's books, I followed her advice and toasted my sesame seeds before turning them into sesame butter. This is supposed to reduce the phytic acid content. Phytic acid is a compound found in almost every plant seed. It is supposed to prevent the seed from sprouting too early. In the human body, phytic acid may prevent the absorption of certain minerals and nutrients, which is why our grandparents used to soak their grains and beans before cooking them. This process eliminates most of the phytic acid and makes grains, beans, and pulses better digestible.
If you have never tried tahini, you might be surprised by its slightly bitter taste. Many people do not like tahini because of its bitterness, I really love it. There is a huge difference between tahini made from hulled sesame seeds and unhulled seeds. Tahini from hulled sesame seeds is a lot milder in taste and it has a brighter color. Sesame butter made from unhulled seeds has a stronger taste and bitterness and it is a lot darker. Of course, tahini made from unhulled seeds contains more nutrients as they are found in the outer layer of the sesame seeds.



Heavenly for body and soul, because …
… sesame seeds are a gift of Nature. The small seeds contain up to 50 % of fats, of which up to 90 % are unsaturated. Sesame seeds are therefore a great source of high-quality fats. It is especially rich in omega-6-fatty acid linoleic acid, which is needed for a healthy cholesterol level and it is part of the intestinal mucosa. Sesame seeds are also a good source of protein as it contains all eight essential amino acids, making it a complete protein. As mentioned, unhulled sesame seeds contain a lot more nutrients than hulled seeds. However, even hulled sesame seeds are still a very healthy addition to your diet.
Perhaps the most important minerals contained in sesame seeds are calcium and magnesium, in the perfect ratio of 2:1. This ratio is perfect for absorption. An interesting fun fact is that sesame seeds contain a lot more calcium than cow's milk. It is, therefore, a perfect addition to the vegan diet.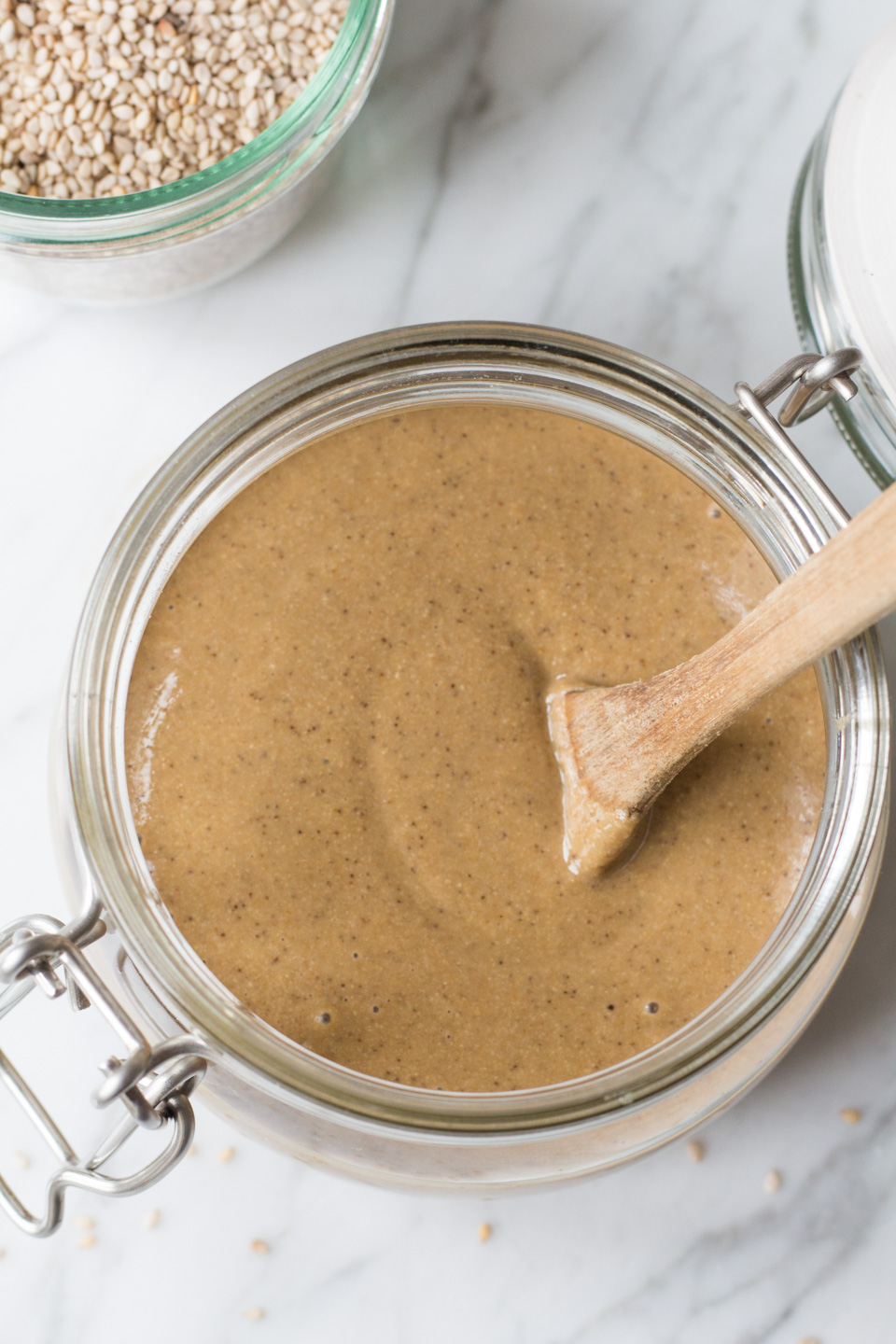 Have fun making your own tahini! If you've tried it, be sure to leave a comment or tag me on Instagram.
xx
Lynn
[tasty-recipe id="8068″]