Before writing this recipe I had to google what the English word for today's root vegetable is. Surprisingly I learned that kohlrabi is actually quite a German thing and most common in German-speaking countries. That's why the word kohlrabi was apparently incorporated into the English language. Correct me if I'm wrong. The dictionary says that kohlrabi is also less commonly known as cabbage turnip or stem turnip, so I will stick with kohlrabi in the hope that non-German speakers will understand what I am talking about.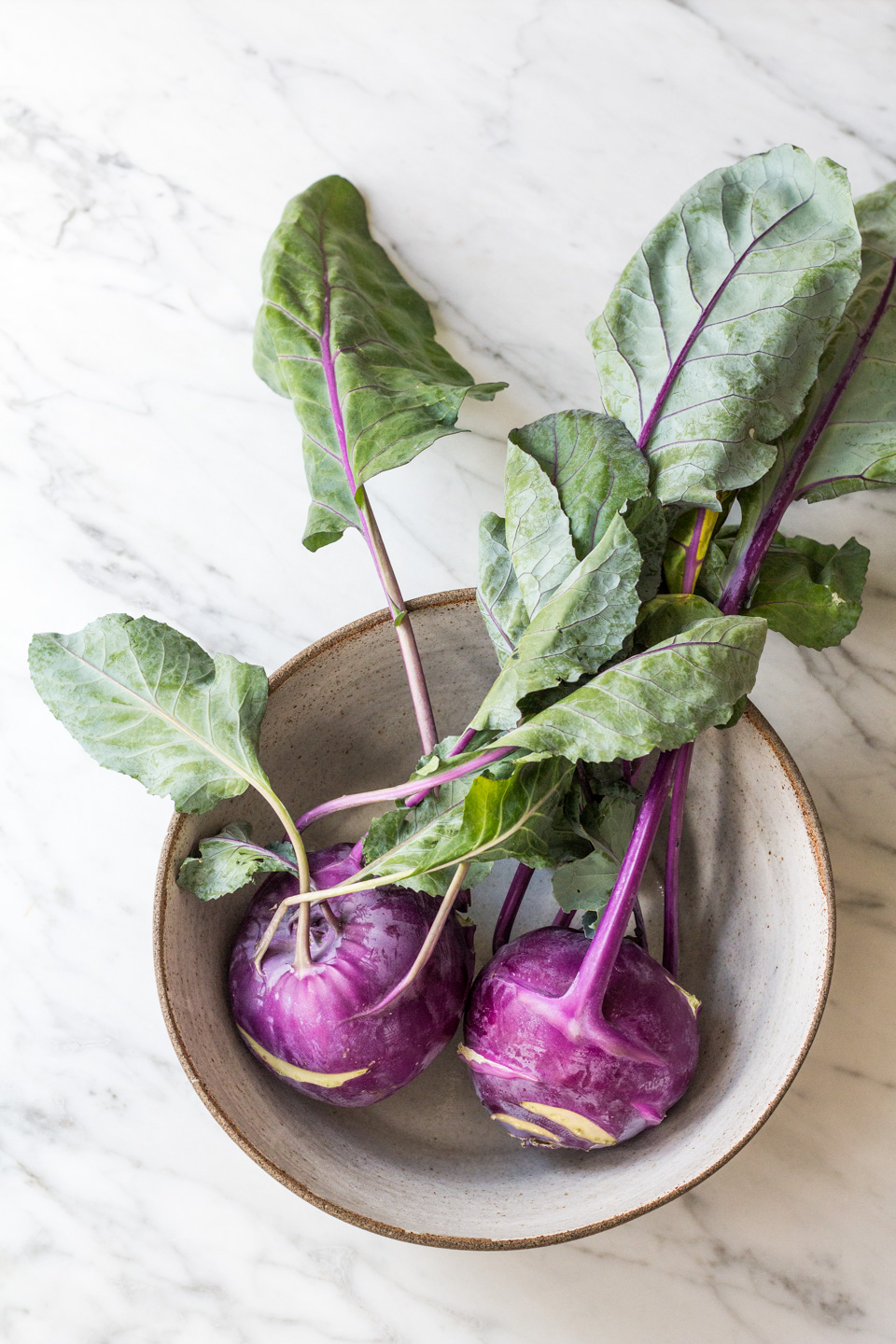 Kohlrabi is a small cabbage that I vividly remember from my childhood. It's one of those vegetables that we would always eat raw as children, alongside with carrots or cucumbers. Since it has quite a mild and juicy taste, I still love nibbling on it. However, I never really cook with it. Or at least I haven't until recently. A kind reader asked me the other day why there are no recipes with kohlrabi on my blog or in my cookbook. I messaged her back that this was not intentional, but that I simply never cook with kohlrabi. Since I am constantly looking to expand my horizon and my skills in the kitchen, I took on the kohlrabi challenge the other day and that's how today's blog post started.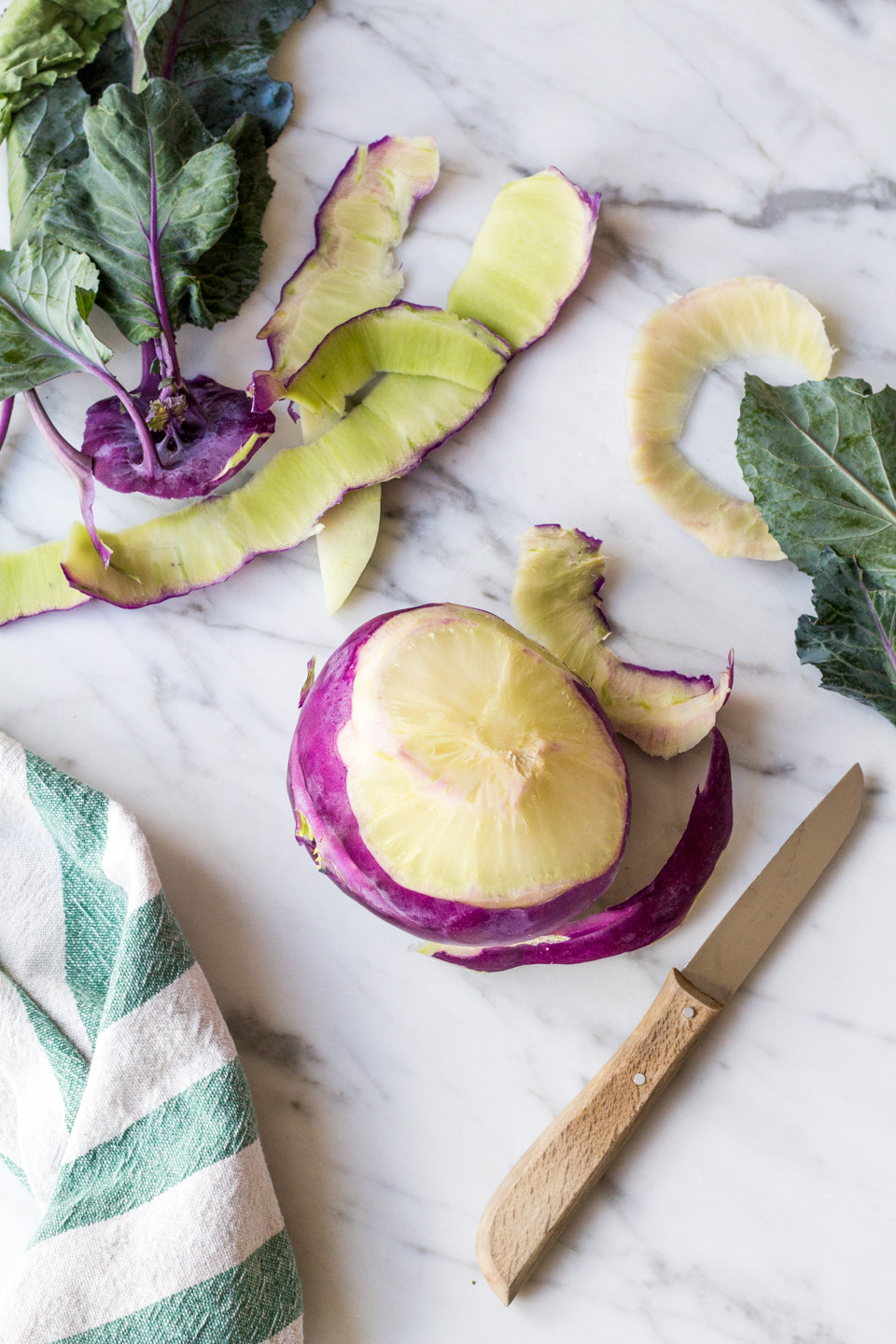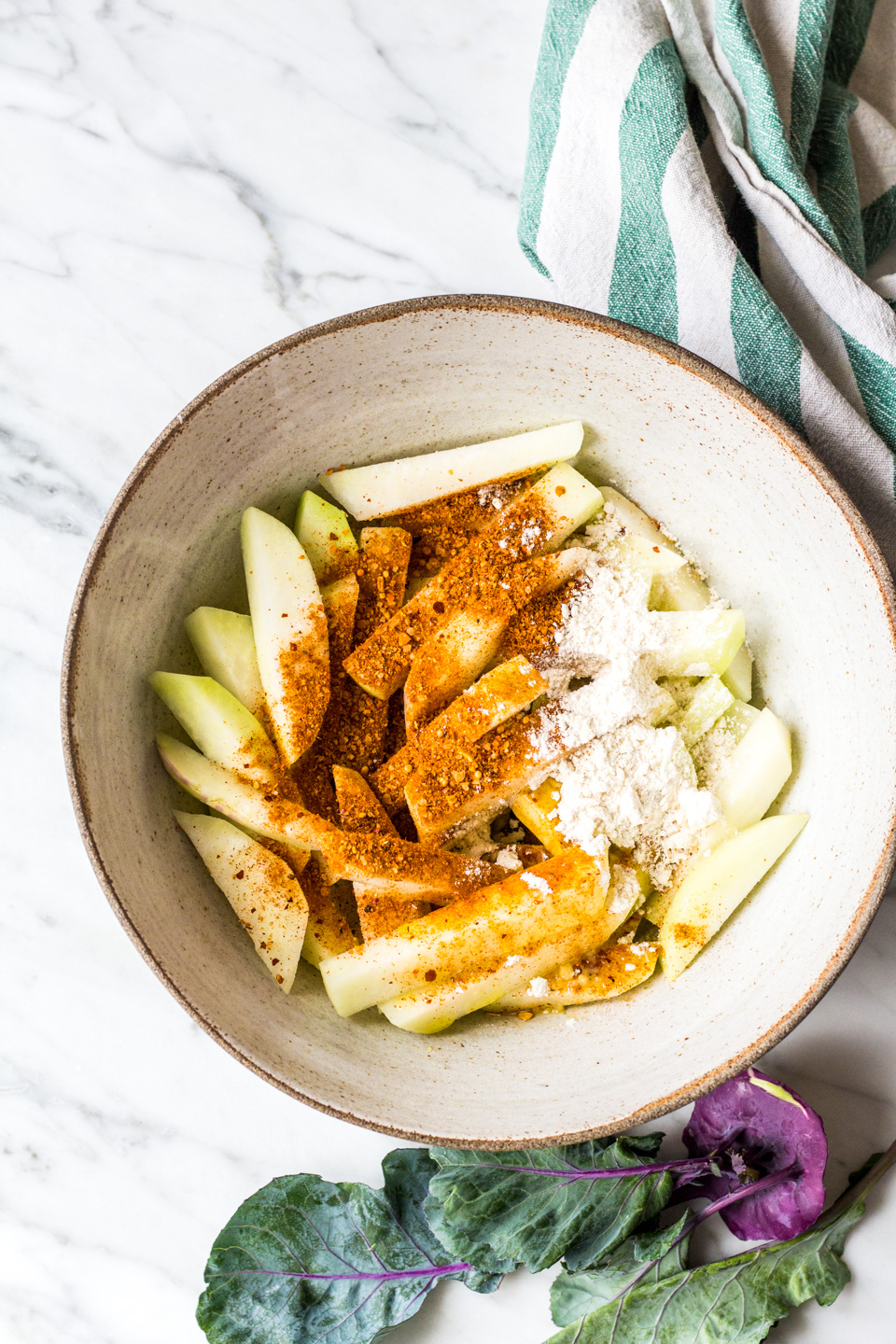 Making kohlrabi fries is probably not the most creative way to cook with the small cabbage, but it is a realistic and easy way to incorporate more veggies into your diet. As kohlrabi needs less time in the oven, it is also a simple and super quick lunch or dinner recipe. I bake it in avocado or coconut oil as these are two plant-based oils that can withstand higher amounts of heat. As I am a huge fan of cajun spice I added it to the kohlrabi along with a little bit of flour to get a nice crust. Obviously I am not deep-frying the kohlrabi, therefore the fries are not super crunchy.
I served it with my go-to mayonnaise made with white almond butter, apple cider vinegar, and a couple of other staple ingredients. It comes together in about a minute and requires no food processor or blender.

Heavenly for body and soul, because …
… kohlrabi is easier to digest than other cabbages. You cannot really compare it to broccoli or Brussels sprouts in terms of nutrient density, but kohlrabi does contain quite a high amount of Vitamin C. 100 g of kohlrabi contains about 60 % of the daily recommended amount of Vitamin C. In terms of minerals, kohlrabi contains a good amount of potassium, which is especially important for people with cardiovascular problems. Besides potassium, kohlrabi also contains a fair amount of calcium, magnesium, and iron. The purple versions are especially rich in anthocyanins, which are plant-compounds commonly found in blue or purple foods such as blackberries or blueberries. Anthocyanins are powerful antioxidants, which is why I usually go for the purple kohlrabi. Unfortunately, you have to eat the peel when you want to benefit from the antioxidants, which can be hard later in the season as it can get quite hard the longer it is stored. But if you find fresh, organic purple kohlrabi, you can definitely eat the peel.

When is kohlrabi in season?
In Germany, Austria, and Switzerland kohlrabi is locally grown from June to September. It is quite affordable, similar to potatoes I would say. In the winter months, kohlrabi is imported from Italy and Spain. You can also enjoy the leaves similar to the leaves of beetroot. I usually add them to stir-fries.
Since kohlrabi season is just about to start, do try today's recipe for a seasonal and local snack.
Enjoy!
xx
Lynn
Print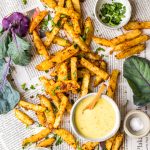 20-minute kohlrabi fries
---
Author:

Total Time:

20 minutes

Yield:

2

1

x
For the fries:
2

kohlrabi cabbages

1 tablespoon

of avocado or coconut oil (see notes)

2 tablespoons

of cajun spice (see notes)

2 tablespoons

of spelt flour (see notes for a gluten-free option)
sea or rock salt
For the mayonnaise:
2 tablespoons

of white almond butter

3 tablespoons

of water

2 tablespoons

of extra-virgin olive oil

1 teaspoon

of dijon mustard (no sugar added)

1 teaspoon

of fresh lemon juice

1 teaspoon

of apple cider vinegar

1 teaspoon

of maple syrup or honey
sea or rock salt and pepper to taste
---
Instructions
Peel the kohlrabi and cut it into long fries. Place them in a bowl and add the remaining ingredients except for the salt and mix well.
Pre-heat the oven to 200 °C fan setting. Place the fries on a backing sheet covered with baking paper. Make sure they do not touch each other. Bake the fries for 10 minutes, then turn them around and bake for another 5-10 minutes.
While the fries are baking, make the mayonnaise by simply whisking all ingredients together. Season with salt and lemon juice to taste.
Season the kohlrabi fries with salt and serve with the mayonnaise.
Notes
I use store-bought cajun spice, but you can easily make your own. Simply mix 1 tablespoon of paprika powder with 1 teaspoon of thyme, 1 teaspoon of majoram, 1/4 teaspoon of cayenne pepper and 1/4 teaspoon of freshly ground black pepper.
Use 2 tablespoons of potato starch or gluten-free flour instead of spelt flour for a gluten-free version.
Since I bake these fries on high heat, I use a heat-resistant oil such as avocado or coconut oil. If you do not want to use either due to environmental reasons you can use any heat-resistant plant oil such as rapeseed oil (though it is not my preferred type of oil).
Prep Time:

5

Cook Time:

15