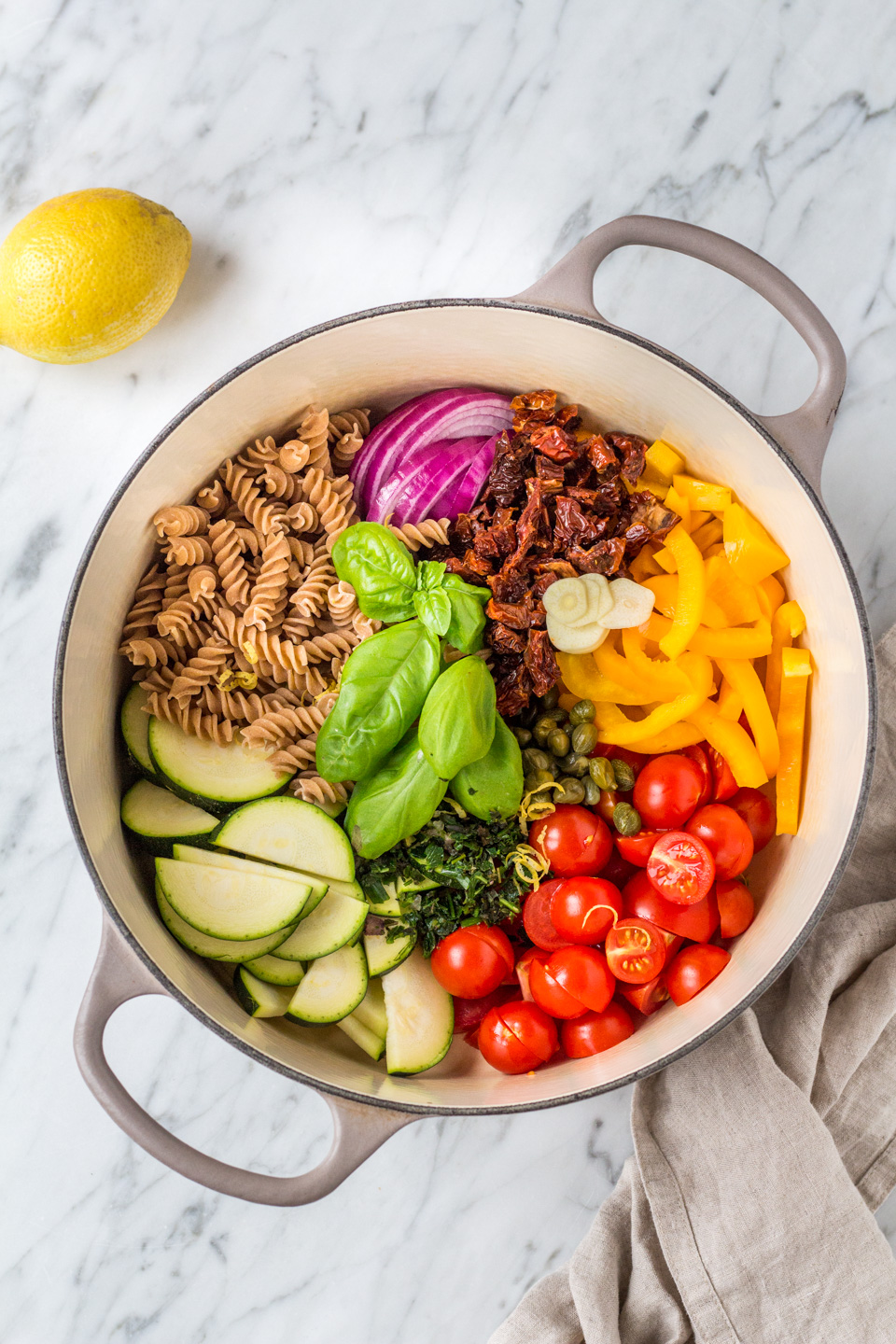 This recipe is also available in German. / Dieses Rezept gibt es auch auf deutsch.
I know, I'm pretty late to the party, but one-pot-pasta has been my lifesaver recently. It's one of those recipes that you can easily make when you don't feel like cooking. Or when you're just about to order takeout, but actually feel like something nourishing and comforting.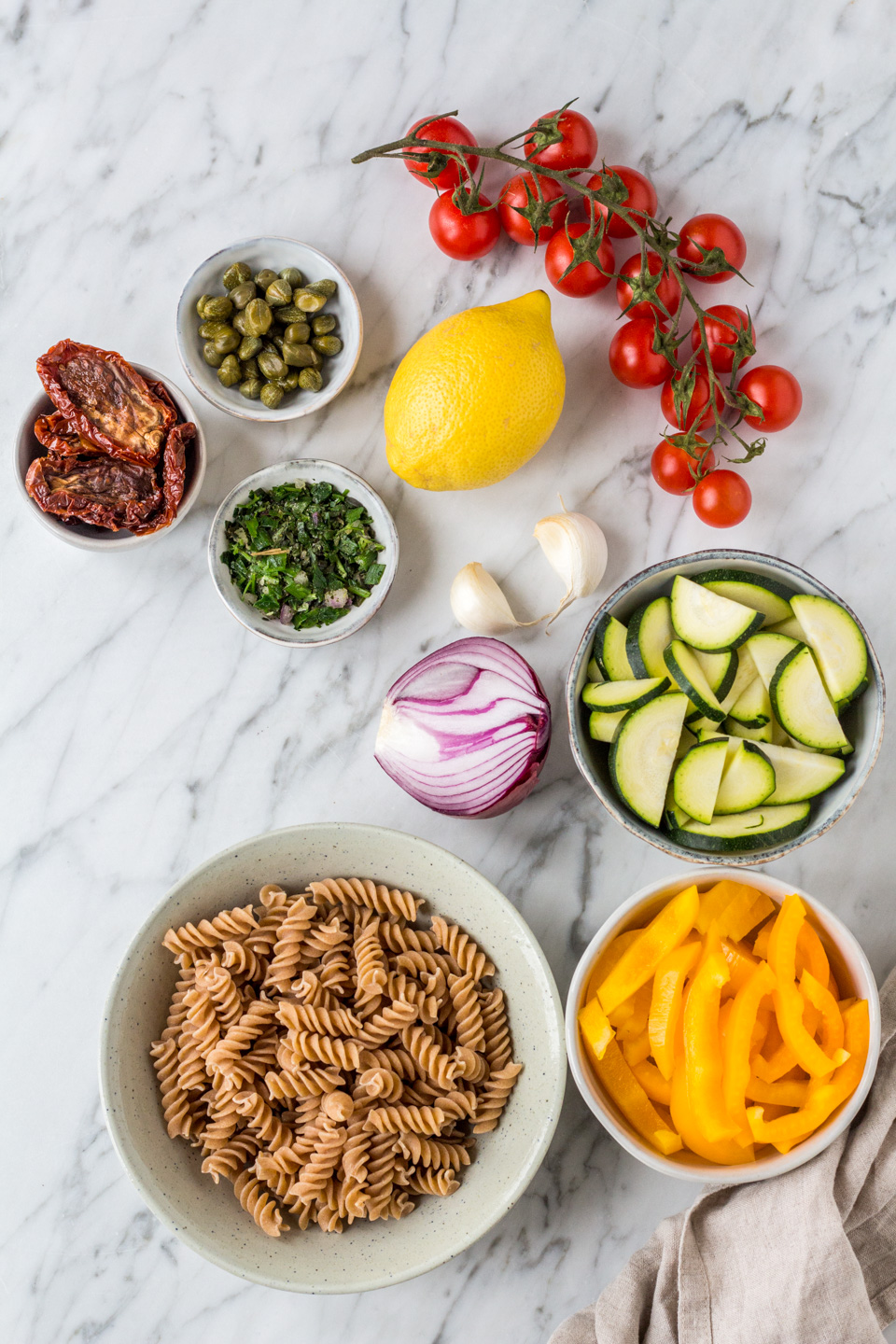 Now, if there are any Italians among you, please do not report me to the pasta police. I understand that cooking pasta in one pot WITH the sauce goes against every single Italian cooking rule. Therefore, I am not saying that this is an Italian recipe or even a recipe with Italian origins. To be honest, I do not know who invented it, but the Internet is full of one-pot-pasta recipes, so I'm guessing it must have been a blogger. Some sources say that it was Martha Stuart, but I'm not sure that she invented this type of dish.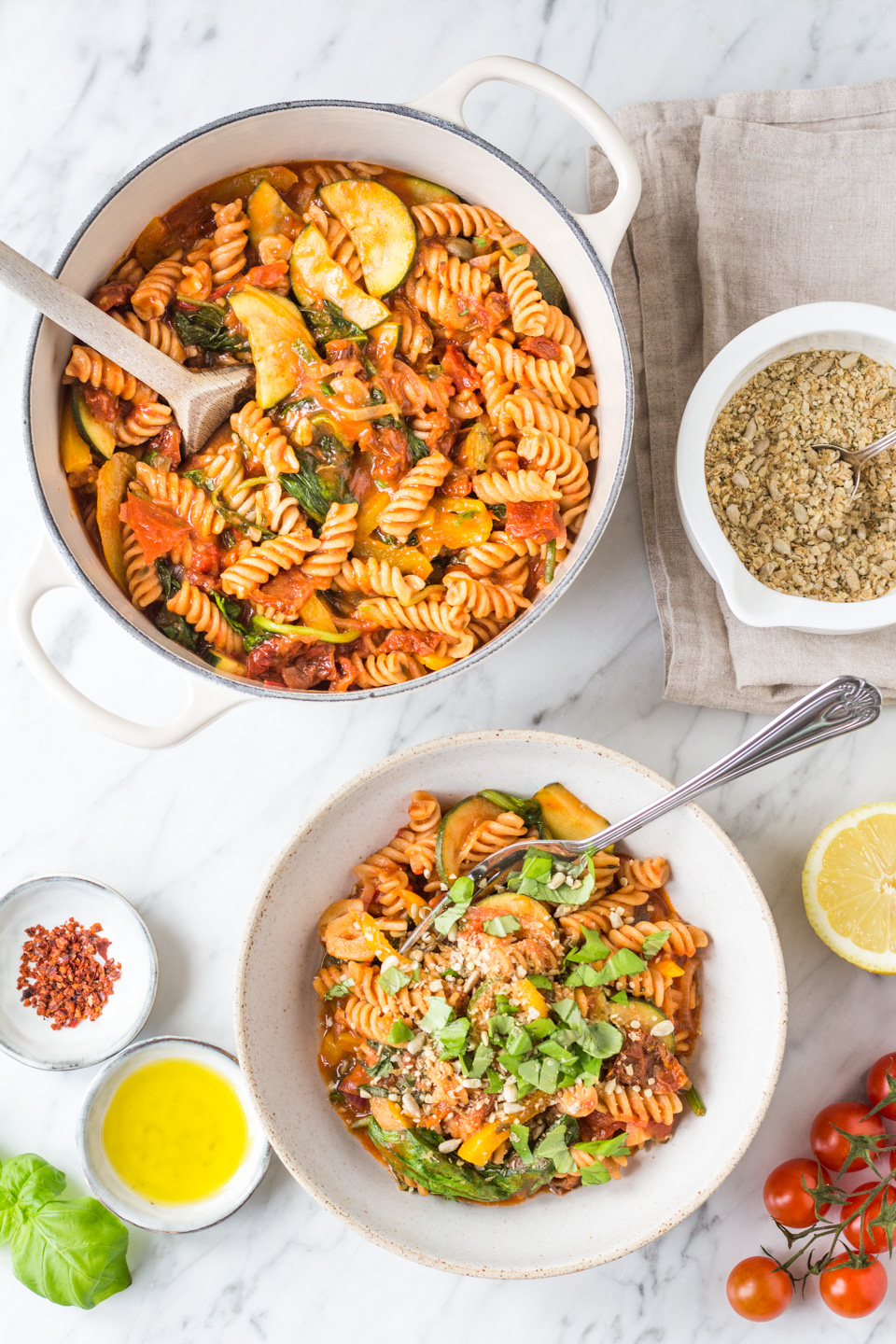 As there are a few things that you need to be aware of before getting into the one-pot-pasta game, I've summarized everything you need to know about this special kind of pasta dream:
Basic recipe: For 250 g of pasta, you need 500 ml of water and 400 g (one can) of chopped tomatoes, so a total of 900 ml of liquid. The cooking time of the pasta is crucial. It is important that it has a cooking time of 9-11 minutes. My attempts with six-minute spaghettini have failed miserably.
What kind of pasta should you use? I recommend using small noodles like fusilli or penne. It also works with spaghetti, but I have always found that one-pot-pasta works best with small noodles.
Keep stirring. Of course, it would be a dream if the pasta could just simmer on the stove, while you have time for other things. Sorry to disappoint, but you need to stay close to the stove to keep stirring continuously. But only for about ten minutes – you can do it!
The pot size is crucial. The pot should not be too small or too big. It even works best in large, deep pans, where the water can evaporate perfectly. My pot has a diameter of 26 cm and the recipe works really well in it. You could also double the portion in my dutch oven.
Freestyle? Sure, but with one-pot-pasta you should stick exactly to the quantities the recipe calls for, as the amount of liquid is proportional to the amount of pasta.
Fancy more veggies? Then stir-fry them briefly in the same pot before you cook the one-pot-pasta, put them aside, and add them again after cooking. The reason for this is that the pot should not be too full in order for the noodles to cook properly.
Variations: You can also replace parts of the liquid with (vegan) cream or crème fraîche. Of course, you can use whatever vegetables you fancy, just keep in mind sure that hard vegetables like carrots take longer to cook than soft ones like zucchini or broccoli. Not vegan? I don't need to tell you that you can cover the pasta with parmesan at will, am I right?
No need to drain.  The recipe is exactly designed so that you will end up with a creamy sauce and no excess liquid to drain.
And that's basically all you need to know. Today's recipe is super simple, yet contains two ingredients that make it taste super fancy: sun-dried tomatoes and capers. Those two really add flavor to the recipe, making it taste just like a summertime pasta dream come true.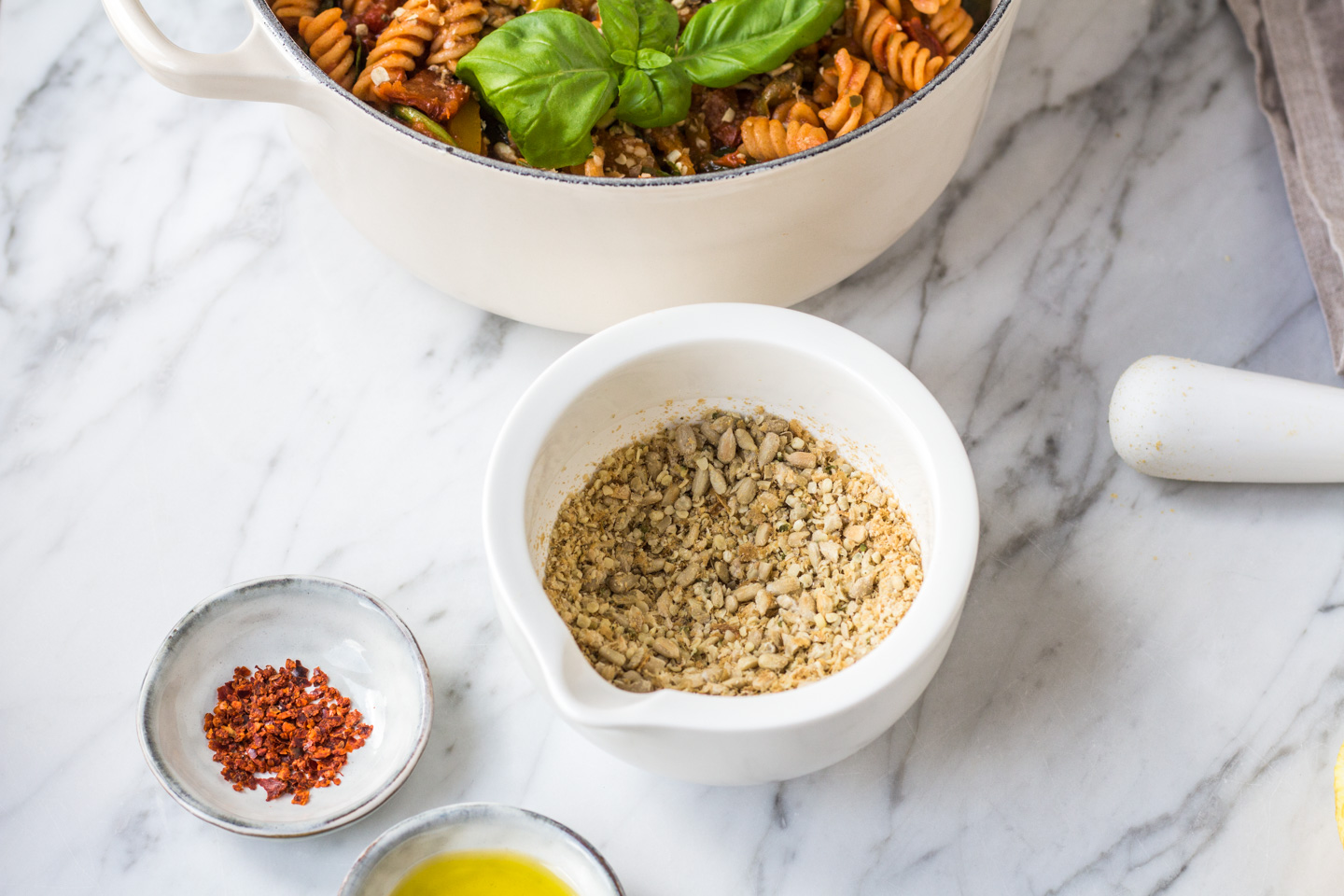 Also, please be sure to follow the instructions very carefully, as I am adding the vegetables into the pot a little later than the pasta. If you have time and the ingredients at hand, do not skip the plant-based sunflower seeds "parmesan". It's the best part and makes this one-pot-pasta anything but boring.
Enjoy!
xx
Lynn
Print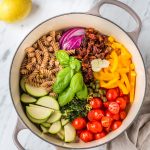 Summertime 20-Minute One Pot Pasta
---
Author:

Total Time:

20 minutes
For the pasta
1

red onion

2

cloves of garlic

100 g

cherry tomatoes

1

small zucchini

1

small bell pepper

100 g

sun-dried tomatoes in oil (and

2 tablespoons

of the oil)

2 tablespoons

of capers

2 tablespoons

of frozen or dried Italian herbs

½ teaspoon

of chili flakes (optional)

1

organic lemon (

1 teaspoon

of lemon peel and

2 tablespoons

of lemon juice)

1

large handful of basil

2

handfuls of baby spinach

1

tin (400 g) of chopped tomatoes

250 g

whole-grain spelt fusilli or pasta of your choice (see notes)
approx. 1 teaspoon sea salt or rock salt and pepper to taste
For the sunflower "parmesan"
3 tablespoons

of sunflower seeds

2 tablespoons

of hemp seeds

2 tablespoons

of nutritional yeast

½ teaspoon

of sea or rock salt
---
Instructions
For the "parmesan", roast the sunflower seeds in a pan without fat until golden brown. Place all other ingredients in a mortar and mix coarsely.
For the pasta, peel the onion and the garlic and cut each into fine slices. Halve the cherry tomatoes, cut the zucchini and peppers into thin pieces. Cut the sun-dried tomatoes into small pieces and collect 2 tablespoons of the oil from the glas.
Boil 500 ml water in a kettle. Put all ingredients except the zucchini, bell pepper, and spinach in a large pot and pour the boiling water over it. Bring everything to the boil and reduce the heat.
Let the pasta simmer for about five minutes, stirring constantly so that the pasta does not stick to the bottom of the pot. Use a cooking spoon to make sure that the pasta is always covered with liquid. After five minutes, add the zucchini and bell pepper and cook for about three to five minutes. The total cooking time should not exceed eleven minutes.
When the pasta is al dente, remove the pot from the heat and stir in the spinach. Serve the pasta with the sunflower "parmesan" and more fresh basil.
Notes
I recommend using small noodles like fusilli or penne for this recipe. It does work with spaghetti, too, but I've achieved best results with small pasta.
The recipe works with whole-grain pasta as well as with white flour pasta. The important factor is the cooking time of the noodles – as described above.
Prep Time:

10

Cook Time:

10