Too lazy for summer rolls? Then these salad wraps are perfect for you!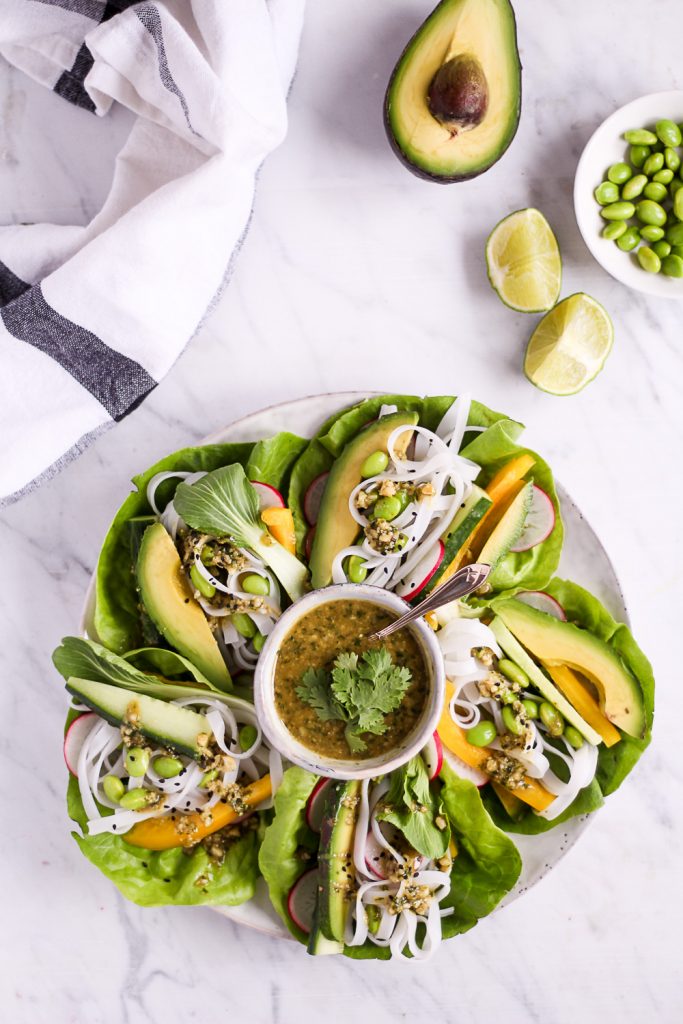 Not that summer is finally here, it's time to prepare four our bikini body. You know the drill:
How to get a beach body?
Have a body. Go to the beach.
I'm sorry, but I just love this joke so much. That's exactly what I will be doing this week, because we are off to Bali for two weeks! I do not have a problem with my weight, but of course I have parts of my body, that I do not find all that attractive. I absolutely hate dieting – like I've never went through with a single one in my life -, but when summer comes, I find myself being less hungry, so summer is usally a good time for me to drop some points (if I wanted to). What I am always craving in the summer: fresh vegetables and a great dip. That's why I've created these delicious 15 minute salad wraps, they are the perfect way to eat light and fresh and still feel satisfied. They are also great for cleaning out the fridge before you go on a weekend trip or longer vacation, so make sure you give them a try.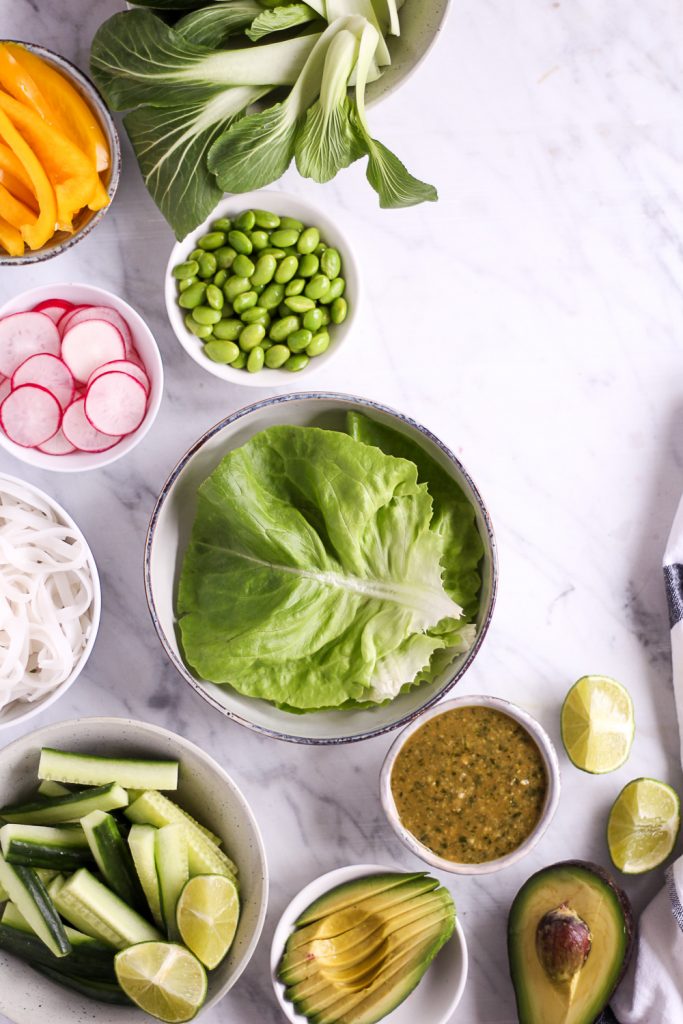 The making off these salad wraps starts with my pulling a forgotten bag of edamame out of the deepest corner of my freezer. Cool, I thought, but what should I do with these?? I was too lazy to make summer rolls and I didn't even have rice paper to begin with. So I went over to the grocery store around the corner and got myself a nice big lettuce (the very dark green kind, not the almost white kind), because I wanted to make the lettuce wraps from the Cheesecake Factory.
I know. I know. I know.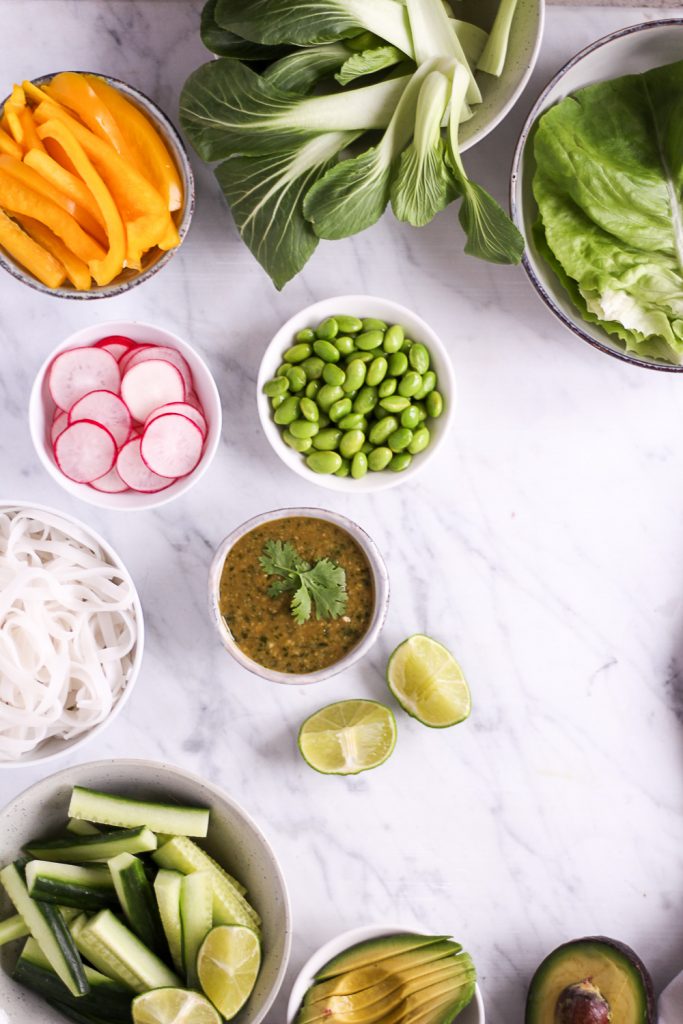 How could I possibly love the Cheesecake Factory when I claim to be a healthy food blogger. Well, first of all, I'm German, and when Germans go to America, there are certain things that we just love to do, because it fascinates us. Visiting a Victoria's Secret (used to be) is amongst these things, as is visiting outlet malls and the Cheesecake Factory. I believe it's the size of the menu, the crazy rich cheesecakes and the completely different restaurant experience than the one we are used to back at home.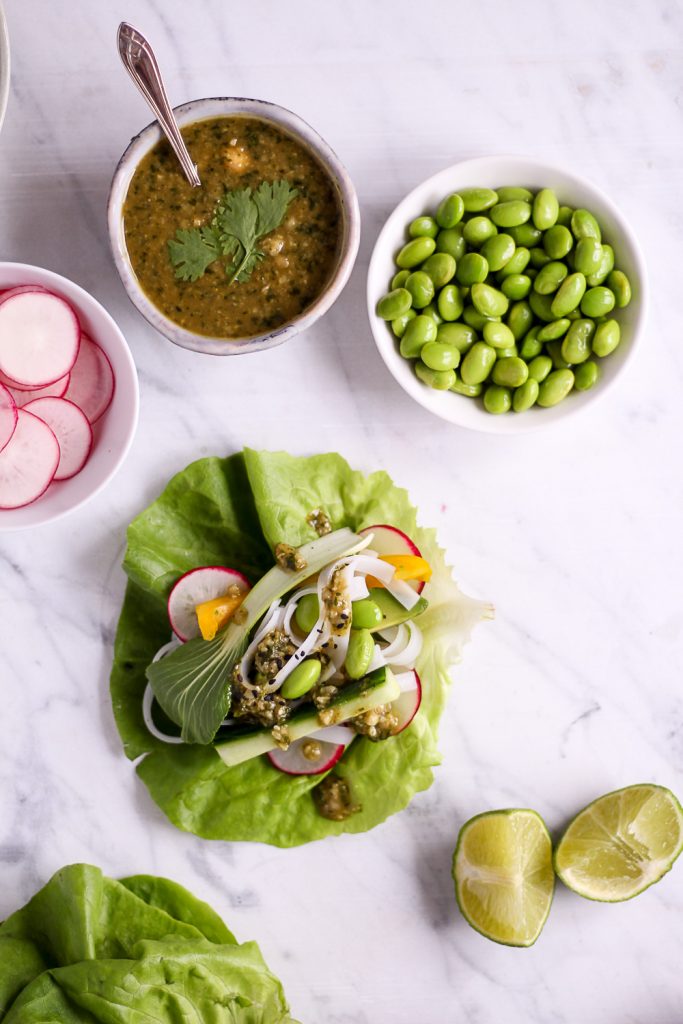 So, whenever my boyfriend and I would visit each other, we would go on a date night to the Cheesecake Factory, ordering either Thai Lettuce Wraps or Avocado Egg Rolls (I know, I KNOW!), as an appetizer. To my defense, I have to say, that the food really tastes delicious there. And those Thai Lettuce Wraps are so delicious, that I think about them often. Well, maybe not often, but I just really really liked them. So much that I just had to recreate them. And I think I succeeded quite well.
It all comes down to the sauce, which the Cheesecake Factory even shared on their blog a while ago. I wrote it down, but of course, it was anything but healthy. I tried to make it healthier, and I think I succeeded. The sauce is made up of garlic, cilantro, cashews and honey mixed with aromatic spices. It's so good, folks, you have to try it!
If you do not feel like making the lettuce wraps, you could also use the sauce as a BBQ dip or marinade – it will give you lots of approving nods. If you do decide on making the wraps, make sure you chose a protein that fills you up such as edamame, chickpeas, lentils or GMO-free tofu. I also like to add avocado and rice noodles, but that's totally up to taste. Just use what you have in the fridge, because these wraps are the best clean the fridge solution.
Print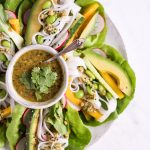 15-minute salad wraps with the best cashew-cilantro-sauce
---
Author:

Total Time:

15 minutes

Yield:

2

1

x
For the cashew-cilantro-sauce:
1

garlic clove

1 cup

of cilantro

1/4 cup

(60ml) of extra-virgin olive oil

2 tablespoons

of white vinegar such as apple cider vinegar or white balsamic vinegar

1/2 cup

(

50g

) of cashews

3 tablespoons

of honey

1/2 teaspoon

of turmeric

1/2 teaspoon

of cumin
the juice of 1/2 lime

1

–

2

teaspoons of tamarind paste (optiona, but delicious!)
For the salad wraps:
10

large lettuce leaves

600g

of vegetables of your choice: I used 1/2 cucumber, red bell pepper, 1 avocado, 4 radishes, 2 bok choy

1 1/3 cups

(

200g

) of plant-based protein such as edamame, chickpeas, lentils, beans or GMO-free tofu

1/2

pack of rice noodles, preferably brown rice noodles if you can find them
---
Instructions
For the sauce:
Mix all ingredients in a blender or food processor until an almost smooth paste forms. Alternatively, you can also finely chop the cashews and coriander and mix it with the other ingredients per hand.
For the salad wraps:
Cover the rice noodles in boiling water and let soak for 10 minutes. Drain the water and set the noodles aside.
Wash and dry the vegetables, and cut them into 2 to 3 inch sticks. Place the frozen edamame in a pot of boiling water for 3 – 5 minutes to defrost.
To assemble, simply place one salad leave on a plate and add rice noodles, vegetables and edamame and sprinkle with a generous amount of the sauce.
Prep Time:

10

Cook Time:

5
---
DID YOU MAKE THIS RECIPE OR HAVE ANY SUGGESTIONS, QUESTIONS OR COMMENTS?
Feel free to leave a comment below, and don't forget to tag your creations on social media using #heavenlynnhealthy.
I'd love for this blog to be a dialogue.
---
Merken
Merken
Merken