This is the second recipe of my Heavenly Healthy Christmas Series where I am sharing my favorite healthy holiday recipes with you. It's based on a recipe by Terry Walters, and I simply adapted it to my taste. I already shared a traditional German side dish, spiced apple cabbage, last week, and this is a lovely and delicious savory main course, that not only vegetarians or vegans will love. I've served this loaf to my recipe testers a few weeks ago and they gave me the go to share it with you.
The loaf has a very interesting texture due to the lentils and the walnuts. Combined with fresh herbs such as thyme and oregano, the lentils acquire a smokey and hearty taste, that really resembles traditional meat loaf. I do not want to brag, but I think this loaf tastes even better than real meat loaf, because it is so much more flavorsome and interesting.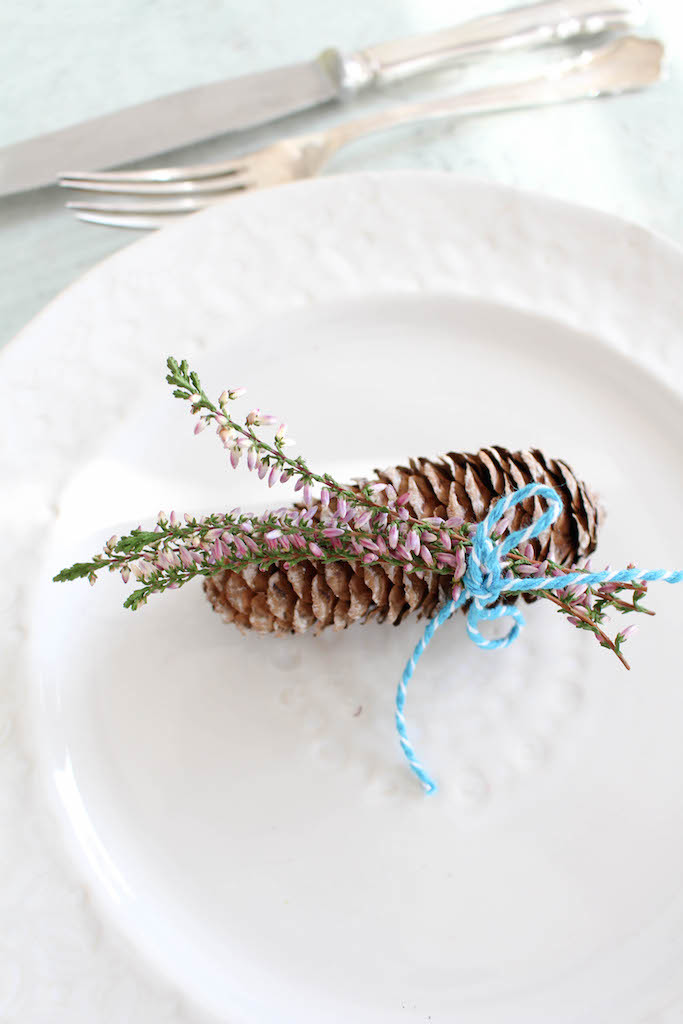 I admit that the preperation of this dish is a bit more time consuming than most of my other recipes on the blog, but trust me, the time and effort you put into this loaf will pay off. Most of the work consists of chopping, and if you have a good food processor than you can even let it do the work. I just personally like to grind the carrot, sellerie, apple and pear because they help the loaf stick together better. However, if you want to use a food processor instead, it will taste just as delicious. The loaf might just be a little more crumbly, but it's nothing to worry about.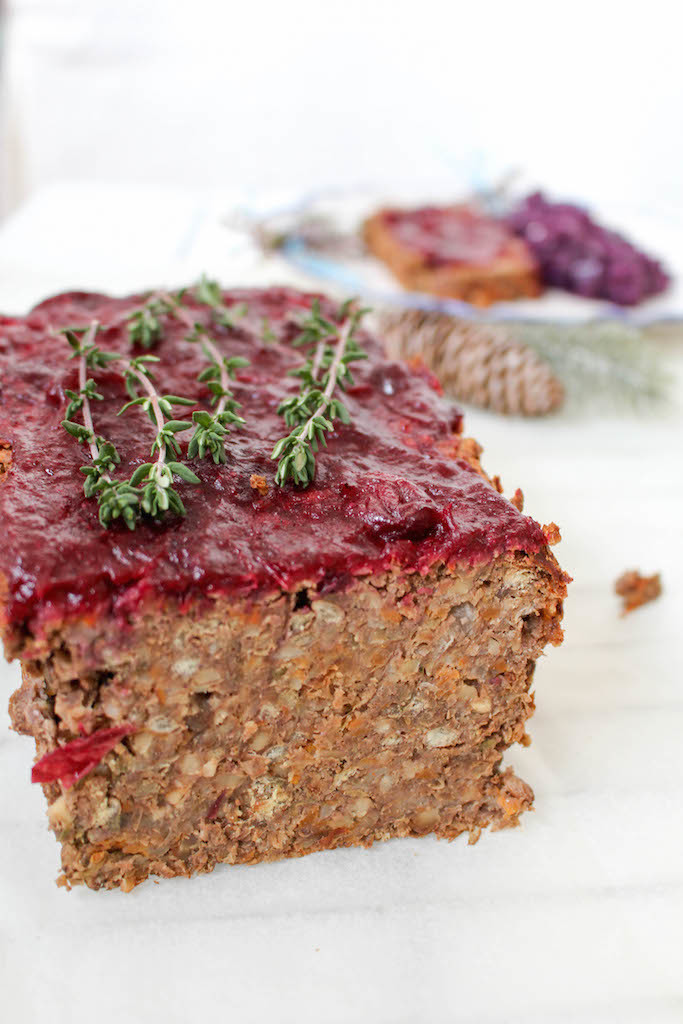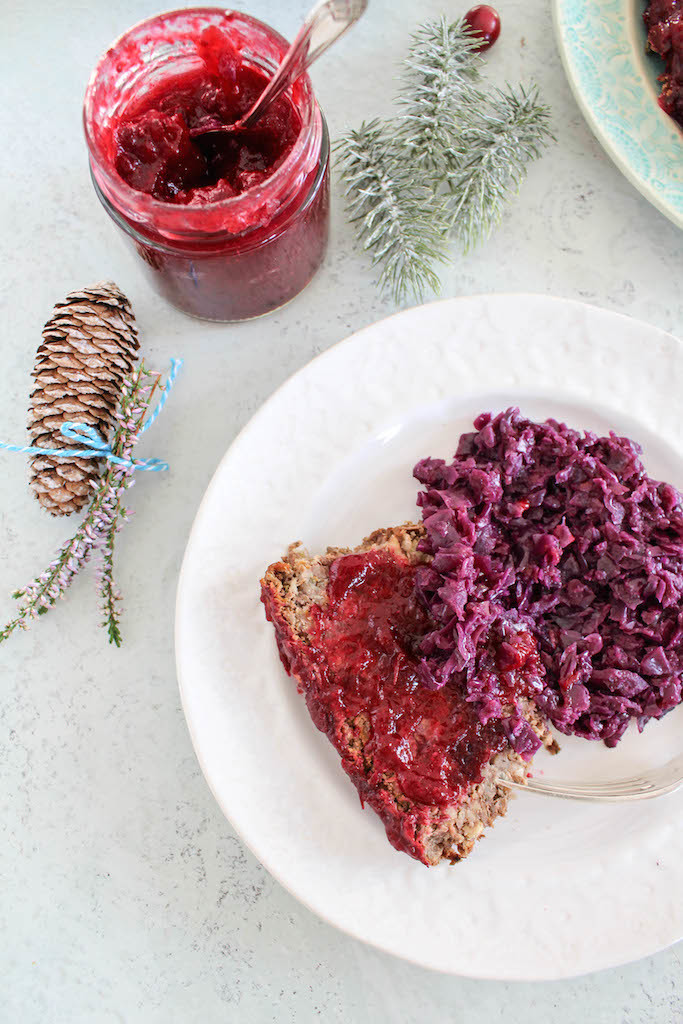 What I like about this dish is that you can prepare it the day before you want to serve it, and then just pop it into the oven for an hour before you need it to be ready. This way you don't have to be in the kitchen all day and you can spend this valuable time with your loved ones.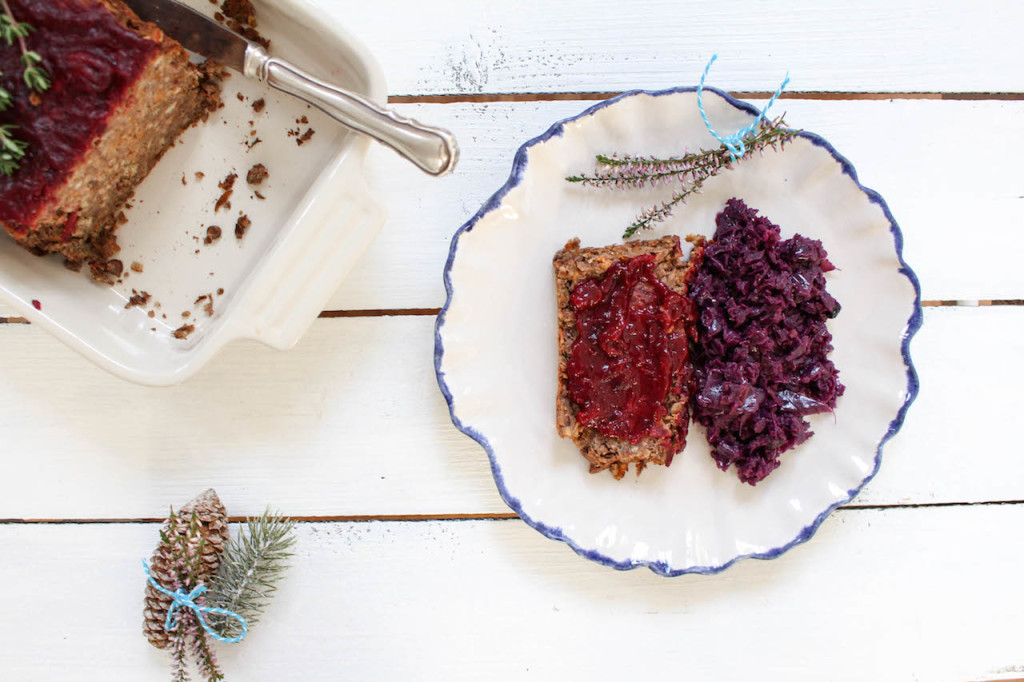 Served with cranberry sauce and spiced apple cabbage, this meal is really a holiday feast that will persuade even the biggest critics that healthy doesn't mean lack of flavor or endless salads.
INGREDIENTS
For the lentil loaf
Makes one loaf that serves 4 to 5 people
– 1 1/2 cups (300g) of green lentils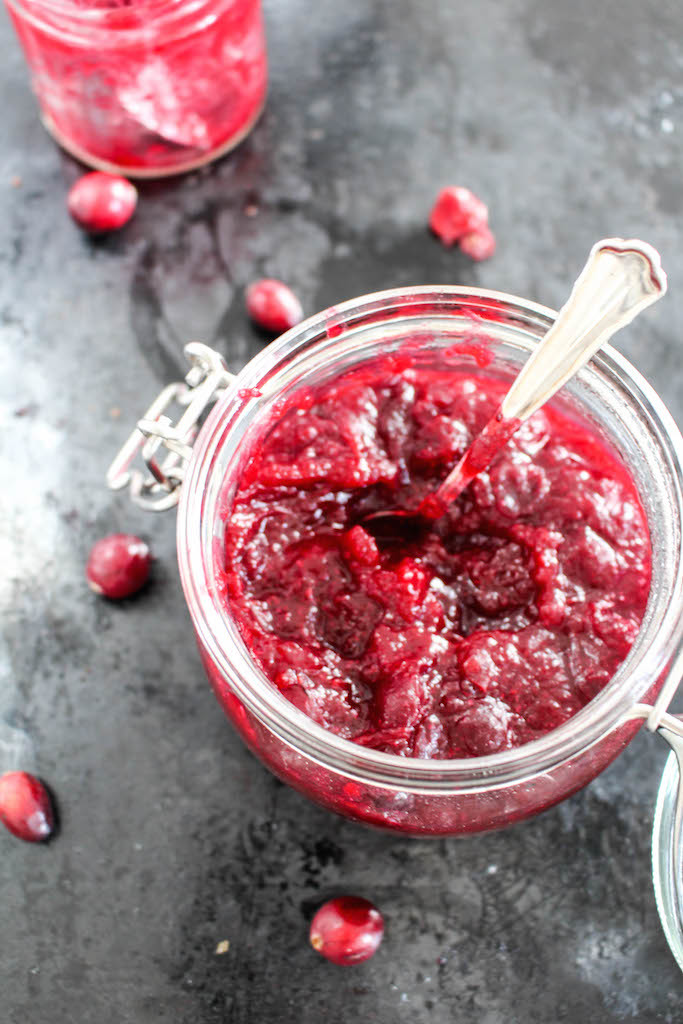 – 3 tablespoons of ground flax seeds or chia seeds
– 1 cup (125g) of walnuts
– 1 carrot (about 80g)
– 1/2 cup (100g) of celery
– 2 small or one large yellow onion (about 150g)
– 3 cloves of garlic
– 1/2 a leek (about 100g)
– 1/2 cup (60g) of buckwheat flour
– 1 slice of one or two day old rye or gluten free bread
– 2 teaspoons of fresh or 1 teaspoon of dried thyme
– 1 teaspoon of dried oregano
– 1/4 teaspoon of chili flakes
– 1 small apple (about 60g)
– 1/2 small pear (about 35g)
– 1/3 cup (50g) of raisins (optional)
– 1 tablespoon of extra-virgin olive oil
– 1 teaspoon of salt
– 1/4 teaspoon of pepper
For the healthy cranberry sauce
– 1 cup (about 100g) of fresh cranberries
– 1/2 cup (125ml) of fresh water
– 4 tablespoons of maple syrup, honey or agave
– 2 tablespoon of fresh orange juice (optional)
– 1 teaspoon of fresh organic orange zest (optional)
METHOD
Cook the lentils according to instructions on the package.
If you have a food processor, mix the lentils for a few seconds into a course mixture, but make sure to leave some for texture. If you don't have a food processor or strong blender, smash the lentils with a fork, also making sure to leave some lentils whole for texture.
Pre-heat the oven to 160°C (325°F).
Finely chop the walnuts and place them onto a baking sheet and roast them for about 8-9 minutes. Do not leave them out of site, as they tend to burn quickly. Set the walnuts aside and raise the temperature to 180°C (356°C). Then cover a loaf pan with baking paper.
Now chop your vegetables. Roughly chop the onions and leek. Crush the garlic. Grind the carrot, celery, apple, and pear. Roughly chop the slice of rye or gluten free bread into bread crumbs.
In a large skillet, heat the olive oil over medium heat. Add garlic and onions and sauté for about 4 minutes until the onions are translucent. Season them with salt and pepper. Now add the leek, celery, carrot, apple and pear and raisins (if using). Sauté everything for about 5 minutes.
Now stir in the processed lentils, flax or chia seeds, chopped walnuts, buckwheat flour, bread crumbs, thyme, oregano, one teaspoon of salt, 1/4 teaspoon of pepper, and chili flakes. Stir well until combined.
Press the lentil mixture firmly into the loaf pan that you have prepared. Bake uncovered for 50 to 60 minutes until the edges turn slightly brown. While the loaf bakes, make the cranberry sauce, see below.
Take the loaf out of the oven and let it cool for about 10 minutes before serving. Slice the loaf gently; it may be kind of crumbly when it's still very warm inside.
Serve with the cranberry sauce
For the Cranberry Sauce
Place the cranberries, water, orange juice and zest (if using) and sweetener of your choice into a small saucepan.
Simmer for about 15 minutes on medium heat.
Once the sauce has reached a thick consistency, remove from the heat and let it cool for a few minutes.
Serve the sauce with the lentil loaf.
Tip: Cranberry Sauce tastes excellent in spiced apple cabbage, too.
Merry Christmas, everyone!