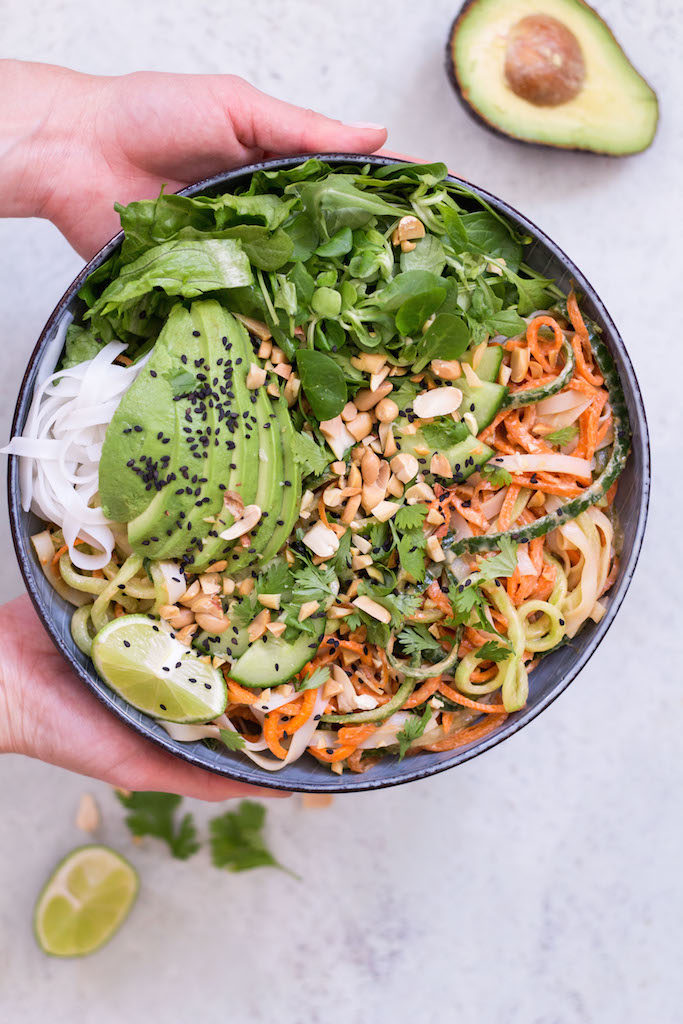 This recipe is also available in German. / Dieses Rezept gibt es auch auf deutsch.
Today is a day for a lazy recipe: a summer roll bowl with peanut lime saue for all those who are too lazy to wrap rice paper (like me at the moment). As I am writing this, I am procrastinating because I'm actually supposed to study for finals. Therefore, there won't be a lot of text in this recipe, but more pictures. I hope that's ok. In fact, my uncle asked me recently to write less in my posts, because it takes so long to scroll down to the actual recipe. Well, I'm sorry, but I love writing, and I personally love blogs with a personality and not just recipes. Therefore, I'm afraid, but I will continue writing long and descriptive texts in my posts, because I believe that every recipe has a story, which is worth telling.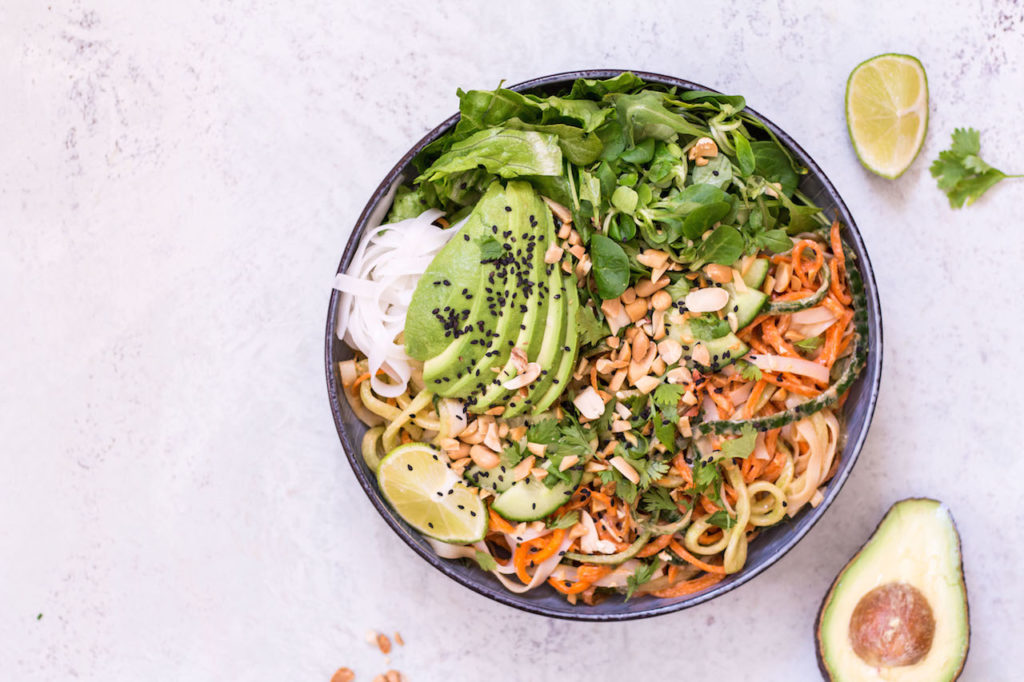 So here's the (short) story from this recipe. I recently took a class called innovation management, where we had to come up with an innovative idea for sustainable city improvement. So my friends and I met up to brainstorm, and while we were brainstorming we prepared my thai summer rolls with peanut dipping sauce. However, it literally took us forever until we were able to eat the summer rolls, and we were all totally starving when we had finally finished folding the last roll. Have you ever tried being innovative while your tummy makes noises? Well, let's just say our project did not get selected for the next round.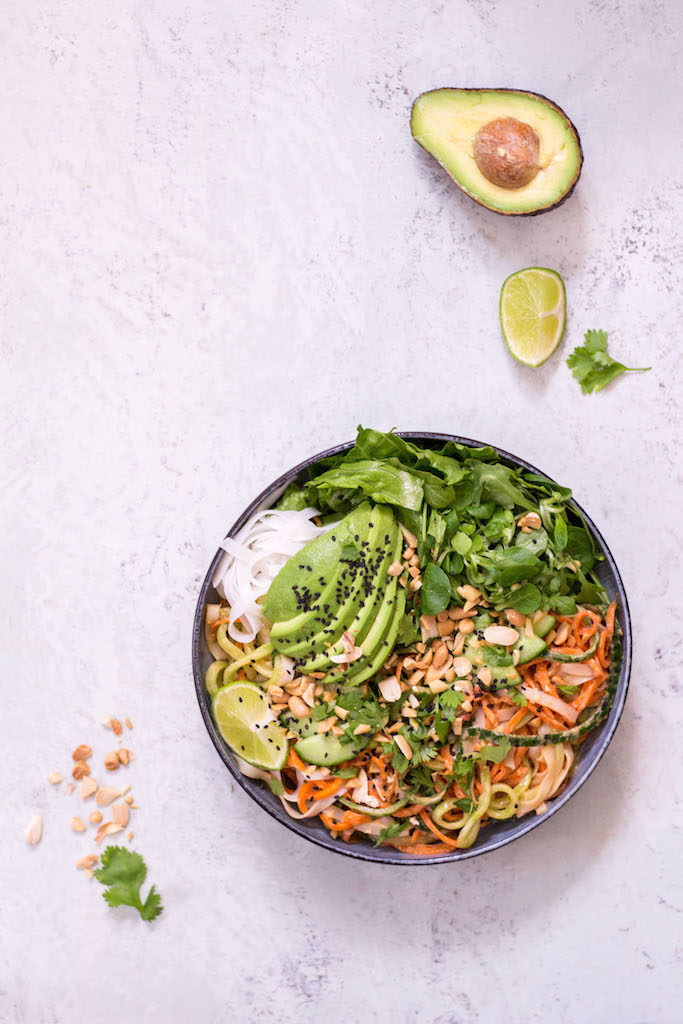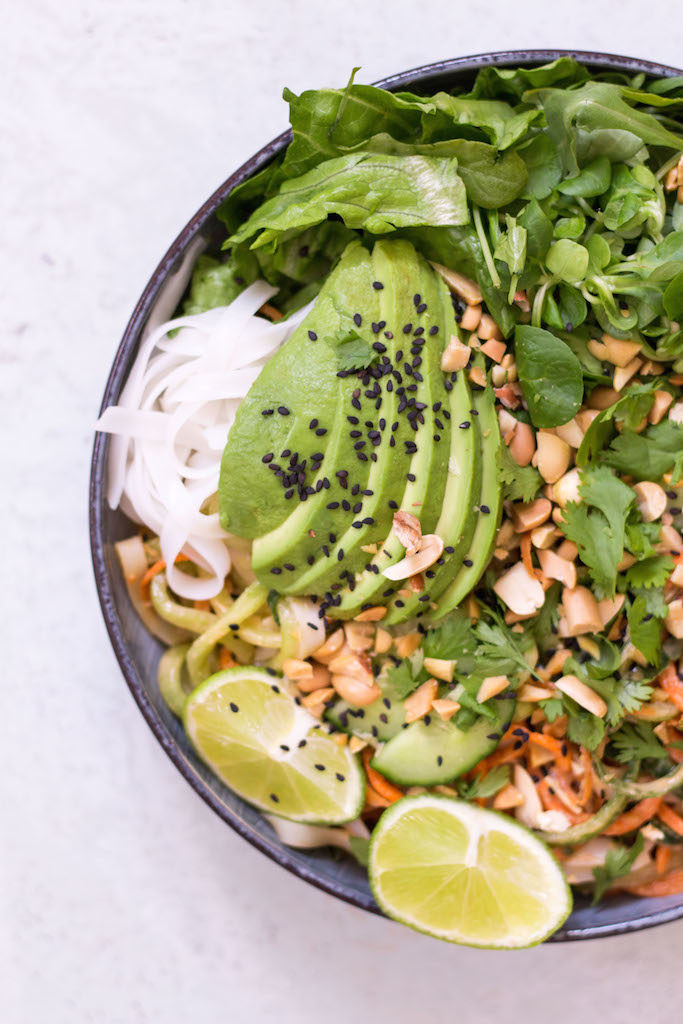 For nutrtitional information, have a look at my thai summer rolls post from last summer, because right now, I really need to study. Enjoy the photos, and I promise, I'll write more next time.

Summer Roll Bowl with Peanut Lime Sauce
Ingredients
For the Sommer Roll Bowl
1 cup cooked rice noodles, try to find brown rice noodles
2 carrots
1 avocado
½ cucumber
½ red bell pepper
5-8 romaine leaves or salad greens of your choice
1 handful of fresh thai basil
1 handful of fresh cilantro
a few mint leaves
1 tablespoon of dark sesame seeds
¼ cup of chopped peanuts
For the peanut lime sauce:
1 garlic clove
1 thumb-sized piece of organic ginger
3 tablespoons of gluten-free tamari or GMO-free soy sauce
3 tablespoons of maple syrup
1 lime
⅓ (85 g) cup of peanut butter
¼ (60 ml) cup of water (more or less as needed)
Instructions
To make the peanut sauce:
Juice the lime. Blend or mix together all the ingredients until smooth.
To make the summer roll bowl:
Wash the salad, chop the herbs, and cut the avocado in half. Remove the pit (you can use this in smoothies!) and slice the flesh. Slice all the veggies or use a spiralizer to make them even thinner.
Add all the salad ingredients to a bowl, and garnish with the herbs, sesame seeds and peanuts. Sprinkle with the peanut lime sauce and serve immediately.
Enjoy!
---
Did you make this recipe or have any suggestions, questions or comments?
Feel free to leave a comment below, and don't forget to tag your creations on social media using #heavenlynnhealthy.
I'd love for this blog to be a dialogue.
---
Merken